By Aaron Wallace

You may very well have overlooked The Wild when it was released to theaters in April 2006, thanks to only modest promotion and a relatively humble box office performance. In recent days, however, the computer animated film has been the subject of fervent discussion, as Disney -- in at least some corners of the 'net and globe -- has asserted it as the 46th film in their line of "Animated Classics", a collection traditionally comprised of feature films produced by Walt Disney Feature Animation and released theatrically.

The Wild fulfills the latter requirement but doesn't come anywhere near the former. Not only did it not emerge from the studio's Feature Animation department, it wasn't even made by Disney at all. Instead, a young Canadian studio by the name of C.O.R.E. animated the film (their very first) and then handed it over to Disney, who has distributed it both theatrically and on DVD.

The Wild is an unlikely candidate for the movie that changes the way Disney organizes their library after all these years, but it may do just that when all is said and done. Of course, it's the Region 2 DVD packaging that makes the claim and Europe's list of "Animated Classics" has always been more inclusive (you'll sometimes find Song of the South, Mary Poppins, Bedknobs and Broomsticks, and Pete's Dragon in theirs) even while the entire classification system has been downplayed in the United States for years. Still, the issue certainly has fans debating what should be considered an animated classic and even more broadly, what makes a film "Disney" in the first place. It's not a new debate. Just a few months ago, Chicken Little's classification as an "Animated Classic" both here and abroad angered those who saw no room for CGI productions in the canon.

It seems fair to consider The Wild at least a Disney film, as distribution under the studio brand has been enough to qualify other productions as such for decades (besides, the Mouse even played a creative and financial role in its production). Giving it the "Animated Classic" mantle, however, takes it a step too far. It's not an issue of quality; the movie is more enjoyable than some recent productions native to Disney. It's not a conflict with the word "classic," either, because Disney used the same for such recent and poorly-received releases as Atlantis and Home on the Range and it's generally acknowledged to be more a term of designation than of praise. Rather, the problem is that by including The Wild in the list of animated classics, any other full-length film that was animated, theatrically released, and remotely associated with the studio would appear to be inducted by default as well. Everything -- from Toy Story and Who Framed Roger Rabbit? to Dinosaur, The Jungle Book 2 and the imported Valiant -- would need to be considered an "Animated Classic." To quote The Incredibles' Dash Parr, saying everyone is special is "just another way of saying no one is."
While the debate is unlikely to fade, hopefully, it won't cloud the film itself, which certainly deserves a viewer's full attention. Initially set in the New York Zoo, The Wild is a very conventional but effective story about a strained father and son relationship and the adventure that brings them closer together. Samson the lion (Kiefer Sutherland) is the zoo's head honcho, renowned for his ferocious roar and legendary tales of courage from his days in "The Wild" of Africa. His son, Ryan, looks up to his dad but resents his perceived inferiority. After a particularly embarrassing instance, the young cub flees from the zoo and accidentally finds himself shipped to Africa, where a looming volcanic eruption threatens the inhabitants. To save him, Samson and his friends -- Benny the squirrel (James Belushi), Nigel the Koala (Eddie Izzard), Bridget the giraffe (Janeane Garofalo), and Larry the anaconda (Richard Kind) -- must trek across the globe to Africa, where Samson is forced to live up to a past that he never really lived.
Relying on convention isn't a bad thing if it can be done without feeling tired. In that, The Wild succeeds, even if every plot point has been mapped in some other well-known adventure before. The use of lions and the father-son dynamic make comparisons to The Lion King inevitable and, to be sure, there are several scenes bearing a striking similarity.
It gets by with it, though, by constructing the narrative with a lot of charm. Like the movie as a whole, the characters are well-realized and funny. Their accessibility makes the peril they face more compelling. As a result, the film succeeds in both comedy and adventure without being all that ambitious or original.

It also deserves credit for avoiding the major pitfalls of today's family films. Most in that category are more interested in being contemporary than timeless, looking for success in crass humor and trying to appeal to children on one level and adults on another. In The Wild, as with The Lion King, the few instances of potty humor are clever and subtle enough to not offend. The same is mostly true for the attempts to embrace the present day, with a number of in-jokes that are amusing but not distracting. Innuendo, too, is sparing and mild. Viewers of any age can appreciate the entertainment without reading different things into it. While it's not quite the kind of family film that older generations are accustomed to, it comes closer than the majority of recent productions.
The technical merits are impressive too. The all-star voice cast succeeds in not sounding like an all-star voice cast, which is just the kind of thing a quality animated feature is looking for. The soundtrack, comprised of both score and song (mostly non-diegetic, mind you; this is no musical), is perfectly matched with the movie and entirely effective.
The animation, too, is pretty good. Backgrounds are life-like and details such as the hair on Samson's mane are most impressive. When it comes to character fluidity, however, it fumbles and moments of dialogue sometimes scream "CGI." That seems to be a problem with just about every CGI movie not produced by Pixar, though, which The Wild definitely was not.
An animated classic? Whether read literally or figuratively, I'd say not. Still, The Wild is far more pleasing a film than may be expected by its potential audience and one that I am likely to revisit.
DVD Details

1.78:1 Anamorphic Widescreen
Dolby Digital 5.1 (English, French, Spanish)
Subtitles: English; Closed Captioned
Release Date: September 12, 2006
Single-sided, dual-layered disc (DVD-9)
Suggested Retail Price: $29.99
Black Keepcase with Side Snaps
and Embossed Cardboard Slipcover
VIDEO and AUDIO
Appropriately presented in 1.78:1 widescreen and enhanced for 16x9 displays, The Wild looks absolutely stunning on DVD. One doesn't expect many flaws when transferring from a digital source to a digital medium and there aren't any here (at least none that aren't attributable to the animation itself). Bright, colorful, and vibrant, the disc gets full marks in the picture department.
The Dolby Digital 5.1 Surround Sound track is even more pleasing than the video. Entirely surrounding and well-separated from channel to channel, the track really gives your home theater system a good work out. The enormous bass makes it all the more thrilling. The sound is clear, the dialogue distinguishable, and as already mentioned, the soundtrack itself is fantastic. The Wild gets another perfect score for the audio.
BONUS FEATURES, MENUS and PACKAGING

The bonus features are divided into three sections. The first is Deleted Scenes, in which one finds five segments that were omitted from the film. They're presented in differing stages of animation,

ranging from storyboards to the final product. As a result, they're interesting not only in their own right, but also as showcases of the digital animation process. Each is accompanied by optional audio commentary by director Steve "Spaz" Williams and producer Clint Goldman. Either way, they can be viewed individually or all together via "Play All" (4:45).

The next section is Music & More which, when selected, automatically begins its only feature, the "Real Wild Child" music video (3:30). It's pretty standard as from-movie music videos go, but teen pop-rockers Everlife's rendition (which is also featured on the movie's soundtrack) is decent enough.

Finally, there's Backstage Disney. This is where you'd normally find something like a feature-length audio commentary or making-of featurette, but sadly nothing of the sort is included. Instead, there are two featurettes devoted to the actors behind the movie's more colorful characters. The first, "Eddie Izzard Unleashed" (3:30), spends some time in the recording with the famous British comedian, who performs his lines and ad-libs even more. The second, "Meet Colin: The Rock Hyrax" (2:20) follows Colin Cunningham -- a member of the production crew selected to voice the irritable Hyrax -- around the studio office as his ego grows disproportionately to the prominence of his role. Both are fast-paced with many cuts and thus a little annoying, but still pretty funny.

The animated 16x9 main menu is flashy, jazzy, and energetic. The sub-menus are all still but accompanied by selections from the enjoyable film score. Unfortunately, the DVD is presented using Disney's FastPlay, which means the movie and a selection of sneak previews and bonus features will play automatically unless one chooses to enable interactivity by using their menu button.

The disc is housed inside a standard black keepcase with protective snaps on the side. For at least the initial printings, there is a cardboard slipcover included that is raised for a textured surface. Inside the case, there's a chapter index card which opens up to advertise upcoming Disney DVD releases. There's also a flyer advertising the Disney Wildlife Conservation Fund, the Association of Zoos & Aquariums, and Disney's Animal Kingdom theme park (maybe we'll see a The Wild attraction one day!). A portion of the cover artwork is printed right onto the disc, with three of the supporting characters (Larry didn't make it) and a cloudy sky hiding most of the silver disc surface. This kind of disc art seems to be a growing trend with Disney (presumably to deter bootleggers), though traditional art labels remain preferable.

Sneak Peeks on the DVD include The Little Mermaid: Platinum Edition, Meet the Robinsons, Cars, Air Buddies, Twitches, The Fox and the Hound: 25th Anniversary Edition, Cinderella III, and Toon Disney's "Get Ed".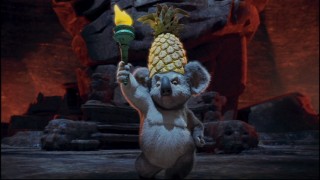 CLOSING THOUGHTS
It's hardly the movie of the year, but The Wild is actually quite successful as an entertaining father-son adventure story, despite being every bit as conventional as that premise would suggest. Warm characters, a light-hearted tone, fresh humor, a talented cast, and a fantastic soundtrack all go a long way in ensuring that a good time is had. The DVD is pretty light on bonus features, though what is offered is good enough. Audio and video, on the other hand, don't get much better on DVD than they are here, with a truly grade-A presentation. Don't let its limited visibility and contentious status as an "Animated Classic" turn you away; The Wild is certainly one worth seeing.
More on the DVD / Buy from Amazon.com / Buy Blu-ray + DVD from Amazon.com