UltimateDisney.com | Reviews | DVDizzy.com: DVD/Blu-ray Schedule | Pixar & Other Theatrical Animation | Upcoming Disney DVDs | Search

Pixar Films on DVD: Toy Story • A Bug's Life • Toy Story 2 • Monsters, Inc. • Finding Nemo • The Incredibles • Cars • Ratatouille • WALL•E • Up
Pixar Films on Blu-ray: Toy Story • A Bug's Life • Toy Story 2 • Monsters, Inc. • Cars • Ratatouille • WALL•E • Up
Disney/Pixar's Cars Revs Up Stores: UltimateDisney.com's Guide to the Coolest Movie Tie-Ins

Cars, the seventh feature film from Pixar Animation Studios, has only been playing in theaters for a matter of hours, but the movie has already maintained a strong presence elsewhere for several weeks -- at an assortment of your local stores. With literally hundreds of products related to the movie now on the market, it takes a little bit of time and effort to separate the truly neat from the merely available. This is where we come in.

MUSIC

Walt Disney Records' official Cars soundtrack CD ($18.98 SRP - $9.98 at Amazon.com or $9.99 at iTunes
) provides a mix of the familiar and the new. Fulfilling the former are eleven tracks of score composed by Randy Newman, the man behind the music of Pixar's first four films.

As seems inevitable for most movie composers, Newman's work here has strong overtones of his earlier Pixar output, especially Toy Story, though its rock flavorings occasionally suggest a "road movie" more than what the first all-CGI flick became. Still, without the industry leader's dazzling CGI visuals to accompany it, the score comes up a bit short of the artist's best compositions. Far more surprising is that the remaining nine tracks are lyrical songs, easily surpassing Pixar's previous high and sharply contrasting with the purely instrumental album for The Incredibles, the studio's preceding hit. If Randy's return reintroduces expectations for the studio's music, the vocal lineup shatters them. The nine tunes range from old favorites (Chuck Berry's classic "Route 66" and The Chords' delightfully doo wop "Sh-Boom") to present-day pop icons (Sheryl Crow's energetic opener "Real Gone" and John Mayer's rockin' "Route 66" cover), with two penned and performed by country phenom Brad Paisley offering a change of pace. The disc's highlight is Rascal Flatts' bouncy new recording of Tom Cochrane's early '90s chart-topper "Life is a Highway", which needn't stray from the original to please in big ways. Rounding out the menu are Hank Williams' "My Heart Would Know" (an odd detour from the Newman melodies) and "Our Town", a new tune sung by James Taylor but unmistakably written by the Randster, whose last Pixar outing earned an Oscar. Disney's music branch has also given stores Lightning McQueen's Fast Tracks ($9.97 at Amazon.com), a 12-tune compilation comprised of automotive-themed songs "inspired by" the movie. Sadly, Gary Numan's enduring anthem is nowhere to be found, nor is any performer whose name will ring many bells, leaving this companion CD for the easy-to-please folks who can't resist the promising smile of the titular protagonist, who narrates the disc along with Mater.

BOOKS

Moving on to the printed word, San Francisco's Chronicle Books have added another impressive volume into their canon of "Art of" publications, in the tradition of their previous entries. The Art of Cars (hardcover, $40.00 SRP - $26.40 at Amazon.com) elevates its subject beyond the domain of "the big summer movie of this week" and into the annals of bona fide artwork.

With a classy look at drawings and paintings which led to the completed visual wizardy that made it onto the big screen, this thorough resource illustrates that humans figure much more importantly than computers in Pixar's creative process. And there's more than just images; Michael Wallis, the filmmakers' hired Route 66 expert and the voice of the Sheriff, along with his wife Suzanne, lends tremendous insight into the roots of Cars. He profiles director John Lasseter, from his long-held interest in the subject matter to his mid-taco epiphany in North Carolina and the extensive research that ensued. (That last part involved not only attending many races, but rubbing shoulders with diehard fans and even taking racing school lessons.) There is no shortage of artwork depicting the car designs and the fake brand graphics (thanks for again not succumbing to product placement temptations, Pixar!) whose stickers adorn them. There are also several pages that detail the visual development of characters and locales. There's an early version of the film conceived during the production of A Bug's Life, a page on Disney's inspirational 1952 short "Susie, the Little Blue Coupe", and even information on characters and subplots that were deleted. Before reaching the Wallises' scattered text, the first few pages include both an enlightening introduction from Lasseter himself and a touching tribute to late co-director Joe Ranft. Though it doesn't come too cheap, at 160 pages, The Art of Cars is chock-full of interesting information and beautiful art, making it an ideal choice for a Pixar fan's coffee table (hypothetical or actual) and a perfect companion of the Art of Monsters, Inc., Art of Finding Nemo, Art of Incredibles, et al...

In addition, DK (Dorling Kindersley) has their two customary offerings.

Cars: The Essential Guide (hardcover, $12.98 SRP - $10.00 at Amazon.com) fills you in on many details pertaining to the movie, devoting a page to each major character (the four night riding punks share one) and covering any other relevant bases (such as a page on tractor-tipping and a fold-out look at the Motor Speedway of the South) you can think of. While the matter-of-fact observations seem aimed at children, their revelations are ones that anyone who enjoyed the film (or anticipates doing so) can appreciate. The book even elaborates on things that are very easy to miss in the movie (like, "Ramone and Flo are married?!"). As usual, it is evident that Pixar has contributed openly to the book and the all-angles aspect lends to wonderful illustrations that enable one to marvel at the details that move too fast on the big screen. In addition, DK also has issued Cars: Ultimate Sticker Book (softcover - $6.99 at Amazon.com). With 63 stickers of characters, scenes, and the occasional logo and just seven pages with colored shapes designed to be filled with a little more than half of them, this lightweight offering is tough to justify. On the one hand, the stickers are way cooler than the tiny ones you'd find in 6-for-$1 sheet at a Hallmark. Plus, they're said to be reusable. Still, unless you have a kid who's crazy for stickers or can find reasonable uses for more than five dozen of them, this may wear out its welcome far more quickly than the contents will lose their stickiness.

TOYS

Two of Pixar's first three movies centered on toys and Lasseter and company seem to put far more stock into children's playthings than most studios. Perhaps this is why past Pixar productions have lent themselves so well to neat toy shelf contributions, from the obvious

real life Toy Story counterparts (including the Buzz Lightyear that quickly sold out Christmas of '95) to the elusive Jabberin' Jack Jack. Though the fact that all major characters are of the four-wheeled type may seem detrimental to variety and innovation (not like toy cars haven't been done before), Cars continues that fun trend. I'm not exaggerating when I say that the Fast Talkin' Lightning McQueen ($39.99 SRP - sold out at Amazon.com) may be the coolest toy I've ever come across. Though the stickers aren't the most permanently applied and the buttons on Lightning's rear window are not part of the character's real design, the exhilarating fun that comes from playback widely overshadows these and any other minor shortcomings. Using seven directional buttons, five speech buttons, and a few others, you can devise up to a 15-part routine for Lightning to carry out when you press "Go!" Each speech button (question, bragging, general talk) lets you cycle through a number of phrases fitting that class, while you can use the directions to try to get the red race car around floor obstacles. Not only that, but while he's driving and talking, his eyes and mouth move! There's even a lightning button that lights up his side bolt while saying "kachow" (or some variant). While the price is quite a bit higher than your average toy, the number of possibilities for fun justify it. This may be one of the few toys that nobody ever gets sick of, though those not doing the commanding may grow leery of it. I know one cat who's terrified of the hotshot.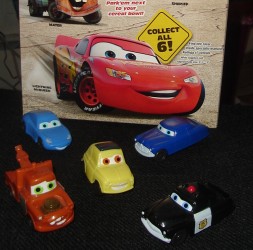 For a lower price and lower dose of fun, there are Smack & Yak toys ($9.99 each at Amazon.com), plush-like dolls which comment upon making considerable contact against anything. While they promote violence and can invoke pain when misused (or rather used in excess of the right way), the Smack & Yak can be fun and as an added bonus, fans of innuendo will find plenty to giggle about. On the other hand, Tyco's Radio-Controlled Super Tow Mater ($44.99 at Amazon.com) is even more expensive but would appear to promise fun for anyone won over by Larry the Cable Guy's rusty tow truck (judging from audience reaction, that's everyone).
Not every cool piece of Cars memorabilia costs you money. Specially-marked boxes of Frosted Flakes, Apple Jacks, Froot Loops, Honey Smacks, Rice/Cocoa Krispies, Corn Pops, and Mini-Swirlz contain a free Cars character "racer." Regular indulging of these fine cereals can get you a complete set of Lightning McQueen, Doc Hudson, Sally, Mater, Sheriff, and Luigi. Of course, the odds are that you'll have to buy more than six boxes to catch 'em all. Having gone through eight thus far, half of UD's acquisitions have been Doc Hudson, the 1951 Hornet voiced by Paul Newman, while the one essential piece (McQueen) continues to elude us. At least the breadth of the promotion ensures that practically everyone will find something they consider delicious, but as the raceable wind-up toys tend to be limited to the larger versions, be prepared to consume a lot of cereal.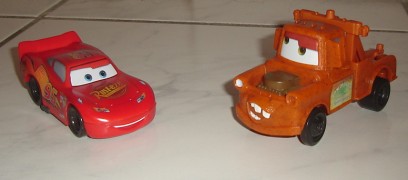 Starting yesterday, those choosing a far less healthy meal also get complimentary Cars cars. Considerably more detailed (and larger) figures of eight characters (Lightning, Doc, Sally, Mater, Ramone, Luigi, Fillmore, and Flo) are now found inside McDonald's Happy Meals through July 6th (when Pirates of the Caribbean takes over the fast food joint). As usual, the health-conscious can choose overpriced apple slices or milk to stand in for fries and soda, while the even more adamant can forego the Happy Meal altogether and get just the toy for a moderately lower price. Also adhering to Happy Meal toy tradition, each car does something, or is supposed to. For instance, Lightning pops a wheelie, while Mater's tow can kind of be connected to his best friend's underbody.
POSTERS

As usual for a Pixar film, there is a wide range of posters available, from the basic logo-on-hood one-sheet ($29.99 at MovieGoods.com) adorning many a bus shelter to the cover-mostly-over-Lightning teaser ($19.99 at MovieGoods.com) to a pair of smaller "masterprint" options for each major character. My personal favorite is the poster featuring all the automobiles from the film (easily more than two dozen characters, most better-defined than you'd suspect) lining the stretch of Route 66 by Radiator Springs ($29.99 at MovieGoods.com). I picked it up free at Cars Road Trip '06, which still has fourteen stops in the west, south, and middle America planned through July 11th. But if none of those are convenient, check to see if there isn't a Valvoline by you. At least some of these establishments are giving away that very poster free with a simple oil change (which experts recommend for every 5,000 miles you put on your vehicle).

So there you have it. Surely, there are many, many more items tied to the big screen release of Cars we haven't covered and if really you want a bit of everything, we've barely scrapped the surface. At the same time, we've hit most of what our readership demographic would deem the essential and coolest items available.
Report posted June 10, 2006.