Writer/director Isao Takahata's 1999 film My Neighbors the Yamadas certainly distinguishes itself from the other highly-acclaimed, warmly-received animated films from Japan's Studio Ghibli. I have yet to encounter a Ghibli picture as distant from the rest of the canon both visually and thematically, but Yamadas proves change can be a good thing, for it winds up being every bit as effective as an endearing domestic comedy as the more dramatic and fantastical works directed by Hayao Miyazaki.

Spirits, sprites, shape-shifters, fuzzy hybrid creatures, and strong shojo-esque female protagonists are the types of characters that often occupy Studio Ghibli films, but you won't find any of those in Yamadas.

The small central cast of five consists solely of the title group, an "average" Japanese family prone to errors and flaws. In other words, the Yamadas are an extremely human clan whose shortcomings make them all the more palpable and identifiable for the majority of audiences experiencing similar modern day plights.

The head of the Yamada household is Takashi (voiced by Jim Belushi in the English dub), a diligent middle-aged office worker who is easily riled when he's home. Home is where you'll most likely find the mother of the family, Matsuko (Molly Shannon, the former "Saturday Night Live" cast member), whose itinerary seems replete with avoided errands to the point where she only has time to cook the same thing every night or trick someone else into assuming culinary duties. Despite their toll-taking schedules, Takashi and Matsuko manage to find plenty of time to put one another out or engage in some routine spousal bickering. Letting Matsuko know when she errs is the family's grandmother Shige (veteran voice actress Tress MacNeille, whose most noteworthy credit may be her role as today's Daisy Duck), an adage-dispensing and opinionated older woman. Rounding out the clan are two children, teenaged Noboru (Daryl Sabara of the Spy Kids "franchise"), who is at the age where the opposite sex is starting to create unease and he wishes his parents were cooler, and the tiny but loud baby of the family, Nonoko (Liliana Mumy, daughter of Bill Mumy and stepdaughter of "Scott Calvin").
Yamadas does not offer a traditional plot so much as an insider's look into the suburban family's life through a casually arranged collection of often comedic vignettes. The first of probably two most significant events which take place in the film is a family outing that results in panic when young daughter Nonoko is entirely forgotten at a department store. While she is capably fending for herself among hordes of shoppers, the rest of the Yamadas pass blame among each other and humorously fear the worst. The other most elaborate set piece comes in the latter parts of the film and involves Grandma Yamada standing up to some reckless motorcycle-racing street punks. If the proceedings get a little too silly here (and I'd say that they do), you're nonetheless hooked to this point and willing to give the film some leeway. Though both of these sequences are allowed some screen time to ponder before finding resolution, they are merely two of the film's many short stories. Each provides an anecdote that would amuse friends in retelling but couldn't possibly as gratifying as actually experiencing it firsthand. While viewers aren't literally partaking in the Yamadas' quirky adventures, the effect is uncannily close, for the characters and situations are highly relatable and are certain to remind you of someone or sometime.
In appearance, the production intentionally resembles a recurring newspaper comic, straying not far from the source of its adaptation, Hisaichi Ishii's long-running 4-panel strip Tonari no Yamada-kun. The alluring minimalist visual style takes little time to get used to and garners growing appreciation as one "visits" with the Yamadas. The film's look starkly contrasts from the typical (and often fairly realistic) Studio Ghibli animation, as well as more free-wheeling but code-adherent artwork found in niche Japanese anime television product. Remarkably, the film's seemingly watercolor effects were all realized with the use of computers, a fact which illustrates just how grand the "computer animation" medium's potential is.
The Yamadas showcase unusually tiny ocular pupils (with the exception of the bold little girl), sketchy and fluid outlines, and distinctly flat but emphatic movements. Background artwork is sparse; the usually domestic settings can be established with merely a handful of lines. If location drawings weave in and out of focus, it is because they are rarely of great importance and forever remain subservient to the personalities in the foreground. Yamadas is filled with impressionable and imaginative imagery, from the bobsled run that becomes Mr. and Mrs. Yamada's wedding cake to the jungle cruise which introduces them to their firstborn son (hatched from a giant peach). Even less bizarre scenery is rendered in a compelling fashion; one experiences Takashi's range of emotions when snow begins to simply, gracefully fall and the rest of his family is content to watch wintry action sequences on TV.
The unique blend of nontraditional plot and pictures gives Yamadas an air that's a cross between Charles Schulz's Peanuts and television's interminable "The Simpsons." Such a comparison references two entities which produce widely pleasing states of minds for their audiences, and if Yamadas doesn't create quite such a timeless brand, it is forgiven on account of its far shorter lifespan of just 104 minutes for those unacquainted with Ishii's forerunning comic strip. Those 104 minutes are endlessly enjoyable throughout large and small moments alike (relative terms, since the scope is constantly limited to an individual family), allowing plenty of time for comic behavioral patterns to form in the interaction among the five central figures. Like both of the aforementioned media texts, Takahata's film is not content to settle for providing laughs. It manages to dispense a wealth of keen insight on parenting and marriage. This mix of humor and poignancy works because it feels natural;

Yamadas always maintains an encouragingly reverent and upbeat attitude towards family life, never scoffing at the hardships but rather gently coercing audiences to smile at themselves and the painfully quick tempers displayed towards loved ones. The movie resultantly comes across like the comforting friend who acknowledges the issues you deal with as common to all of mankind and not worth getting upset about.

Though the foreign names and individual characteristics of the Yamadas may be tough for Western viewers to govern, the group dynamic emerges clearly, immediately, and satisfyingly. The pack's everyday triumphs and troubles are undoubtedly universal, with the film's depiction of familial life in modern day Japan perfectly accessible to those experiencing similarly commonplace phenomena in traditional four-member or larger families the United States. With little modification of Takahata's insightful script and an aptly-cast group of English-speaking actors, Yamadas excels as a consistently entertaining journal of delightfully dysfunctional but caring relatives. From such an atmosphere indubitably arises on-the-mark comedic observations, of such scenarios where momentary individual weaknesses can overshadow loyalties to one's offspring, spouse, or parent.

From time to time, Disney's go-to guy David Ogden Stiers uses his stately vocals to recite relevant haikus, most originating from the 17th century Japanese poet Basho, (a task not entirely different from Stiers' role as the latest narrator of Winnie the Pooh films). These carefully-formatted verses are among numerous words of wisdom the film offers (many delivered by grandmother Shige), which occasionally sound as if they could come from a big pile of fortune cookies. It is somewhat unfair to draw a parallel to a cheap dessert, though, for one feels there is personal sincerity behind the Forrest Gump-isms, and the film seems far too clever to be employing generic printouts as a source of great poignancy. Likewise, it is tempting to compare the English language version of Yamadas to an American family sitcom, particularly with its episodic nature and two primarily television actors so appropriately chosen for the lead roles. Again, the poignancy and artistic freedom on display render such a promising argument unfounded.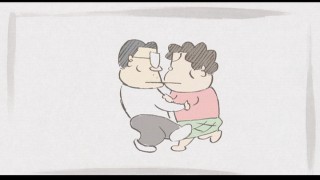 At the end of the day, you may not be enticed by the prospect of watching family bickering that comes across like recordings from your home when cameras aren't rolling. My Neighbors the Yamadas unabashedly revels in depicting marriage struggles and the fears and woes that being a family entails in this age. At the same time, the portraits of suburban life it offers are almost ceaselessly humorous, good-natured, and rewardingly insightful. There are no superpowers, no epic battles, and the only animal appearances are by a passing bird and the Yamadas' dog Pochie. This may not be the type of film which fans of Ghibli animation expect or demand, but this unique triumph winds up being one of the studio's productions most likely to engage, resonate, and delight, especially among Western audiences open-minded enough to see domestic life isn't so different on the opposite side of the globe.
VIDEO and AUDIO
Though the visuals of My Neighbors the Yamadas have a rough look to them, the DVD's 1.85:1 anamorphic widescreen transfer is a thing of beauty. The perfectly pleasing print showcases terrific clarity and sharpness, with no difficulties whatsoever. Colors are consistent and do not bleed, and there is not a single noticeable issue to hinder your appreciation for the film's unique pictorial style.
Like every other Ghibli film Disney has released, Yamadas' audio is offered in both the original Japanese soundtrack and a noteworthy English dub. Both offer sufficiently realized mixes in the Dolby Digital 5.1 format with robust, modern-sounding elements and consistently appropriately sound fields. The English dub does a very good job at synching dialogue to mouth movement. Yamadas boasts a haunting score, which is in turns both evocative and playful, from Akiko Yano, who also sings the catchy theme song, and the film concludes with a happy rendition of "Que Sera Sera", rousing us with the sage words made famous by Doris Day.
As is often the case, two sets of English subtitles are provided, one providing captions for the English version and the other offering a literal translation of the Japanese script. The English version occasionally opts for more words or less subtlety, making sure to capitalize on opportunities where more humor can be added. Still, on the whole, it remains remarkably faithful to the original lines.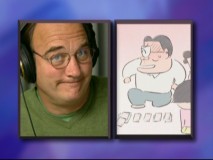 BONUS MATERIALS

My Neighbors the Yamadas is an anomaly, as it is the first Studio Ghibli film not to receive two-disc DVD treatment under the Walt Disney Home Entertainment banner.

A single-disc release as it is, though, Yamadas closely resembles the previous two Ghibli waves in design; its only shortcoming is that it lacks the typically sole Disc 2 feature, the entire film in storyboard format.

"Behind the Microphone" is a standard 5Ĺ-minute featurette which looks at the American actors who provided the English dub for the film. Former "Saturday Night Live" cast members Jim Belushi and Molly Shannon discuss the film's appeal for them and the comedic challenges they face in voicing the Yamada parents, while young actors Daryl Sabara and Liliana Mumy reflect more on the specific tasks their work entailed. Brief and commonplace for anyone who has another of Disney's Studio Ghibli DVDs (with the exception of the simultaneously-released Pom Poko), the piece is nonetheless the supplement with the widest appeal. I don't think split-screen clips illustrating voice actors and their animated counterparts will ever cease to amuse.

Next is another staple of the Region 1 Ghibli DVDs: a collection of ten Japanese trailers which run 16 minutes and 10 seconds long altogether. Chapter stops are provided for easy access through the reel, but unless you know Japanese, the only thing these will especially illustrate is how Ghibli's films are marketed in their native country. That is because these promos uphold Disney's tradition of not providing English subtitles for the promotional material. A single English-language trailer (even for this very DVD release) would have made for a rewarding inclusion, but any way you slice it, trailers are welcome and one wishes Disney could take a hint and consistently give their own productions such a simple supplement.

The last bonus feature is a collection of original storyboards. Unlike Disney's other Ghibli presentations, this is not a storyboard version of the entire film, but simply a browseable gallery of tiny sketches (with headers and notes exclusively in Japanese), separated by the different chapters of the film. At the end of each chapter's sketches, there is a button to play the corresponding sequence as it appears in the final cut. While I personally would never have the patience to watch an entire movie in storyboard form, those who appreciated this supplemental staple in the past will be disappointed. Although I suspect watching the sketchy, highly stylized final product does not yield results considerably different from viewing sketchy uncolored storyboards -- see the first "work-in-progress" Japanese trailer for proof -- at the very least, a larger view of the provided storyboards would have been appreciated.
MENUS and PACKAGING
The animated 16x9 Main Menu provides a nice montage of representative images from the film (primarily, one Yamada riling another) set to the haunting bit of score which balances a mirthful piano melody with a female named Akiko Yano's catchy and irreproducible vocals. The bonus features is also animated with moments from near the end of the film. Outside of a single amusing transition, the rest of the screens are simply static, but they are accompanied by different excerpts of score and well-selected still artwork.
Before the Main Menu loads, skippable previews play for Howl's Moving Castle (coming to DVD next spring), Spirited Away, and Cinderella. The Sneak Peeks menu holds additional promos for Disney's second Ghibli wave (Nausicaš, Porco Rosso and The Cat Returns), Valiant, Toy Story: 10th Anniversary Edition, and Tarzan: Special Edition.
Like Disney's previous wave of Ghibli DVDs, Yamadas is treated to a cardboard slipcover which merely replicates the front and back covers and adds a fourth side. (Such a privilege is usually reserved for the studio's two-disc special editions and flashy but usually insubstantial direct-to-video sequels.) Inside the standard black keepcase, you'll find a double-sided insert which naturally serves as chapter selection list (like we'll use it) and ad for the eight Ghibli films now available on Disney DVD.
CLOSING THOUGHTS
Though Disney's DVDs of Studio Ghibli works seem to be getting progressively lighter on bonus features, their digital presentation of the films themselves remains respectful and praiseworthy. Part of that is spelled out in their dually-favorable agreement with the Japanese animation house, but part of it is just good sense which deserves commendation.
My Neighbors the Yamadas doesn't fit comfortably into expectations of a Ghibli picture, but that enables it to illustrate the staff's impressive and infrequently tapped range, for this family comedy is surprisingly endearing and especially relevant. While the use of vignettes instead of a single narrative and the sketchy comic strip-appearance may seem experimental, both elements serve writer/director Isao Takahata's uniquely pleasing production.
Disney's treatment delivers a faithful and fun new English dub, the requisite original Japanese audio and subtitles, and tremendous first-rate picture and sound. While the disc will leave supplement (and especially storyboard) fans wanting more, the film itself merits a hearty recommendation. Those in search of a clever modern comedy free of common formulas will not be disappointed.