By Kelvin Cedeno

Success can be both a wonderful and a daunting thing. Receiving accolades and acclaim for an achievement is certainly a fulfilling experience, but then the dreaded question "What comes next?" looms ahead. This is the challenge the crew at Pixar faced when their debut feature film Toy Story became a smash hit around the world.

It's one thing to work off the radar and have little to no outside expectations. In the case of their second animated feature, A Bug's Life, Pixar was now being watched and scrutinized by everyone: distribution partner Disney, stockholders, critics, and audiences. They were faced with the task of meeting the standards they had set for themselves while still delivering something fresh and distinctive. Thankfully, they were able to accomplish both as the film was a critical, box office, and artistic success.

A Bug's Life focuses on a colony of ants forced to collect food for a group of grasshoppers led by Hopper (voiced by Kevin Spacey). Each spring, the grasshoppers arrive to reap the fruits of the ants' labor. On the very day they're set to return, an offbeat inventor ant named Flik (Dave Foley) accidentally sends the year's offering hurling over a cliff and into the river. Hopper spares the colony from annihilation by promising to return in the fall, giving no time for the ants to scrounge up food for themselves.
To make up for his blunders, Flik volunteers to leave Ant Island in search of warrior bugs who will help defeat the grasshoppers the next time they come. He meets a group of second-rate circus bugs who have recently been fired by their boss, P.T. Flea (Pixar favorite John Ratzenberger). Among these players are the eternally hungry caterpillar Heimlich (Joe Ranft), the tough guy ladybug Francis (Dennis Leary), and the highly neurotic stick bug Slim (David Hyde Pierce). Through some miscommunication, the troupe believes Flik to be a talent scout while he believes them to be warrior bugs. Once they all head back to Ant Island, the colony receives them with open arms. The only exception is Princess Atta (Julia Louis-Dreyfus), who can't help but feel that something is amiss and can't afford for things to go awry just as she's on the verge of becoming queen.
The team at Pixar surely could've felt tempted to rehash Toy Story's winning formula with different characters. It comes as a testament to their strength and integrity as filmmakers that they resisted such an enticement. No one can accuse A Bug's Life of remaking that 1995 debut film. It would be a valid claim, however, to state that this picture does remake Akira Kurosawa's 1954 classic Seven Samurai. That shouldn't take away from the fact that this animated interpretation does enough things uniquely to stand on its own. The marketing campaign's tagline "an epic of miniature proportions" is the perfect way to describe the film. Despite focusing exclusively on bugs, this is one of the grandest Pixar films created in terms of scope. The story itself is lean and tight while still satisfying. As with any film released by Disney, most audience members will know where the story is going, yet the way it's told is strong enough to hold interest.
The voice work is also excellent. Despite the list of recognizable names (including Roddy McDowall and Madeleine Kahn in their last feature films), each actor suits his character perfectly. The standouts are Kevin Spacey's sarcastic performance as Hopper, Dave Foley's eccentric turn as Flik, and the late Joe Ranft's hilarious tour de force as Heimlich. Other animation studios such as DreamWorks seem to hire big names before the characters are even fully conceived. Pixar, on the other hand, clearly casts actors based on how well they match the character, not vice versa.
A Bug's Life is such a strong picture that its minor shortcomings can be forgiven. Chief among these is in the vast array of characters. The problem isn't how many there are since everyone is given a chance to shine at some point. The issue is that it's hard to warm up to most of the cast, at least initially. This may be because bugs aren't as approachable as toys or humans, but then are monsters and rats much more accessible? More than likely the reason is that virtually every character is quirky, albeit in a different way. It's refreshing not to see the bland, cookie cutter personalities that tend to crop up in animated films.

That said, these characters may be a bit too odd for their own good. Without hardly any straight, low-key personas, the peculiarity is a bit hard to swallow until repeat viewings.

While it takes a bit of effort to fully embrace the cast, they still make an indelible impression. Add to that an effective story, striking animation, and dialogue that blends humor and drama effortlessly. The result is a film that stands on its own two feet amidst a growing library of hits. A Bug's Life may be somewhat of a dark horse in Pixar canon, but like Flik, it just needs to be given the chance to prove how exceptional it truly is.

A Bug's Life has been released on its own four times before. Its fifth trip to home video sections is the first not to involve DVD. Pixar's second film becomes its fourth to turn on Blu-ray. Those keeping track, the standalone DVD versions are April 1999's single-disc edition with minor supplements (before Disney called their DVDs "Disney DVDs"), November 1999's elaborate two-disc Collector's Edition, a re-release of the single-disc under the Gold Classic Collection banner (in August 2000), and finally a May 2003 reworking of the two-disc Collector's Edition timed to promote Finding Nemo. The Blu-ray debut contains most of the supplements created for the Collector's Edition(s) along with some new material.
Blu-ray Details

2.35:1 Widescreen,
DTS-HD 5.1 Surround (English),
Dolby Digital 5.1 Surround (French and Spanish)
Subtitles: English, French, and Spanish; Closed Captioned
Release Date: May 19, 2009
Two single-sided discs (1 BD-50 & 1 DVD-5 DVD-ROM)
Suggested Retail Price: $39.99
Slim-line Blue Keepcase with Embossed Cardboard Slipcover
Still available in 2-Disc Collector's Edition DVD ($19.99 SRP)
VIDEO and AUDIO

The feature presentation comes to Blu-ray in its 2.35:1 original theatrical aspect ratio. The one word to describe the image would be "flawless." This is literally a perfect, demo-quality transfer. While it shouldn't come as a surprise given the digital nature of the film itself, the results are still striking. Colors pop off the screen without bleeding or blooming. Detail is incredible, showcasing just how much work the animators put into their environments. This is hands down the best this picture has ever looked.

The DTS-HD 5.1 surround soundtrack is equally impressive. Animated features have the benefit of having their soundtracks mixed from scratch, allowing the crew full control of where to place the layers in the sound field. Dialogue is crisp and clear, often utilizing the side speakers for directional purposes.

Randy Newman's musical score is vigorous and rich while still coming across sharply. Sound effects, ranging from rain to fluttering wings, are vigorous and also offer the perfect opportunity to show off surround systems.

BONUS FEATURES

While the majority of the supplements are found on both the 1999 and 2003 Collector's Edition DVDs, a few are new. The first feature is one that's been included on every DVD version: the animated short Geri's Game (4:54) (HD). This Oscar winner centers on an elderly gentleman who plays a game of chess in the park against the greatest opponent he's ever faced. It's a simple and charming short that's transferred beautifully onto this disc.

Next comes the first feature exclusive to this set. "Filmmakers' Round Table" (20:58) (HD) is a candid, sit-down chat with directors John Lasseter and Andrew Stanton and producers Darla K. Anderson and Kevin Reher. The four reflect back on their experiences making the film and what they've learned from it. They also share lots of fun anecdotes, the highlight being a prank that was pulled on Andrew Stanton during "Good Morning America" for which footage is gratefully shown. This may not be a particularly well-structured piece, but that's of no real concern when the reminiscing is so entertaining and enlightening.

Another new feature is "A Bug's Life: The First Draft" (10:51) (HD), which presents storyboards from an early version of the story narrated by Dave Foley. While not as radically different as, say, the original pitch for Monsters, Inc., there are still quite a few noticeable changes. The original Flik character and the circus troupe come across as very unlikable since in this version, they willingly deceive the colony for their own personal gain. Regardless, it's a fascinating look at the Bug's Life that never was. The content was previously presented as a navigable gallery of text screens and art.

"A Walt Disney Silly Symphony: The Grasshopper and the Ants" (9:03) (HD) marks the debut of a classic Walt-era short on the Blu-ray format. This appears to be the same master used for the Walt Disney Treasures restoration as the same strengths and weaknesses are present, albeit at a higher resolution. The short bears a connection to the feature film in that both involve a lazy grasshopper and a colony ants gathering food for the winter. It's appealing and even has a catchy theme. Curiously, it seems this short was meant to be included on the original Collector's Edition as it's preceded by a 1999 introduction from John Lasseter and Andrew Stanton.

The rest of the bonus material comes from the previous Collector's Edition DVDs, starting with an audio commentary from John Lasseter, Andrew Stanton, and supervising film editor Lee Unkrich. The three of them discuss the research involved, the various animation challenges, experiences with the voice actors, and the evolution of the story. Pixar commentaries have always maintained a rare balance of information and entertainment, and this one is no exception.
From here, the features are divided into different sections, the first of which is Pre-Production. "Fleabie Reel" (4:23) is an early presentation reel meant for the executives at Disney. This is presented as an out-of-sync public service ad from the 1950s and is hosted by John Lasseter and a large puppet called Fleabie. It's an amusing and inventive look at the production's early days.
A storyboard pitch (4:43) begins a tutorial explaining what storyboards are. To make matters more interesting, this section is told via actual storyboards that demonstrate the process. Afterwards is a candid look at a storyboard presentation by Joe Ranft. The informational first half is both useful and clever while the fly-on-the-wall second half captivates.
"Storyboard to Film Comparison" (13:32) (HD) presents the scene of Dot's rescue from the bird as both storyboard panels and final film footage individually and then side by side. It's interesting to see, though a multi-angle presentation would've been preferred.
Two abandoned sequences are included. The first of these, "Original Museum Opening" (1:44) (HD) is a modern day prologue setting up the main story as a legend passed down by various generations. The other is "P.T.'s Office" (1:39) (HD) which extends and relocates the firing of the circus troupe found in the final film. Both scenes are wise deletions and yet still are fun to see on their own.
The last feature in the Pre-Production area is a research documentary (5:24). This presents reference footage taken of bug and plant life by the filmmakers. It's an interesting look at the types of locations and insects that made it into the film and how accurately the animators replicated them.
Design holds three galleries that one can choose to view individually or collectively: characters, locations, and concept art. All together it amounts to a whopping 570 stills. Annoyingly, even when one chooses to view all three galleries consecutively, the viewer is still taken back to the thumbnail menu every nine images or so. Still, it's a satisfyingly comprehensive look at designs both used and discarded.
Production is the next section on the disc and begins with the featurette "Behind the Scenes of A Bug's Life (3:26). This EPK piece features sound bites from various cast and crew members along with heavy narration. It good to have as an archival piece, but it holds little value besides that.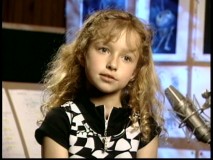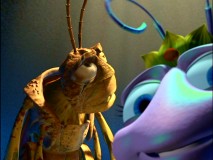 "Voice Casting" (4:14) is taken from the same interview sessions found above only instead of broadly covering the production, it focuses on the actors. The same comments from the other featurette apply here, though this one is slightly more fun thanks to the behind-the-scenes footage of the cast at work.

"Early Tests" (5:27) shows some experimental animation done by the animators to judge movement and style. Like most early tests for animated features, this one is fascinating to watch.

The last Production bonus is a progression demonstration (8:48) (HD). Here, the "flaming death" sequence is presented in various stages of production including story reel,

layout, animation, and shaders and lighting. Like the storyboard to film comparison, it's a treat to see but is hampered by a lack of the multi-angle functionality from the DVD.

"Sound Design" (13:09) (HD) is a surprisingly thorough examination of a production aspect often neglected in documentaries. Sound designer Gary Rydstrom breaks down the process from recording real-life sounds separately all the way through the final mixing phase. The lack of exposure on this subject on other releases makes this featurette all the more illuminating and appealing.

Release breaks down into two sections. Theatrical Release contains a pleasing selection of posters and ad campaigns (16 stills) as well as the fun teaser (1:01) and theatrical trailer (2:37).

The final portion of Release is a collection of character interviews (2:07) hosted by historian Jeff Kurtti, a familiar name (if not face) in the world of Disney bonus material. Here he talks with Flik, Hopper, Heimlich, and Francis as if they're actors. It's a cute tongue-in-cheek piece, but not as hilarious as what follows.

The last section of the bonus material is "Outtakes." Within this is the featurette "The Story Behind the Outtakes" (3:48). The filmmakers explain their intentions with the outtakes reel created and how they were prompted to do another one.

Finally, both the original outtakes (2:33) (HD) and the alternate outtakes (2:32) (HD) are presented. Pixar would continue placing staged outtakes in the end credits of their next two features, but these original ones arguably remain the best. They're genuinely inspired and far more hilarious than most real outtakes.

As has become somewhat customary, the second disc here is simply a digital copy of the feature, included for use on portable devices.

Several features from the DVDs fail to show up here. The reformatted full screen version is dropped entirely, as are the two featurettes explaining and illustrating the steps Pixar took to minimize compromise for 4:3 displays. Also gone are the "Bug's Land" set-top games created for the 2003 edition. Despite carrying over the filmmaker intros that precede nearly every featurette, the main intro for the entire collection of supplements is missing, thus robbing the other ones of some context. Still, these don't seem like major losses. More of a cause for concern is the dropping of both the music-only and isolated effects tracks. Such features aren't very common these days, especially from Disney, but their exclusion stills seems unnecessary and frustrating.

MENUS and PACKAGING

The main menu features a relaxing image of the iconic Ant Island tree, subtly animated and with low-key nature ambience. The pop-up menu interface lists the main menu features on the left, expands to a submenu in the middle,

and finally to a third menu on the right for most of the features and some descriptions. Unanimously inaccurate running times are listed by each feature, but they at least give the viewer a rough idea of what to expect. It's still a bit aggravating that there's no "Play All" function for all of the video supplements, but at least there's now the option of watching the supplements sans intros. The loading screen features two crossed leaves with pieces of grain appearing and disappearing beside each other.

The disc opens with trailers for Up and Snow White and the Seven Dwarfs, an outdated Monsters, Inc. Blu-ray spot, and a newly-created Disney Blu-ray promo. All these can be found in the "Sneak Peeks" section along with ads for Disney Movie Rewards, Race to Witch Mountain, Tinker Bell and the Lost Treasure, and Disney Parks.

Both the Blu-ray and digital copy come in a standard slim blue keepcase with a side snap. The case itself comes with a shiny-bordered embossed cardboard slipcover. Inside the case is interior artwork of Flik and some of the colony collecting food. A Disney Movie Rewards code that doubles as a digital copy code is included and is printed on a leaflet advertising other Disney Blu-rays. More exciting is a Hollywood Movie Money code for a free ticket to Disney and Pixar's Up, covering admissions up to $8.50.
CLOSING THOUGHTS
A Bug's Life tends to get ignored in Pixar discussions. This is a shame since the film features a meaty, ambitious plot, colorful (if overly odd) characters, and breathtaking animation. That same animation is reproduced stunningly on this Blu-ray Disc along with a perfect soundtrack. The two additions to this set are well-made and add quite a bit of value even with the all the other features collected here. The loss of certain supplements, particularly the two extra audio tracks, is a real disappointment, though. To anyone who's never owned a copy of the feature, this Blu-ray is the way to go. Those who own either version of the DVD Collector's Edition might want to hold onto those for completeness' sake, but are encouraged to pick this new edition up for the leap in quality, new supplements, and free ticket to Up.
More on the Blu-ray / Buy A Bug's Life from Amazon.com: Blu-ray / Blu-ray + DVD / DVD