DVDizzy.com | Pixar & Other Theatrical Animation | Reviews | DVD & Blu-ray Schedule | Upcoming Cover Art | Disney Schedule | Search
Pixar on DVD: Toy Story • A Bug's Life • Toy Story 2 • Monsters, Inc. • Finding Nemo • The Incredibles • Cars • Ratatouille • WALL•E • Up • Toy Story 3 • Cars 2 • Brave

Pixar on Blu-ray: Toy Story • A Bug's Life • Toy Story 2 • Monsters, Inc. • Finding Nemo • The Incredibles • Cars • Ratatouille • WALL•E • Up • Toy Story 3 • Cars 2 • Brave
Finding Nemo: Collector's Edition Blu-ray + DVD Review
Finding Nemo

Theatrical Release: May 30, 2003 / Running Time: 101 Minutes / Rating: G

Directors: Andrew Stanton; Lee Unkrich (co-director) / Writers: Andrew Stanton (original story & screenplay); Bob Peterson, David Reynolds (screenplay)

Voice Cast: Albert Brooks (Marlin), Ellen DeGeneres (Dory), Alexander Gould (Nemo), Willem Dafoe (Gill), Brad Garrett (Bloat), Allison Janney (Peach), Austin Pendleton (Gurgle), Stephen Root (Bubbles), Vicki Lewis (Deb & Flo), Joe Ranft (Jacques), Geoffrey Rush (Nigel), Andrew Stanton (Crush), Elizabeth Perkins (Coral), Nicholas Bird (Squirt), Bob Peterson (Mr. Ray), Barry Humphries (Bruce), Eric Bana (Anchor), Bruce Spence (Chum), Bill Hunter (Dentist), Lulu Ebeling (Darla), Jordy Ranft (Tad), Erica Beck (Pearl), Erik Per Sullivan (Sheldon), John Ratzenberger (Fish School)
Buy Finding Nemo from Amazon.com: Blu-ray + DVD • Blu-ray 3D + Blu-ray + DVD + Digital Copy • Original 2-Disc DVD • Instant Video
In the first several years of Pixar Animation Studios feature filmmaking, everything was looking up. The movies were getting longer and technically more sophisticated. Critical praise intensified. Box office numbers continued to rise. All of these factors hit fever pitch with the theatrical release of Finding Nemo, the studio's fifth film, in late May 2003.

The 100-minute comedic undersea adventure was, by a narrow margin, Pixar's longest film to date. The reviews couldn't handily exceed all of Pixar's acclaimed previous efforts, but they were about as overwhelmingly favorable as those of the first two Toy Story movies and slightly better than those given to A Bug's Life and Monsters, Inc. The general public's reception, meanwhile, left no room for doubt. Ignoring inflation, Nemo passed The Lion King to become the top-grossing animated film in domestic history.

Adjusting for inflation, Nemo still outgrosses every Pixar film through Brave, selling even more tickets than the enormously well-attended Toy Story 3. When accounting for soaring admission prices, only six films this century have grossed more, all but one of them (Avatar) sequels or starring pre-existing characters.

Some pretty clear parallels exist between Finding Nemo and The Lion King. Both are animal tales that find a young male character losing a parent and then losing his way. Both served as the high point (certainly commercially, arguably critically) for animation studios in the midst of historic hot streaks. Both studios naturally expected growth to continue, which it did not. Disney's 1990s reign of hit musicals abruptly came to an end and saw films like Pocahontas, The Hunchback of Notre Dame, and Hercules unable to recreate the same degree of magic. Pixar could not be accused of creative complacency, with the hits The Incredibles and Cars giving way to the most original and decorated stretch in the studio's history. Still, the domestic box office returns never got as high as they did on Finding Nemo. Only with Toy Story 3, a sequel to a beloved franchise, benefitting from both 3D premiums and considerably higher standard ticket prices, did Pixar get past Nemo's behemothic $340 million North American and $865 M worldwide hauls.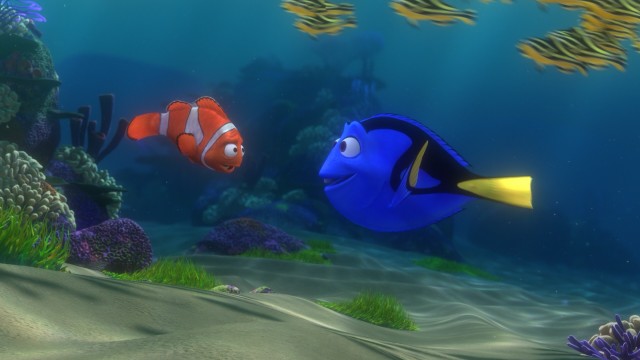 The success of The Lion King makes perfect sense to me. It is a film with wide appeal that fires on all cylinders, with standout musical numbers, dramatic resonance, unforgettable characters, and breathtaking animation. It clearly stands above the other Disney animated films of its time and of any time really. With Finding Nemo, you have another excellent film. It too boasts beautiful animation, funny moments, and savory drama. But virtually every Pixar film has. Aside from the two or three you consider the studio's weakest (one of which is sure to be Cars 2), every one of Pixar's movies seems like a perfect candidate to win over the public on the same scale as Nemo. But no other one, not even 2010 box office king Toy Story 3, has. Which raises the question: "Why Nemo?" What does it have that the other Pixar films do not?
It's easy to rule out certain films from drawing such a huge audience: WALL•E is short on dialogue, The Incredibles is kind of dark and scary for children, Ratatouille is about a rat cooking haute cuisine in Paris. But the question requires more than a process of elimination. Finding Nemo deserves credit for the tremendous effect it had on moviegoers in the summer of 2003. Still, I think "the summer of 2003" supplies our answer. Timing factored into Nemo's triumphs. In 1995, Toy Story introduced the public to all computer-animated films. Its sequel reached even more people in 1999. Then, 2001 offered the 1-2 punch of DreamWorks' Shrek in the summer and Monsters, Inc. in the fall, which seemed to open the eyes of some who hadn't been sold on the medium and format. Even Ice Age, Blue Sky's uninspired but diverting debut, was a huge hit in the spring of 2002.
And then... nothing. Pixar hadn't yet gotten on their annual release schedule. Every other studio was still relatively new to the game and busy on their next films. Disney had some traditionally animated fare that didn't connect on the same level. The mid-sized Jonah: A VeggieTales Movie didn't really count. So, demand for a big crowd-pleasing cartoon was high when Finding Nemo was released. And its opening on May 30th allowed it to play the entire summer. Too hot for the kids to play outside? Let's see Finding Nemo again. Rainy day on vacation? Hey, Finding Nemo is still playing. Divorced Dad's weekend with the kids? Someone at work said that Finding Nemo was a good one! There wasn't another movie as certain to please the entire family that year. And not only families, but teens, college students, and open-minded adults could all go on their own without a kid in hand and enjoy the film for its visual and scriptural splendor.
Shrek 2, released the following May, would be one of the last computer-animated family comedies released without another in sight. It would shatter Finding Nemo's total, grossing almost $100 million more. That film likewise benefitted from timing and lack of competition, in addition to the fact that it sequelized an incredibly popular movie.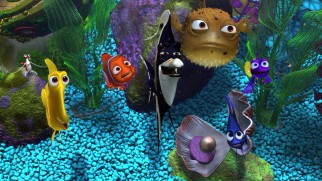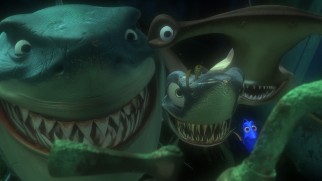 Finding Nemo's box office success stands out to me as its most noticeable distinction in the Pixar canon. Sure, I love the movie and more than any other film released in 2003. But I'd actually rank it pretty low among the studio's output; in fact, tenth out of the 13 releases.

That still translates to around a 9 out of 10 in my mind, but it's a soft 9, a few steps down from the practically perfect Toy Story trilogy, The Incredibles, and A Bug's Life, and slightly below but in the same league as Up, WALL•E, Cars, and Monsters, Inc.

Finding Nemo differs some from its Pixar ancestors. In lieu of a whimsical Randy Newman score, there is a more emotionally stirring Thomas Newman one. The film gave Andrew Stanton, a writer on all four of Pixar's previous films, his first chance to be primary director. The ocean appeared to be one of the few real domains that Pixar hadn't already explored. That vast setting ensured a film full of colorful, varied natural beauty along with some ecological basis and tie-in potential.

All of that diverted attention away from the story and structure similarities to Toy Story 2. That film divided its time between an against-the-odds search party and a new world accepting their missing friend with open arms. Nemo does the same, only here, the missing party is Nemo (voiced by Alexander Gould), the young clownfish who as an egg was the only survivor of a barracuda attack. Tiny Nemo, with one fin bigger than the other, is all that his widowed father Marlin (Albert Brooks) has. When the child is scooped up and bagged by an Australian dentist, Marlin puts every effort into rescuing him. He teams up with Dory (Ellen DeGeneres), a Regal blue tang with short-term memory loss. The two of them brave sharks, jellyfish, and a giant whale on their unlikely quest to find Nemo.

Meanwhile, young Nemo is welcomed into the ranks of the dentist's aquarium, befriended by an assortment of species, including the wounded moorish idol Gill (Willem Dafoe), pufferfish Bloat (Brad Garrett), and starfish Peach (Allison Janney).

So much praise has been poured on Finding Nemo that I don't feel much compelled to repeat and echo it. Yes, this is a great film. It dazzles the senses, warms the heart, fills with awe and wonder, and holds you captive. If this was somehow Pixar's only film, we would all hold it up as the masterpiece by which all modern animation is measured. Since it is not and instead represents a small, ever-shrinking sliver of the studio's oeuvre, it is a lot easier and more tempting to point out minor quibbles, like the fact that relatively few of the film's many characters make a lasting impression on us. Or to take note of the film's overriding predictability and episodic nature, neither of which does a thing to diminish your enjoyment of it. Such are the challenges of assessing a single company's delightful body of work. Whereas the casual critic and typical moviegoer would be content to stop at "Wonderful", I feel compelled to declare "Wonderful, but..."
Proving that last year's spectacularly performing 3D reissue of The Lion King was a fluke reflecting that film's age, limited availability, and almost mythic status to a generation, Finding Nemo became the latest 3D conversion to put up modest numbers in wide theatrical rerelease.

This whole niche market of 3D return engagements repeats the industry's bigger problem with 3D exhibitions. After Avatar, studios saw dollar signs and decided that this was the future and that all major movies henceforth had to be released in 3D. They're still doing it,

even though the numbers show that the added dimension and premium ticket prices seem to have little, and potentially even negative, effect on films' grosses. For every Avengers, you have at least three films like Dredd, Frankenweenie, and Ghost Rider: Spirit of Vengeance that sputter, while great movies like The Hunger Games and The Dark Knight Rises excel without a 3D option. If Disney had shown restraint and choose to reissue one beloved movie a year in 3D, perhaps some novelty would have remained and it could have felt like an event. Instead, Monsters, Inc. has just become Disney's third film treated to 3D reissue this year, where it is sure to contribute to a declining trend. Don't be surprised if next September's 3D reissue of The Little Mermaid is the last of its kind for the foreseeable future.

Of course, Finding Nemo's theatrical return was, as The Lion King's was intended, a mere preview to the main event: a major Blu-ray debut. Earlier this month, Finding Nemo, the all-time best-selling film on DVD, became the last of Pixar's films to hit Blu-ray Disc, being made available in a 3-disc Blu-ray + DVD combo pack, which we review here, as well as a 5-disc Ultimate Collector's Edition adding a Blu-ray 3D and digital copy.

Like the Toy Story movies (and presumably Monsters, Inc. for its forthcoming Blu-ray 3D rerelease), this one has had its original Pixar-only Walt Disney Pictures logos updated with the modern company-wide CGI version. Stereoscopic 3D credits are also tacked onto the end of this 2D presentation.
Blu-ray & DVD Details

1.78:1 Widescreen (DVD Anamorphic)
Blu-ray: Dolby TrueHD 7.1 (English), Dolby Surround 2.0 (English, DVS), Dolby Digital 5.1 (French, Spanish)
DVD: Dolby Digital 5.1 (English, Spanish), Dolby Surround 2.0 (English, DVS)
Subtitles: English, Spanish; Blu-ray only: French; Film-only: English for Hearing Impaired
Extras Subtitled; DVD Closed Captioned
Suggested Retail Price: $39.99 / Release Date: December 4, 2012
Three single-sided discs (1 BD-50, 1 BD-25, & 1 DVD-9)
Blue Keepcase in Embossed Holographic Cardboard Slipcover
Also available in DVD case ($39.99 SRP), 5-Disc Blu-ray 3D + Blu-ray + DVD + Digital Copy Ultimate Collector's Edition Combo Pack ($49.99 SRP), and Amazon Instant Video
Previously released as 2-Disc Collector's Edition DVD and VHS (November 4, 2003)
VIDEO and AUDIO
The technical perfection that Finding Nemo achieved on DVD is handily surpassed by high definition's equivalent flawlessness. The 1.78:1 presentation is an absolute delight, not marred by any perceivable blemish. The default Dolby TrueHD 7.1 soundtrack is as much of a feast for ears, with its exceptional distribution of Gary Rydstrom sound design, Thomas Newman score, and, of course, the suitably crisp dialogue.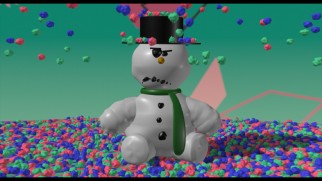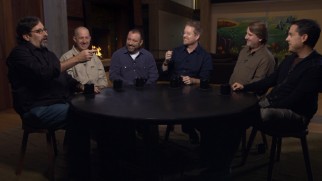 BONUS FEATURES, MENUS, PACKAGING and DESIGN

Most of the new and important bonus features accompany the film on the all-HD first Blu-ray Disc.

First up comes the Pixar animated short Knick Knack (3:37). Naturally, we once again get the revisionist 2003 version that applies severe breast reduction to the original 1989 two ladies. It's not a battle to choose, but it is an interesting change that will presumably stand as long as Pixar does. The Bobby McFerrin-scored short, of course, centers on an Alaskan souvenir snowman who tries a number of ways to be freed from his snow globe.

"Aquarium" gives you the option to lose the listings from the calming, scored menu and enjoy the animated anemone environment like a virtual ocean aquarium.

The disc's biggest extra, Cine-Explore, enhances playback of the film, using picture-in-picture to display images, artwork, and short old videos that relate to the 2003 audio commentary that is led by writer/director Andrew Stanton, co-writer Bob Peterson, and co-director Lee Unkrich and features occasional input from technical artists.

The track covers all the bases you'd like, from casting the voice actors to drawing from real ocean life to cinematic influences. It is well worth a listen and even merits another in this new form.

"Finding Nemo: A Filmmakers' Roundtable" (17:37) is a great featurette that reunites Andrew Stanton, production designer Ralph Eggleston, technical lead Oren Jacob, co-director Lee Unkrich, screenwriter Bob Peterson, and producer Graham Walters. They reflect on their film, from conception to reception, touching upon such topics as the intense opening scene, their research trips from scuba diving to a sewage treatment plant (the latter, for a cut sequence), working with Ellen DeGeneres and Albert Brooks, the animation challenges, this being seen as the less desirable project to the concurrently advancing The Incredibles, and the film's enduring legacy. I'm glad these candid, lively conversations are a fixture on Pixar catalog titles.
"Reinventing the Submarine Voyage" (15:05) discusses Disneyland's recent Finding Nemo-themed makeover to the 20,000 Leagues Under the Sea attraction that opened in 1959. Current and former Imagineers and Andrew Stanton give us a history of the ride, whose evolution vintage and modern clips illustrate. The piece even details dashed plans for an Atlantis: The Lost Empire makeover. Any fan of the parks is sure to be fascinated by this featurette.
Stanton then presents a deleted scene (3:04), an alternate opening comprised of story sketches featuring Marlin and Nemo. In the same vein, "A Lesson in Flashbacks" (8:00) has Stanton sharing his original idea to present the backstory in pieces throughout the movie, a design that made Marlin repeatedly unlikable, an effect that his narrated story reel tries to convey here.
Just barely holding enough content to require a second disc (and that's with a number of duplicate videos), the bonus Blu-ray's offerings begin with six additional HD aquarium scenes, each stunning in its own right.
The bonus disc's only other HD feature, "Art Review" (8:38), has three technical artists speaking over concept art created for the film regarding visual choices.
"Making Nemo" (25:35) is a through general documentary on the film's creation, something Pixar has moved away from. This fine piece gathers thoughts from crew members and shares loads of clips of them at work and play. Among the topics covered: underwater research, brainstorming during drives to Los Angeles, the usefulness of story reels and color scripts, lighting, character design, and test screenings.
"Exploring the Reef" (7:01) opens as a serious nature documentary by Jean-Michel Cousteau, only to be made much more entertaining by Dory and friends (all with their original voice actors). Interestingly, the characters work spectacularly well as animated into real ocean footage.
"Studio Tour" (5:24) lets Nemo's young voice actor Alexander Gould roam the various departments of Pixar for a humorous and semi-sincere overview of the animated filmmaking process.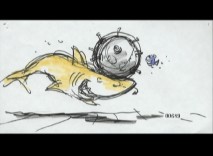 Old School contains eight short odds and ends, previously featured in the Visual Commentary or as Easter eggs on the DVD. There are highlights from Andrew Stanton's 2002 passionate plot pitch of the movie at the El Capitan Theatre (0:52). A progression reel (0:38) shows John Ratzenberger's school of fish offering directions in storyboard through different phases of animation. "MA Reference" (0:53) points little nods to Andrew Stanton's home state, Massachusetts. "Whale Mouth" (2:19) looks at animating water inside the whale's mouth.
"International Mine" (0:22) is a multi-language reel showing us what the seagulls say in various foreign translations. "Pelican Animation" (0:52) shares some of the thoughts behind depicting Nigel's manner of flight. "Glenn McQueen Tribute" (2:46) celebrates the late Pixar animator to whom the film is dedicated with clips and pictures of him. "Aquascum 2003" (0:32) is a mock commercial for the aquarium filter featured in the film.
Outtakes holds four short, unremarkable clips from voice recording sessions (0:28, 0:27, 0:18, 0:20), two in audio and two with video. It really could use a "Play All" option.
Also sorely lacking a "Play All", seven deleted scenes (5:27), relegated to the Visual Commentary on DVD (but easily accessed), are presented in story reel format. They are short and unimportant, although we do get a glimpse of the more Dennis Hopper-like early version of Crush mentioned in the commentary.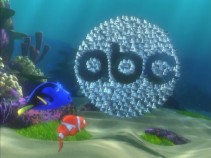 Under Publicity Pieces, we find Nemo's original teaser (2:03) featuring unused animation and three theatrical trailers (2:08, 1:26, 2:11). Sadly, they are still presented in letterboxed 4:3 standard definition. No marketing from the 3D reissue is added. The section also includes three Fishy Fact shorts (3:09) making apt further use of Men at Work's "Down Under, previously unreleased ABC and Disney Channel logo animated "stunts" (0:23), and a montage of around five Dory gags created for the DVD.

Finally, "Mr. Ray's Encyclopedia" informs us about thirteen species featured in the film.

It thankfully includes a "Play All" option, with which it runs 7½ minutes sans counter display.

Extending the questionable strategy of making Blu-ray look good by making DVD look bad, the combo pack's DVD isn't simply a reworked version of the movie's original Disc 1, but an altogether newly-authored platter watering down the main Blu-ray. The upside to that: those still happy with standard definition still get to see the best new extra in "A Filmmakers' Roundtable." The downside: that, Knick Knack, and the "Aquarium" version of the main menu is all they get in the way of extras. Curiously, the DVD even drops Disney's standard French dub and subtitle options, something that one assumes the Canadian version does not.

Odds are that most people who wanted to buy Finding Nemo on DVD already have. Still, these new releases come with the discontinuation of the film's original 2-Disc Collector's Edition DVD. While there are more copies of that than any other DVD in circulation, it's still unfortunate and unnecessary that fans will have to brave the second-hand market to acquire the film's easily best DVD edition, should they somehow just discover the movie or, more likely, run into trouble on their family's oft-watched, potentially mishandled copy.

The first Blu-ray and only DVD open with trailers for Monsters, Inc. 3D and Peter Pan: Diamond Edition. The Sneak Peeks listing repeats those, then play ads for Disney Movie Rewards, Disney Parks, "Sofia the First", Monsters University, and the now theater-bound Planes.

WHAT'S MISSING?

Numerous minor supplements from Finding Nemo's DVD are dropped for this Blu-ray. We lose Andrew Stanton and Lee Unkrich's amusing introductions to each disc that applied specifically to the DVD. The music-only version of the Art Review is gone. Instead of being upgraded to take advantage of BD technology, three design galleries (character turnarounds, environments, color script) are lost outright. Unless I missed them, some of the Visual Commentary's short video detours (like Geoffrey Rush holding his tongue) appear to have been dropped. Disc 2's case-advertised teaser for The Incredibles is unsurprisingly dropped, it no longer being as exciting as it was nine years ago. Also missing: the set-top Fisharades (fish charades) game, a Storytime read-along, a nice gallery of posters and other print advertising, and most oddly, some funny promotional Character Interviews. Mr. Ray's Encyclopedia section drops the fun facts he dispensed while waiting for you to pick an animal.

On their own, none of these losses is too significant. But it adds up to quite a bit of content. Is any of it likely to have you popping in your old DVD to check it out? Perhaps not unless you love DVD games or are an aspiring animator/movie marketer inspired by art/poster galleries. Still, this content is not likely to resurface anytime soon, so consider that before unloading your DVD in favor of this new set.
MENUS, PACKAGING and DESIGN
Though they lose some of the character touches from the DVD's transitions, the Blu-ray's menus' stately, scored scenes are rather perfect and once again (this time, Blu-ray only), you can seamlessly lose the listings by selecting the small unmarked fish icon.
Like other Disney Blu-rays, these ones sadly do not resume playback. If I were running the division, I would make that my #1 New Year's Resolution for 2013.
The three colorfully labeled discs share a standard sized Blu-ray case and are topped by a swirly holographic cover not far from the original DVD's. A booklet promotes a variety of Disney properties, while a second serves up your Disney Movie Rewards code (which will also net you a free movie ticket up to $10 to see Monsters, Inc. 3D in theaters). There's no chapters insert or extras guide resembling the DVD's thick booklet.
CLOSING THOUGHTS
Although I consider Finding Nemo one of Pixar's lesser efforts, it still achieves a level of greatness that few other movies do. A film of this caliber is one worth owning and fortunately, this Blu-ray is easy to recommend. It loses some of the extras from the DVD (which you won't want to get rid of), but adds a solid 45 minutes of new content plus an additional dimension to the commentary, while most significantly treating the film to the most perfect picture and sound that current technology allows.
With this release, every Pixar film has now been released to Blu-ray. Like most of them, this one is well worth owning, offering some of the finest cinema and audio/video you'll find on the format.
Support this site when you buy Finding Nemo now from Amazon.com:
Blu-ray + DVD • Blu-ray 3D + Blu-ray + DVD + Digital Copy • Original 2-Disc DVD • Instant Video


Related Reviews:
New: Catch Me If You Can • Babes in Toyland • Francis Ford Coppola: 5-Film Collection • Heavyweights
Directed by Andrew Stanton: WALL•E • John Carter • Pixar Short Films Collection, Volume 2
Written by Andrew Stanton: Monsters, Inc. • Toy Story • Toy Story 2 • Toy Story 3 • A Bug's Life
The Incredibles • Brave • Up • Ratatouille • Cars • Cars 2 • Pixar Short Films Collection, Volume 1
Early 2000s Family Films: Treasure Planet • Elf • Lilo & Stitch • The Santa Clause 2 • Home on the Range
The Little Mermaid • 20,000 Leagues Under the Sea • The Lion King • Oceans • Titanic • Ghosts of the Abyss
DVDizzy.com | Pixar & Other Theatrical Animation | Reviews | DVD & Blu-ray Schedule | Upcoming Cover Art | Disney Schedule | Search
Search This Site:
DVDizzy.com Top Stories:
Reviewed December 21, 2012.