Anyone who's found modern animation much too talkative should appreciate WALL•E. Pixar Animation Studios' ninth feature film is another project that challenges its makers creatively. This science fiction work is void of dialogue for most of its runtime

and offers more communication comprised of robot beeps and whistles than of plain English utterances.

Set 800 years in the future, WALL•E tells us the story of its title character, one of the last Waste Allocation Load Lifter Earth-class robots still working on an uninhabitable planet Earth. The cubic rover continues to carry out his intended functions by cleaning and compacting all that's in his path. It's loneliness, not trash, that stands as WALL•E's biggest foe. He can take pleasure in trinkets and the regular viewing of Hello, Dolly!, but not in the company of anyone or anything else bigger than a cockroach.

That changes when a fellow robot, EVE (Extraterrestrial Vegetation Evaluator), lands amidst the dirty, desolate wasteland. Though the sleek airborne EVE greets WALL•E with a few formidable attempts to destroy him and a sizable radius around him, WALL•E overlooks that and becomes quite smitten with his clean, distaff neighbor.
Just as their quirky romance begins to take off with a tour of WALL•E's truck full of found treasures, a gift from him throws EVE into an instant, puzzling sleep mode.

WALL•E's trailer - one of the only things noticeably absent from this DVD:


Nothing WALL•E tries can awaken his love interest, whose suspended mode is indicated by a blinking green icon.

Adventure and some answers come when EVE is picked up by a spacecraft, with WALL•E narrowly tagging along. They're both taken to the Axiom, the outer space equivalent of a present-day luxury cruise, where the guests are Earth's displaced humans and the host is WALL•E and EVE's shared manufacturer, retail giant Buy n Large (think Wal-Mart run wild).

The film proceeds to develop a plot out of the two robots' arrival on the Axiom and its significance to the human passengers. The latter, who just might represent the extent of mankind, have evolved into passive, technologically jaded blobs. They travel around the craft on seated vehicles, unfazed by the commercialism of their surroundings, their lack of social interaction, or really anything else beyond their next meal in a cup.

Charming robot antics act as counterbalance to the fairly epic developments surrounding the human race and the discovery that may relieve them from their rut of doom.
After being disappointed by the merely good yet rather overrated Ratatouille, WALL•E restores my faith in Pixar's filmmaking prowess. This is a wonderful film. Although it departs from the studio's past and just about all cinema since talkies were introduced, WALL•E reaches amazing heights of its own. Multiple viewings, advanced discussion, conflicting interpretations... these are things inspired by the best movies of all-time.

Immediately lending itself to those and other enriching activities, WALL•E ups the already startling percentage of such present-day films that emanate from the inventive and unbelievably reliable folks at Pixar.

Visuals have always been essential to Pixar's appeal, and WALL•E takes them to a whole new level. From the shortage of dialogue, the visual becomes the primary storytelling component. One of the most evocative environments ever captured on film, WALL•E's vision for Earth's future is enthralling and chilling at the same time. It is a tremendously detailed and remarkably apt backdrop for the most silent of sequences. And yet for a film that could easily be all gloom and doom, this one is witty and optimistic.

Its visual comedy harks back to cinema's Silent Era and the likes of Charlie Chaplin and Buster Keaton. I'm probably one of the few critics who will admit that, despite their enormous historical significance, Chaplin and Keaton movies are more of a chore than a treat. Few would also say that WALL•E's sense of humor improves upon the recognized silent triumphs. But it does. Though there aren't big hearty laughs, as far as post-apocalyptic films go, this one puts a smile on your face with astonishing regularity. For the most part, the jokes aren't played broadly or with the expectation that you'll need time to recover from such hilarity. Those that reach a little higher are well-equipped to do so.

The technical beauty here welcomes more admiration than Pixar's past efforts, even if upon release those each felt like new benchmarks. There is the setting of outer space, which since Toy Story 2's emphatic opening has seemed like one vast canvas begging the studio to tell more stories there. There is the sound design by Spielberg and Lucas collaborator Ben Burtt, which turns mechanical sounds into personality, electronic ones into voice, and us into receptive learners of a new language.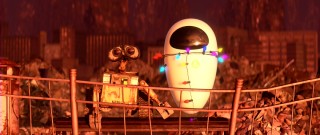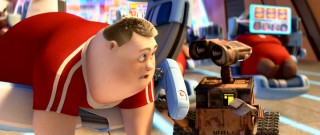 For all of the movie's artistic worth, it needed something else to excel. That special ingredient -- humanity -- is served in abundance. Humans are given a most unflattering portrayal, but somehow the judgment passed on modern society does not offend. It's a gentle reminder of something big, important, and universal; a relevant reminder pulled off most effectively without the cringes that result from ascending a soapbox.

There is nothing elitist, hypocritical, condescending, or political to the environmental message -- a true feat indeed. The goal is the realistic and humble one that all Pixar films strive for: to have the audience thinking alongside the laughter and amusement provided.

Only Pixar would be bold enough to use a G-rated movie to provide a genuine examination of the planet today, to condemn the system that feeds them, and to question its viewer's behaviors. It did this all to one of the year's biggest audiences. WALL•E kept the studio's blockbuster streak going with its $223 million domestic gross eclipsing the film's record $180 M budget and paving the way for many profits. Back in the days of Pixar's earliest releases, that total would have made it box office king for the year. Today, it contributes to a curious trend that has seen the studio's three most recent releases among its lowest-attended.

WALL•E fared better in the United States than prior release Ratatouille did. You'd suspect a picturesque sci-fi film with a minimum of cultural obstacles would also play well overseas. WALL•E's foreign gross did exceed its homeland earnings, but not to the degree that some other big summer movies did. Narrowly defeated in the US, Kung Fu Panda, the latest effort from chief rival DreamWorks, put up much bigger numbers in Europe and South America, making it the global winner, although WALL•E still has some major markets to reach, including Japan next month.

While there may have been room for improvement in financial earnings, WALL•E garnered about as much critical acclaim as any widely-released film ever has. That helps make it a frontrunner for the fast-approaching Oscar season. Lacking the clout of big name industry figures, having theatrically opened in June, and, above all, being animated probably means it won't get the Best Picture nomination it so plainly deserves. But it will be aided tremendously by distributor Disney's recent declaration that they will campaign the movie for the Academy's top honor. You can also expect it to be recognized in technical categories, maybe screenplay and music too. And if nothing else, the Best Animated Feature statue should be well in reach. If the schlocky Happy Feet could win that award for seemingly no greater reason than some halfhearted environmentalism, then WALL•E should be a lock. Although the Oscars may wish to uphold a more important tradition: disappointing me with their selections while subjecting movie lovers to their phony ceremony.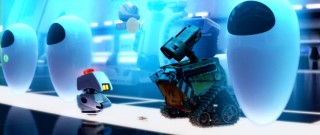 After six years of championing DVD with wonderful two-disc editions, Pixar decided to start stiffing the format when Blu-ray was unveiled. Happily, the studio appears to have halted this distasteful trend of suppressing DVD supplements seemingly to encourage upgrades to Blu-ray (something most customers are still passing on after two years of encouragement). WALL•E debuts Tuesday in a single-disc DVD, a two-disc Blu-ray, a three-disc DVD and a three-disc Blu-ray. If those disc counts and the number of releases seem high, it is because Disney is jumping on the digital copy bandwagon. The review continues below with my thorough look at the 3-Disc Special Edition DVD.
DVD Details

2.39:1 Anamorphic Widescreen
Dolby Digital 5.1 Surround EX (English),
Dolby Digital 2.0 (English)
Subtitles: English; Closed Captioned; Most Extras Subtitled
Release Date: November 18, 2008
Three single-sided discs (2 DVD-9s & 1 DVD-5 DVD-ROM)
Suggested Retail Price: $39.99
Thin Embossed, Holographic Cardboard Box with Pull-out Trays
Also available in 1-Disc DVD, 2-Disc Blu-ray, and 3-Disc Blu-ray with Digital Copy
VIDEO and AUDIO
In another instance of Pixar's convictions trumping accepted conventions, WALL•E comes to DVD only in its widescreen theatrical aspect ratio, which the case neglects to mention is 2.39:1. About the biggest disappointment ever attached to a Pixar DVD presentation was that its first release of A Bug's Life, like many back then, wasn't enhanced for 16:9 displays. Since then, the studio has consistently raised the bar for digital perfection in picture and sound. WALL•E is no different, which is good news for viewers and potential customers but challenging for reviewers at a loss to describe such perfection in a new and interesting way.
Rather than waste your time with gushing praise, let me simply state that the film is treated to picture and sound of the utmost quality. Neither the stunning visuals nor the engulfing Dolby 5.1 soundtrack will let you down in any conceivable way.
A two-channel Dolby Surround mix is also offered. For those who wonder why, there is a text page answering that very question from the Audio Options menu.
BONUS FEATURES, MENUS and PACKAGING
On DVD, most of the bonus features are exclusive to Disc 2 of the Special Edition, but the movie also enjoys notable supplemental accompaniment on Disc 1, i.e. the single-disc version.
The extras begin with two computer-animated shorts presented in Dolby 5.1 and, like everything else on the set, 16:9 enhanced. Presto (5:15) will be familiar to anyone who caught WALL•E in theaters and didn't arrive late. Like many Pixar shorts, this one sees how far it can go with a single-joke concept. Here, the joke involves a magician with two hats that serve as a portal and one bunny unwilling to perform without eating a carrot first. While thematically it's unrelated to the feature, its inclusion here is welcome.
More exciting to discover is the all-new short BURN•E (7:35). It tells the story of a robot called to perform a repair on a spire outside of the Axiom. In Pixar short fashion, he's treated to a series of increasing mishaps. WALL•E, EVE, and the Captain are seen in passing glimpses, as BURN•E is in WALL•E (this evidently fits into the chronology of the feature). Though amusing, the visual gags don't lift this too high. Compared to other Pixar film-inspired shorts, it's more on the order of Mike's New Car than the captivating Jack-Jack Attack and Mater and the Ghostlight.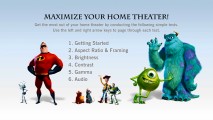 The fine featurette "Animation Sound Design: Building Worlds from the Sound Up" (18:42) is a logical inclusion based on the topic's importance in the film. It places Ben Burtt's work on WALL•E in the tradition of Disney cartoon sound design. That tradition is admired with clips of vintage animated shorts and films compared to the effects being generated by Jimmy MacDonald in a 1983 Disney studio piece. We also get lots of looks at Burtt's efforts and all they entailed.

Up next are two deleted scenes which, rare for a CGI film, are fully animated and only lacking some shading/lighting and effects touches. It's more accurate to call these "alternate" scenes because versions of "Garbage Airlock" and "Dumped" do make the final cut, only with characters swapped in one and a location changed in the other.

Out of context, there isn't much to either sequence despite being several minutes long. Altogether, the section runs 9:35 with optional introductions and afterthoughts by writer/director Andrew Stanton. They shouldn't even be optional, since without them, the clips lack meaning.

After a 3˝-year dry spell, we get a new Pixar feature audio commentary on DVD with this set's track by writer/director Andrew Stanton. Though more than one participant is usually preferred, Stanton's fine commentary trumps most of the group discussions I've heard. The reason is two-fold: he's an engaging speaker and WALL•E is a film that lends itself to commentary. He gives us a good overview of the long-in-development production that he repeatedly likens to a dinosaur dig. His fascinating insight into the exhilarating creative process addresses topics big and small. Among the revelations are why the ecological bent feels so natural (it was devised working backwards, not for any agenda), songs considered and temp-tracked but not used, how Hello, Dolly! came to be selected, voice casting, and Peter Gabriel's contributions. Also covered are the film's themes, Stanton's story intentions for individual sequences and the whole film, inspirations for design choices, and significant imagery. The formal talk runs well into the end credits, and Stanton even comes back at one point to fill in a 40-second gap (perhaps something had to be replaced?). Though commentaries grow a little less special the more I hear, I remember why I missed the option on the last two Pixar films; because they do them right and enhance all that's there for the enhancing.

Closing out the disc is a deliberately vague 50-second preview for "WALL•E's Tour of the Universe", which I'd guess is an unlaunched scientific website tied to the film.

An unadvertised bonus found in the Set Up menu is "Maximize Your Home Theater", which takes some basic video/audio tests and makes them awesome with imagery from various Pixar movies and shorts.

Disc 1 launches with an updated version of the now-standard "only one Disney" promo, the teaser for Pixar's 2009 movie Up, a Disney Blu-ray promo, and DVD/Blu-ray previews for Pinocchio: Platinum Edition and The Chronicles of Narnia: Prince Caspian. The disc's unique Sneak Peeks menu also holds short commercials for Disney Movie Rewards and Disney Parks and additional trailers for The Secret of the Magic Gourd and Tinker Bell and the Lost Treasure. All these ads and sadly, none of WALL•E's trailers make the cut on DVD; they're exclusive to Blu-ray along with a gallery and some BD-Live features.
Employing designation we haven't seen in a few years, Disc 2 divides its extras into those "For Film Fans" and those "For Families."
Humans holds the meatier extras, and in this case, that's almost everything on Disc 2. Topping it is a Behind the Scenes section bearing half a dozen topical featurettes.
"The Imperfect Lens: Creating The Look of WALL•E" (14:32) documents the lengths to which the production went to achieve its visual style, from bringing in cinematographer Roger Deakins for a class on lighting, to conducting camera tests with life-size character models. There's also talk of specific techniques sought and the sci-fi films that inspired the palette, plus footage of Andrew Stanton directing.
"Captain's Log: The Evolution of Humans" (7:55) looks not only at the changes WALL•E foresees for humanity, but the journey to depict mankind in the film. Originally, the humans were gelatinous, unintelligible alien blobs (sort of like the characters from the short Lifted). We see storyboards and deleted concepts from that stage of production and hear about the decisions that prompted the change.
"Notes on a Score" (10:39) turns the focus on composer Thomas Newman, the Newman second most-employed at Pixar. In interviews and production footage, we learn about Newman's scoring process and collaboration with Andrew Stanton.
"Life of a Shot: Deconstructing the Pixar Process" (5:07) gives us a new way of appreciating Pixar filmmaking, with a parade of artists revealing their specific contributions to a few of WALL•E's 1500 shots. "Robo-Everything" (5:45) covers designing the film's robots and a few ones in particular. "WALL•E and EVE" (7:00) ponders the central romance, the characters that comprise it, and research and design choices that shaped them.

It's interesting to note how Stanton has changed from the goofy, fun personality of early Pixar DVDs to the broody, bearded artist seen and heard throughout this DVD. That change coincides with the serious and rather technical tone of these supplements and the artists they feature.

Are the demands of delivering an original new blockbuster every summer sucking the relaxed campus atmosphere once felt in any Pixar piece? Or maybe the staff is just growing out of its collective big kid phase? Say it ain't so.

Five BNL shorts (8:50) realistically convey the movie's fictional Buy n Large corporation, with a company history, a bottom-line-conscious message on "Operation Cleanup" for executives and promotional videos for the Axiom space tours program, its amenities, and the robots there to maintain travelers' comfort. These entertain and excite, especially since they remind one of various real life entities.

Two more deleted scenes (12:50) are housed on Disc 2. These are in an animated storyboard format and depict early versions of two surviving scenes, one featuring a Shatner-esque CEO and the other, a more anthropomorphic Auto and less human Captain. Once again, there is the option to have these preceded and followed by Stanton's on-camera comments, the only way you should watch them.
Next up is a whopper of bonus feature, easily the longest video extra encountered on a Pixar DVD. That's because The Pixar Story (1:28:30) is an independent documentary film given limited theatrical exhibition last year in an effort to attract Academy Award consideration and secure a wider release. That never happened and now after months of occasional Starz channel airings and an Emmy nomination, it reaches what should be its largest audience to date here.

The film was written, produced, and directed by Leslie Iwerks, the granddaughter of Mickey Mouse animator Ub Iwerks and an Oscar-nominated documentarian in her own right. It takes a comprehensive and chronological look at Pixar, from its humble origins as a division of Lucasfilm surviving on esoteric software sales to its present-day status as America's first impeccable movie studio. Early on, our attention is turned to the three parties -- scientist Ed Catmull, animator John Lasseter, and businessman Steve Jobs --

who gave birth to Pixar and remain in the helm today. As Story progresses, it begins to catalog Pixar's films, initially the shorts that went largely unseen and then the well-known features, starting with breakthrough Toy Story and continuing to spend ample time on its worthy successors.

Though it never quite captures the magic it celebrates, Pixar Story is a terrific effort nonetheless that's buoyed by a wonderful supply of relevant clips and noteworthy interview subjects. The latter include all of Pixar's key creative talent; star voice actors like Tom Hanks, Tim Allen, and Billy Crystal; George Lucas; and Disney brass such as Michael Eisner, Roy Disney, and Robert Iger (whose purchase of Pixar redeems the mildly vilified company). The clips capture milestones in computer animation, from Tron to Star Trek II: The Wrath of Khan, and Pixar staff's advancing achievements. The picture has an inclination to seemingly overdramatize productions and yet it's not remotely critical of the studio in any way. Still, chockfull of information and entertainment, it deserves to be seen and stands as one of the best items claiming bonus feature status on a major movie DVD.

Unfortunately, Pixar Story sheds no light whatsoever on WALL•E. It's not alone in that regard; Cars is given short shrift and Ratatouille is seen only in a brief shot. That immediately dates a piece that already lacks much historical perspective. This was addressed in the creation of "The Pixar Story Continues", a 25-minute update hosted by critic Richard Roeper that Starz channels have also aired since last April. Sadly, it is not included here.
The final three features are held in Robots, which is for "families" meaning "children." That doesn't mean teens and adults won't be amused by some, if not all of it.
"WALL•E's Treasures & Trinkets" (4:55) is a short comprised mostly of the robot against a white background interacting with various objects: a Hula-Hoop, a powerful magnet, sports balls, a fire hydrant, and so on. Charlie Chaplin would be flattered to see his brand of visual comedy so firmly embraced.
"Bot Files" is a series of character profiles that call to mind a DVD feature on the Monsters, Inc. employees. Here, 28 robots aboard the AXIOM are given official-sounding 20-second descriptions, which are spoken while a data card displays facts and a 360° spin. It's a good way of getting to know the abbreviation-named characters, many of whom are seen briefly (if at all). The sharp, subtle witticisms are an added bonus.
The final listing "Lots of Bots" can be experienced as a read-along or as a play-along. The former (3:10) simply turns Kiki Thorpe's Seussian picture book into an animated storybook read by Mary (Kathy Najimy). The play-along version has John (John Ratzenberger) read the story, which gets extended by a number of little interactive activities like puzzles and word matches. Appropriately enough, Pixar makes these a little more fun and challenging than your typical child-oriented DVD games.
A Pixar DVD wouldn't be complete without some Easter eggs. I scoured the menus in search of them, but came up empty. Viewing on DVD-ROM, I found three, which the press release confirms is the total. Available from Disc 1's main menu is the short featurette "Geek-o-Rama" (4:45), which shows us some of that fun Pixar atmosphere,

livened up by a bomb-sniffing robot and a helmet camera, as animators talk about geeking out over a sci-fi project. Also from Disc 1's main menu, there is a short title test (with slightly different spelling and formatting). From Disc 2's Behind the Scenes menu, one can uncover a 2-minute development test from 2005 featuring an early WALL•E design.

Though it figures into the disc count and single-handedly impresses, the third platter is something that many will consider worthy of ignoring or giving away. That's because it is part of the growing class of Digital Copies that studios are investing in with an eye toward the future. Disney makes digital copy its own by calling it "DisneyFile." The second film given this treatment, WALL•E is offered in both iTunes and Windows Media formats. The activation code is good for a year, after which point Disc 3 will be pure planetary refuse. Ironic, considering the other packaging touches meant to uphold the film's anti-waste message.

Pixar's imaginative movies always lend themselves to innovative DVD menus, and WALL•E certainly doesn't disappoint in this regard. On Disc 1, we see things through characters' perspectives (our hero's binocular vision, EVE's oval blue screen) and hear the sounds of mechanical desolation in cleverly-designed 5.1. The locales are established with nifty transitions.
Disc 2's menus treat us like the passive, screen-fixated Axiom passengers with colorful animated graphics calling our attention to each of the various listings. Runtimes for all extra features are happily provided, although not the most clearly, as part of the cursor. In contrast to many DVDs, you could leave some of these atmospheric screens on for a while and not get annoyed.
As a gesture to honor the film's themes, WALL•E's Special Edition comes in compact, environment-friendly packaging unlike any DVD I've previously encountered. Claiming less shelf space than a standard keepcase, the thin holographic cardboard box easily extends on both sides to reveal symmetrical trays that fold open to reveal bonus features and scene lists. The 3 discs are contained snugly in pockets, though they're more prone to scratches this way. Three inserts, printed on strikingly non-glossy recycled paper supply a Disney Movie Rewards code and sweepstakes information, a code for unlocking the digital copy, and ads and some fairly random coupons.
CLOSING THOUGHTS

WALL•E stands as clearly the best film of 2008 that I've seen thus far. For anyone else, that would make it a triumph,

but among Pixar works it probably falls into the middle of the outstanding class. Still, thirteen years into the game, the studio is keeping ahead of the curve. WALL•E is not only a great movie, it finds new ways for movies to be great.

I'm obviously recommending WALL•E and I can do it with a clean conscience because Disney and Pixar haven't held back on the Special Edition DVD. There isn't as much film-specific bonus material as on some past Pixar DVDs, but the plenty that's here is great and the documentary feature The Pixar Story would probably be worth buying on its own. It's unfortunate that the days of getting all the bells and whistles at a standard price are gone. The Special Edition will run you anywhere from $8-$10 more than the standard disc and the digital copy many will disregard factors into that. Still, films and DVDs this good are rare, and even selective collectors would be wise to splurge on WALL•E.

More on the DVD / Buy WALL•E from Amazon.com:
Special Edition DVD / 1-Disc DVD / Blu-ray + DVD / Blu-ray / Blu-ray with DC