Page 1: Show Discussion, Disc 1, Disc 2, and Disc 3
Page 2: Disc 4, Video/Audio, Bonus Features, Menus & Dino-Eggs, Packaging, and Closing Thoughts

Something old, something new. This seems to be the best way to succinctly describe "Dinosaurs", a Disney sitcom populated by animatronic puppets which ran for four seasons over just three years in the first half of the 1990s. That opening phrase seems to apply in a number of ways. The "old" part could refer to the timeless nature of family life as a subject of entertainment. Since the beginning, many situation comedies have chosen to focus on the conflicts and challenges that families regularly endure. Or the "old" could point to the fact that "Dinosaurs" is set over 60 million years ago, a time when the title animals ruled the earth.

The "new" comes in from the fact that the Sinclairs, the show's central clan, lead lives like many American families of fifteen years ago and today. Not unlike "The Flintstones", they are indeed a modern Stone Age family. Or "new" could indicate the visual approach "Dinosaurs" takes - a high-tech formula which required three individuals to bring each of the lead characters to life.

Though they are breaking with tradition within their own world, the main characters of "Dinosaurs" fit seemingly timeless human archetypes that were especially in vogue in the early 1990s. The flannel-wearing Earl Sinclair is a hefty working-class paterfamilias, similar to Homer Simpson. A megalosaurus in his early 40s and bit of a dolt, Earl spends his days as a tree-pusher for the Wesayso Corporation, a large, heartless company that has managed at least to keep his family fed and living with some degree of comfort. Earl's wife Fran, an allosaurus, seems present to ground the clan and offer a voice of reason in times of chaos. As such, her housewife persona is rarely surprising and her logical side of arguments is fairly predictable. The Sinclair parents are kept in check by their three children. Their two quasi-teenagers naturally don't get along much, nor do they appear to have much in common: 12-year-old Charlene is chubby, vain, and preoccupied; 14-year-old Robbie often acts as the family's conscience and is given far more (and more interesting) things to do. The third Sinclair child is introduced in the series premiere and mostly known only as Baby. Obnoxious, demanding, violent and a couch potato, Baby relies heavily on a consciously limited vocabulary, which includes "not the mama" (his name for Earl), "I'm the baby", and "gotta love me." (The public took this last order seriously and a talking Baby doll was widely sold.)

Filling the requisite "recurring character" parts are more archetypes. There is Fran's wheelchair-bound mother Ethyl, whose introduction in the third episode amplifies inept mother-in-law comedy which is later kept in moderation aside from her occasional putdown of Earl, whom she usually dubs "fatboy." Outside of the family, there is Earl's co-worker/best friend Roy Hess, a simple, single tyrannosaurus who likes to call Earl "pally boy." Accounting for the value Earl places on relaxation at home is his large, demanding triceratops boss B.P. Richfield, who always speaks in a yell and is met with fear and dignation. Finally, barely registering as regulars (and probably to make the most of their costly designs) are Spike, Robbie's poised bad influence slacker friend and Monica Devertebrae, a blue brontosaurus real estate agent whose structure limits our view to her neck.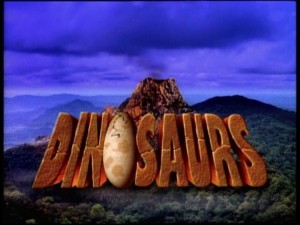 In case you are entirely unfamiliar with the show and haven't already figured it out, "Dinosaurs" operates primarily as a satire of contemporary American life. The setting (dinosaurs and prehistoric times) is really just a gimmick to lampoon and reflect upon human behaviors in the present day, on par with how "Futurama" uses the distant future. Many episodes operate on two levels, making the show clearly allegorical, like "The Simpsons" (which was launched just over a year earlier) or less manic "Family Guy" (sprung nearly a decade later).
"Dinosaurs" regularly inserts social commentary into its fairly typical storylines. Whether it's mocking mob mentality, workplace relationships, the nature of children's television, or ordinary human foibles, the series is transparently speaking more about viewers than its elaborate creations. At times, the show wavers into heavy-handedness and its politics may rub some the wrong way. For instance, when the ubiquitous motif of environmental awareness (often through irony) wades beyond universally human concern into political soapbox, up to half the audience may revoke their support. At the same time, this quality garnered the comedy three Environmental Media Awards and can be lauded in principle at least. Others may object to the mocking of religion or political leaders, but it is less the discourse than the execution that troubles. Much of the time, the series' observations are less polarizing and easy to appreciate as a comedy and as a worldly media text.
It is a bit of a stretch, however, to enjoy "Dinosaurs" as a Disney show. That's right, unlike other Disney-ushered sitcoms, which have included "The Golden Girls", "Home Improvement", and "Scrubs", "Dinosaurs" actually bears the Disney name and logo. This is sort of surprising, since even a fairly tame live action show like "Boy Meets World" has carried the Touchstone Television banner and "Dinosaurs" is, in its own words, "adult-themed." Perhaps the enormous success of Who Framed Roger Rabbit, which came under the Touchstone Pictures division but was widely connected to and subsequently embraced by Disney, led the company to associate the brand with this ambitious project from the get-go. I don't think many (if any) took offense to the series on account of this, but it's worth pointing out that the use of "damn" and "hell" and topics of drugs, sex, and alcohol are a bit unusual for something bearing the Disney name. To paraphrase Shakespeare, "Dinosaurs" would smell the same under any studio heading and I'm certainly not objecting to its content. But families mistaking this for a children's show on the medium and brand name are in for a bit of a surprise. Still, like "The Simpsons" which society downgraded over time from "shocking and edgy" to "okay for the kids", these fifteen-year-old "Dinosaurs" episodes are not bad for anyone who was alive when they first aired or was born shortly afterwards.
Some of the most effective comedy on the series comes from parodying the modern world.

As the Sinclairs watch a lot of TV (most episodes seemed to open this way), real commercials, networks, and programs are paralleled in the dinosaur world. In Seasons 1 and 2 alone, the family is seen watching "Pangaea's Funniest Home Injuries", DTV (Dinomusic Television), "Dirty Dare" (a twist on Nickelodeon's slime-tastic game show "Double Dare"), ABC (the Antediluvian Broadcasting Corporation), a promo for a "Brady Bunch"-type series, a commercial for the Horn Club for Males, "Good Morning Pangea", and DNN (Dinosaur News Network) with its regular anchorman Howard Handupme (a clear cut in-joke). Furthermore, though not actually witnessed, a poster in Robbie's room is lingered upon for something called Teenage Mutant Ninja Cavemen. Cavepeople, in fact, are treated much like undomesticated animals are in contemporary culture: they are reported on at the zoo, appear in children's stories, can be eaten as crackers, and played with as dolls. At one promising point, the Sinclairs actually adopt a cavewoman (misidentified as a male) as a pet, before setting it free. Curiously, though humans are the uncivilized inferiors, it is the dinosaurs who go pantless.

Another area where the show clearly succeeds is in its self-referential humor. Many shows wait a while before poking fun at their own quirks, but "Dinosaurs" does so early on and with just the right amount of frequency. Some of the most clever laughs are found in this manner. Other jokes, especially early on, are a little bit obvious, but on the whole, the proceedings are generally pleasant and gently entertaining.

With a look not quite like any show that has come before or since, one must comment at least briefly on the appearance of "Dinosaurs." The use of animatronic puppets that are also moved by a costumed performer and voiced by a third party seems especially elaborate and no doubt challenging. But, as you might expect, in order for "Dinosaurs" to ever make it to network television, the complicated techniques behind it were worked out beforehand. There is quite a fluidity in the lipsynch, movement, and interactions. It's hard to dispute that there is a weird aspect to the visuals, but on a show where talking basically saves living food from being eaten, the slightly off-kilter feel seems oddly appropriate. The series does a good job at disguising some limitations to the format (like Richfield's immobility and exaggerated size or the fact that we never see more than the legs of Earl's dance students in a strange dream sequence). On the other hand, non-puppetry visual effects, as sparse as they may be, leave a fair amount to be desired. Overall, the show's look is both sort of compelling (or interesting, rather) and also clearly a burden (notice how lightly populated the rare crowd scene is). In the end, the latter charge may have had more of a say than the former.
"Dinosaurs" did not mark either the first or last time that the Disney studio would collaborate with many of the show's key executives.

Subsequent to this venture, co-creator/executive producer Michael Jacobs would stand behind more traditional sitcoms for Touchstone Television that would never fully take off ("The Torkelsons"/"Almost Home" and "The Sinbad Show") before finding one that did, with the long-running and successful "Boy Meets World", on which he was joined by "Dinosaurs" co-creator/executive producer Bob Young. Disney's relationship with co-executive producer Brian Henson extended back to his father Jim, who worked on the Walt Disney World attraction Muppet*Vision 3-D and nearly sold his company to Michael Eisner before dying in 1990. Not long after "Dinosaurs" took to the airwaves, Disney enlisted Brian to direct The Muppet Christmas Carol and, later, Muppet Treasure Island. Disney's February 2004 purchase of what become known as The Muppets Holding Company brought even more of the Hensons' work into the Mouse House (the Muppets' primetime variety series and first two films, plus the preschool hit "Bear in the Big Blue House") and has laid groundwork for future projects. The result is that today, "Dinosaurs" seems a part of more vast Disney/Henson entertainment empire, which wasn't necessarily how it came to be. While connections to such entities do bring favor (as does a notable voice cast, which includes actors from "Seinfeld", "All in the Family" and "The Jeffersons"), they also underscore how "Dinosaurs" isn't quite as embraceable or consistently crowd-pleasing as "The Muppet Show" and "Boy Meets World."

Despite a fair amount of media coverage, only 58 episodes of "Dinosaurs" ever aired on ABC. The show's relatively short lifespan can be traced to two obvious reasons, both connected: quite simply, the series cost far more than a typical sitcom and it didn't have the ratings to justify the production costs. The show premiered on ABC's Friday night TGIF lineup among other family comedies like "Full House" and "Family Matters", but was moved to Wednesday nights in front of single-camera adolescent dramedies "The Wonder Years" and "Doogie Howser, M.D." when it returned in the fall. By the end of its second season, it would return to TGIF behind "Matters" and "Step By Step", where it would remain for its under-seen junior year, before moving to Sunday nights and then disappearing altogether for nearly a year.

Seven unaired installments surfaced when "Dinosaurs" went into syndication, bringing the total to 65 through two full and two abbreviated seasons. One of each is included on this The Complete First and Second Seasons DVD set, the series' first time on the format, but not on home video. Eight video cassettes, each holding two episodes, were released in the early '90s when customers buying TV series were not treated so well. The show's release on DVD can't be deemed too surprising. Long off the airwaves even as reruns, the show has become fondly remembered and has the support of an ardent Muppet fanbase.

Critical synopses of the set's 29 episodes follow, with a star (

) indicating my ten favorite episodes in the collection.
SEASON ONE

Disc 1

1. The Mighty Megalosaurus (23:52) (Originally aired April 26, 1991)
Earl tells the baby the story of how he was born. Earl comes home from a day at work and everyone wants something from him (involving money), while he just wants dinner and a 90" television set. Nevertheless, he requests a pay raise from his frightening boss,

only to lose his job. A trip to his ancestors' forest puts things into perspective for the family man dinosaur.

2. The Mating Dance (23:00) (Originally aired May 3, 1991)
The housewife life has Fran feeling unappreciated, and after plenty of thinking, Earl comes up with a solution. He decides to give her a weekend-long break and cover the housework. It's briefly like Mr. Mom, but with dinosaurs. Then, Earl's friend encourages him to try the mating dance, which Earl initially dismisses as something strictly for courting.

3. Hurling Day (23:45) (Originally aired May 10, 1991)
Earl excitedly looks forward to upholding the sacred Hurling Day custom, which gives him a chance to throw his mother-in-law off a cliff into a large tar pit. The comedy gets as dark as it has so far, but it's grounded with a touch of humanity as Robbie worries over his just-turned-72 grandmother's fate and serves as moral objector.

4. High Noon (23:43) (Originally aired May 17, 1991)
At the supermarket, Fran makes the acquaintance of a friendly 50-foot dinosaur named Gary. Soon after, Gary decides he'd like her to be his mate, which explains the troubling legal notice Earl receives foreshadowing a challenge to the death, per the Code of the Wilderness. Against great odds, Earl decides to train for this showdown to keep his family. On the side, Ethyl spends some time with Baby.

5. The Howling (23:09) (Originally aired May 24, 1991)
Robbie questions his kind's long-observed practice of howling at the moon to mark his arrival at adulthood. When he doesn't howl, all fear the end of the world. While the "mishowling" does not end in chaos, it does lead to trouble between Earl and his closest friend, Roy.
SEASON TWO
Disc 2
1. The Golden Child (23:51) (Originally aired September 18, 1991)
When Robbie and Charlene don't pay enough attention to Baby, their younger brother loads up on sugar and a golden horn begins growing on his forehead. A trip the doctor finds no explanation, but a visit to the elders at the Cave of Destiny reveals Baby to be a king prophesied about in ancient writings. With overtones of the nativity scene amidst public fervor and a media blitz, some may find the idea of Baby in a messianic role a bit distasteful, but otherwise, plotting and pacing seems to have been tightened for the new season.

2. Family Challenge (23:20) (Originally aired September 25, 1991)
Frustrated by the fact that television conquers conversation at the dinner table, Fran destroys the kitchen TV. Then a meteor wipes out the family's second set, leaving the Sinclairs altogether without a TV. Earl devises a plan for his clan to appear on the game show "Family Challenge", where the winning team will claim a large screen prize. Some amusing tongue-in-cheek commentary on the importance of the so-called idiot box ensues.
3. I Never Ate For My Father (23:21) (Originally aired October 2, 1991)
Allegory is abound as Robbie contemplates an alternative lifestyle: one of an herbivore, rather than that of an upstanding member of the YMCA (Young Male Carnivore Association). This episode practically begs to be read in different ways, strongly hinting at parallel paths (hippie, homosexuality, communism, beatnik, drugs) that parents like Earl have traditionally feared and alluding to sources as diverse as Martin Luther King Jr. and Bambi's mother. Needless to say, Earl takes his son on a hunting trip in an attempt to set him straight, but that does not go as planned.
4. Charlene's Tale (23:38) (Originally aired October 9, 1991)
Clear symbolism is again on display, though the show doesn't fare quite as well this time. Charlene is embarrassed that her tail hasn't grown in yet and even orders some prosthetic assistance. Then it does grow in, and she's got a date, much to Earl's worriment. Perhaps body image wasn't such a well-trodden topic fifteen years ago, but this issue and the timeless dilemma of a father responding to his daughter's maturation both feel a bit trite now.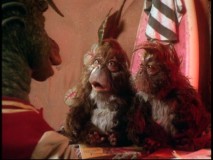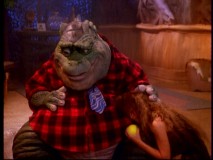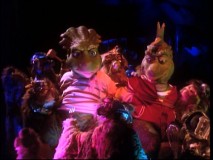 5. Endangered Species (21:36) (Originally aired October 16, 1991)
Earl decides to get a pair of grapdelites, a dinosaur delicacy, for Fran to celebrate their twentieth anniversary. But when Robbie is assigned to keep the rare, furry, intelligent creatures hidden, they introduce him to the concept of extinction and give him second thoughts about letting them be eaten. While the grapdelites' homework help doesn't help Robbie out in school, it does lead him, his father, and his father's boss B.P. Richfield to consider the endangered species' plight.
NOTE: This episode would appear to be cut from the running time that is about two minutes shorter than most episodes. It's also missing the opening credits overlays.

6. Employee of the Month (23:00) (Originally aired October 23, 1991)
For a first time, "Dinosaurs" ventures into high school, for a biology class

in which Robbie objects to dissecting a human. He brings his assigned subject home and the family reluctantly adopts it as a pet, which they name Sparky (and refer to in the wrong gender). Meanwhile, Richfield opens up a suggestion box at the workplace, which leads to Earl being named Employee of the Month and promised the pleasure of his boss's presence at the Sinclairs for dinner.

7. When Food Goes Bad (23:33) (Originally aired October 30, 1991)
Earl and Fran go out for a romantic dinner, leaving the kids at home on their own. Being in charge, Robbie agrees to split his babysitting money with Fran for her to watch the Baby while he plays mini-golf. With vengeful demands, however, the contents of the Sinclairs' refrigerator ensure a tumultuous night for the three siblings. There's definitely a Joe Dante air to the bizarre proceedings.

8. Career Opportunities (22:41) (Originally aired November 6, 1991)
Robbie is disenchanted by his trip to the job wizard, who casually prescribes him the life of a tree-pusher. A day at the worksite with Earl not only doesn't brighten Robbie's spirits, but it leads Earl to wonder if he has mindlessly wasted his life as nothing more than a glorified bulldozer.
Disc 3

9. Unmarried...With Children (23:37) (Originally aired November 13, 1991)
The Sinclairs learn about the concept of divorce from Monica Devertebrae, a blue brontosaurus real estate agent who is selling the house next door. Upon further inspection, Fran and Earl discover that their own 20-year-old marriage license needs to be renewed. They head down to the Department of Marriage Vows, which operates not unlike the DMVs we are familiar with (with a touch of "The Newlywed Game" thrown in), only to have Earl fail his test. Earl and Fran struggle in adapting to the single life, while their kids are also thrown for a loop by the change.
10. How To Pick Up Girls (23:30) (Originally aired November 20, 1991)
Robbie takes an interest in a female classmate named Caroline and tries an assortment of techniques with which to woo her. Despite the aid of his slick hoodlum schoolmate Spike, Robbie finds little success but much pain and punishment. On the side, there's some clever, highly relevant commentary on television programs with puppets!

11. Switched at Birth (23:33) (Originally aired November 27, 1991)
When the Sinclairs discover that the baby's nest actually belongs to the Molehills, they fear they might have gotten eggs mixed with another family. After scientific tests confirm it, the Sinclairs welcome the well-behaved Aubrey into their home. But both sets of parents disagree over which baby to keep, leading the two clans to consult Solomon the Great for a solution.

12. Refrigerator Day (23:35) (Originally aired December 11, 1991)
The holiday season has arrived for the Sinclairs: Refrigerator Day gives dinosaurs a chance to celebrate the one invention that put an end to migration and constant hunting. Unfortunately, it's shaping up to be anything but a holly jolly Fridge Day for Earl, as he learns that B.P. Richfield is stiffing his employees on their annual holiday bonus and that movers have come to reclaim the family's fridge. But, as Fridge Day seems to be the equivalent of Christmas (with a bit of Thanksgiving thrown in), it's not too surprising that a miracle is in order, as Fran and their kids introduce the idea of a return policy to Kave Mart.
13. What "Sexual Harris" Meant (23:21) (Originally aired December 18, 1991)
Monica breaks the gender barrier as she becomes B.P. Richfield's first female tree-pusher. If that isn't controversy enough, more soon ensues, as a televised hearing is called to examine her claims that she has been unjustly fired for refusing to date foreman Al "Sexual" Harris. The proceedings go on for several days, as Monica and Fran endure character attacks from Richfield's male-dominated board.
14. Fran Live (23:35) (Originally aired January 8, 1992)
While the Sinclairs admire the lineup of their newly-obtained cable television subscription, Fran comes up with a new idea for the call-in talk show "Just Listenin' with Frank", which soon become "Just Advisin' with Fran." Earl immediately feels threatened and becomes the workplace laughingstock for having a wife who works. Still, everyone in the family seems to appreciate the extra income, but not the price it comes at. This episode does not contain the two Disney logos at its end.

15. Power Erupts (23:34) (Originally aired January 15, 1992)
During an "ash day" off from school (that's the dinosaurs' equivalent of a snow day), Robbie comes up with a brilliant combination for his school's science fair, one which will provide free, pollution-free energy by harnessing a local volcano's resources. Threatened by the teen's innovation, the Wesayso Corporation begins a smear campaign on television to discredit their competition and Robbie is dealt another moral dilemma when Earl's employer looks to buy the idea.
16. The Clip Show (22:50) (Originally aired January 22, 1992)
An amusingly British man (Paxton Whitehead) hosts a "Dinosaurs" highlight show, presented as a documentary. As such, it's primarily clips from the first 20 episodes, grouped thematically, as you'd expect. That makes this either the ideal introduction to the show for the unacquainted or largely superfluous for someone in possession of this DVD set.
Buy Dinosaurs: Seasons 1 & 2 / Buy Dinosaurs: Seasons 3 & 4 from Amazon.com