After telling stories in perspectival, fantastic, and alternate worlds, Pixar Animation Studios turned to a real one -- namely, Europe -- for their eighth feature film. In doing so, the studio essentially created its version of a foreign film in Ratatouille. While the company can easily be credited for making something new, different, and, in terms of big budget mainstream cinema, quite daring, the featured universe -- haute cuisine in present-day Paris -- proves to be Pixar's least compelling to date, lacking the wide appeal of toys, monsters, superheroes, or even self-sufficient automobiles.

Nonetheless and true to their esteemed reputation, the still-unparalleled animation wizards of Emeryville, California get much right, diving fully into the setting, reveling in visual detail, and finding heart and humanity in a rather unusual story.

As suggested by the title, the chief protagonist of the film is a rat. The bluish-gray rodent named Remy (voiced by comedian Patton Oswalt) explains early on that he has "highly developed senses", which make him an obvious selection for the position of poison checker but, more importantly, contribute to his appreciation of culinary delights. This latter passion keeps Remy a skinnier and more selective creature than his counterparts, which include his big-eating red brother Emile (voiced by Pixar story artist Peter Sohn) and chilly father Django (Brian Dennehy). Remy's uniquity is apparent; while other rats are content to dig into any available trash, his tastes require interesting combinations of flavors to savor. For a rat, developing ways to manufacture extraordinary oral sensations entails bravely venturing into the human world to gather knowledge through reading and some food channel viewing.

Both mediums bring Remy to Auguste Gusteau, a pioneering Parisian human chef whose philosophy is "Anyone Can Cook." Remy is surprised to learn that Gusteau died a few years ago (due, in part, to a review that lost one of his restaurant's five stars), but the spirit of the portly chef emerges in Remy's subconscious via an airborne, limit-free, rat-sized specter ("Everybody Loves Raymond" co-star/Pixar veteran Brad Garrett) when most needed. The apparition inspires Remy, against better judgment, to tamper with a doomed soup about to be served at Gusteau's restaurant. When the dish merits hearty praise, the awkward, newly-hired garbage boy Alfredo Linguini (Pixar design artist Lou Romano) believed responsible has his fate upgraded from imminent firing to unprecedented promotion by the suspicious and unsavory current head chef Skinner (Ian Holm).
This is the start of a strange but productive friendship, as the talentless Linguini becomes little more than a puppet for the creative Remy, who hides in the young man's toque hat and coordinates meal preparations with hair-pulling. Linguini gets credit for the well-received concoctions and rises in the restaurant's ranks, to the frustration of Skinner, who can't figure out either how the guy is pulling it off or what the significance of an oft-spotted but elusive rat may be.

Those who have noticed a formula to Pixar's creations, which have found incomparable success with critics and moviegoers, are likely to be at a loss spotting it here. Ratatouille is certainly the CGI house's most atypical work to date. An "un-Pixar but pleasing style" struck me in my first viewing of writer-director Brad Bird's previous effort, The Incredibles. That applies even more now, where only in character design does Ratatouille resemble other entries in the studio's canon.

Human characters, who among Pixar works have only been more prevalent in The Incredibles, speak mostly with French accents and contribute to a strong European flavor that rarely invites us beyond Gusteau's kitchen and the esoteric cuisine brigade system. Nonetheless, Remy remains our lead and his sympathetic qualities yield a definite rat's point of view to most of the proceedings.

Ratatouille follows a trail established by Cars which makes it seem as though Pixar is using self-imposed limitations to keep fresh and different from past achievements. As John Lasseter's all-wheels tale seemed to appease his personal hobbies first and foremost, Ratatouille appears to have non-audience interests in mind as well. This film lacks the universally intriguing "what's life like from their perspective?" question that Toy Story, A Bug's Life, and others all answered. Sure, it explores the kitchen hierarchy as well as the psyches of survival-driven rats and the different-drummer-marching Remy. But it also does something uncharacteristic for the studio, which is lose a grip on reality. That immediately sounds like a ridiculous response to imaginative films where monsters, fish, toys, cars, and bugs have lives, problems, and speech patterns just like our own. But there is something about Ratatouille's silly premise and the way that it's played that distinguish this film from other Pixar fantasies and expose its shortcomings more readily.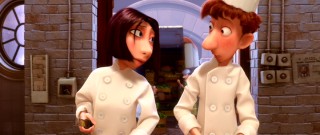 While Brad Bird is billed as screenwriter and director, the project originated with Jan Pinkava, the Czech-born director who wrote and directed Pixar's Oscar-winning 1997 short Geri's Game. It's easier to see the imprint of Pinkava than that of Bird, who is best known for helming two mythic cartoonish fables (The Iron Giant and The Incredibles). The humor and messages that typically mark Bird's work are rather subdued here. Action too is limited, with visceral thrills emanating only in a brief Vespa ride, Remy's narrow kitchen escape (that differs from the entirely-absent content of the movie's teaser trailer), and an unusual early sequence that pits a gun-toting granny against a rat infestation.
Gladly, Pixar's notion of family entertainment continues to find them aspiring to more than flatulence for the young'uns and innuendo for teens and up. However, with things like a DNA paternity test subplot and an afterlife joke, Ratatouille skews towards adult audiences more than the studio's past works or any recent kid-marketed American 'toon that I can think of. Like the rare piece of foreign animation that delights critics enough to gain recognition in the U.S., Ratatouille speaks to and rewards adult audiences with relevant material and intelligent themes.
There's irony that can't be missed in the fact that Pixar assaults critics, a class that has been kinder to them over the past twelve years than perhaps any other moviemaking group in cinema history. Ratatouille makes a snobby, bag-eyed restaurant reviewer named Anton Ego (voiced by screen legend Peter O'Toole) a villain and his profession at large a climactic target. Also curious is an anti-human air, which is negated by the open-minded Remy but propagated by his less cultured kin. Another subject of attack is a line of microwaveable frozen food products that Skinner shamelessly oversees. For the Disney/Pixar/animation fan, it doesn't take a huge leap of logic to read this as an indictment of brand-name-cheapening direct-to-video sequels or just low brow tastes in general. This assorted commentary points those looking deeply in a variety of directions, leaving them uncertain but suspicious that the film is embracing pretentiousness. In any case, such elevated thought hasn't been generated from animation since Bird's last film The Incredibles yielded differing opinions during 2004's presidential election season.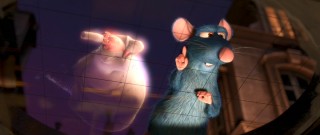 Despite being able to spark discussion, elicit emotions, and always sustain interest, Ratatouille does not rank among Pixar's best or even their "not so best." That was my initial impression when I first saw the film in June and two more viewings this fall haven't changed it. Of course, most critics loved the film -- leaving Disney to tout it "the best-reviewed film of the year" based on the all-important Rotten Tomatometer.

With the end of the year approaching, it still seems like a shoo-in for the kids' table Oscar for Best Animated Feature. But I think the demands of churning out a new film every summer are inevitably taking a toll, slight though it may be, on the caliber of Pixar's work.

The premise that planted few seeds of excitement in me pre-release never won me over. There's a disconcerting void of warmth. Also, the characters are definitely not the most endearing. Outside of Remy, who gets to soulfully narrate with a tone that's a cross between classic noir and modern-day drama/thriller, no individual makes too strong an impression. The ghostly Gusteau provides some heart and one is able to like the contrivedly-flawed Linguini, the briefly-seen Emile, and even the lanky Ego. But the rest of the cast seems either underdefined (like the clumsily-introduced kitchen staff) or somewhat perfunctory (Janeane Garofalo's love interest Colette). Strangely, it may be a case of Pixar's least recognizable voice cast being underequipped to lend flair to their personas or enough to get past the goofy accents.

The company's appreciation for 2-D animation comes through here more clearly than perhaps ever before, in inventive but non-gimmicky ways. A testament to craft in general comes in the end credits quality guarantee that assures us "no motion capture or any other performance shortcuts" were used.

Even when one of their films doesn't conjure the phrase "masterpiece" (I think this is perhaps the first time I can make that distinction), Pixar proves that they have the tools, talent, and wisdom to make something worth seeing multiple times and discussing at length. From lush visuals that practically cry out for smell-ovision technology while filling the wide 2.40:1 frame to character animation that seems so much more like flesh and blood than 1's and 0's, Ratatouille is a feast for the eyes. The mind also finds it quite tasty and deserving to be considered far longer than the typical big studio summer release.

Like Pixar's two previous summer openings, Ratatouille heads to DVD on the first Tuesday of November. It does so following a theatrical run which would be wildly celebrated by any other non-franchise cartoon but pales in comparison to the studio's past CG-animated flicks. At least that's true on the North American front, where Ratatouille's $205 million gross only exceeds the studio's first two films, that were less widely distributed in the mid-'90s. Overseas, Ratatouille is doing quite better. Though it has only just opened in such markets as the United Kingdom, Germany, and Italy, the film's colossal $348 M international gross has already dwarfed the foreign earnings of Cars and seems destined to eclipse those of The Incredibles. It certainly makes some sense based on the European flavor.
DVD Details

2.39:1 Anamorphic Widescreen
Dolby Digital 5.1 Surround EX (English),
Dolby Digital 2.0 (English)
Subtitles: English; Closed Captioned
Release Date: November 6, 2007
Single-sided, dual-layered disc (DVD-9)
Suggested Retail Price: $29.99
Black Keepcase with Embossed, Partially
Holographic Cardboard Slipcover
Also available on Blu-ray Disc
VIDEO and AUDIO

Pixar has a spotless track record of delivering visual and audial perfection on DVD. Ratatouille adds to the studio's reputation as it arrives with expectedly marvelous picture and sound. As usual, no film entered the equation in transferring the movie from Pixar's computers to the DVD master, so you won't see anything less than what was intended. In fact, Brad Bird recently revealed that a few shots were mildly adjusted for home video to improve upon minor issues (bothering only him) that couldn't be corrected in time for theaters.

In a move that's practically unheard of in the world of G-rated animation, Ratatouille is released exclusively in its 2.39:1 widescreen aspect ratio, with no fullscreen version offered. That may bother those with an irrational aversion to black bars, but it saved Pixar the trouble of reformatting the film for the increasingly outmoded dimensions of a standard 4x3 television.

The film is a real delight for the senses; pause any frame and you're apt to marvel at just how amazingly detailed all of the computer-generated elements are. While Michael Giacchino's score might not evoke as much as his music for The Incredibles did, the European-sounding instrumentation both adds to the film and is capably presented. Even more striking are the sound effects which make excellent use of the entire Dolby Digital 5.1 field, serving up welcome directionality and atmosphere. A Dolby Surround track is also presented -- why is anybody's guess -- and oddly, it plays by default. Be sure you have the 5.1 track selected if you've got a surround sound system; it delivers a considerably more robust and involving experience.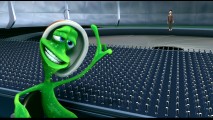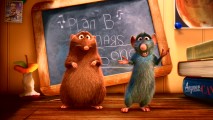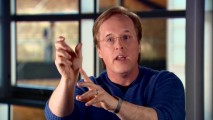 BONUS FEATURES

Ratatouille's pared-down slate of extras pales considerably next to pre-Cars Pixar DVDs. It seems pretty clear that this scaling back from the studio's usually abundant serving of bonuses is supposed to encourage people to turn to Blu-ray Disc for all the bells and whistles. If not, it's merely setting up a DVD double-dip, which a year later has yet to happen for Cars even as it's been treated to a more expansive Blu-ray debut.

The modest collection of bonus features begins with two animated shorts listed directly on the main menu. Ratatouille's theatrical accompaniment, Lifted (5:04),

tells the story of a green alien who struggles before his silent supervisor in his efforts to abduct a sleeping man from a farm house. Void of dialogue and heavy on physical comedy, the one-joke piece doesn't endear as readily as most other Pixar shorts. It marks the directing debut of veteran sound designer Gary Rydstrom.

Created for the DVD, Your Friend the Rat (11:15) isn't like a typical theatrical Pixar short or even the film-spawned shorts like Mike's New Car and Jack-Jack Attack. Instead, maybe the best thing to compare it to is the Jean-Michel Cousteau piece "Exploring the Reef" on Finding Nemo. More animated and less misleading than that, Your Friend is an informative history lesson on rats hosted by Emile and Remy. Free of form, the piece emulates a silent movie, an old video game, and vintage educational cartoons at various points. There are some laughs to be had but not quite as many as the self-aware jokey tone aspires to.

"Fine Food and Film: A Conversation with Brad Bird and Thomas Keller" (13:55) bounces between separate interviews of the Napa Valley chef and the Emeryville writer-director. Each man talks about his creative process with an air of pomposity, but at least Bird's remarks hold relevance and are supplemented by some revealing looks at production.
Rounding out the listed extras are three deleted scenes (15:08) set at Gusteau's. Like those on The Incredibles, they happily appear in an easy-to-appreciate fashion, in which flat story sketches are animated, sometimes even against detailed 3-D backdrops. The restaurant's namesake is alive in the first two deletions:

a long tracking shot introduction to the establishment and one in which he butts heads with Skinner over the microwaveable food products. The final sequence depicts an alternate version of Remy and Linguini's first full day of workplace collaboration. The scenes are contextualized by comments from Bird, producer Brad Lewis, and writer Jim Capobianco.

Accessible from the Main Menu is a minute-long Easter Egg in which the filmmakers discuss alternate titles considered and the correct pronunciation of the one settled on.

Inside the Set Up menu, one finds an Audio/Video Set Up menu, which appears to be Pixar's take at home theater calibration. The series of tests is not unlike those of the occasionally-found THX Optimode sections, only these are both more complex and less demanding (who has color filters laying around?). There's also a Ratatouille theme to this portion of the disc.

At the disc's start is a nifty, brand new promo for Walt Disney Pictures movies. It's followed by the trailer for Wall-E, an ad for the Disney Movie Rewards program, our first real previews for next March's 101 Dalmatians: Platinum Edition, next February's Snow Buddies, and the concurrently-issued Pixar Short Films Collection, Volume 1.

MENUS and PACKAGING

Somewhat resembling end credits imagery, the animated menus opt for a stylized 2-D look in contrast to the movie's 3-D worlds. Each selection screen features a looped, lively excerpt of Michael Giacchino's score.

The DVD cover art noticeably differs from the theatrical ad campaign, by giving three human characters prominent placement in addition to Remy. It doesn't take a huge leap to see this is in response to some of the filmmakers' belief that the movie didn't sell as many tickets as other Pixar films in part to people avoiding "yet another talking animal film."

There is a lot of paper found inside the keepcase, which is housed in an embossed, replicative slipcover. A four-page Disney Movie Rewards booklet provides a points code and talks up a Ratatouille-themed sweepstakes. The double-sided DVD Guide lists chapter stop titles and bonus features. Finally, a 16-page booklet provides an assortment of ads and coupons, plus a mail-in certificate to claim $10 if you buy Ratatouille again on a second format (i.e. Blu-ray) by the end of next May.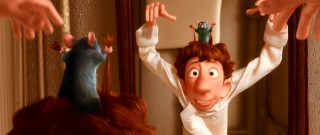 CLOSING THOUGHTS

Though I seem to be in the minority, after three viewings, I still feel strongly that, lacking in charm, magic, and personality, Ratatouille registers as Pixar's weakest film to date. That's not to say it is without merit; it's a well-made movie and far more engrossing than you'd expect from the premise and setting.

It just lacks that extra special something that makes Pixar's seven earlier works transcend a label of "good movie."

Unfortunately, Ratatouille follows last fall's lightweight Cars disc with an even lighter DVD release. Naturally, it's not a complete disappointment; the feature presentation is flawless and the few bonus features do add value. But the days of exhaustive Pixar two-disc sets that supply a potent, multi-hour blend of information and entertainment sadly appear to have passed. It seems pretty clear that plateaued DVD sales have led the studio to manufacture incentives for upgrading to Blu-ray Disc. The other less likely alternative is that a superior DVD release is waiting quietly in the wings to encourage multiple purchases. Either way, it leaves Ratatouille in a package that feels far more ordinary than special. If you don't feel that's a proper reflection of the film, then you too will likely be let down that what could and should have been an obvious release date "must have" is merely one of many titles to consider during the marketplace's typically crowded holiday season.

More on the DVD / Buy the DVD from Amazon.com / Buy the Blu-ray Disc from Amazon.com