Page 1: Show Discussion, Disc 1, and Disc 2
Page 2: Disc 3, Video/Audio, Bonus Features, Menus & Packaging, and Closing Thoughts

After entering the world of television animation with two entirely original creations ("Adventures of The Gummi Bears" and "The Wuzzles", both debuted in 1985),

the Walt Disney Company then found and settled on a different path for the medium. That path was one of reinvention; in the late-1980s, the established Walt Disney Television Animation department turned to characters who had featured in the company's rich cartoon past and were well-remembered by several generations of viewers. These characters were given new life, sometimes in a fashion most faithful to their earlier appearances (like "The New Adventures of Winnie the Pooh") and other times updated to appeal to contemporary tastes or an episodic storytelling format (such as the sleuth life bestowed upon "Chip 'n Dale Rescue Rangers"). Both approaches seemed to lead to favorable results, and the division's work in the late '80s and early '90s remains fondly remembered and largely unsurpassed today.

"TaleSpin" used pre-existing personalities as a launching point, but its reconfigurations were more drastic and puzzling than those found in any other Disney TV series. Nevertheless, the show was a hit. If it wasn't, I wouldn't be writing about it, as then it wouldn't be among the latest shows of yesteryear now seen fit for box set treatment by Buena Vista Home Entertainment. "TaleSpin" premiered in September of 1990 as part of a new syndicated lineup called "The Disney Afternoon." Sixty-five episodes were produced to fill half-hour timeslots. As was often the case for animated TV fare, all 65 installments would air within a year, but the show maintained a 5-times-a-week presence on the schedule for four full seasons.

The chief protagonist of "TaleSpin" (and only character appearing in every episode) is Baloo, the large, laid-back gray bear who charmed audiences with his "Bare Necessities" philosophy in the 1967 animated film The Jungle Book. That Rudyard Kipling adaptation marks a cut-off point for "classic Disney", as it was the last animated feature to be personally supervised by Walt Disney in the months and years before his 1966 death. Baloo is one of three Jungle Book characters to resurface in "TaleSpin", which inexplicably transports them from the Indian jungle to a world of anthropomorphic animals. The setting seems deliberately unclear, as modern sensibilities are contrasted with a little bit of an old-fashioned (1930s-'50s) feel. Location-wise, the fictional port city Cape Suzette is a type of exotic New England-like hangout. There, Louie the orangutan (who, in the Disney movie for which he was created, proclaimed himself "the king of the swingers") runs a hip club/bar (out of a tree) at which Baloo is a frequent patron. Shere Khan, the chief villain of Disney's Jungle Book, has been overhauled into a suit-wearing tycoon whose Khan Industries is both feared and respected. Khan appears in just seven of the 27 episodes on this set.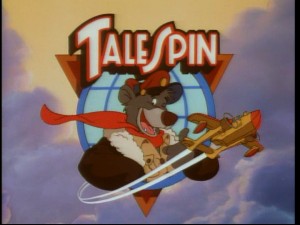 While there is that unmistakable tie to The Jungle Book, "TaleSpin" understandably takes things in a much different direction, one more in line with the hit shows which preceded it (as well as, curiously enough, the 1982-83 ABC drama "Tales of the Gold Monkey"). At the foreground is Baloo, who is now an ace pilot and deliverer of cargo.

Well-intentioned but something of a procrastinator, Baloo gets a rude awakening in the four-part pilot "Plunder & Lightning" when his for-hire air service is acquired by Rebecca Cunningham. A businesswoman and single mother, Rebecca is one element which definitely underscores the show's contemporary American stylings. There exists a somewhat volatile (but practically always plutonic) relationship between Baloo and the business-minded Rebecca, whose sometimes bizarre plans to increase revenue drive several episodes here. Baloo has an endless pursuit to buy back his trusty plane, The Sea Duck, from his new boss. Rebecca's 6-year-old daughter Molly provides one of the show's two young leads. An ordinary girl who finds herself in the middle of adventure and often quite capable at avoiding danger, Molly holds a fondness, appropriately enough, for a radio program called "Danger Woman." She only appears in about one-third of these early episodes.

Figuring more prominently is Kit Cloudkicker, a slightly older boy who becomes Baloo's navigator. Kit moves from friendless orphan and air pirate to trusty young sidekick in the process of "Plunder & Lightning." Like Mowgli, he calls Baloo "Papa Bear", and his function seems similar, only without the "human" angle, since Kit is a bear. As his surname suggests, Kit enjoys the air equivalent of water-skiing and his skills often come in handy when dealing with his former cronies. These pirates deal primarily in the air, but also in the sea. They are led by Don Karnage, a goofy but malicious fellow who sounds a little like Scarface and has an amusing manner of talking which filled with allusions and contradictions. Rounding out the regular cast is Wildcat, a mildly cretinous mechanic. Finally, making three appearances in Volume 1 are the Thembrians, a curious race of warthogs headed by a pint-sized tyrant named Colonel Spigot. He is complemented by the much larger and considerably less aggressive Sergeant Dunder.

"TaleSpin" can be more readily classified as an Adventure series than one of Mystery. That said, like "DuckTales", there's a little bit of both as well as a subdued but always present sense of comedy. So, how does it hold up sixteen years after first airing? Very well. As with the majority of television animation, the visuals are somewhat hit and miss, but there's more hit than miss. The writing is generally praiseworthy; stories are kept kid-friendly without pandering or turning viewing into a chore for older audience members. A couple of the more mystery-based episodes do stand out as a bit easy to figure out who the culprits are, thanks to some not-quite-subtle enough hints. But on the whole, there's really little to dislike about the series. Baloo is a wholly likable protagonist and, like supporting characters Louie and Khan, his reimagining (apparently modeled after "DuckTales"' Launchpad McQuack) does not betray his spirit. While certain conventions, such as the kidnapping-loving pirates, may be overused, the show thankfully steers clear of formula, leaving each episode free to go in any number of directions.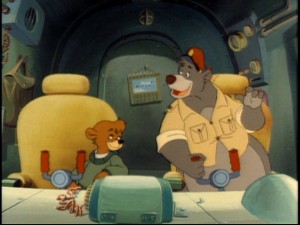 After waiting several years for the rampant success of DVD to be proved no short-lived fluke, Buena Vista Home Entertainment has finally delved into the practice of releasing Disney's animated series to DVD. In doing so, the video branch has divided this segment of the company's catalogue (which spans roughly twenty years) into three classes. The first, which houses the majority of cartoon shows (and practically all of the "One Saturday Morning" era), has remained dormant, with nary a digital release in sight. The second class, which includes some well-liked fare such as "Aladdin", "Goof Troop", and "The New Adventures of Winnie the Pooh", has had a few odd episodes make it to disc, but not in a way to satisfy fans seeking comprehensiveness. Typically, these episodes have either been recycled to fit another cause (like a Disney Princess Stories DVD or the intentionally unclear Growing Up with Winnie the Pooh series) and the studio's currently-held belief in the $14.99 list price/1 hour of content/no extras model.
The final group has been reserved for Disney's most popular cartoon TV series, which have been treated to thankfully complete, chronological multi-disc sets. The water-tester, the mid-'90s cult favorite "Gargoyles" (an un-Disney program which largely loses the brand name) came first but seems still to exist on a plane of its own with fan-tailored, creator-involved bonuses. (A third set of this is now on hold, due to supposedly shaky sales, or rather the studio's lack of faith in a marketing budget.) Then a pair of three-disc Volume 1 box sets released early last November ("DuckTales", "Chip 'n Dale Rescue Rangers") set the tone for others to come in the same mold: discs packed with episodes (but nary a bonus) at a very reasonable list price. Today sees two programs from a slightly later Disney Afternoon lineup reach DVD in a very similar way - "TaleSpin" and "Darkwing Duck." November will bring a so-called third wave of "Disney Animated TV Box Sets Collection", with follow-up servings of "DuckTales" and "Rescue Rangers" joined by Disney's first foray into the medium ("Adventures of The Gummi Bears").
While this method has not eschewed complaint altogether (the audio/video has been shaky, the absence of supplements stinks, and all shows' futures seem jeopardized by non-existent promotion), it has still satisfied a significant portion of the public which is eager to revisit the shows they remember fondly in the best way possible. And so, "TaleSpin" makes its DVD debut in such a Volume 1 DVD: three discs, 27 episodes, no extras, and a modest $34.99 list price. The best way anyone can imagine? No, but by far the best way offered and one which gets the job done.
A star (

) indicates ten standout episodes from this Volume 1 collection.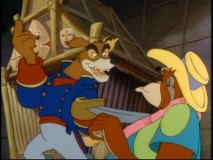 DISC 1
1. "Plunder & Lightning, Part 1" (22:50) (Originally aired September 7, 1990)
Kit Cloudkicker steals a treasure from Don Karnage, which puts Karnage and his pirates on the boy's trail. Meanwhile, Baloo takes Kit to Cape Suzette, where they take on a job to deliver gorilla birds to raise the money needed to save Baloo's trusty plane from being foreclosed.

2. "Plunder & Lightning, Part 2" (23:02) (Originally aired September 7, 1990)
Before Baloo can pay off his plane, a woman named Rebecca Cunningham shows up as the new owner of his business. This rings in change, as Baloo's Air Service becomes Higher for Hire and the new home of Rebecca and her young daughter Molly. In the process of tracking down Kit's stolen jewel, Baloo and Kit fend off pirates and meet with Shere Khan.
3. "Plunder & Lightning, Part 2" (22:57) (Originally aired September 7, 1990)
Baloo and Kit travel to the pirates' secret hideout to rescue the kidnapped Rebecca and Molly from Karnage and his men. All looks good until the foursome's pirate disguises fail them and Kit's loyalties -- to his former gang and new friends -- come into question.
4. "Plunder & Lightning, Part 4" (22:57) (Originally aired September 7, 1990)
Adventure gets amplified in this, the pilot conclusion, as Karnage threatens to take over the entire city with his potent jewel, leading Baloo to rethink the uneventful life as a barfly at Louie's.
A Note on the Pilot: As should be apparent from the way I've reviewed them, the 4-part opening is presented in the manner that it was when it first ran on the Disney Afternoon on Thanksgiving week 1990, not as the two-hour special which aired in advance of the show's standard Disney Afternoon debut. As such, the last three installments include dramatically-narrated recap of the previous episode (referred to as "yesterday") on opening as they would have in reairing. An unfortunate consequence of this is that a number of brief shots trimmed for syndication have likewise been lost here. For a list of cuts, check out this page at the informative defunct TaleSpin HQ. As long as I have you, it's interesting to note that the pilot includes the only two songs (besides theme tune "Spin It") found on this set: "I'm Gone" (in Part 1) and "Sky Pirates" (Part 3). It suggests a more musical series than what ensues.
5. "From Here to Machinery" (22:46) (Originally aired September 10, 1990)
Baloo feels threatened when a prestigious professor comes to town touting a mechanical pilot. He agrees to a bear vs. robot race, with the stakes high and many a fate resting on his performance; a loss could just single-handedly change the face of aviation!

6. "It Came From Beneath the Sea Duck" (22:48) (Originally aired September 11, 1990)
Kit's debut babysitting of Molly becomes even more challenging when two of Don Karnage's pirates make an unprecedented entry into Cape Suzette and a giant squid is unleashed.
7. "Time Waits for No Bear" (22:48) (Originally aired September 12, 1990)
When Baloo loses a $10,000 piece of cargo, he tries to make things right with the client -- a hoodlum alligator with two thick henchmen -- while letting Wildcat oversee his travel tour.
8. "Mommy For a Day" (22:57) (Originally aired September 13, 1990)
Rebecca's demanding workday enables Molly to wander off with Henry, a baby "buffalo" she discovers. The critter, it turns out, is actually a dragon-like animal who can magically shrink and grow at will. While Kit and Molly try to reunite Henry with his mother, the hunter who bagged the creature tries to reclaim him.
9. "I Only Have Ice For You" (22:47) (Originally aired September 14, 1990)
When Baloo has his pilot's license temporarily revoked, Rebecca buys a book and tries to teach herself to fly. Her efforts lead the gang to an icy place where they are taken prisoner by Don Karnage.
DISC 2

10. "Molly Coddled" (22:48) (Originally aired September 17, 1990)
A crook named Mr. Covington, whose priceless doll has ended up in the hands of Molly, puts on precisely the sophisticated air that Rebecca has been looking for in order to reclaim his stolen loot.
11. "Polly Wants a Treasure" (22:51) (Originally aired September 18, 1990)
A parrot who goes by the name Ignatz comes into the possession of Baloo and Kit, which puts Don Karnage and his pirates on their trail; they think the talkative bird will lead them to a long-lost treasure.

12. "Vowel Play" (22:52) (Originally aired September 19, 1990)
Higher for Hire goes into the skywriting business, which underscores the importance of spelling for Baloo and Kit. Unfortunately, it also leads to the gang unwittingly aiding criminal activity.
13. "The Idol Rich" (22:49) (Originally aired September 20, 1990)
Baloo and Kit use their treasure-hunting skills to bring them to the site of a much-sought idol, only to have it swiped away at the last moment by the stout, lisp-addled Colonel Spigot and his Thembrian soldiers. To get it back, Baloo and Kit devise an elaborate hoax to convince Spiggy that the statue is cursed.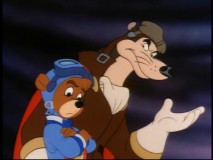 14. "Stormy Weather" (22:51) (Originally aired September 21, 1990)
Impressed by Kit's airborne moves, "King of the Clouds" Daring Dan Dawson promises the boy a life of fame and adventure as his sidekick. Baloo tries to ground his young navigator's sky-high hopes, but the life of a daredevil might just be too alluring.

15. "Bearly Alive" (22:52) (Originally aired September 24, 1990)
When Baloo finds out he is dying, he yearns to both defy and make history

by successfully flying through the Bearmuda Trapezoid. In the process, he meets some legendary aviators who need his help.

16. "Her Chance to Dream" (22:53) (Originally aired September 25, 1990)
Ghosts appear to emerge from the ship ruins under Louie's bar and one of them - the gentlemanly captain William Stansbury - charms his way into an old-fashioned romantic relationship with Rebecca.

17. "All's Whale That Ends Whale" (22:50) (Originally aired September 26, 1990)
Baloo and Kit befriend a whale named Moby Dimple. When they learn there is a reward for finding and rescuing him, they set out to help buy Baloo his old plane back. But soon, after they see how owner Seymour (of Seymour's See-More Seaquarium) treats the whale, their consciences have them second-guessing their actions. Animal rights activists should approve this "message" episode.

18. "The Golden Sprocket of Friendship" (22:56) (Originally aired September 27, 1990)
Kit and Baloo look to make lots of money by selling hot dogs at the much-attended Friendship Festival. But then the Thembrians show up, as do the displeased clients of "Time Waits for No Bear" and all plans undergo severe changes.
Buy TaleSpin: Volume One DVD from Amazon.com



Page 1: Show Discussion, Disc 1, and Disc 2
Page 2: Disc 3, Video/Audio, Bonus Features, Menus & Packaging, and Closing Thoughts