By Kelvin Cedeno

Nearly fifteen years after its release, it's difficult to look at Toy Story and remember just how innovative this film actually is.

There are several accountable explanations for this. Maybe it's just short-term memory loss. Perhaps it's because computer-animated films have become overwhelmingly common in recent years. Or maybe it's because as soon as the film begins, its story and characters engross to the point where technical and historical significances are all but forgotten.

Toy Story has often been compared to Walt Disney's Snow White and the Seven Dwarfs. While the two films are as different as they could be, the comparison is not unfounded. Pixar's 1995 feature film debut proved that computer-generated imagery was more than just a tool to be used on visual effects, short films and commercials. It's a genuine art form and a storytelling medium that differs from live-action, hand-drawn animation, and stop-motion animation.
For those out there who've never seen this film (and for those who suffer from the aforementioned memory loss), Toy Story begins with a boy named Andy (voiced by John Morris). Andy enjoys playing with his wide assortment of toys, but his most cherished one is a pull-string cowboy doll named Woody (Tom Hanks). What Andy doesn't know is that as soon as he leaves his room, Woody and the rest of the toys come to life. Among these are the sardonic piggy bank Hamm (Pixar regular John Ratzenberger), the temperamental spud Mr. Potato Head (Don Rickles), the loyal country bumpkin Slinky Dog (Jim Varney), and the coy lamp figurine Bo Peep (Annie Potts).
Woody has always been Andy's favorite toy, but he's in for a rude awakening when a new toy arrives on the scene: a high-tech spaceman action figure named Buzz Lightyear (Tim Allen). To Woody's horror, Buzz quickly becomes not only Andy's new favorite, but the most popular toy amongst the gang. It takes Woody some time to realize that unlike himself and the others, Buzz isn't aware that he's a toy. He truly believes he's landed on another planet on a secret mission. Woody decides to use this to his advantage, but through a series of complications, both Buzz and Woody end up stranded in the middle of nowhere. Now the two must find a way to get home without killing each other in the process.
When one considers that this was Pixar's first feature film, the storytelling becomes even more impressive than it already is. The studio was so accustomed to making short films that it's surprising Toy Story doesn't feel like it's being stretched too thin. Even Walt Disney's own Snow White was guilty of obvious padding to achieve a respectable length. Here, though, every scene is either a cause or an effect. There's no self-indulgence or showing off. The plotting is tight and the characterizations are strong.
Speaking of the characters, they're all perfectly cast. It's become an unfortunate practice today for animation producers to get big name celebrities in hopes their vocal presence will be a box office draw. They make the character suit the actor rather than vice-versa, and it usually shows. With Toy Story, the performances harmonize with the roles. As the two leads, Tom Hanks and Tim Allen don't just coast through their roles and play themselves. They inject enough genuine acting to make these real personalities. When one views the film, they see Woody and Buzz, not Hanks and Allen. The same goes for the colorful supporting performers, who all make the most of their allotted screen time.
It's difficult to really find any missteps in Toy Story. The closest may be that the film loses momentum slightly when Woody and Buzz end up in the house of Sid Phillips, a boy who tortures toys for the thrill of it. That probably sounds odd that when the stakes are at their highest, the story momentarily stops to breathe. This is because up to that point, the plot is on turbo drive and is constantly moving. At Sid's house, things screech to a halt in order to give Woody and Buzz time for character development.
It's a necessary pause, but considering how fast-paced everything else that surrounds it is, the change of pace is noticeable.

It shows just how strong a picture this is when the closest thing to a criticism one can make is a character development break. That's what so special about both Toy Story and Pixar's catalog of films in general. They treat their characters seriously enough to allow them to grow, yielding personalities more believable than most of those found in live-action films. Toy Story in particular does what the best films set out to do. It transports the viewer to a world that stimulates the imagination while at the same time possessing a universal truth at its core. Being the first computer-animated feature film can only take it so far. It's lasted this long because of an engrossing story and relatable characters. Such fine craftsmanship undoubtedly makes the filmmakers prouder than any technical achievement they may have conquered.

Unfortunately but expectedly, this presentation of Toy Story comes from last fall's 3-D double feature exhibition, meaning that the film's original Walt Disney Pictures logo has been replaced by the current WDP logo. With it, the opening notes of Randy Newman's score (which would be used for years to come attached to Pixar's distinctive lamp logo-preceder) and the wallpaper transition accompanying it have also been cut.

Toy Story has been released on home video several different times and ways, but three of these were particularly substantial. The first was the 1996 Deluxe CAV laserdisc. This included several supplements such as a commentary, featurette, deleted scenes, galleries, and trailers. In 2000, the film was packaged with its sequel in an elaborate, three-disc DVD set called The Ultimate Toy Box. This featured nearly all the laserdisc supplements along with additional featurettes, breakdowns, and archival materials. To celebrate the film's tenth anniversary, an individual two-disc set appropriately called a 10th Anniversary Edition was released in 2005. This contained the majority of the Toy Box material but dropped some in favor of new retrospective featurettes. Now, just ahead of the theatrical release of Toy Story 3, Disney issues the film for the first time in high-definition in a Special Edition Blu-ray + DVD combo. How does it compare? Read on to find out.
Blu-ray Details

1.78:1 Widescreen; Blu-ray: DTS-HD 5.1 (English), Dolby Digital 5.1 EX (French, Spanish), DTS-HD 2.0 (English), Dolby Surround 2.0 (Descriptive Video Service)
DVD: Dolby Digital 5.1 (English), Dolby Surround 2.0 (English, Descriptive Video Service)
Subtitles: English, French, Spanish; Closed Captioned; Extras Subtitled
Release Date: March 23, 2010
Two single-sided, dual-layered discs (1 BD-50, 1 DVD-9)
Suggested Retail Price: $39.99
Blue Keepcase with Cardboard Embossed Slipcover
Also available in DVD Packaging
and in 1-Disc DVD-Only "DVD Edition"
Toy Story mailing labels (5 scenes)
| | |
| --- | --- |
| | |
| Screencap from 2005 10th Anniversary Edition DVD | Screencap from 2010 Blu-ray |
VIDEO and AUDIO
Toy Story comes to Blu-ray in its original aspect ratio of 1.78:1. There's a certain level of expectation to be had with CG films as they're transferred directly from their original sources. Even with such expectations in mind, Toy Story is astounding to watch. The previous DVDs have been hailed as having some of the best transfers for that format, but even they pale in comparison to the presentation here. The color scheme is both brighter and warmer, plus detail is now rendered without any compression artifacts in the way. It's an immaculate transfer that's perfect for demonstration purposes.
The 5.1 DTS-HD MA track is also reference quality. The sound design takes full advantage of the sound field, whether it be toys scrambling around Andy's room or a thunderstorm rumbling overhead. The surrounds are constantly at work to ensure an enveloping experience. In the midst of this, the dialogue doesn't fight to make itself heard as it's mixed appropriately and clearly. Randy Newman's score adds richness to the track and allows the instruments to be heard sharply and concisely. It's a flawless track.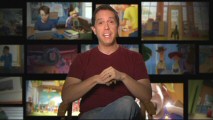 BONUS FEATURES, MENUS and PACKAGING

The Blu-ray disc contains a wealth of supplements, most of which were also on the deluxe 2000 and 2005 DVD releases. The first brand new extra is "Toy Story 3 Sneak Peek: 'The Story'" (2:06) (HD). Here, Director Lee Unkrich gives a plot synopsis that's intercut with film clips and color keys.

Unfortunately, little is shown that's not already in the second trailer, rendering this top-billed feature less valuable.

Next comes an audio commentary by director John Lasseter, co-writer Andrew Stanton, supervising animator Pete Docter, art director Ralph Eggleston, supervising technical director Bill Reeves, and producers Ralph Guggenheim and Bonnie Arnold. This discussion was originally recorded for the 1996 laserdisc and later resurfaced on both the Ultimate Toy Box and 10th Anniversary DVDs. Like other Pixar commentaries, this one offers a healthy mix between entertaining and informing. The speakers discuss story development, voice casting, animation difficulties, and real life toys among other things. There isn't much to complain about regarding this outstanding track.

The new features return with "Buzz Lightyear Mission Logs: Blast Off " (3:27) (HD), basically an educational promo for NASA. It begins with new animation of Buzz taking Rex and Hamm to the NASA website. From there, Buzz explains some of the basics of how their spaceships take off and arrive at their stations. Launch footage is shown, and to add a spark of creativity, we see that the astronauts have taken an actual Buzz Lightyear action figure on board with them. This allows Buzz the character to explain things to Rex and Hamm from a first-person point of view. It's a cute piece, and having all three original voice actors gives it more authenticity.

"Paths to Pixar - Artists" (4:47) (HD) features four different crew members (Tia Kratter, Bill Wise, Ralph Eggleston, and Sharon Callahan) reflecting on how they got bit by the show business bug. They share childhood stories and anecdotes about their first jobs in the industry. It's short, but entertainingly informative. The title suggests that future Pixar releases will have other featurettes in this style that focus on other elements.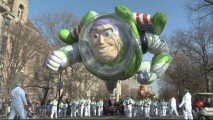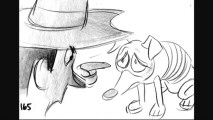 Next come three brief clips called "Studio Stories." Each of these has crew members reminiscing about a particular event or subject. Their stories are illustrated with minor animation done in doodle form. "John's Car" (1:28) (HD) takes a look at John Lasseter's safety hazard on wheels. AJ Riebli remembers a costume he entered into a contest in "Baby AJ" (1:39) (HD).

Finally, an ongoing rivalry between Lasseter and Tom Porter is relayed in "Scooter Races" (2:18) (HD). All three are a lot of fun to watch and are hopefully the beginning of more to come.

"Buzz Takes Manhattan" (2:11) (HD) interviews John Lasseter about the Buzz Lightyear balloon in the 2008 Macy's Thanksgiving Day Parade. Footage of the preparations is shown along with the balloons in action. These, mixed with Lasseter's enthusiastic comments, make for a nice little clip.

The last of the new features is "Black Friday: The Toy Story You Never Saw" (7:36) (HD). In this surprisingly blunt piece, the crew recalls a disastrous in-house screening of the film's first half in storyboard form. They admit that the product was the result of too much micro-managing from Disney, and as an added bonus, we get to see a clip from this version. It truly is horrifying to watch and had the film gone in this direction, it would've been a cruel and obnoxious mess, especially in regards to Woody's characterization. However, this glimpse and the honesty that precedes it make this one of the set's more fascinating features.

"Learn How to Take Your Favorite Movies on the Go" (1:00) (HD) is Disney's standard tutorial on digital copies. Why that's included in a combo pack that lacks a digital copy is anyone's guess.
The rest of the features fall under the heading of Classic DVD Bonus Features, the first four of which were created for the 10th Anniversary Edition. "Filmmakers Reflect" (16:35) (SD) has John Lasseter, Andrew Stanton, Pete Docter, and Joe Ranft sitting in the middle of the studio's main hall swapping production stories. Among these are their intentions to make something other than a musical fairy tale, the infamous Black Friday screening, and their own childhood toy experiences. It's a fresh, funny, and honest look back at both the film itself and its creators' own personal lives.
"Making Toy Story" (20:17) (SD) acts as the disc's main behind-the-scenes featurette. It's made up entirely of footage and interviews from the mid-'90s and replaces 27-minute documentary "The Story Behind Toy Story" created for laserdisc and carried over to The Ultimate Toy Box. Interestingly, most of the footage between the two overlaps and has simply been re-edited. Various production aspects are raced through, from initial conception all the way through post-production. While the promotional and self-praising angle of the older edit has thankfully been dropped, certain bits (most noticeably, footage of the supporting voice actors) are missed. Still, it's a nicely compressed look at production.
In "The Legacy of Toy Story" (11:44) (SD), various filmmakers, historians, and critics look back on the movie and how it's impacted the film medium. Some of the notable names include George Lucas, Peter Jackson, and Hayao Miyazaki. Several of Pixar's own employees (including those, like Brad Bird, who weren't involved with the film) also weigh in on how Toy Story pushed the envelope for animation. It's really all one big praise fest, but it's still nice to see how much Pixar's foray into features affected others in the business.
"Designing Toy Story" (6:12) (SD) is the last feature created for the 10th Anniversary Edition. Several crew members discuss the look of the film from several angles. The challenge of balancing realism with stylization is touched upon as are the color choices made. The piece is concise and informative.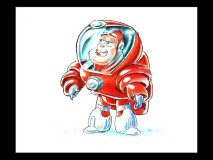 Next are eight deleted scenes (19:01) that first surfaced on the 1996 laserdisc. Two of these actually made it to animation and act as extended scenes, while the other six are in storyboard form and are either fully cut sequences or alternate versions of existing ones.

While the deletions (and alterations) were wise ones, they're still a treat to see. The two animated portions come with an introduction by Lee Unkrich while the storyboarded ones follow an intro by Unkrich, Lasseter, and Stanton. Both intros were recorded for the 2000 DVD.

The next few bonus material listings are sections that each contain several clips, most of which appeared in navigable gallery form on The Ultimate Toy Box and was converted to video slideshows for the 10th Anniversary Edition. Design begins with a collection of video galleries (14:28) (SD). These include slideshows for Woody, Buzz, Andy's Toys, Miscellaneous Toys, Mutant Toys, Andy's Family, Sid's Family, Andy's Room, Gas Station, Sid's Room, and Pizza Planet. All of these, as well as the other galleries, are accompanied by Randy Newman's score.

"3-D Visualizations" (5:50) show 360-degree turnarounds of Woody, Buzz, Andy's Toys, Alien, Andy's Room, Gas Station, and Sid's Room. The last three feature commentary by Eggleston, who points out the architecture, details, and design challenges. The subheading Color (7:49) (SD) contains the featurette "Designing Color", where Eggleston explains the approaches he took with the film's color palette and how they relate to the characters and settings. Two more video galleries (Concept Art and Color Scripts) follow this.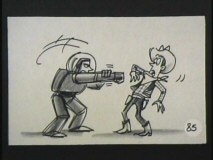 Story (14:00) holds three supplements. The first is a "Green Army Men Pitch", which begins with an introduction by Andrew Stanton and Joe Ranft explaining the storyboard process. After that, we're shown a clip of Ranft pitching a sequence to several crew members. This is presented via a split-screen with the final film, and Ranft's clear enthusiasm is fun. "Andy's New Toy" shows a story reel sequence of Buzz meeting the rest of Andy's toys for the first time. Finally, "The Chase Storyreel/Film Comparison" offers a split-screen of the film's thrilling climax in both storyboards and final animation.
Four features are found under Production (11:20) (SD). "Production Tour" offers a sort of CliffsNotes overview of the filmmaking process where a different crew member summarizes a different step. Layout artist Craig Good explains how the layout affects cinematography and editing, and even provides examples of miscalculations in "Layout Tricks". In "Animation Tour", directing animator Ash Brannon deconstructs each layer of the animation process with illustrative clip progressions. The section ends with a "Multi-Language Reel" of Buzz's introduction.
Music & Sound contains three listings, starting with a music video for Randy Newman and Lyle Lovett's "You've Got a Friend in Me" (2:15) (SD). Created for the 2005 DVD (as there was no official video at the time of the film's release), this shows footage of Newman and Lovett in the recording studio amidst concept art, color keys, and film frames similar to the disc's menu.
Sound designer Gary Rydstrom appears in "Designing Sound" (6:35) (SD). He discusses creating the effects track essentially from scratch and unexpected items he used to form sounds. The section wraps with six "Randy Newman Demos" (17:23). Three of these are demos for songs that made it into the final film ("I Will Go Sailing No More", "Strange Things", and an instrumental of "You've Got a Friend in Me") while three were cut out or reworked (two versions of "Plastic Spaceman" and "The Fool"). They make for an interesting listen.

The final category under Classic DVD Bonus Features is Publicity (10:25) (SD). This starts with a "Character Interview" between Woody, Buzz, and film historian John Mulhane. While neither Tom Hanks nor Tim Allen reprise their roles here, the replacements are fairly good and make this a cute clip. The film's teaser trailer, theatrical trailer, and four TV spots all follow. Two more video galleries show up in the form of "Posters" and "Toys & Stuff".

A subheading within the Publicity section leads to "Toy Story Treats" (14:22) (SD). These Saturday morning interstitials, created for ABC shortly after the film's release, feature Andy's toys (and even some of Sid's) engaging in day-to-day activities while their owners are gone. On The Ultimate Toy Box, these clips were presented individually via a menu.

On the 10th Anniversary Edition, they were edited together into several themed montages and spread around as Easter eggs. Here, they're easily accessible as on the 2000 DVD, but retain the themed montages of the 2005 one. They make for a fun and valuable inclusion. Note that the Buzz Lightyear commercial that appears in the film (and was an Easter egg on the previous releases) is also included with these.

The supplements all give an excellent look at the creation of Toy Story both from the filmmakers' perspective during production and in retrospect 10-15 years later. Disney has done a commendable job of carrying over previous supplements, but it's still important to note what didn't make it in. Essentially, this Special Edition Blu-ray is the 10th Anniversary Edition from 2005 with some new features thrown in. That means that everything that got lost in the transition from The Ultimate Toy Box to that edition is likewise lost here. They include an isolated 5.1 sound effects track, various text-based features, early animation tests, featurettes on character animation, larger galleries, special effects breakdowns, reference footage, render bugs, and an additional interview with Woody and Buzz. Portions of the animation tests and character featurettes do make it into "Making Toy Story", but it's still a shame the others were dropped. It's curious that Disney didn't bother to make the original story treatment into a new video feature they way they did on the A Bug's Life Blu-ray. At least the casualties aren't as great as those of the recent Snow White and the Seven Dwarfs Blu-ray, and the new features compensate, as well.
A DVD copy is included here as the second disc of the combo pack. It contains everything that doesn't fall under Classic DVD Bonus Features (the commentary, the sneak peek, and the new featurettes). Presumably, the film's forthcoming single-disc DVD release (the uncreatively dubbed "DVD Edition" that is strategically staggered until May 11th) will be identical to the second platter here.
The Blu-ray opens with promos for Toy Story 3, Disney Blu-ray, and Beauty and the Beast: Diamond Edition. These can also be accessed from the Sneak Peeks menu along with ads for Disney Movie Rewards, Toy Story 1 & 2 on Blu-ray, The Princess and the Frog, James and the Giant Peach: Special Edition, and Disney Parks. The DVD drops the last two and replaces them with spots for Tinker Bell and the Great Fairy Rescue and "Phineas and Ferb."
Each disc's main menu is clearly modeled after those of the 2005 DVD. Windows of storyboards, concept art, and color keys rotate in the background while listings (done in Andy's handwriting) appear on scrap paper. The BD's pop-up menu expands to the right to include more submenus and selections, all with (slightly incorrect) running times. The loading screen features Etch-A-Sketch drawing a star and then shaking himself to erase it.
Both discs are housed in a standard Blu-ray case with side snap. In a surprising move for Disney, the DVD features full artwork. A pamphlet advertising other releases and Toy Story merchandise is included along with a Disney Movie Rewards code that doubles as a way to print out a free movie ticket voucher for Toy Story 3 (up to $8.50). All of this is housed in an embossed cardboard slipcover.
CLOSING THOUGHTS
Toy Story more than earns its status as an instant classic. It contains a fun and creative story with lovable characters, all done with memorable animation and music. The Blu-ray presents the film at its absolute best with pristine image and sound and an excellent collection of extras. Completists who own The Ultimate Toy Box may still want to hold onto that for the few missing features, but this set is recommended to them and everyone else. Never mind the film's technological and cultural significance. It's worth owning just as a fantastic release of a timeless classic.
More on the Blu-ray / Buy from Amazon.com / Preorder New DVD (available May 11th)