By Kelvin Cedeno

Pixar's seventh feature film, Cars, feels a bit different from other entries in the studio's canon. Its story is a familiar one. Hotshot rookie racecar Lightning McQueen (voiced by Owen Wilson) unwittingly ends up in Radiator Springs, a forgotten little town on Route 66.

Forced to perform community service there after a destructive speeding mishap, Lightning is all too eager to get out and compete in the tiebreaker race that could earn him the prestigious Piston Cup. Throughout his stay, though, he grows attached to the colorful residents. Among these are the self-sufficient lawyer/blue Porsche Sally (Bonnie Hunt), goofy hillbilly tow truck Mater (Larry the Cable Guy), and hard-edged vintage cynic Doc Hudson (Paul Newman in his final film role).

Even with a tried-and-true formula, the presentation feels unlike other Pixar productions. It's not as universally appealing, catering more to racing fans and audiences familiar with eccentric small town life. That's not to say that it completely alienates other demographics, but Pixar humor usually stems from snappy one-liners and sight gags. With Cars, a lot of it is either regional or based in pop culture. The middle act also drags somewhat. The studio's other movies tend to have tightly constructed plots, and even the ones that don't still feel as though they're going somewhere. Here, the day-to-day lives of characters take center stage.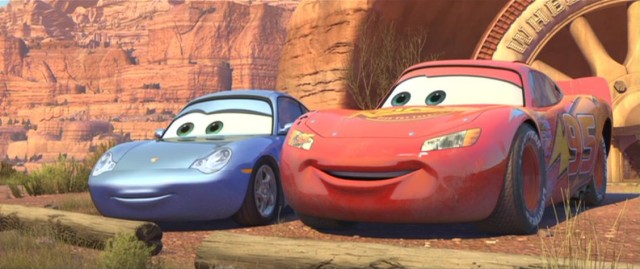 It's hard to decide what could've been excised, though, as the relaxed pacing allows the audience to truly get to know the large, diverse cast. It also makes Lightning's growth and development all the more convincing. Arcs like his are often dealt with quickly, usually via some sort of montage. The filmmakers don't resort to that, instead allowing him to subtly change scene by scene. With natural character development, often stunning animation, and exciting race sequences, Cars ends up being a strong film. Its flaws are minor and only noticeable due to Pixar's strong repertoire. It doesn't have the rewatchability of the studio's other works, but it's still a satisfying experience that's heads and shoulders above the competition.
Three years after first coming to home video and less than two before its sequel, believed to be titled Cars 2: World Grand Prix, is to arrive in theaters, Pixar's heavily-merchandised, Oscar-losing flick gets revisited in this Ultimate Cars Gift Pack, which bundles single-disc Blu-ray and DVD releases together along with two character die-cast model cars.
Blu-ray Disc & DVD Combo Details

Blu-ray: 2.39:1 Widescreen, Dolby Digital 5.1 Uncompressed
DVD: 2.39:1 Anamorphic Widescreen, Dolby Digital 5.1 (English), Dolby Digital 2.0 (English)
Subtitles: English for Hearing Impaired, French, Spanish
Closed Captioned; Extras Subtitled
Gift Set Release Date: November 10, 2009
(Original DVD Release Date: November 7, 2006)
Two single-sided discs (1 BD-50, 1 DVD-9)
Suggested Retail Price: $49.99
Blue Keepcase in Cardboard Packaging with Two Die-cast Cars
Still available in Standalone DVD and Blu-ray Versions
VIDEO and AUDIO
Both the Blu-ray and DVD present Cars in its theatrical 2.39:1 aspect ratio. When first released in 2007, the Blu-ray was praised as being one of the top demo quality discs of its time. That praise holds true today. Just as with other Pixar BDs, the image is immaculate. It's especially noticeable here as there's quite a bit of detail to transfer, from the crowds at the races to the trees and rock formations of Radiator Springs. All of this remains razor sharp, colors boldly pop from the screen, and there are no visible defects. This transfer easily lives up to its reference-quality status.
While not the DTS-HD of recent releases, the uncompressed Dolby Digital 5.1 track still manages to impress. This is an effects-heavy film that spans a fairly wide range. Whether it's the zooming of race cars or the crunching of gravel under tires, sounds are clear and take full advantage of the surround environment. Dialogue is crisp, as is expected for a recent animated film, and it offers some nice directional mixing. The music, more lyrically-influenced than usual, is robust and doesn't compete with the other layers to make an impression. On par with the picture, this is an excellent track for showing off one's system.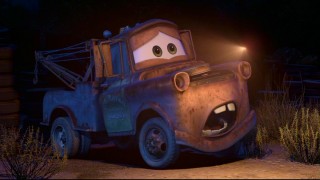 BONUS FEATURES, MENUS and PACKAGING

The Blu-ray's features are divided into two sections, the first being Visit Radiator Springs. This area acts as a sort of family section, starting with a "Carfinder Game." Mater offers a two-minute introduction explaining how this works. When watching the film, the player is given a group of cars to find within a certain scene. As soon as that car appears in the main feature, the player must quickly select it before it switches to another car from an upcoming shot or scene. Each car is worth a certain amount of points, and the progress is indicated at the top. Occasionally the film playback will pause to allow selection from a screenshot (in a sort of "Where's Waldo?" fashion).

It's certainly an innovative game, if not a little overwhelming. Luckily, it's very forgiving and allows the player to rewind back and select the cars they missed. As an incentive, each car found unlocks an entry in a car guide, which contains biographies and specifications of each the vehicles shown in the film. This makes the game far more valuable than usual.

Next comes One Man Band, (4:33) (HD) the short that preceded Cars in theaters. In it, a little girl finds two separate street performers, one on horns and one on strings, going out of their way to earn her gold coin. It's one of the more charming and memorable shorts from Pixar.

Created for home video, Mater and the Ghostlight (7:09) (HD) follows the tow truck's exploits late one night after he's told the story of the dreaded Ghostlight. It's essentially a one-joke short, one that probably would be funnier if the audience wasn't left out of the gag until the very end, but it's still mildly diverting.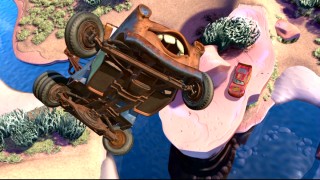 "Epilogue in HD" (4:20) (HD) presents the end credits montage sized to fill a 16:9 screen. It gives a better impression of the reel, especially since it's one of the most satisfying endings in Pixar canon.

The section's final feature is "Boundin' Cars" (0:46) (HD), originally an Easter egg on the DVD release. The brief clip shows Lightning McQueen and Mater watching the short Boundin', but with a twist - they're starring in the roles of the sheep and jackalope. It's a random but harmless inclusion.

The rest of the features are found under Tour Pixar Animation Studios, which encompasses all of the behind-the-scenes material. While aimed at adults, the first featured here actually isn't a making-of piece.

"Movie Showcase" (6:33) presents four excerpts from the film that best exemplify the picture and sound of HD. It's not a bad feature to have if one is demonstrating Blu-ray benefits as the four sequences are well chosen.

The unique, exclusive content begins with "Cine-Explore." After an introduction by director John Lasseter (1:24), the film is played with one of two audio commentaries. Relevant artwork and photos are displayed, and the feature branches off to short behind-the-scenes segments and deleted scenes (discussed further later on). Unlike the Cine-Explores that have followed, the one on Cars has lots of interactivity and is similar to Universal's "U-Control." The viewer can choose whether or not they want the featurette clips and deleted scenes, can turn the artwork on or off, and can switch to either commentary track at whim.

The first of these commentaries is by director John Lasseter. He shares how the film is fruition of different aspects of his life, what sort of research he and his staff collected, and how the story and characters progressed. Despite being alone, Lasseter is engaging, informative, and rarely pauses in his comments.

The second track is more production-oriented and contains remarks from story artists Dan Scanlon and Steve Purcell, directing animators Bobby Podesta and Jim Murphy, supervising animators Scott Clark and Doug Sweetland, production designers Bob Pauley and Bill Cone, shading art director Tia Kratter, director of photography Jean-Claude Kalache, supervising technical director Eben Ostby, character supervisor Tim Milliron, and set supervisor Sophie Vincelette. While it's obvious that all of these people are not in the same room, it's less clear how many of them are grouped together. Each participant shares his own thoughts on whichever production aspect he's a part of, so a lot of ground is covered. While, understandably a bit drier than Lasseter's, it's still a strong and enlightening track.

The seven branching segments are, thankfully, available for separate viewing under "Cine-Explore Documentary Shorts" (SD). "Radiator Springs" (5:25) gives a brief history of the film's central setting and how it compares to similar towns on the real-life Route 66. "Character Design" (6:06) goes into the research done to make the cars look authentic and the challenges of mixing that with personification. "Animation and Acting" (5:16) discusses the challenges of animating characters that that lack traditional facial features and limbs and keeping them all distinctive.

For a look at the extensive research that went into the racing sequences, there's "Real World Racing: Getting Geeky with the Details" (5:30), which shows just how far the filmmakers went to make things authentic as possible. "Hudson Hornet" (2:44) takes a look at the classic vehicle Paul Newman plays and how its own history influenced the character's arc. "Graphics" (3:34) showcases the various fake advertisements throughout the film, particularly the dozens of bumper stickers found on the characters. "Darrell Waltrip Museum Tour" (7:13) lets the racing legend show off his car collection and say what each one means to him personally. These clips can't replace a comprehensive documentary, but they're a decent look at the creation of Cars, especially via Cine-Explore.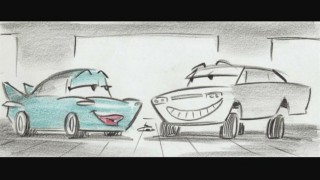 "The Inspiration for Cars" (16:02) (SD) focuses on three subjects: John Lasseter's road trip with his family, Route 66 and its residents, and the world of racing. Of the three, the filmmakers' trip to Route 66 is given the most time, with interviews from both them and the local townsfolk who witnessed firsthand the abandonment of these establishments. These, mixed with additional footage of NASCAR racing and Lasseter's home movies, make for a tight and satisfying piece.
The final disc-based extras are five deleted scenes (14:00) (HD), each of which opens with a Lasseter audio introduction. Four of these were also on the DVD, but the BD adds "Traffic School", in which Lightning must attend a class taught by Sally and has more difficulty than expected. Its absence from the DVD is troubling, especially since it's the most entertaining of the batch. All five scenes are presented in storyboard format.
The included DVD copy features all of the Visit Radiator Springs supplements (except the Carfinder Game), "Inspiration for Cars", and four deleted scenes.
The Blu-ray disc has been updated to open with previews for Toy Story 3, Up, and Dumbo: 70th Anniversary Edition. These are not accessible by any sort of "Sneak Peeks" menu. The unchanged DVD's outdated ads promote Ratatouille, Peter Pan: Platinum Edition, and Meet the Robinsons, Cars: The Video Game and Disney Blu-ray.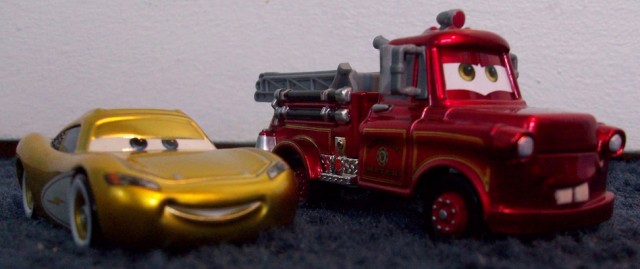 Perhaps the result of being among the format's earlier releases, the Blu-ray's menus are actually more evocative of DVD ones. Instead of a single design with a pop-up overlay, each section gets an entirely different menu.

The viewer is first presented with three signs in the middle of a desert: two billboards (one for "Visit Radiator Springs" and one for "Tour Pixar Animation Studios") and one Yield sign that plays the feature film. The "Radiator Springs" submenu shows the townsfolk at a drive-in theater while the menu selections are on a screen reminiscent of 1950s intermission ads. The "Pixar Animation" submenu is arranged like a corkboard filled with Post-its and photos that represent the different selections. Both menus allow access to the film and set-up options. The loading screen shows the Piston Cup while a checkered pattern spins behind it.

This Ultimate Cars Gift Pack places the Blu-ray/DVD combo in a standard Blu-ray case. The artwork has been slightly modified to reflect the addition. This case comes packaged in a red cardboard box that holds two diecast cars in small compartments to the right side of the combo.

The cars in question are special Ransburg-painted versions of the film's stars, Lightning McQueen and Mater. Painted gold with a more retro lightning design on either side, the Lightning car is exclusive to this set. The Mater car is already widely available and presents him as a fire truck based on the Disney Channel short Rescue Squad Mater. The detail on both is quite impressive, and the designs are actually printed on as opposed to cheap stickers. It would've been nice if both cars were exclusive rather than just one, but it's hard to complain about the craftsmanship on these.
CLOSING THOUGHTS

Some languid pacing and some less-than-mainstream humor make Cars a tougher sell than other Pixar films, but that shouldn't dissuade people from seeing it. It cares enough about its characters that the audience, in turn, cares, and it's all presented in a believable way with beautiful animation. The Blu-ray offers excellent visuals and sound and a decent collection of extras.

Those supplements, however, seem rather light in comparison to other Pixar releases, and it still seems unfair that many of them remain Blu-ray exclusives. The menu design almost seems to suggest that a 2-disc DVD was planned at some point in a similar style to Finding Nemo: a first disc for families and a second disc for enthusiasts, but that hasn't happened yet with Cars merchandise still a retail fixture three years later.

The Blu-ray disc itself undoubtedly earns a recommendation for those who've already invested in Blu-ray or plan to soon. The Gift Pack is not as easy to recommend. For almost double the price of the standalone BD, the set includes a DVD and two cars. This might be ideal for a child who has yet to own the feature and comes from a household supporting both formats. For others, unless the cars and DVD are that vital to them, the original BD is more than enough.

Buy Cars from Amazon.com: Ultimate Cars Gift Pack / Just the Blu-ray / Just the DVD