By Aaron Wallace

Toy Story brought toys to life. In Toy Story 2, the toys don't just live, they grow. Not in size or in number (though there are more of them), but in character. Picking up where the previously developed relationships left off, the sequel gives its colorful cast of characters a wholly satisfying, entirely new adventure. To the extent that Buzz Lightyear's identity crisis commanded the spotlight in the first film, Woody's own selfhood is the primary focus here. Buzz isn't forgotten, though.

The adversarial nature that chiefly characterized their relationship before has given way to a respectful friendship and yet, remarkably, the movie keeps its interest in their bond. This is what makes Toy Story 2 one of the best sequels ever made: a wholly organic evolution in the lives of three-dimensional individuals who endure all the complexities of the human experience while bearing the burdens unique to toy life as well.

The movie begins with an accidental rip in Woody's arm. The tear at the seams soon becomes more than literal as Woody's confidence, identity, and group of friends are ripped as well. After getting mixed up in Andy's mom's yard sale inventory, Woody falls into the scheming hands of nefarious toy collector Al McWhiggin. While his friends plot to rescue him, Woody discovers a past he didn't know he had, one in which he had fame and a family. He meets that long-forgotten crew of cow folk, which includes a spirited young lass named Jessie, a somewhat mysterious, mint condition prospector better known as Stinky Pete, and an affectionate horse called Bullseye.
The new group takes a liking to Woody and he to them, but when he learns that their hope for a luxurious life in a Japanese museum depends on his joining them as part of a complete collection, Woody has to choose between his friends in Andy's house -- and Andy himself -- and the new life he's just uncovered. Meanwhile, the same friends he contemplates leaving behind attempt a daring caper to rescue him.

They must grapple with a duplicate (and familiarly naive) Buzz Lightyear and try to outwit his arch-nemesis, the evil Emperor Zurg.

Woody's rollercoaster of excitement and confliction resonate with human uncertainty about growing older, leaving one place behind, or having to choose between two desirable scenarios. The film treats each of the diverging paths with equal respect, devoting thoroughly engaging and rather hilarious scenes of togetherness to the crew of toys we already know on the one hand and moments of sentiment and sincerity with the new toys on the other. A twist toward the end -- conventional but not transparently so -- helps in reconciling the dilemma.

Pervasive in both Toy Story films is an aptly playful atmosphere, thanks in no small part to Randy Newman's energetic and whimsical score. The legendary musician penned one of the biggest songs of his career with "You've Got a Friend in Me" from the first Toy Story. He adds two new songs in the sequel, neither of which he sings himself. The first is "When She Loved Me". Sarah McLachlan has long been the Debbie Downer of pop music. That's no different here, but the melancholy she brings to "When She Loved Me" captures perfectly an emotion in Jesse that is at the same time naturally human yet distinctly toy. The other new number is "Woody's Roundup", the theme song to a TV show that once featured Woody in the lead role. Performed by the Riders in the Sky, the song instantly calls to mind the old American West and practically mandates a square dance from its audience. Two new renditions of "You've Got a Friend in Me" stand out too.

It goes without saying in 2010 that Pixar animation is impressive. Though the studio has only gotten more sophisticated with time, the CGI in this, their third film, is still ready to dazzle and amaze. The bright color palette complements the music in creating a cheery atmosphere, even as the movie grapples with some rather contemplative themes. The voice acting from a stellar cast deserves high praise too. Tom Hanks and Tim Allen get a lion's share of the credit for making their characters two of the most memorable in recent history, both actors as on their A game here as in the first movie. Also returning are Wallace Shawn, John Ratzenberger, Don Rickles, Annie Potts, Estelle Harris, Jim Varney, Jodi Benson, and Laurie Metcalf, among others. This impressive line-up is put to far better use than the average big name CGI cast; each character is instantly distinctive. Joining the cast in the sequel are Joan Cusack, Kelsey Grammer, and Wayne Knight, who achieve the same level of success in their respective roles as the returning cast members. Knight is especially funny as the villainous Al.
In the expected but annoying department, the film's original Walt Disney Pictures logo (the one used only on Disney-Pixar productions through Cars) has been replaced with the elaborate company-wide WDP logo introduced in the summer of 2007. The change was made prior to last fall's 3D Toy Story double feature theatrical exhibition. It's less of an issue here than on the original Toy Story, where the logo change has actually necessitated losing a few seconds of the film's original opening wallpaper shot, complete with the opening chords of Randy Newman's score that always accompanied Pixar's Disney castle.
Both Toy Story films' history on DVD is, well, storied. They made their debut in October of 2000, sold together in a low-priced 2-pack and simultaneously in a more expensive 3-disc Ultimate Toy Box set, the latter pretty loaded with supplements. A year later, the two movies were released to DVD separately, those discs largely mirroring the ones found in the cheap 2-pack from the year before. Later that year, Disney issued a Pixar 3-pack with those two discs and the A Bug's Life: Gold Collection together in one box set. Then, in 2003, all of the above went out of print. Both movies were unavailable until late 2005, when Disney released lavish new two-disc sets for each movie. Toy Story 2's was labeled a "2-Disc Special Edition" (and in last-minute case stickers, Woody's Roundup Edition). That went out of print in January 2009, which brings us to the present and this week's Blu-ray debuts of both Toy Story movies in separate 2-disc combo pack (1 Blu-ray disc and 1 DVD, with the respective movie appearing on each format). This new release also gets the Special Edition banner (twice on the front cover alone), which seems fair enough, given that it carries over almost everything from the previous Special Edition and adds a few new things too. Like what, you ask? Just keep reading.
Note: The DVD disc in this combo set will be released alone as a single-disc DVD on May 11, 2010. With retailer discounts, you'll save a few dollars at most -- and maybe not even that -- by waiting. With the combo pack, you get everything you'll get with the single-disc DVD, plus the chance to watch the DVD a few months early, a chance to watch the Blu-ray should you ever have access to a player in the future, and a chance to see all the bonus features that come with the DVD now. If you're a DVD-only person right now, the combo unit is still the better value and you can even get it in a standard DVD case. The second best choice would be to track down the old 2-Disc Special Edition DVD.
Blu-ray Details

1.78:1 Widescreen; Blu-ray: DTS-HD 5.1 (English), Dolby Digital 5.1 EX (French, Spanish), DTS-HD 2.0 (English), Dolby Surround 2.0 (Descriptive Video Service)
DVD: Dolby Digital 5.1 (English), Dolby Surround 2.0 (English, Descriptive Video Service)
Subtitles: English, French, Spanish; Closed Captioned; Extras Subtitled
Release Date: March 23, 2010
Two single-sided, dual-layered discs (1 BD-50, 1 DVD-9)
Suggested Retail Price: $39.99
Blue Keepcase with Cardboard Embossed Slipcover
Also available in DVD Packaging
Coming May 11th in 1-Disc DVD-Only "DVD Edition"
Toy Story mailing labels (5 scenes)
VIDEO and AUDIO
Toy Story 2's appearance on Blu-ray is simply jaw-dropping (a reaction we've come to expect from Pixar movies on Blu-ray). The movie is presented in its original aspect ratio of 1.78:1. The 2005 Toy Story DVDs are among the most impressive I have in my DVD collection. This Blu-ray outdoes them. Watch this and you'll be glad you invested in Blu-ray in the first place (as if you weren't happy about that already). The movie is an especially colorful one and those colors are ever so vibrant here. One can really appreciate the shiny toy-like design of the characters in high definition. Animation on Blu-ray doesn't get much better than this, if at all.
There's a DTS-HD Master Audio 5.1 ES track and it's one of the best I've ever heard. This is what surround sound is supposed to be. Effects sweep around the room and, where appropriate, score swells all around the viewer. Dialogue emanates clearly and loudly. Channel separation is tremendous and each and every channel is extremely active, the bass included. This is a disc you can use to show off your home theater system. Four other tracks are also available: English DTS-HD 2.0, English DVS (Descriptive Video Service) 2.0, French Dolby Numιrique 5.1 EX, and Spanish Dolby Digital 5.1 EX. Three subtitle tracks are available: English for the hearing impaired, French, and Spanish.
| | |
| --- | --- |
| | |
| Screencap from 2005 Special Edition DVD | Screencap from 2010 Blu-ray Combo's DVD |
The DVD also presents the movie in 1.78:1 widescreen, looking fantastic as well. The new DVD transfer appears to be nominally different from the 2005 DVD's, following the film's re-rendering for last year's theatrical run in 3D. In the comparison caps above, notice that the sky is both lighter and brighter in the newest transfer, and lacks the gradients seen in the 2005's screencap. I dare say your viewing experience won't be very different with either presentation, both of which are excellent.
Audio options include English Dolby Digital 5.1, English Dolby 2.0, and English DVS 2.0. There's also a "Why 2.0?" screen, explaining that the 2.0 track has been set as the default, given the studio's expectation that most people watching the DVD will be watching it on a traditional stereo TV set. This screen also explains that the "multichannel theatrical mix" is "preferred" but only for people with home theater set-ups. Given that this is an issue that still confuses some people, it's a good idea for Pixar to include this little explanation. The only subtitles on the DVD are English for the Hearing Impaired.
BONUS FEATURES, MENUS and PACKAGING
The bonus content is divided into two menus. The first is "Bonus Features", made up entirely of all-new bonus material. The second is "Classic DVD Features", made up of all of the bonus content found on 2005's 2-Disc Special Edition DVD. Let's look at each in turn: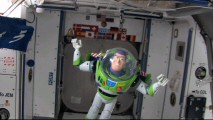 Bonus Features (The New Stuff)

This biggest feature in this section is actually an exception to the clean separation I just carved out. It's the audio commentary, ported over from the 2005 DVD (where it had been ported over from the Ultimate Toy Box, where it had been ported over from the laserdisc). Pixar's commentaries tend to be very informative and screen-specific. This is no exception. Director John Lasseter, co-writer Andrew Stanton, and co-directors Lee Unkrich and Ash Brannon feature.

After that, the bonus features in this section really are new. First up is "Toy Story 3 Sneak Peek: The Characters" (4:01) (HD). This exciting promo gives a brief description of the major new characters set to join the Toy Story universe upon the release of the third film.

We see the roster of new voice actors at work in the studio: Whoopi Goldberg, Michael Keaton, Ned Beatty, Bonnie Hunt, Timothy Dalton, Kristen Schaal, Jeff Garlin, and Bonnie Hunt. We also get glimpses at character design along with snippets of dialogue and a personality description. Lee Unkrich hosts. If you weren't excited for Toy Story 3 already, you will be now.

"Buzz Lightyear Mission Logs: International Space Station" (3:45) (HD). Billed as Episode 2, this is an "edutainment" piece that uses new scenes with Buzz, Rex, and Hamm to talk about astronauts' life in space. The targeted audience here is a young one.

"Paths to Pixar: Technical Artists" (4:24) (HD) is a well-made interview reel in which various Pixar technical animators appear in front of a white backdrop to talk about their careers. The interviews are entertaining. Quick edits help with that. The animators share the early interests that led them to animation, the path they took to arrive at Pixar, and life lessons that will help young people following in their footsteps. The interviews really pop in HD.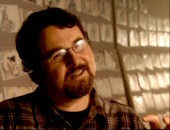 Next up are three "Studio Stories", which are sketch animation pieces narrated by folks at Pixar as they recount amusing or intriguing stories from the production of Toy Story 2. "Sleep Deprivation Lab" (1:27) (HD) talks about the incredibly tight schedule on which the movie had to be made, "Pinocchio" (2:16) (HD) tells the tale of a long-nosed doll that wound up stuck to the Pixar ceiling, and "The Movie Vanishes" (2:34) (HD) relates the horror that overcame the staff when they accidentally deleted the whole movie from their computers. These are really cool and probably the best additions on the disc.
"Pixar's Zoetrope" (2:00) (HD) briefly profiles the larger than life animation device that can be found inside the Animation Building at Disney's California Adventure Park and in Hong Kong Disneyland. We also get glimpses of zoetropes from Walt Disney and Hayao Miyazaki. This is a really cool treat for Disney Parks fans who have seen the mesmerizing zoetrope in person, as well as for those who haven't had a chance to.
"Celebrating Our Friend Joe Ranft" (12:46) (SD) pays tribute to the late animator, story guy, and voice actor who lent his talents to many Disney and Pixar films, Toy Story 2 among them. This is mixture of older interview pieces (many of them featuring Ranft himself) and new retrospective comments from the top names at Pixar who were working closely with Ranft at the time of his unexpected death. Hats off to Disney for a nice and fitting tribute.
Lastly, "Learn How to Take Your Favorite Movies on the Go" (1:04) is a glorified promo for DisneyFile digital copy. Actually, it's not even glorified. It's just an ad.
Classic DVD Bonus Features (The Old Stuff)
Almost everything that matters on the 2-Disc Special Edition has been carried over to this new release. I'll review the few things that didn't make the cut in the next section. Note that everything in this menu of bonus features is presented in standard definition.
First up is "Making Toy Story 2" (8:11) (SD). Comprised of older interviews, behind-the-scenes footage (including some studio recording sessions), and film clips, this provides a very nice, if all too brief, overview of the movie's production.

"John Lasseter Profile" (3:03) (SD) is another interview-heavy featurette in which the Pixar folks laud their #1 guy, director John Lasseter.

This hasn't been updated to reflect Lasseter's new roles at Disney but plenty of comparisons are drawn between John and Walt Disney himself.

"Cast of Characters" (3:30) (SD). Once again, this is culled from time-of-production interviews, behind-the-scenes footage, and move clips. Here, the focus is on the voice actors that make up the movie's impressive cast. Normally, this kind of thing is filled with too much false praise, but the cast here is so varied and colorful that it's fun to see and hear from so many of them, even if briefly.

The 2-Disc Special Edition DVD had a sub-menu labeled "Toy Box: Outtakes, Games & More!" That returns here, where it's been shorted to just "Toy Box" (this name has really nothing to do with the Ultimate Toy Box DVD release of 2000). Inside the sub-menu is an "Outtakes" reel (5:43) (SD), the same one that was found in the end credits a month into its theatrical run, when it was added to incentivize return trips to the theater. Outtakes have since become a part of the Pixar tradition and these are about as fun as any. Next up is "Jessie's Gag" (1:10) (SD), a short bit of goofy animation that previously appeared as an Easter Egg on the 2005 DVD. John Lasseter and Ash Brannon still introduce it as an Easter Egg, which now just seems confusing on the Blu-ray.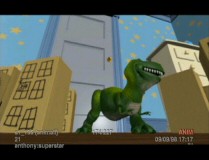 The Toy Box sub-menu continues with "Who's the Coolest Toy?" (3:18) (SD), in which the extended cast talks about (and sometimes debates) the toy in Andy's room that they consider to be the coolest. Then comes "Riders in the Sky Music Medley" (3:10) (SD), which finds the costumed group on Disneyland's Golden Horseshoe Saloon stage, performing a medley of songs from their 2000 Woody's Roundup album. Songs included: "Woody's Roundup", "Act Naturally", "Jesse the Yodelin' Cowgirl", "Hey Howdy Hey", and "You've Got a Friend in Me". The whole thing kind of rocks. The Toy Box section ends with "Autographed Pictures" (0:44) (SD), a kind of funny reel of black and white faux publicity stills featuring the Toy Story 2 characters, who appear to have autographed their respective headshots. These same stills were used in promoting the movie. Note that unlike the other sub-menus, there's no "Play All" option in the Toy Box section.
Next up is a Deleted Scenes sub-menu. There are two deleted scenes: "Godzilla Rex" (1:28) (SD) and "Crossing the Road" (1:56) (SD), both of them interesting to see (and you'll see them in non-anamorphic widescreen with stereo sound). There's also an introduction piece, "Deleted Animation Intro" (0:47) (SD), which finds Ash Brannon sitting in an empty movie theater and speaking in the royal "we". The "Play All" feature plays both deleted scenes and the intro together (4:11 total).
The Design section is filled with artwork that happily plays for you in moving reels, set to Toy Story 2 score, without requiring pesky remote control work. First up are "Galleries" (SD) of character and setting design art, one reel for each of the following: Woody, Buzz, Andy's Toys, Woody's Roundup, Zurg, Al, Zurg's Planet, Andy's House, Al's Apartment, Al's Apartment, Al's Toy Barn, and Airport. That's followed by "3-D Visualization" (SD), which treats each of the characters and locations listed in the "Galleries" section to its own detailed 3D rotation (plus one for Tour Guide Barbie).

The characters' 3D turnarounds are silent, whereas the 3D setting turnarounds are accompanied by some helpful audio commentary from art director Jim Pearson. Lastly is "Color" (SD), which features an introduction, a Color Script reel, and a Color Keys reel. A "Play All" option is available for the Galleries, 3-D Visualizations, and Color reels, respectively.

The Production section kicks off with "Designing Woody's Past" (2:50) (SD) finds Lasseter and Brannon surveying merchandising props from Woody's heyday as a big TV star. "Making Woody's Roundup" (2:00) (SD) is a brief featurette explaining how Pixar used CGI to make "Woody's Roundup" look like it was filmed with actual puppets. "Production Tour" (2:31) (SD) is a quick walk through the animation process at Pixar, guided by John Lasseter. "Early Animation Tests" (3:03) (SD) are exactly what they sound like, with commentary by late supervising animator Glenn McQueen. "Special Effects" (1:38) features associate technical director Oren Jacob in an illustrated discussion of some of the special effects employed in the movie's opening sequence. Finally, in "International Scene" (1:47), Lasseter and Lee Unkrich introduce a change that was made for international audiences in the scene where an American flag appears behind Buzz during a motivational speech. Following the introduction, the globalized version of that scene plays. The Production section also includes a "Play All" option.

The next section is Music & Sound, which begins with "Designing Sound" (5:39) (SD), a standard sound design featurette that also includes three versions of the famous scene in which the toys cross the road (score-only, effects-only, and the final mix). In its short runtime, "Making the Songs" (3:25) (SD) provides some fairly substantive discussion of Toy Story 2's songs, including interviews from the people who wrote and perform them. Next is the music video for "Woody's Roundup" (2:16) (SD). The section closes with Randy Newman's demo for "Jessie's Song" (2:50), which is an audio-only feature (a still 16x9 menu screen featuring concept art is displayed while Newman sings). Again, there's a "Play All" option.

The last section of bonus features is the Publicity section. First up is "Character Interview" (2:04) (SD), in which Woody and Buzz give humorous answers to silly questions in a faux interview. That's followed by a reel of two theatrical trailers (3:23) (SD), a reel of four TV spots (2:10) (SD), and a real of theatrical posters (0:50) (SD). Finally, there's a very random little bit of animation called "Baseball Woody" (0:22) (SD), which is quite literally a clip of Woody pitching a baseball. This appeared as an Easter Egg on the 2-Disc Special Edition DVD. It was random then, but now that it's officially listed alongside the other supplements without any kind of context, it's even more random. A "Play All" option is again available.

One more bonus feature of sorts can be found in the Set Up menu: Pixar's "Maximize Your Home Theater" feature. A standard on Pixar releases, it's a great way to fine-tune your home theater settings. The disc also supports BD-Live interactivity.

What's Missing From the Previous DVDs?

Fortunately, most things from the 2-Disc Special Edition have been carried over. Missing here is "Ponkickies", which presented Buzz and Woody's appearance on that Japanese TV show. Also missing is "Production Progression", which built off of the "Production Tour" (which did make the cut) by presenting the movie's opening scene in four different stages of production. The Dolby Digital 5.1 sound effects-only track has been dropped, like its predecessor's was back in 2005. "Mixing Demo", a cool little feature that gave the viewer a virtual mixing board and the chance to play around with a dialogue segment, has also been cut. A virtual personality game called "Which Toy Are You?" is missing here as well (no great loss). John Lasseter's Disc One introduction has also been dropped. A "Story" section with storyboard reels for "Woody's Nightmare" and "Jessie's Song" is gone. Finally, some outdated previews on the 2-Disc Special Edition have been replaced by more current ones here.

For a thorough review of bonus features that appeared on the Ultimate Toy Box but never made it over to the 2-Disc Special Edition DVD, read our review of the latter here. None of those supplements have reappeared on the Blu-ray.

What's on the DVD Included in this Combo Pack?

In terms of bonus features, the DVD in this combo pack has everything under the "Bonus Features" section above, including the audio commentary. None of the "Classic DVD Bonus Features" are included on the DVD (kind of ironic, I guess). The Sneak Peeks and Pixar's "Maximize Your Home Theater" feature are also included on the DVD.
The combo pack includes on Blu-ray disc and one DVD, both housed inside a standard, slimline, blue Blu-ray keepcase. An embossed cardboard slipcover slides over the top. Inside the case are several ads, a Disney Movie Rewards magic code that not only gets you DMR points, but a free ticket to Toy Story 3 too (good for one admission at participating theaters with a value of up to $8.50 in the US or $11.00 in Canada).
Note that this exact same combo pack is available with DVD packaging too. Don't let this confuse you. The combo pack in the Blu-ray packaging and the combo pack in the DVD packaging are sold separately but they are exactly the same except for case. This is just so that Disney can sell this release on both DVD shelves and Blu-ray shelves in stores.
The main menu screen features fast-flying Toy Story 2 concept art in the background while score from the movie plays. The menu options all appear on a piece of notebook paper. The bonus feature screens are pretty loaded down with options but the menu is pretty navigable on the whole. The menu screens on the DVD are pretty similar, just more DVD-ish.
A Sneak Peaks menu can be accessed from the main menu, hosting previews for the following: Disney Movie Rewards, Toy Story 1 and 2 on Blu-ray, The Princess and the Frog, James and the Giant Peach: Special Edition, Disney Parks, Toy Story 3, Disney on Blu-ray Disc, Beauty and the Beast: Diamond Edition. A "Play All" option is again available.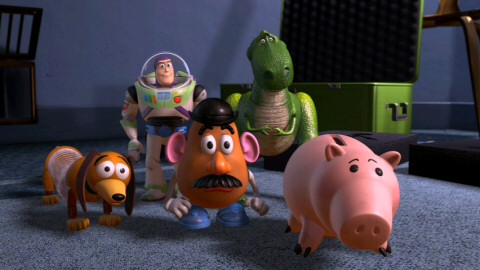 CLOSING THOUGHTS

I've always had a slight preference for Toy Story 2 over its predecessor. Everyone has their favorite and opinion seems fairly divided. That we can even have that debate with any legitimacy is a testament to how strong a sequel this is. The Blu-ray presentation gets top marks.

The bonus features aren't quite as plentiful as those found on Pixar's recent Monsters, Inc. Blu-ray, but they are abundant nevertheless. Almost everything is carried over from the most recent Toy Story 2 DVD, though unfortunately, most of them are still in standard definition. A more comprehensive making-of documentary (on a second Blu-ray disc) could have added immeasurable value to the set but even as it is, the disc is chock-full of things that will keep fans entertained for hours and informed for much longer than that.

If you haven't gone Blu yet and you have the 2005 2-Disc Special Edition DVD, you can probably hold off on buying this until you've upgraded your home system. If you have that 2005 set and have a Blu-ray player, you can probably let go of that old DVD (even if it means giving up a few minor bonus features), because you'll definitely want to upgrade. If you have the old Ultimate Toy Box, you should probably hold on to that and upgrade to this in order to have a really complete set of awesome Toy Story supplements. If you have any other Toy Story 2 release -- or (gasp!) none at all -- then you definitely want to get this one.