The first and most transparent move that Tarzan II makes to appease young children and only young children is to have its title character be one of them. When we last saw Tarzan at the end of Disney's 1999 animated blockbuster, he was grown up and contemplating a life among visitors from England and the group of apes who had been his family since infancy. In this, the latest direct-to-video follow-up from DisneyToon Studios, Tarzan is a boy again and his childhood trials only hinted at in the first film are the subject of this feature-length "midquel."

Tarzan II wastes very little time before inventing a bit of mythology which did not exist in its predecessor. Apparently, there is a much-fabled monster called the Zugor that all the young inhabitants of the jungle fear and avoid. The film opens with what appears to be a rousing race for survival, where the tiny Tarzan (now voiced by Harrison Chad) rushes for safety, his wavy dreadlocks being tossed in every direction. It is soon revealed that unlike the exciting sequences of Tarzan where true peril was repeatedly threatened, Tarzan II's opening scene actually just depicts the wild child engaging in a bit of playtime fun with Terk (voiced by Brenda Grate), his savvy, sarcastic gorilla sidekick, and the red elephant Tantor (Harrison Fahn), who accordingly have reverted to juniority. The "fakeout" opening sets a tone appropriate enough for this highly disappointing production, which is entirely devoid of real adventure and sorely lacking charm as well.

Young Tarzan's reckless behavior endangers members of his gorilla family not once but twice, and the second incident (which resorts to an unintentionally humorous slow-motion device at one point) separates Tarzan from his eternally caring mother ape Kala (again voiced by Glenn Close). While Kala fears her adopted son is dead, every thing the audience knows points otherwise. Sure enough, Tarzan is quickly there to peer in on the response to his disappearance: from Kala, sorrow, and from the more skeptical apes, relief. The mixed reaction encourages little Tarzan to run off accompanied only by the unmistakable vocals of Phil Collins.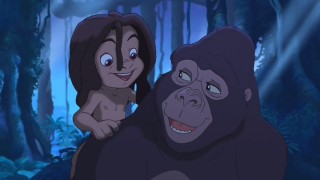 Tarzan's runaway travels bring him face-to-face with a three-gorilla family, comprised of loudmouth Mama Gunda (voiced by Estelle Harris) and her two gargantuan sons, the dim-witted Uto (Brad Garrett) and the violent Kago (Ron Perlman). This quirky trio has been living in a secluded rocky terrain nearby an area allegedly guarded by that fearsome, never-seen, but oft-heard Zugor monster. The one-note personalities and ethnic names of these gorillas surely add them to the short list of forgettable characters created for direct-to-video Disney sequels. While their introduction forgivably diverts from the flimsy central story, their antics give Tarzan II a sitcom feel. This is surely supported by the casting of Seinfeld's Harris and Everybody Loves Raymond's Garrett, who are very much in those same television roles but are lacking the character history and strong writing to actually birth comedy. Though the slapstick mostly flounders, the film is even less successful when it calls upon these three to be the villains of the piece, as it does later on.
After briefly occupying the attentions of Mama Gunda and her quarrelsome sons, Tarzan encounters his most significant destination of the film, Dark Mountain, which is primarily inhabited by a cranky old hermit voiced by comedian George Carlin and named...Zugor. I'd suppose that's a spoiler based on the film's design, but since it's duly noted in the press release and otherwise suspected by the viewer from early on, I don't think any viewing pleasure is robbed by that revelation. A relationship between the precocious ape-lad and the cantankerous, balding Zugor becomes the core of the film, with Tarzan bartering his discovery of the monster's true identity for lessons on how to be a great ape. Zugor's mentorship soon devolves into a quest to determine just what Tarzan is, setting up an amusing montage in which the savage lead tries to imitate the variety of wild animals he comes across. Another song by Collins aids this sequence considerably.
While Tarzan and Zugor predictably move towards understanding one another and becoming friends, Tantor and Terk set off on a rescue mission, convinced their friend is alive. The pair's journeys naturally lead them to Uto, Kago, and Mama Gunda. The film aptly balances the two storylines without feeling disjointed, though that's mostly because the Tarzan/Zugor one gets the brunt of coverage until the plots converge.
The commonplace meanderings of the film's center fare better than the forced climax that makes up Tarzan II's final act, but the whole of it feels rather inconsequential. In spite of a few good moments and some amount of detectable effort, the film is lacking in wit and innovation. It relies on applying the childhood-searching-for-identity formula to Edgar Rice Burroughs' cast of characters and the execution is lacking. As a result, only the youngest and most forgiving of viewers can appreciate such an uninspired and manufactured outing as this. For parents and those in the much wider demographic who embraced the studio's first Tarzan film, there is very little of value.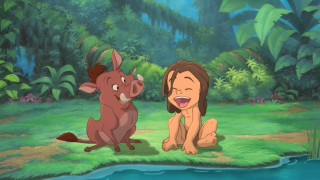 Not everything is wrong with Tarzan II. Phil Collins performs three songs with his reliable energy. The first is simply a new recording of "Son of Man" from the first film, while the two others provide strong writing and solid timing, making both numbers ascend the visuals with which they are married. The end credits version of "Who Am I?" (one of the new tunes, not to be confused with the Snoop Doggy Dogg song of the same name) performed by pre-teen Tiffany Evans doesn't sound so great. DisneyToon Studios' artwork has come a long way from when it was still just part of Disney's Television Animation department. The character design isn't perfectly consistent with Tarzan, but the scenery is impressively rendered. Still, compared to the original film's indelible visuals, Tarzan II's palette is much less ambitious. Also, the CGI implementation does not always blend seamlessly with the traditional animation. Nowhere is this as evident as in the film's unconvincing final shot, which as a result looks a lot less powerful than it should be.
After an initial viewing of Tarzan II, I returned to the original Tarzan, a film which Disney Feature Animation has not since topped financially or in my opinion, creatively. I wanted to make sure I was not overestimating the 1999 film and for comparative purposes, I specifically keyed in on the early scenes in which Tarzan is a youth. I followed up Tarzan with a second chance for Tarzan II and the difference is astonishing. Tarzan II is an unappealing and unnecessary drawing out of Tarzan's early sequences. More offensively, it is a dumbing down of its predecessor, artistically and emotionally. In the first film, breathtaking images could speak for themselves. This time, precocious youths and ill-conceived stock characters say everything that can be said and more. Where the first film went for a fair amount of subtlety, this one hammers home every joke and lesson to make sure that tots don't miss out on anything.
In spite of its title, Tarzan II is not a continuation in spirit or story of Disney's winning original film. Instead, it's a "harmless", marketable, youth-oriented tale that fails to inspire or challenge in any of the ways that Tarzan did six summers ago. Even on its own merits and compared to the studio's uneven record of past DTV features, Tarzan II is quite the inane work. None of its strong qualities - not the serviceable voice cast, not the nice-looking visuals, not the enjoyable Phil Collins music - is able to overshadow the film's void of originality and lack of craft.
VIDEO and AUDIO
On the upside, Tarzan II is presented in a practically flawless 1.78:1 anamorphic widescreen transfer. Colors are vibrant and consistent; the element is impeccably clean. No edge enhancement, color banding, or compression issues mar the presentation. The lower-budget visuals lack the power and depth of the first film, but offer plenty of appeal on their own.
Tarzan II offers 5.1 channel soundtracks in both Dolby Digital and DTS flavors. In each, the capable sound design is rather potently realized. There's plenty of bass to give subwoofers a workout. The recently-recorded dialogue and songs offer wonderful depth and crispness. The jungle environment boasts an apt offering of foley effects and a nice use of all the channels. In short, Tarzan II may be a direct-to-video feature, but its audio presentation gives the impression of a full theater-worthy sound mix.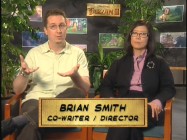 BONUS FEATURES
Despite the push towards more special features on DVDs in general, Tarzan II is very light on supplements by any standard, with a scant offering of five features arranged in three sections as per Disney's EasyFind menu system. The first bonus header "Music & More" does not even merit its own page, since it only houses the pop music video (3:16) for the upbeat end credits version of "Who Am I?" performed by Tiffany Evans. The video follows the pre-teen Evans from the classroom to what's supposed to be an African jungle, where she dances around along with a bunch of other kids. Plenty of clips from the film are weaved in throughout. Evans has a voice stronger than you'd expect from so young a girl and she's easier on the ears than, say, Raven or the Disney Channel "Circle of Stars." Nonetheless, the song is much more enjoyable when performed by Phil Collins.
Next is the Backstage Disney section where you might hope to find some substance on the logic and making of the film. No such luck here. "Bringing the Legend to Life" (5:30) is a brief and superficial featurette on Tarzan II's production. Outside of a few short remarks from director Brian Smith on the film's vague intentions, the piece focuses entirely on the voice cast and Phil Collins' music. It moves rapidly through interview sound bites, amounting to little more than an inconsequential name-dropping of the actors involved.
"Tarzan's Matter-of-Facts" is a special subtitle track that seeks to inform you during the playback of Tarzan II primarily about the real jungle animals on display. As far as running time goes, it is the most significant bonus feature, but like everything else on the disc, it is geared strictly to the young, though literacy is at least a prerequisite. The pop-up facts usually loosely pertain to what is on screen and also cover a bit of the ape language that Tarzan author Edgar Rice Burroughs came up with. Like The Lion King II's Special Edition DVD, each fact's arrival is by default announced by a sound effect, such as an elephant trumpet, a drum beat or chimp calls. Again, serious facts are supplemented by the occasional light-hearted remark. This feature is probably better suited to visuals only, so that the film's audio won't constantly be drowned out and limited to 2-channel surround. That can be achieved by toggling with the audio track after selecting this from the menu, or simply playing the film regularly and choosing the second English subtitle track.
Lastly, under the heading Games & Activities, we find two offerings, both strictly for the young and easily amused. "Gorilla Grumble" is a variation of the '80s favorite "Simon." Instead of repeating a pattern of colors, you must remember the order in which Uto and Kago hit each other back and forth to free Tantor from his Winnie the Pooh-like state of captivity (stuck in a cave). The fisticuffs get faster and longer as the five rounds go on. Three misses and you lose, but "winning" isn't all that much fun either.
"Tantor and Terk's Jungle Guide" is educational entertainment, or edutainment, if you will. A series of graphics of twelve jungle animals lead to nature video footage of the pictured species narrated by Terk, Tantor, and an unidentified third party. Each clip runs about 30 seconds and follows the same gag pattern: Tantor says some things that are wrong, Terk corrects him, and then the third voice corrects Terk. Oh boy!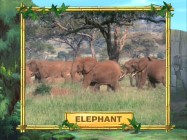 MENUS and PACKAGING
The 16x9 menus are appropriately jungle-themed and instrumental music accompanies all of the selection screens. The Main Menu keeps an environmental background for the various characters to swing and roll through. The Bonus Features main page keeps the same idea; these are the only two menu screens which offer animation.
Like other Disney DVDs which the studio has categorized as primarily for young children, Tarzan II is equipped with the patented "FastPlay" playback mode which cycles through the previews, the feature, a bonus feature, more previews, and more bonus features without you needing to push a button at all. Alternatively, you can treat the DVD as a more interactive tool by selecting the "Menu" at the opening screen. At the disc's start, the usual previews play for Cinderella, Chicken Little, and Lilo & Stitch 2: Stitch Has a Glitch. Additional promos are found in the Sneak Peeks menu (or after the feature, if you run with the passive FastPlay method) for Pooh's Heffalump Halloween: The Movie, Kronk's New Groove, Bambi and the Great Prince of the Forest, and "Power Rangers S.P.D." on Toon Disney's JETIX lineup.
As per the studio's recent trend for direct-to-video feature films, Tarzan II is packaged in a black keepcase and held within a cardboard slipcover. The slipcover doesn't open up and it does replicate the DVD's cover artwork, but it is slightly holographic in portions. Inside the keepcase, a two-sided insert lists chapter selections and an overview of the handful of bonus features. An enclosed coupon booklet offers savings on the now-available Pooh's Heffalump Movie, the upcoming Muppets' Wizard of Oz, and Land O'Frost Premium Lunchmeats.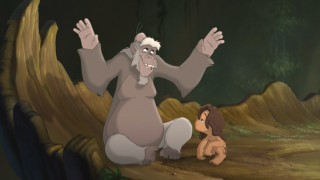 CLOSING THOUGHTS
There is a worthy Tarzan follow-up that could be made, but Tarzan & Jane certainly wasn't it and neither is this. Tarzan II's midquel setting is not the most inspired or interesting direction with which to make a new film. In spite of strong production values, it's strictly tailored to young viewers, lacking any of the edge and most of the drama of the first film. Gone are the lyrical power, compelling story, and universal appeal of Tarzan. They have been replaced with a shallow and unexciting episode from Tarzan's youth which was better only hinted at in its predecessor's "Son of Man" sequence. Anyone willing to accept that disappointment and still look into the DVD will be with further letdown. Sure, the top-notch video and audio presentation leave nothing to be desired, but the handful of bonus features are very much void of genuine insight.