By both domestic and worldwide counts, Toy Story became the top-grossing film released to theaters in 1995. Nowadays, it seems like a movie cannot find that kind of success without either already being part of a franchise or subsequently triggering one. The same was mostly true in the mid-to-late 1990s, especially for Disney, who had found a lucrative opening in the home video market for modestly-produced direct-to-video (DTV) sequels. Regardless of the fact that sequels were not covered in their

distribution deal with Disney, Pixar Animation Studios, the creators of Toy Story, were apparently game for a follow-up. Like the sequels for Aladdin, Beauty and the Beast, Pocahontas, and The Lion King that had either been released or in the midst of production, Toy Story 2 was intended to debut on VHS with a marketing campaign of something much more significant.

Somewhere along the line, Disney realized that Pixar, which was then also at work on A Bug's Life, was more or less incapable of making something lightweight for the DTV sect. So, Toy Story 2 was then pinned for a theatrical release, with Pixar expanding the scope of the film to about 90 minutes (from the common DTV target of 75), creating new characters, and further fleshing out the story to make the product worthy of its name and big screen destination. Needless to say, it paid off. Toy Story 2 would open in theaters on the week of Thanksgiving 1999, exactly four years after its predecessor, and would become one of the best-reviewed and highest-grossing films not only of the year, but of all-time.

When Toy Story 2 opens, one can assume that as much time has passed in the movie's world as it did in real life. Andy (voiced by John Davis), the owner of the central toys, is a few years older but still very playful. The same can be said of his toys, when he is not around, at least. The passing of years seems to have mostly calmed the feelings of rivalry among the figures and assorted playthings, especially between Andy's two favorite toys, pull-string cowboy Woody (Tom Hanks) and high-tech space ranger Buzz Lightyear, whose competitive relationship largely drove the first film. Still, the threat of being removed from the comforts of Andy's light blue bedroom definitely looms. It is this very threat, by way of an unexpected yard sale that Andy's mother (Laurie Metcalf), which sets things in motion.
Wheezy (voiced by late Pixar story man Joe Ranft), a kindly asthmatic squeeze toy penguin that has been collecting dust on Andy's highest shelf, winds up among the yard sale offerings, leading Woody to enlist Andy's frolicsome dachshund Buster for a rescue mission. Though Wheezy is saved, Woody gets picked up by Al McWhiggin (Wayne Knight, still best known as Newman from "Seinfeld"), the unscrupulous toy collector who owns an oft-promoted local shop called Al's Toy Barn.
Through this course of events, Woody winds up in a glass showcase inside Al's office, where he and we both learn that the sheriff doll is actually a valuable collector's item. Not only that, but Woody was once a television star! He headlined the 1950s series "Woody's Roundup" and was accompanied by a noble horse named Bullseye, a spirited cowgirl friend named Jessie, and a portly prospector known as Stinky Pete. He discovers this not through pure exposition, but from his new surroundings - for Al already owns the rare toys of the rest of the gang. Woody completes the set, to the excitement of his new roommates (Joan Cusack energetically embodies Jessie, while "Frasier" star Kelsey Grammer lends voice to Stinky Pete) and their owner. But, though he dabbles in children's playthings, Al's attraction to the Roundup gang is primarily financial. With the foursome intact, he stands to earn a sizable amount of money from a Japanese museum only interested in obtaining the whole gang.
What ensues is a rescue mission. With Andy spending the week at summer camp, Buzz leads Rex, Hamm, Mr. Potato Head, and Slinky through the dangers of the outside world to locate and save their missing friend. Their journey is marked by adventure, from a frightening highway crossing to a trip inside an elevator shaft, not to mention encounters with the Evil Emperor Zurg (voiced by Pixar writer Andrew Stanton), Tour Guide Barbie (The Little Mermaid's Jodi Benson), and a shelf filled with other Buzz Lightyears at Al's Toy Barn.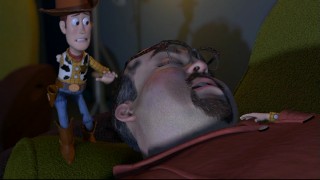 Toy Story 2 is considered one of the best sequels ever created, with many critics and moviegoers claiming it even outdoes the warmly-received original. It is indeed an excellent film and one of the most entertaining ever helmed by Pixar or any other studio, but I still think there is no question that it is not quite as inspired or timeless as the first movie. Nevertheless, it may very well be the most faithful sequel ever made. It helps that there was no chance of characters looking different, as the very same computer files were used here. Even so, four years of advances in the animation technology result in visuals that are ambitious and sophisticated.

All of the appropriate voices from the first film return here, and most find the same tone (even if Tim Allen's Buzz has grown more gravelly). Most importantly of all, the people at Pixar remained true to the events of the first film. A whopping four characters merely mentioned in Toy Story are finally seen in Toy Story 2: Al of Al's Toy Barn, Zurg, Mrs. Potato Head, and Andy's dog Buster. I can't recall any other follow-up respectful enough to reward viewers remembering details like these. This chronological and thematic consistency undoubtedly illustrates the pride that Pixar takes in its creations. Believe it or not, even originality is not a shortcoming; this film is as inventive a sequel as Back to the Future Part II was.

If all these moves would appear to keep Toy Story 2 on the right track, how is it not everything that its predecessor was? For one thing, separating Buzz and Woody for almost the entire movie loses that excellent buddy dynamic which fueled the previous proceedings. For another, the three songs, which are again penned by Pixar veteran Randy Newman, aren't quite as skillfully weaved here as they were before. That is partly due to the fact that they aren't at all sung by Newman (The Riders in the Sky, Sarah McLachlan, and Robert Goulet provide the vocals) and partly due to their placement (Jessie's "When She Loved Me" transparently aims for moist eyes, while Robert Goulet's "You've Got a Friend in Me" is a somewhat trite but entirely forgivable conclusion clichι). Nonetheless, as in Toy Story, these three numbers signify key moments in the film, but do not amount to a great percentage of the runtime. What does is a plot that thoughtfully ponders toy immortality. Though like seemingly everything at Pixar, this story is aptly handled, it's a bit heady for a family film, which is fine. It's also a bit of a downer for something that is a comedy and which follows the more palpable emotions at play in Toy Story, a trend which isn't as fine. Finally, there are some off-color references which while never as bawdy as DreamWorks fare, feel a bit out of place for Pixar, and don't even offer big laughs as a payoff.
I've just spent a paragraph outlining what I consider various weaknesses of Toy Story 2, offering perhaps more criticisms of the film than I've read elsewhere. And yet, I must admit the film is near-perfect in its execution. Packed with humor that effortlessly flows from the characters we know and care for, replete with clever homages to other films, and woven with an intelligent and cinematic nature not often found in today's movies (animated or not), Toy Story 2 may not equal or surpass its predecessor, but it provides an unusually delightful time all the same.
Released on the day after Christmas as a plea for gift card usage, this 2-Disc Special Edition probably marks the last time that Toy Story 2 arrives solely on DVD. But it is far from the first. In October of 2000, the movie made its DVD debut packaged alongside Toy Story in a low-priced 2-Pack as well as a collectible three-disc set titled The Ultimate Toy Box (in which the movie discs greatly differed from their cheaper counterpart). The following spring, Toy Story and Toy Story 2 were released individually, offering the same relatively lightweight discs that the 2-Pack provided. Then in the fall (with Pixar's fourth film, Monsters, Inc., hitting theaters), those same lightweight discs were packaged together again and joined by the Gold Collection DVD of A Bug's Life in a 3-disc box set. On May 1, 2003, Disney took all four DVD versions and both VHS versions (the second was merely a 3-cassette take on the Pixar 3-Pack) of Toy Story 2 out of circulation. Effectively, both Toy Story movies were out of print, leaving secondhand prices to rise, especially on The Ultimate Toy Box. Unlike the notorious, lengthy moratorium periods it slaps on its own films, Disney didn't leave growing customer demand underserved for too long; Toy Story 2 spent just shy of 20 months out of circulation. Nonetheless, that was enough time for fans who were slow to adopt DVD to crave an affordable and worthy set for this beloved sequel.
DVD Details

1.77:1 Anamorphic Widescreen
DTS 5.1 ES (English), Dolby Digital 5.1 EX (English)
Dolby Surround 2.0 (English, French, Spanish)
Subtitles: English, French, Spanish; Closed Captioned
Release Date: December 26, 2005
Two single-sided, dual-layered discs (DVD-9s)
THX-Certified with Optimizer tests
Suggested Retail Price: $29.99
Black Dual Amaray Keepcase with Cardboard Slipcover
Later released as Blu-ray + DVD and
New 1-Disc DVD Special Edition (2010)
VIDEO and AUDIO
On DVD, Toy Story 2 fills out the 1.78:1 16x9 frame completely. That's close enough to its 1.85:1 theatrical framing and the 1.77:1 listed ratio to be okay. While the package touts "sparkling new picture", you could search high and low for comments and reviews on Toy Story 2's previous DVD releases and you wouldn't find a disparaging word on picture quality. This Special Edition does indeed amplify the Ultimate Toy Box's average bitrate of 6.6 Mb/s to 8.26 Mb/s, but the effect is like taking something that looked splendid and making it look slightly more splendid for those with huge displays. Honestly, I could go into detail about how pleasant the video here is, but I could do the same on the old DVD and I think the word "perfection" conveys all that needs to be said. In comparing the old DVD and the new DVD, I tried hard to observe any difference. As was true during A/B comparisons between Toy Story 10th and its Ultimate Toy Box presentation, edges and camera movement appeared minimally smoother on this new version. In order for you to quantify the improvements, though, you'll need to either be watching on a very large screen or sitting very close to the picture.
In the sound department, press materials state that the film has been "remastered for optimum home theater experience." I suppose that's true and the addition of a DTS track is likely the key aural draw for potential double dippers. Again, I could summon superlatives for the directionality, bass, fidelity, and so on. But let's just suffice it to say this is an exemplary soundtrack. I had issues with the lip-synching on the Ultimate Toy Box and while they were slightly less noticeable here, I still noticed discrepancies that I haven't with other Pixar films. Perhaps it's a case of the dialogue being so quick and the mouth movements being so precise that imperfection may be inevitable. But like most synching issues, your mileage may vary as to how much this bothers or even registers with you.
| | |
| --- | --- |
| | |
| Screencap from The Ultimate Toy Box DVD | Screencap of same frame from this Special Edition DVD |
Comparing still frames from two Toy Story 2 DVDs yields little difference, even when viewing at full resolution. With full-motion video, however, the new Special Edition DVD narrowly edges out the old transfer in the quest for absolute digital perfection. The subtle improvements are most evident on large screen televisions and displays.
The UTB delivered four audio tracks: Dolby Digital 5.1 EX tracks in English, French, and Sound Effects-only (each 384 kbps) plus a two-channel audio commentary (192 kbps). This new release provides seven sound selections: DTS 5.1 ES (English), Dolby Digital 5.1 EX (English - upgraded to 448 kbps, Sound Effects-Only - kept at 384 kbps), Dolby Surround 2.0 192 kbps (French, Spanish, and for the technologically-delayed, English), and the same audio commentary in two-channel at 160 kbps. Previously only subtitled in English, now the film boasts (as do most of the bonus features) English, French, and Spanish subtitles. Those observations are pretty self-explanatory, and if they're not, all you need to know is that compression has been lessened, tracks have been added, but not at the expense of picture quality.
Short of losing every non-film bonus, dropping every secondary audio track and devoting each bit to the default film presentation itself, it's safe to say this is as good as Toy Story 2 will look and sound on DVD. For more drastic enhancements, you'll need to wait to see if or when any of the forthcoming high-definition DVD formats take off enough for Disney to release a real draw like this. Even then, you'll be gaining detail and resolution, but the element itself won't be getting any more digitally perfect.
BONUS FEATURES

DISC ONE

Following the Toy Story: 10th Anniversary Edition DVD, the first of Toy Story 2's two platters seems barren, but that only allows more disc space to be devoted to the movie, which runs 11 minutes longer

than the first film (and with the seven soundtracks offered, 11 minutes can take up plenty of bits). The menu's first listing is for an "Intro" (1:32), which features John Lasseter (who, as expected, appears in a cool Toy Story-inspired Hawaiian shirt in front of a tons of cool toys from the three movies he has directed). He welcomes you to the set in an amusing fashion, with Buzz, Woody, and Wheezy making cameos (in toy mode). This brief clip does not automatically play, but that's fine, since it's not something you'd need to see every time.

The chief bonus feature of the disc is a feature-length audio commentary featuring director John Lasseter, writer Andrew Stanton, and co-directors Lee Unkrich and Ash Brannon. This is ported over from The Ultimate Toy Box. Like other Pixar commentaries, this one is energetic, screen-specific, and chock-full of tidbits. While computer animation could lend itself to dry technical talk, the track definitely doesn't need to be translated from binary code. It remains funny through discussion of the filmmakers' many diverse movie and toy inspirations, development of story ideas and the characters, and, yes, a bit of the technical aspects driving the animation. Other highlights include reflections on the intricacies and ironies of making a cheap-looking '50s TV show on expensive state-of-the-art computers as well as observations of hidden gags and cinematic homages that the animators slipped in. It's one enjoyable listen for anyone who has ever wondered what an audio commentary that's both entertaining and informative sounds like.

In addition, the Toy Box's sound effects-only track is retained here, allowing you to marvel at the film's sound design in glorious Dolby Digital 5.1 EX. The same feature was lost on Toy Story's re-release, so its presence here is welcome, even if it's something you'll likely use only for demonstrations rather than repeat viewings. It's also worth mentioning that the Set Up menu holds a THX Optimizer tests for calibrating your home theater's audio and video settings. Playing automatically before the feature presentation is the special THX trailer "Tex" (in which the video breaks down and Tex solves the problem, flying from speaker to speaker in the process) that appeared on Toy Story's old DVD. One may never know why the THX trailers have been swapped from their Ultimate Toy Box accompaniments ("Tex 2" introduced Toy Story on its 10th Anniversary set), but at least both are preserved on the latest DVD incarnations of the two Toy Story films. They're unusual and fun lead-ins to a movie, just like Pixar's pre-feature shorts are, in theaters.

Several previews play automatically at the start of Disc 1. These include a new Cars trailer focusing on the characters and story, as well as DVD promos for Chicken Little (coming March 21st) and Lady and the Tramp: Special (i.e. Platinum) Edition arriving February 28th. From the Sneak Peeks menu, one finds additional trailers for The Little Mermaid Platinum Edition, Bambi II, Toy Story: 10th Anniversary Edition, and the new video game The Incredibles: Rise of the Underminer.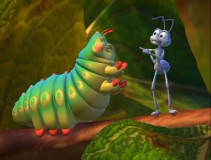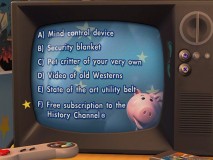 DISC TWO

The first listing of Disc 2's menu is Toy Box: Outtakes, Games & More!, not to be confused with another Toy Box which held three discs and both Toy Story movies. The first item here is a reel of Outtakes (5:25), which were added to Toy Story 2's end credits a month into its theatrical run as a way of thanking/encouraging repeat viewings.

The second of three movies that Pixar created outtakes for, Toy Story 2's are good for a few laughs. These manufactured bloopers include recurring gags depicting Woody's pranking of Buzz and Mrs. Potato Head's severe overpacking of her husband. There are also the typical slip-ups, some funny chatter among three little green men, and cameos by Flik and Heimlich of A Bug's Life. Though these are wisely presented full-sized (i.e. fullscreen), they're only offered in 2-channel surround.

Next is "Who's The Coolest Toy?" (3:15), a brief but diverting featurette that is ported over from the Ultimate Toy Box. It delivers comments from the cast and crew (even musical performers like Sarah McLachlan and Riders in the Sky) over which of Andy's toys is, well, the coolest. It's interesting and humorous to hear what everyone thinks of the characters and the piece includes some especially comedic banter between Tom Hanks and Tim Allen.

"Which Toy Are You?" is a brand new set-top game hosted by the unseen Hamm and Rex, who are gladly voiced by original actors John Ratzenberger and Wallace Shawn. You answer seven multiple choice questions based on personal preference and are told which one of six characters from the Toy Story movies that you are most like via a profile sketch. Brief but awkward blackouts occur after each question and set of six answers are read (alternating between Rex and Hamm). Otherwise, like most personality profile activities, this one is a lot of fun, though of questionable accuracy. After all, I got Jessie! There are at least a few more questions than are cycled through each incarnation, meaning a return visit might link you to a different character, even if you answer honestly.

"Ponkickies" is another new feature, which may not be so strange to anyone who has checked out all of the supplements on the Monsters, Inc. DVD. As Mike, Sulley, and Boo later did, Woody, Buzz, and Jessie visited the "popular Japanese TV show 'Ponkickies'" to play what we know as "Rock, Paper, Scissors." Pressing "Play" randomly yields one of six outcomes: Woody throws either "rock", "paper", or "scissors" in front of either Buzz or Jessie. While that may not sound all that fun, consider that the resulting shorts (running about 15 seconds each) offer uniquely-created Pixar Animation with voices and movements entirely unlike the Woody, Buzz, and Jessie that most people know. In short, these are rather amusing in a "Japanese people sure like some weird things" sense, though you may find the joke getting old before observing all six results.
"Riders in the Sky Music Medley" (3:08) delivers, as promised, a medley of songs featuring the quartet of costumed old cowboys. The act begins with the Riders at what appears to be Disneyland's Golden Horseshoe Saloon on a stage designed like the set of the puppet TV show. This makes its theme song (and the group's only tune in the movie) "Woody's Roundup" a perfect place to start. They follow with "Act Naturally" and then, joined by a cowgirl whose boots were made for dancing, sing "Jesse the Yodelin' Cowgirl." After crooning "Hey Howdy Hey", they head outside for their "nighttime at the ranch"-themed finale, a Western-style take on "You've Got a Friend in Me." Conveniently enough, all of these songs emanate from the Riders' 2000 album Woody's Roundup, a fact that does not go unnoticed. Clips from Toy Story 2 are sprinkled throughout the fast-moving, impressively-designed performances.
The section's final listing provides a 43-second montage of autographed black-and-white publicity stills of the toys whose "recent film project" is Toy Story 2. These mildly amusing photos were first seen to promote the movie in a tongue-in-cheek fashion.
"Making Toy Story 2" (8:10) is a new featurette culled entirely from '90s footage, plenty of which appeared in a pair of Ultimate Toy Box featurettes that have been dropped. The bulk of it features interviews with the creative crew. In addition to plenty of film clips, it also provides a glimpse of voice recording sessions. One wishes there was more of that good stuff and some newly-filmed retrospection. But as the brief running time suggests, this is not an all-encompassing making-of piece or satisfying as a document of this stellar sequel's production. At least, though, it does reveal some of the rationale which sparked the movie's creation and drove it to excellence, such as the makers' maximizing of technological advances, respect for the original's quality and world, and retooling of the good ideas they previously had discarded for the first film.
As on the Ultimate Toy Box, two short deleted scenes and a shorter contextual introduction (0:47) by co-director Ash Brannon are included here. With a mix of storyboards and unfinished animation, the first, "Godzilla Rex" (1:28), offers an overly coincidental way to make Woody a part of the yard sale. The second, "Crossing the Road" (1:56), contains mostly finished computer animation, which makes sense since it is much like the dangerous cones-in-traffic scene in the film, only here it is set in the suburbs. Both scenes are presented in non-anamorphic widescreen and two-channel stereo.
At this point, we reach the last listing of the Main Menu, but if you think we're almost done, you must not be familiar with Pixar DVDs. Behind the Scenes is divided into seven entries and is by far makes up the most massive portion of the disc. Firstly, also ported over from the Toy Box, a "John Lasseter Profile" (3:01) can now be viewed as a video in the campaign to make the Toy Story 2 director the president of Disney Feature Animation. It repeatedly conveys the idea that Walt Disney's legacy is being continued in the pioneering visions of Lasseter, who appears gushing briefly in interview clips and working with the voice actors.

Everyone involved with the production contributes a nice remark on the man in the helm and many compare him directly to Walt.

"Cast of Characters" (3:27) is another brief featurette, this one focused on the talented voice cast. In spite of the non-specific congratulatory talk on each actor from Lasseter, the comments from the voice actors themselves and footage from studio sessions make this an enjoyable piece.

The remaining extras are divided into five sections. In Design, you can find lots of galleries, only here they are presented as montages accompanied by Toy Story 2 score selections, without interactivity (i.e. remote control usage). Over eleven minutes of sketches take you through many incarnations conceived for Woody, Buzz, and the rest of the gang. Fortunately, the "rest of the gang" is mostly characters who first appeared in the sequel, such as the Woody's Roundup gang, Zurg, and Al, so it doesn't feel like you're rewatching the character concept art from the first Toy Story. 3D Turnarounds get no musical accompaniment, offering merely 5½ minutes of the beloved Toy Story 2 gang effortlessly turning around twice for you to ogle them. A second screen offers 5½ minutes of galleries depicting art that designed five key locations in the film: Zurg's Planet, Andy's House, Al's Apartment, Al's Toy Barn, and the Airport. These same five locations are given various 3D Tours (totaling 6 minutes), which enable you to marvel at the many details unable to be observed in the course of the film, like the sheer mass of toys created strictly for Al's toy shop. Uncredited commentary by art director Jim Pearson appears on all the tours. The last page of the set is titled "Color", and it offers an introduction, plus a pair of 2-minute montages of impressionistic color scripts and color keys that set the visual mood of the film.
Story contains two brief bonuses. First is a storyboard pitch of "Woody's Nightmare" thrown to the directors and creative crew by Pixar's late story man Joe Ranft. With the "angle" button, you can view this either with the storyboards in a window and Ranft in his audience filling the screen, or simply with Ranft's narration over the screen-filling storyboards. Second, there is a story reel for the "Jessie's Song" sequence, which you also watch in two ways: as a split-screen storyboards-to-film comparison or as simply the storyboards. Either way, you get the final sound mix of the film. Together, with the skippable pre-existing introductions by Ranft and story supervisor Dan Jeup, these two features run 7 minutes.
Production holds seven featurettes taken from all over the Ultimate Toy Box, therefore dealing with assorted subjects. "Designing Woody's Past" (2:50) offers John Lasseter and Ash Brannon showing off the cool faux-vintage toys and products created to illustrate Woody's status as a marketable '50s TV star. "Making Woody's Roundup" (2:00) explains how Pixar made Woody's old TV show look like an authentic old-fashioned live action puppet show via computer animation with distortion and the kinescope effect. "Production Tour" (2:30) illustrates the different stages of a Pixar movie, with explanatory comments and the depiction of Buzz and Woody's amusing "hot schmoes" exchange in various stages of completion. "Production Progression" gives you the chance to view the Buzz Lightyear opening of Toy Story 2 in four different stages; you can toggle between "Story Reel", "Layout", "Animation", and "Shaders and Lighting" with the use of the "angle" button. With an enthusiastic introduction from the director, co-directors, and writer, this runs 3½ minutes long.
Still in Production, while the Toy Story 10th Anniversary DVD lost all of the early animation tests from the movie's section of the Ultimate Toy Box, "Early Animation Tests" (3:00) here preserves some of Woody's tests from the original's section as well as interesting sequel trials with Bullseye, Jessie, Al, and Zurg, each accompanied by insightful but uncredited audio commentary by late supervising animator Glenn McQueen. In "Special Effects" (1:38), associate technical director Oren Jacob explains the kind of work he and others did on the explosive Buzz/robots showdown from the beginning of Toy Story 2. Lastly, "International Scene" (1:45) offers an alternate version of a shot from Toy Story 2, in which Buzz's patriotic speech is punctuated not by the American flag, but by a spinning globe, fireworks, and a different piece of score from Randy Newman. As Lasseter and Unkrich explain in the introduction, they wanted to make the moment less distinctly American for viewers from other nations.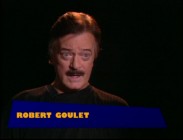 Music & Sound holds five listings. First, "Making the Songs" (3:23) provides some excerpts of the film's three songs, their recording sessions, and interview comments from director John Lasseter as well as soundtrack contributors Randy Newman (who, one can assume, has had better days), Sarah McLachlan, Riders
in the Sky, and Robert Goulet. Then, there is the music video for "Woody's Roundup" (2:14), in which the cowboys employ an accordion, fiddle, guitar, and other instruments in front of Western-themed sound stage, often appearing on the old television set for the Roundup gang in Al's office. Next, we hear Randy Newman's demo of "Jessie's Song" (with a few slightly different lyrics from the final version, a.k.a. "When She Loved Me") (2:47), which harks back to "I Will Go Sailing No More", the song marking Buzz's reality check in the first film. "Designing Sound" (5:37) contains remarks from field master Gary Rydstrom, as well as looks at three versions of the toys crossing the road sequence (music-only, effects-only, and the final mix). Lastly, there is a Mixing Demo. Though a similar feature has appeared on a few other DVDs, that hasn't robbed it of its coolness. Here, you get to choose any combination of sound effects, dialogue, or music to activate for the 88-second scene of Buzz and Zurg doing battle on the elevator shelf. As you can guess, it enables you to appreciate each of the three elements that make up a Pixar soundtrack as well as how weird things are with one or two of them deactivated.

The final area of "Behind the Scenes" is Publicity which holds four items totaling 8½ minutes altogether. First, there is the standard Pixar "Character Interview" (never before on DVD), where a striving-to-be-quirky interviewer gets entertaining (if not entirely accurate) answers about Toy Story 2 from Buzz and Woody, who are standing by in Andy's room. Two trailers appear in backwards order: the theatrical trailer which came second (and featured Sam and Dave's "Hold On, I'm Comin'") and the vague but exciting teaser (which, like the first film's previews, summons Thin Lizzy's "The Boys are Back in Town"). Four thirty-second TV spots (ranging from pre-release to an announcement of the outtakes engagements) are included, but are no longer individually accessible. Converted from a gallery, a 50-second posters montage mostly cycles through publicity photography, with a few hardly-altered international one-sheets thrown in at the end.

Finally, there are two Easter Eggs to be found around the menus of Disc 2, each plainly indicated by an unlabeled star, like the unannounced bonuses on Toy Story: 10th were. The first and more easily accessible is a 1-minute, 8-second clip which appeared on the Ultimate Toy Box as a more deeply hidden Egg. Half of it is a context-setting introduction by Lasseter and Brannon, while the second part is a gag slipped into dailies by an animator which takes Jessie's sentimental song in an unexpected direction. The second Egg, which requires some digging, is a puzzling 20-second clip of Woody (with disturbingly protruding ears) acting as a pitcher in a baseball game. This weird little thing would have benefited more from an introduction; I haven't the foggiest idea of what it is.

WHAT'S MISSING from THE ULTIMATE TOY BOX?

Toy Story 2: Special Edition doesn't lose as much as of the Ultimate Toy Box supplements as did the Toy Story: 10th Anniversary Edition, but it also didn't have as much to lose, nor did it gain as much as Toy Story's re-release did. It is worth noting that, as was true of Toy Story 10th, the "Behind the Scenes" section on Disc 2 here abbreviates all galleries or artwork in the process of converting them to auto-playing slideshows.

Here is a concise summary of what was included in the Toy Story 2 portions of October 2000's 3-disc Ultimate Toy Box release but cannot be found on this Special Edition DVD:
- Pixar's 1986 short Luxo Jr. (2:18)
- Monsters, Inc. teaser, Buzz Lightyear of Star Command: The Adventure Begins promo, as well as hidden trailers for The Emperor's New Groove, Fantasia 2000, and Dinosaur
- Supplement Disc's intro (expected since it doesn't entirely apply here, but nothing replaces it)
- the featurettes "Why a Sequel?" (2:38) and "The Continuing World of Toy Story" (4:38), though some footage from these makes it into the new "Making Toy Story 2" featurette
- abandoned storyreel and Toy Story Treat of "Woody's Nightmare"
- abandoned storyreel of "Buzz Lightyear Cartoon"
- production notes from the film
- biographies of 16 voice cast members
- guide to "Hidden Jokes" (one of the cooler features of the Ultimate Toy Box)
- many stills of art and photos from the galleries (which are here converted to slideshows)
MENUS and PACKAGING

Like most aspects of this Special Edition, the menus match those of the Toy Story: 10th Anniversary Edition. Disc 1's Main Menu again finds the little green men watching a montage of memorable images from the film, only this time, they're watching it in Andy's new room with Wheezy in their midst. Like the main menu, submenus are accompanied by portions of the score and make very clever use of Toy Story 2 imagery. The Set Up menu is found on an Etch-a-Sketch, Scene Selection appears on a neatly-decorated bulletin board, even the Sneak Peeks listings show up in a book Mr. Potato Head is reading. For those who get distracted by moving images, there is also the "Index" (featuring drawings of Woody and Buzz, presumably done by Andy at a younger age) to use instead of the Main Menu.

The options are the same (though the primary headings of the disc not in play also turn up, sans selectability) and choosing them take you to the same places, but without the animated transitions.

Disc 2 again takes the floating artwork route for most of its menus, which are set against the star wallpaper of Andy's new room. A slightly more basic (and yet more comprehensive) "Index" menu is also offered on the second platter for a little less clicking around (and fun). Those choosing this navigation method will miss out the joy of a little green man showing up to chide periods of inactivity. Helpfully, the menus label the lengths of all the set's bonus features to a reasonable degree of accuracy. All of Disc 2's menus offer excerpts from Randy Newman's score or instrumentals of the songs he penned for Toy Story 2.

This Toy Story 2: 2-Disc Special Edition comes in a standard-width black keepcase, which is housed in a predominantly red cardboard slipcover. The slipcover mostly replicates everything that appears on the keepcase art below (some text is reformatted to make way for a slot to reveal the UPC), but is interesting in a few ways. For one, it has a sticker proclaiming this as the "Woody's Roundup Edition", a last-minute attempt to adhere to the current fad of coming up with "clever" edition names. For another, its spines give you the chance to showcase either Jessie or Bullseye, depending on which way you align it on your shelf. (Toy Story: 10th did the same with Buzz and Woody.) Finally, a second sticker informs one that this DVD will be available for a "Limited Time Only." Like the Classic Cartoon Favorites, the case is no more specific than that, but Disney will likely make some noise when these two films become discontinued again on DVD.

Inside the case, a 4-page booklet offers $3 "gift cards" to save on the purchases of Toy Story: 10th Anniversary Edition and The Incredibles. (Yeah, like any self-respecting Pixar fan hasn't picked up these DVDs already.) A larger 8-page "DVD Guide" contains a written introduction by John Lasseter (allowing him to share his oft-uttered post-Toy Story airport anecdote), lists of the set's selling points and scene selections, an overview of some bonus features, and a map of the two discs' contents.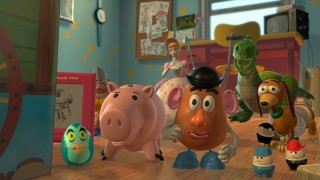 CLOSING THOUGHTS
While not as groundbreaking or satisfying as its predecessor, Toy Story 2 is nonetheless one of the best and most entertaining films released in recent years. Like every other feature to come from Pixar Animation Studios, this is a film that belongs in every DVD collection in double digits or beyond. If you already own the film either in its standalone DVD release or its pairings with Toy Story and A Bug's Life, it is definitely in your interest to upgrade to this Special Edition for the terrific bonus material, while the new DTS track and minor enhancements in picture offer two cherries on top of this delicious concoction.
However, it is not overflowing with new content and the inexplicably missing bonus features do constitute a disappointment worth mentioning. As the improvements in picture and sound will be minimally noticeable for most, this re-release is a non-essential purchase for Ultimate Toy Box owners. This class will probably be able to justify picking this set up at a discount, which it will be this summer in conjunction with Cars' theatrical release. For everyone else who doesn't have all the bells and whistles of the Toy Box, this is a highly recommended set.
More on the DVD / Buy from Amazon.com / Buy on Blu-ray from Amazon.com