and Kelvin Cedeno

Pixar Animation Studios have prided themselves on originality, a virtue that didn't seem exemplified by returning to the widely embraced universe of their first and third feature films. At the same time, Pixar has in recent years pushed themselves to continue raising the bar for computer-animated filmmaking. In many ways, Toy Story 3 was the ultimate challenge. Could the studio take viewers back to a world not visited in eleven years while advancing their unprecedentedly spotless track record with critics and audiences?

Repetition, a fundamental part of sequels, is generally frowned upon in art. It also clearly isn't a popular concept at Pixar, as evidenced by the company's aversion to sequels while other studios made billions off them. On Toy Story 3, Pixar not only had to satisfy themselves and their constantly rising standards for craft and artistry,

but also the children of the 1990s, who had grown up rightfully regarding the first two Toy Story movies among the greatest of their time. Winning over this audience, doubtlessly more cynical by the day, as well as a new generation of kids would mean pulling off one of cinema's rarest feats: making a sequel that lived up to its predecessors.

It was one thing for Toy Story 2 to delight audiences four years after its pioneering antecedent. Doing so once again over a decade later with the first two films long etched in stone as classics, was quite another. Francis Ford Coppola couldn't do it on The Godfather Part III. The most vocal moviegoers seem to think that Steven Spielberg stumbled on Indiana Jones and the Kingdom of the Crystal Skull. And don't even get most Star Wars fans started on George Lucas' prequel trilogy. Of course, if anybody was going to make a sequel that could soar higher than childhood nostalgia, it was Pixar. And if any series could do it, why not one that already seemed to tap into childhood nostalgia? When you thought about it, was there really any chance a studio that could do so right by so many people would allow their precious breakthrough baby to be followed by the first Pixar film not considered an overwhelming success on every level?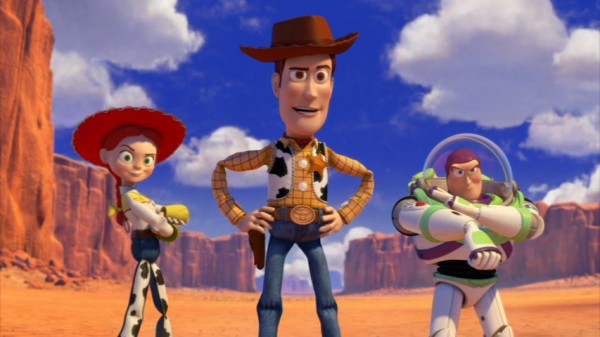 Toy Story 3 was once a key issue in the negotiations to extend Pixar's distribution deal with Disney. Disney wasn't counting sequels towards its original 5-film agreement, not even the unanimously-praised box office hit Toy Story 2, which began as a direct-to-video project and ended up as cinema gold. Pixar was ready to look for a new partner. Disney, meanwhile, set up a new computer animation division called "Circle 7" purely to make the sequels to Pixar films that they were legally entitled to. Whether Circle 7 was an elaborate bargaining tactic or truly formed to fulfill its announced purpose, Disney greenlit a director (Lady and the Tramp II's Darrell Rooney), a writer (Meet the Fockers' James Herzfeld), and a Buzz-recalled premise that had all the promise of DisneyToon Studios' unimaginative video premiere sequels. Fortunately, Michael Eisner left, Circle 7 was shut down, Pixar's brass got meaningful promotions, and Disney-Pixar relations were indefinitely reinforced (with Bob Iger getting credit for the major mending). The path was cleared for the only Toy Story 3 that Toy Story fans would be eager to see: one made by the same people, or at least given their blessing.
John Lasseter, the director of the first two Toy Story films, had been promoted to basically Disney's second-in-command as chief creative officer of both Pixar and Disney's animation units (while also serving as a key creative advisor for the theme parks' Walt Disney Imagineering). That would appear to disqualify him from directing duties (which he held on four of Pixar's first seven films). Assuming those here is Lee Unkrich, no stranger to the universe, having edited the first two films and co-directed and contributed story ideas to Toy Story 2. Here, Unkrich was directing alone for the first time (unless you count a Season 4 episode of "Silk Stalkings"). He was working from a screenplay attributed to Michael Arndt (following up his Oscar-winning debut, Little Miss Sunshine).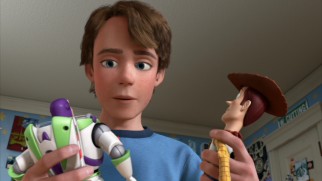 Toy Story 3 is set nine years after Toy Story 2. Andy (voiced again by John Morris), the toys' caring human owner, is now 17 and less playful. Accordingly, the ranks of his bedroom have thinned with a majority of the first two films' supporting playthings (even significant ones like Bo Peep and Wheezy) being let go. While the leading characters are all back -- among them, cowboy Woody (Tom Hanks), space ranger Buzz Lightyear (Tim Allen), spunky cowgirl Jesse (Joan Cusack), doglike horse Bullseye, married couple Mr. and Mrs. Potato Head (Don Rickles and Estelle Harris), unthreatening dinosaur Rex (Wallace Shawn), loyal Slinky Dog (Blake Clark), and authoritative piggy bank Hamm (John Ratzenberger) -- they are missing the attention and affection of Andy, who hasn't played with them in years.

With Andy heading off to college in just a few days, the toys' fate is again called into question. Will he throw them away, bring them to his dorm, or maybe just store them in the attic?

Andy decides one fate for his favorite and another for the rest, but nevertheless, the entire gang winds up at the Sunnyside Daycare center. Everyone seems pretty jazzed about the new location, except for Woody, whose warnings feel misguided in the nice confines of the friendly facility where they're sure to be played with five days a week. The new arrivals are given a warm welcome and tour by the strawberry-scented Lots-o'-Huggin' Bear (Ned Beatty), who speaks with a drawl, walks with a cane, greets with a hug, and insists you call him "Lotso." One of leader Lotso's assistants is plastic-haired, ascot-wearing playboy Ken (Michael Keaton) who is tickled to meet Barbie (Jodi Benson), a castoff of Andy's younger sister Molly.

Though first seeming like a comfortable retirement home, Sunnyside winds up being more like a prison, something Andy's toys learn when they're assigned to the reckless young kids of the Caterpillar Room. Woody, meanwhile, is on his way to reuniting with Andy, when he's detoured to the house of an imaginative young girl named Bonnie. When he finds out the truth about Sunnyside, the pullstring sheriff plots his own return and then an escape for his friends.
The fine artists at Pixar either didn't hear or didn't heed the old adage "You can't go home again." They've come back to the universe where they began, a universe that would not only launch them to great success but transform the entire film industry. Toy Story and subsequent hits didn't just make CGI widely preferred to traditional animation methods. They energized the entire medium, giving rise to imitators and competitors in a rapidly-growing marketplace. To date, four of this year's eight top grossing films are computer-animated, all of them comedic adventures at least partially indebted to Pixar's first franchise.
The amazing thing about Toy Story 3 is that Pixar returns to their influential world without missing a beat. The tone is perfectly recreated. The characters are just as we remember and love them. There is tremendous wit and wisdom to the proceedings and a more potent sense of humanity than what's found in the vast majority of cinema with human actors. The story is thankfully not a retread. It builds upon the rules and themes already established for this world; toys come to life when humans aren't around and they have a basic fundamental need to be played with. The fragility and impermanence of a toy's existence are further developed and explored, without reminding us of moments from the first two films, even when Randy Newman's score sounds as if it may have been taken directly from them.
Running a little over 102 minutes with credits, Toy Story 3 adds about the same amount of runtime as Toy Story 2 did from the compact 81-minute original. Even though Pixar has made movies running up to 15 minutes longer, Toy Story 3 feels more epic than the rest, packing in so much humor, heart, and excitement. The studio blends the ever-advancing sophistication of their storytelling and animation with the sweet and comforting suburban setting they created back in the '90s, with no discord whatsoever. This is both the Pixar of late that earns serious recognition for its ambitious art and the Pixar of old that knows how to have fun and make us laugh. No mere comedy, all dialogue and jokes support the dense, fast-moving story. There is danger, darkness, one of the studio's most compellingly evil villains, and perhaps the most poignant ending ever committed to film. At the very least, it's the most touching conclusion involving plastic, vinyl, and cloth characters.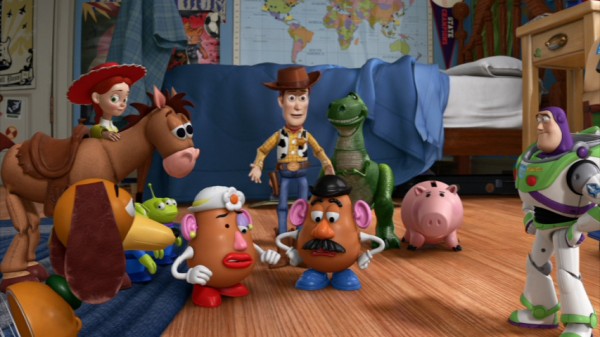 There's hardly a thing in Toy Story 3 that I wouldn't label brilliant. One such element is Buzz Lightyear's Spanish mode, which didn't do much for me, but it drew some of the biggest laughs in my two theatrical viewings.

I didn't dislike that turn. I just simply wasn't crazy about it. This movie is so great that even mere indifference to an idea stands out.

I admire the original Toy Story more than just about any movie ever made. Not every moment of Toy Story 2 resonates as strongly as its predecessor, but it's still a wonderful time that probably ranks in the top 2% of all the movies I've seen. I don't hesitate to place Toy Story 3 above Toy Story 2. I can't put TS3 over the original, but I think that is less due to any microscopic failing of this sequel than it is to simply the timing and impact of the first film. Comparing the two side-by-side, it's impossible not to notice how far the animation and writing has come in fifteen years. And yet, there's still something magical and endearing about that original outing that makes it more enjoyable for me than any of the amazing Pixar films to come after it.

In terms of the studio's 11-film canon (a subject I've probably given more thought to than anyone else), I believe Toy Story 3 has secured a rank between second and fourth and probably closer to second. Since I first saw it just four months ago (in a much-anticipated midnight opening I'll never forget), the film is still fresh and settling in my mind. But while it doesn't yet have the benefit of distance, it does have the benefit of actual time passage. There's something uplifting about seeing these characters again and finding them to be as entertaining as always. Certainly, the time factors into the power of the film's growing up and moving on theme. Likewise, Toy Story 3 wouldn't be as satisfying as it is had these characters not been so capably introduced and developed. There is just no way to forge character histories as rich and meaningful as those formed by such delightful shared experience. TS3 couldn't be as riveting and amusing without its two predecessors being created over ten years ago.

And yet, don't let me understate the pleasures that are unique to this film. From its dynamic western opening to Woody's whimsical escape, Toy Story 3 is marked by spectacular sequences. Perhaps the best of all is an expertly-crafted, revealing flashback told by Chuckles the Clown (Boundin' director/singer Bud Luckey). New characters are tactfully introduced and integrated. A past villain makes a tasty cameo. Scenes of suspense and adventure are built naturally and organically, with no shot or "camera" move being without purpose or effect. Quite simply, this is an outstanding movie and one I can't imagine being much better than it is.
I'm not alone in my appraisal of the film. Though good reviews aren't remotely new for Pixar, Toy Story 3's marks were strong even for the golden studio. So unanimous was the critical praise that one notoriously contrarian clown named Armond White was able to raise fans' wrath for being predictably responsible (alone, briefly) for Toy Story 3 losing its 100% fresh rating on RottenTomatoes.com. Though both of the first two movies have perfect scores on that site, they were reviewed by far fewer critics. And, of course, the site's prominent percentages mean less than you think; every critic could have given the movie a narrowly passing grade and it'd have gotten an elusive 100% fresh but not been all that good.
Because the Academy Awards expanded the Best Picture field to ten films last year, Toy Story 3 is a favorite to get a nomination for the industry's top prize. That's not enough, though. I'm almost certain it deserves to win. True, I have yet to see many of the perceived contenders for this year's Oscar race (although I've preferred this to the four other potential competitors I've seen). But I would argue that with one exception (sorry, Ratatouille, I still don't love you), every single Pixar film (even the underloved A Bug's Life and Cars) has been worthy of the highest recognition possible. Yet only Up secured a Best Picture nomination and that was post-widening.
I get why animation doesn't do better at the Oscars; the Academy is comprised of thousands of people involved in filmmaking, very few of whom have had anything to do with animation beyond possibly recording some lines in a studio or attending a premiere. They need to get over this disregard for the medium. A Best Picture nomination will not be enough for Toy Story 3. Not in a year as slight and weak as this. Not when Lee Unkrich is left out of the Best Director category giving us the five "real" Best Picture nominees out of the ten candidates. Not on the fifteenth anniversary of Babe getting nominated for Best Picture over the original Toy Story. The Academy's credibility is at stake here. Even if they want to rationalize it as an award for the entire trilogy (as they apparently did for The Lord of the Rings: The Return of the King) or as the one indefinite bone they'll toss the studio that completely changed the industry and has provided excellence on a near-annual basis for well over a decade, they need to award Pixar and there may not ever be a more appropriate opportunity than now.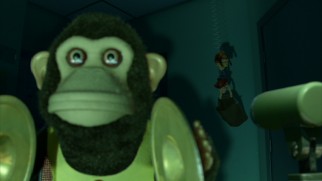 Toy Story 3 demonstrated the financial might of sequels with an enormous $413.5 million (and counting) domestic box office gross that fell far above the $200-$300 M range holding nine of Pixar's ten previous films. The tenth, former studio king Finding Nemo ($339.7 M), was handily eclipsed in earnings.

Ignoring inflation, Toy Story 3 now stands as the ninth highest-grossing film of all time domestically and fifth worldwide. Many records were set by TS3's success and the film will likely end up the year's top earner.

Still, it's possible to be just a tiny bit disappointed by the numbers, for they are short of both Disney's champ (Pirates of the Caribbean: Dead Man's Chest's $423.5 M) and the animation champ (Shrek 2's $441.2 M). Toy Story 3 seemed to have the ideal blend of universal appreciation, through-the-roof demand, and four-quadrant appeal. Even its questionable timing, just a month after the final Shrek movie and twelve days before The Twilight Saga: Eclipse, seemed pretty perfect in a summer marked by flops and underperformance. And yet, when we adjust for inflation and for the premium admissions of 3D exhibitions, Toy Story 3 sold fewer tickets than Finding Nemo did. Movie attendance has been down this year with theaters raising prices. It seems like the general population is catching my apathy for 3D, perhaps even opting to not see a high-priced 3D film over trying to find a theater showing the same film in the standard 2D format. In a different year, Toy Story 3 might have done even more business. As is, earning over $1 billion worldwide is nothing to scoff at, even if Tim Burton's Alice in Wonderland did the same thing three months earlier and Avatar came close to doing it three times over.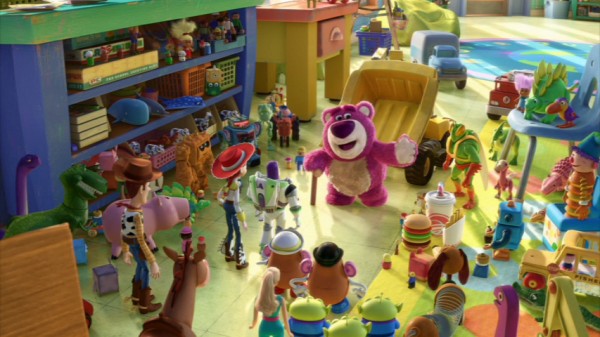 Having met my sky-high expectations, grossed more globally than any previous animated film, and earned a recommendation from almost every critic on the face of the Earth, Toy Story 3 now comes to DVD and Blu-ray on November 2nd in a variety of editions. Which one is right for you? Well, if you're happy with DVD and don't ever see yourself upgrading to Blu-ray, the standalone single-disc DVD is your best and cheapest bet. If you're happy with Blu-ray and don't ever see yourself watching standard DVD again, there is a standalone 2-Disc Blu-ray. If you're anywhere in between those two stances (happy with DVD but considering Blu-ray at some point, happy with Blu-ray but still making use of the occasional standard DVD player or DVD-ROM drive) or if you really appreciate a nice digital copy, there is the 4-Disc Blu-ray + DVD + Digital Copy combo pack, which Disney is most pushing and which we review here.
Finally, there is the Ultimate Toy Box Collection, which is not to be confused with the similarly-titled 3-disc Collector's Edition DVD set in which Toy Story and Toy Story 2 made their 2000 DVD debut. No, this toy box features packaging resembling Andy's toy chest and holds all three movies in DVD, Blu-ray, and digital copy format (a grand total of 10 discs, including TS3's bonus disc and the exclusive Toy Story and Toy Story 2 digital copies). That's not a bad way to pick up all three movies at once, should your collection unconscionably be lacking the first two, but if you're still a happy-with-DVD household, you're likely to be underwhelmed by what the three standard DVDs (the same as those now sold separately) offer in the way of extras.
Blu-ray & DVD Details

1.78:1 (Anamorphic) Widescreen
Blu-ray: DTS-HD 7.1 (English), DTS-HD 5.1 (English), Dolby Digital 5.1 EX (French, Spanish), Dolby Surround (Descriptive Video Service)
DVD: Dolby Digital 5.1 EX (English), Dolby Surround (English, Descriptive Video Service)
Subtitles: English for Hearing Impaired; Blu-ray only: French, Spanish
Closed Captioned; Most Extras Subtitled and Captioned
Release Date: November 2, 2010 / Suggested Retail Price: $45.99
Four single-sided discs (2 BD-50s, 1 DVD-9 & 1 DVD-5 DVD-ROM)
Thick Blue Keepcase in Embossed Cardboard Slipcover
Also available in DVD ($29.99 SRP), Spanish DVD ($29.99 SRP), Blu-ray ($39.99 SRP), and Ultimate Toy Box Collection: 10-Disc Blu-rays + DVDs + Digital Copies ($100.00 SRP)
VIDEO and AUDIO

Toy Story 3 appears on Blu-ray in its native 1.78:1 aspect ratio. The Pixar name has come to mean perfection in the home entertainment industry, and this release does nothing to change that. The image is free of any color banding, edge enhancement, or other digital artifacts outside of a sole and minor instance of a moirι effect on a stereo during the epilogue.

Colors are often very warm without feeling too hot or blown out, and the detail is consistently excellent. This adds yet another demo disc to Pixar's excellent catalogue.

Likewise, the DTS-HD 7.1 track is an outstanding way of testing one's home theater system. In every scene, no matter how low-key or action-packed, dialogue is crisp and mixed with directional effects. Surround effects are present throughout in a vast and convincing manner. These range from the clattering of all the Sunnyside Toys to an intense incinerator sequence. Randy Newman's score comes across as rich and is neither overpowering nor too muted. The track compliments the video exceptionally.

By its own standards, the DVD is also flawless. The vibrant picture allows you to marvel at the film's astonishing detail in a way you can't in theaters. Even the most active scenes hold up visually. The DVD's Dolby Digital 5.1 EX soundtrack engulfs tastefully, without quite making as big an impact as past Pixar movies. I may just be too familiar with the studio's extraordinary sound design. Although I did confirm I was watching with the 5.1 track activated; in a move that strikes one as dumb despite the explanatory page, the movie plays with the 2.0 surround track by default. Beyond that quirk, no one should have any complaints with the presentation.

Support great cinema and this site -- Buy Toy Story 3 from Amazon.com:
Blu-ray + DVD + Digital Copy / DVD / Blu-ray / Trilogy Collection BD + DVD + DC / Spanish DVD

Continue to Page 2 >>