In 2005, after four years of producing lavish, comprehensive collections of animated shorts in the Walt Disney Treasures line, Buena Vista Home Entertainment harked back to the days of VHS by giving customers less bang for their buck as an alternative series dubbed Classic Cartoon Favorites. In the past seventeen months, millions of individuals have found the typically $10 tag a fair asking price for one hour of cartoons loosely related by a theme. So, not only have twelve volumes of the Classic Cartoon Favorites been released in this brief period, but similarly-designed compilations have come under other names. In January, Walt Disney's Funny Factory was launched with a pair of discs and now, two new volumes called Walt Disney's It's a Small World of Fun! are upon us. Though the titles and menus break with tradition, the idea behind the new discs -- recycling vintage cartoon shorts can be profitable for the Mouse, especially when its landmark characters adorn a bright, colorful cover -- does not.
As has increasingly been the trend, each of these new discs falls a bit short of the one-hour mark, even though an additional cartoon would put them slightly over 60 minutes and, as the Treasures have illustrated, another two hours could comfortably be fit onto a single platter. In other words, the two volumes could have been combined as one, and "It's a Small World of Fun!" could have been merely a subtitle for the latest (longer-than-usual) volume of Classic Cartoon Favorites and little would have changed, except that customer satisfaction would have risen a bit, consistency would have been upheld, and Disney would stand to make less money.
Though the title alludes to the popular boat ride Disneyland and Walt Disney World, it's really there to illustrate that the selected cartoons are set in different nations around the globe. Each of the first two volumes has also managed to sneak in a non-series short set in the U.S.A. alongside the cartoons featuring the studio's more iconic personalities. Of the six shorts on Volume 2, only half of them really emphasize a location: the previously-unreleased "Crazy with the Heat" takes Donald Duck and Goofy to the mirage-inducing Egyptian desert, "The Olympic Champ" finds Goofy by Mount Olympus during the early days of the Olympics, and "Pedro" (from the goodwill tour-turned-South-of-the-Border flick Saludos Amigos) employs Chile as its location.
The other three do happen to take place elsewhere, but their designs rely less on a setting and more on a story, which probably explains why they are the more esteemed and remembered of the lot. "Brave Little Tailor" provides one of the greatest chapters in Mickey Mouse's shorts career, pinning him against a feared giant in Great Britain. Seventeen years before The Love Bug illustrated a living car and fifty-four before John Lasseter transformed windshields into pairs of eyes, "Susie, the Little Blue Coupe" did both and began capturing the hearts of the first of many generations. Finally, while "Peter and the Wolf" called snowy Russia its home, this was primarily because its author, who deftly blended music and story, was from there and living in what was then the Soviet Union during its 1936 creation.
Here's a closer look at the disc's six shorts in the order in which they are presented: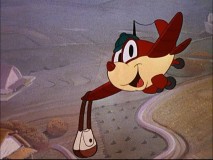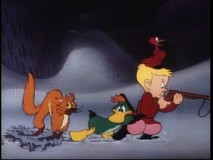 "Pedro" (1942) (8:04)
Originally released as part of Disney's first anthology film Saludos Amigos, this short is kind of like "The Little Engine That Could", only the engine is a young mail plane from Santiago, Chile. With Papa sick and Mama unable to stand the altitude, Pedro braves a difficult thunderstorm and a shortage of gas to deliver the mail past Aconcagua, the much-feared Andes mountain peak. The short reached theaters on its own in 1955; here, it is followed by a modern Buena Vista International logo.
"The Olympic Champ" (1942) (7:00)
As was common for shorts starring Disney's clumsy anthropomorphic dog, Goofy remains silent as a calm narrator provides contrast to the pratfalls on screen. In ancient Greece nearly 3000 years ago, a solo Goof illustrates different techniques of foot racing as well as hurdling, pole-vaulting, hammer-throwing and the decathlon, all events in the early days of the Olympics. Needless to say, visual gags are in high supply, from a finger-burning Olympic torch to a hammer throw which ends with a potent discovery of oil.
"Peter and the Wolf" (1946) (15:27)
Sterling Holloway, perhaps Walt Disney's most-used voice talent, narrates this adaptation of Sergei Prokofiev's well-known composition. He provides the only dialogue in this musical, visual short, which naturally begins with Holloway explaining how the different characters in Prokofiev's tale are each accompanied by different sounding instrumentation. It then proceeds to depict how an adventurous boy named Peter seeks to capture a ravenous wolf with the help of Sasha the bird, Sonia the duck, and Ivan the cat. This, the longest short on the disc, is one of the highlights of the 1946 package feature Make Mine Music.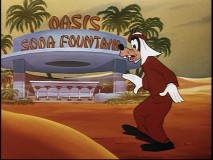 "Brave Little Tailor" (1938) (9:00)
Adept fly-swatting ("seven with one blow") leads to the spread of hero-making rumors about a humble tailor (who you will recognize as Mickey Mouse). When the gossip reaches the king, he appoints Mickey as the Royal High Killer of the Giant. With the promise of six million pazoozas and the hand of Princess Minnie, the tailor reluctantly accepts the role and, wielding only a pair of scissors, sets off against the odds to rid his land of the tall, tall bearded man.
"Crazy with the Heat" (1947) (6:03)
After their car breaks down, Donald Duck and Goofy split up and each tries to brave the hot Egyptian desert in his own way. Donald searches long and far for water, while Goofy seeks refreshment at the translucent Oasis Soda Fountain. Despite the brief runtime, this amusing short appears to be intact (retaining the sword-swinging, punch-dispensing Arab waiter) in this, its DVD debut.
"Susie The Little Blue Coupe" (1952) (8:14)
Holloway also narrates this, the life story of Susie, a petite two-door automobile who is quite content with her owner and her activities until she begins to age and slows down. Then it's off to the used car lot, where she is purchased by an unscrupulous type, disregarded, and even stolen. It's interesting to revisit this short just weeks before animated anthropomorphized autos make a grand return to the big screen via Pixar's Cars. Though this is the cartoon's third time on DVD, this is the first it's been a part of a main program and not relegated to bonus feature status.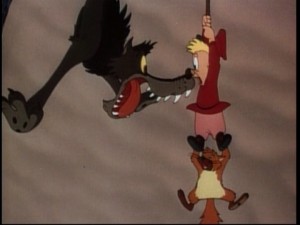 VIDEO and AUDIO

The youngest cartoon in the lot turns fifty-four this year and since Disney has never taken extensive restoration efforts just for a DVD compilation outside of the Treasures line, it's

not very surprising that the picture quality here leaves quite a bit to be desired. As usual, there is a wide range to the video, which makes sense considering the different origins and production eras. Only "Olympic Champ" and "Brave Little Tailor" have turned up on the Treasures; the former is definitely the best-looking 'toon on the disc, while the latter (which was among the first wave of Treasures) exhibits some shortcomings (sawdust-like artifacts prominently clutter the screen in two stretches) but isn't too bad for being the oldest inclusion.

It would appear that "Pedro" and "Peter and the Wolf" both stem from sources other than the films with which they debuted. (Their different openings and closings tip you off to that.) "Pedro" looks very beat-up with a slew of white spots showing up all over the place, black and white artifacts abound, excessive grain and a lack of sharpness hindering the South American-set visuals. "Peter and the Wolf" has a lesser but still noticeable amount of artifacts and its soft, somewhat blurry appearance distinguishes it from a properly-remastered film, something that can't fully be said about Make Mine Music's DVD anyway.

"Crazy with the Heat" makes its format debut on this DVD and, as such, it is prone to looking soft (at least compared to Treasures transfer) and boasting colors that are a little suspect. Despite its first jump off the bonus features page, "Susie the Little Blue Coupe" doesn't look much better than it always has; its decent picture quality nevertheless puts its among the more visually pleasing things here.

All six shorts appear in 1.33:1 fullscreen, which approximates the Academy Ratio in which they were originally animated and exhibited.

The package claims that the DVD is sporting a "Dolby Digital Stereo Surround" track; the disc itself conveys a simple two-channel stereo presentation. Of course, all of the shorts were created for a monaural audio mix and this disc doesn't betray that. None of the shorts ever belies its over-50-year-old nature. The narration and handful of dialogue all come through coherently, but it's all quite dated and can be mildly muffled. By contrast, the French track that is provided seems to have a bit more kick. But anybody watching these shorts for the visceral thrills that come from booming bass and swooping surround activity clearly has something else coming to them.
BONUS FEATURES, MENUS and DESIGN

As is true of nearly every Disney DVD, unrequested previews play at the start of this disc. They promote The Little Mermaid: Platinum Edition, Cars, Dumbo: Big Top Edition, and Brother Bear 2. Additional promos for Lilo Leroy & Stitch, Little Einsteins: Mission Celebration!, and The Fox and the Hound 25th Anniversary Edition can all

be found on the first page of the Sneak Peeks menu. They also will play automatically following the conclusion of the feature program if Disney's hands-free playback method FastPlay is activated at the start, as it is by default.

As is to be expected of Disney's hour-long cartoon compilations, there are no other bonus features to be found here. Nor is there even an insert to be found inside the white keepcase, something the studio is excluding for the first time since a brief experiment in the summer of 2003.

The animated 4x3 main menu falls somewhere in between the Classic Cartoon Favorites and Funny Factory in terms of busy-ness and cleverness. As Susie the Little Blue Coupe drives by, neon clouds float in the sky and a globe sun dances about, while a postcard (complete with "Art of Disney" stamps) rotate through images seen in the disc's shorts. Other menus only retain the "Sesame Street"-like instrumental music and bright colors. Curiously, the short selection menu is labeled "Episode Selection."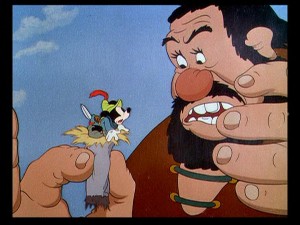 CLOSING THOUGHTS
For quality and variety, It's a Small World of Fun! Volume 2 would appear to be one of the more worthwhile entries into Disney's ever-growing class of hour-long cartoon shorts compilations. The DVD itself, though, mostly disappoints in the picture and sound areas, delivers no extras, and needlessly falls one short shy of an hour.
On the one hand, only two of the shorts have been released on Treasures and their volumes are long out of print, while another two are on 1940s anthology features that are not as consistently pleasing and are both edited for content in Region 1. On the other hand, serious collectors of Disney animation likely already have five of the six cartoons more or less as they appear here.
Nothing more needs to be said, as you've probably already decided if this compilation works for you.