Blu-ray Disc Details

BD: 1.85:1 Widescreen, DTS-HD 5.1 (English), Dolby 5.1 (Eng, Fre, Spa)
DVD: 1.85:1 Anamorphic Widescreen, 1.33:1 Reformatted Fullscreen,
Dolby Digital 5.1 EX (English) THX-Certified with Optimizer tests
Release Date: November 10, 2009
Four single-sided discs (2 BD-50s, 1 DVD-9, 1 DVD-5 DVD-ROM)
Suggested Retail Price: $40.99
Double-wide blue keepcase with two trays in Embossed Cardboard Slipcover
Still available in 2-Disc Collector's Edition DVD
VIDEO and AUDIO
While Monsters, Inc. isn't as visually complex throughout as more recent Pixar films, its animation still amazes today. It has never looked better than it does on this 1080p hi-def, AVC MPEG-4 encoded, 1.78:1 transfer. Pixar's digital-to-digital transfers have always looked next to perfect, even in DVD's standard definition, and the Blu-ray sets its stun gun on an even higher level. Detail is phenomenal. You can see right into the pores in Mike's skin! The colorful film is vibrant and arresting here, quite appropriately so. Blacks are deep and crisp. I detected no artifacts or unwanted visual disturbances of any kind.
The DVD presents both the theatrical 1.85:1 widescreen (enhanced for 16x9 displays) and Pixar's specially formatted fullscreen version (an unnecessary modification produced in a less widescreen-friendly era, but one that is far less offensive than a typical "pan and scan" job -- animation enthusiasts might even find it interesting to look at the studio's director-supervised repositioning of things within the 4x3 frame). Watching the DVD after the Blu-ray, a loss of detail is instantly apparent. That, of course, is due solely to the difference in the formats and has nothing to do with the transfer, which is top of the line for DVD. Detail is extremely impressive for standard definition, the picture is entirely clean, and colors are vivid. Despite its age, the video is reference quality for the format, just as the HD transfer is for the Blu-ray.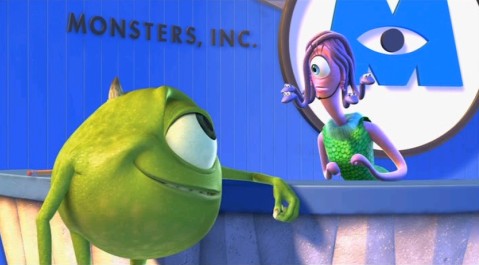 The Blu-ray comes with a 5.1 DTS-HD Master Audio soundtrack, one that delivers incredible sound quality. All five speakers spring to life in this mix, displaying dynamic channel separation and crystal clear sound. Directionality is impeccable. Effects zoom around from one corner of the room to the next, always at appropriate times, and the movie's swinging score swells with zest. This is a euphoric home theater sound experience. Color me impressed.
The DVD presents a Dolby Digital 5.1 EX Surround Sound track. Again, transitioning from the HD track to the Dolby Digital one creates a notable difference, but it's one of format and not anything indicative of a problem in the DVD. Quite the contrary, the DVD's audio is crystal clear, energetic, and active in all channels. Separation, directionality, and fullness of sound are again quite pleasing. The DVD also offers a Dolby Digital 5.1 EX sound effects-only track, one that I expound upon in the Disc Three bonus features section below.
On the Blu-ray, French and Spanish language tracks are available for the movie in Dolby Digital 5.1. Some bonus features are in Dolby Digital 5.1, some are in Dolby Digital 2.0, but all of the bonuses are available in English, Spanish, and French. Subtitles are available in English SDH, French, and Spanish. The DVD does not contain any foreign language audio tracks and its subtitles are in English SDH only.
BONUS FEATURES
The many, many bonus features on this fully-loaded set begin as soon as you put in Blu-ray Disc One. An all-new introduction from Pete Docter (HD, 1:31) plays automatically, the director giving an overview of the combo set's contents.
The most substantial bonus on Disc One is a feature-length audio commentary with Docter, co-director Lee Unkrich, writer Andrew Stanton, and executive producer John Lasseter. This is the same track recorded for the 2002 DVD. The conversation is extremely interesting, engaging, and largely screen-specific. Even those who aren't predisposed to liking commentary tracks should find this conversation stimulating.
New to this Blu-ray release is "Filmmakers' Round Table" (HD, 21:35), a recently recorded coffee house conversation between Docter, Unkrich, producer Darla Anderson, and story supervisor/Roz voice Bob Peterson. Far from a retread of the commentary, this video takes a reflective look that benefits from the passage of time since the movie's release. Conversation is lively, organic, and comprehensive. Especially interesting is a candid discussion of the impact that 9/11 had on the crew, whose Monsters project was mere months from opening at the time.
There's behind-the-scenes video of the crew at work that day and a clip of a scene that was removed from the final cut because of its eerie similarity to the Twin Tower attacks and the anthrax scares that followed. Also of note: a not so cryptic hint at the crew's plans for a sequel. Without a doubt, this is maybe the best bonus feature on the entire set.

Another outstanding, all-new extra is "Monsters, Inc. Ride and Go Seek: Building Monstropolis in Japan" (HD, 7:58). This looks at the new Tokyo Disneyland attraction. A twist on the Monsters, Inc. dark ride in Disneyland's California Adventure park, this version adds an interactive flashlight tag component. Despite its brevity, the featurette covers a lot of ground, focusing not just on the ride, but also on the particularities of Tokyo Disneyland as a resort. Disney Parks enthusiasts will appreciate seeing park footage, beautifully rendered 3D park models, and even some footage of classic Disney rides in glorious HD. Too bad something similar wasn't produced for Disneyland's ride and Walt Disney World's Monsters, Inc. Laugh Floor attractions too.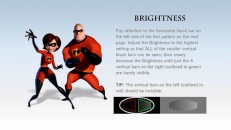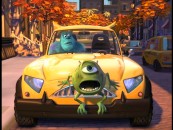 Also new to this release is something that's become standard on Pixar home video today but hadn't been introduced in time for the old DVD back in 2002: Pixar's "Maximize Your Home Theater". This useful (though time-consuming) guide will help even the technologically challenged achieve ideal movie watching settings in their home theater. The guide is decorated with characters ranging from Toy Story all the way through WALL•E (but no Up). The audio tests here are designed for 6.1 EX setups but will work for the more common 5.1 layouts too.

The remaining Disc One supplements are carried over from the 2002 DVD, starting with For the Birds (HD, 3:28), which played in theaters before Monsters, Inc. and won the 2001 Oscar for Best Animated Short Subject. This is the story of one big bird ostracized by a mass of others, all perched along a power line, and the comeuppance that nature awards him.

While perhaps not their best, For the Birds is a very funny and highly memorable short, entirely deserving of the Pixar name. Director Ralph Eggleston presents optional audio commentary, offering plenty of insight for such a short period of time.

The second short, Mike's New Car (HD, 3:47), was created especially for video in 2002. In it, Mike demonstrates his flashy new car to Sulley and, in the spirit of the Disney cartoons of yore, ends up in a battle of man (well, monster) vs. machine. It's a very simple but extremely comical affair and the characters (again voiced by Billy Crystal and John Goodman) stay true to their filmic personas. An optional audio commentary is also carried over from the 2002 DVD. There, it was credited to "Docter and Gould", referencing directors Pete Docter and Roger Gould. In fact, the commentary is delivered by their very young son and daughter, respectively. Though this new release's credit goes to "The Filmmakers", the participants have not changed. The two youthful critics (who have aged seven years since this was recorded) deliver a surprisingly satisfying and unsurprisingly adorable conversation. While hearing from the directors themselves would have also been nice, this less conventional tactic is surely far more memorable.

Neither short makes its hi-def debut here, having previously appeared on the Pixar Short Films Collection: Volume 1 Blu-ray. Those who have stayed away from that disc to avoid abundant double-dipping will be happy to finally see them in their splendid HD glory. Both cartoons look every bit as good as the feature film.

Note that this release also supports BD-Live interactivity via Disc One.

The second Blu-ray disc has a ton of bonus features in store for you, accessible through three different doors: Roz's 100 Door Challenge (an elaborate virtual game), Humans Only (a huge menu of enthusiast-oriented material), and Monsters Only (a lighter, more kid-tailored area).

The first and least important door is Roz's 100 Door Challenge. Inside is a game that consists of a hundred mini-games, all of them stemming from a door. The game wouldn't load on either of my Blu-ray players so I wasn't able to test it. If it's anything like the many other virtual games I've played on Blu-ray and DVD, I'm sure it's nothing special. Given my compatibility problems, it's possible you'll experience some too, though it will depend on your player. Everything else on this set loaded just fine.

The Humans Only door has 13 sub-sections behind it. Let's look at each of them in turn.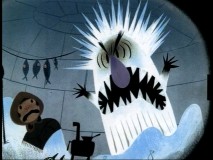 (1) Pixar contains only one item, but it's quite a good one. The "Pixar Fun Factory Tour" (SD, 3:46) shows off the studio's then-new office building and demonstrates just how much fun it must be to work there. It's no wonder that their films are brimming with so much fun.
(2) Inside the Story section, one finds "Story Is King" (SD, 2:03), a piece highlighting the supreme emphasis on quality storytelling in Pixar films. Interviews with personnel abound. The same is true of "Monsters Are Real" (SD, 1:31), in which the Pixar folk reflect on the concept that monsters might be real and what it means for their movie. "Original Treatment" (HD, 13:43) strings together some very impressive concept art, incidental music, and narration to construct the original conception of the Monsters, Inc. plot, times interestingly divergent from the final product. It's a treat, as is "Story Pitch: Back to Work" (SD, 4:39), which takes viewers behind the scenes to observe some early storyboard workshops on the movie.
(3) The next section is labeled Banished Concepts. First up is an intro from Unkrich (SD, 0:32), who explains that the five discarded concepts found here were meant to be animated for the final film but ended up on the cutting room floor (he doesn't explain why). Four of these are seen in their early, rough form: "Assistant Sulley" (HD, 2:14), "End of Day" (HD, 2:35), "Bad Scare" (HD, 3:00), and "Scream Refinery" (HD, 1:07). The last one -- "Original Sulley Intro" (HD, 0:59) -- appears in finished animation form, much of it having made it into the final cut.
(4) Next is Storyboard to Film Comparison, which offers a scene from the movie (HD, 5:42) in three forms: Storyreel, Final Color, and a Split-Screen Comparison of the two. If your player and remote support angle changing, you can seamlessly toggle between the three.
(5) Art Gallery (HD) takes all of the many pieces of artwork scattered across the 2002 DVD's numerous galleries and conveniently puts them in one place. The art is divided into four categories: Characters, Color Script, Concept Art, and Posters. Hundreds of images (close to a thousand) are seen here. Each section has its own "Play All" option, as does the entire group, but both present images in a scroll-through thumbnail gallery. That requires choosing a picture to see it full size. Unfortunately, the images don't just rotate in full-size on their own as part of a reel. No matter how you do it, viewing these images requires a serious investment of time (especially since Blu-ray isn't the fastest-loading technology to begin with). It's a little silly to wish for any more, then, but I was hoping to find a few HD photos of the Monsters, Inc. park attractions in California, Florida, and Japan.

(6) Designing Monstropolis contains only a featurette of the same name (SD, 2:51). This is an interview-heavy look at the task Pixar faced in creating a world believably inhabited by monsters.

(7) Set Dressing Intro also contains just one eponymous featurette (SD, 3:22),

a look at all the details that animators have to create to make any given scene feel real.

(8) The next section, Location Flyarounds, presents one of the disc's coolest features. Here is a digitally rendered tour (SD, 7:25) of five different sets from the movie: Downtown, The Apartment, Monsters Inc., Simulator, and Boo's Room. These invite viewers to explore the world of Monstropolis without all the distractions of plot and characters, though there are a few surprises. The film's environments are all the more impressive here. Note that simply clicking the section name plays all five flyarounds in one go (they're not individually labeled as they were on the DVD).

(9) The next section is Monster File, dedicated to the film's lovable characters. First up is "Cast of Characters" (SD, 5:54), which highlights the voice cast of Monsters, Inc. with interviews and footage from the recording studio. "What Makes A Great Monster?" (SD, 1:27) considers all the many ways that one might imagine a monster and the creativity that went into the character design.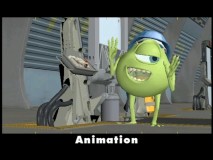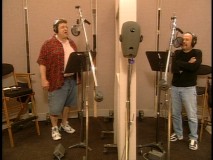 (10) The Animation section is loaded with featurettes. The first is "Animation Process" (SD, 3:14), which expectedly details the process of creating a CGI film. "Early Tests" (SD, 8:05) shows some of the first scenes animated to explore the possibilities for the movie and as there's no audio, they are accompanied by very informative commentary from Thomas Porter, Steve May, and Michael Fong. "Opening Title Animation" (SD, 2:09) discusses the idea for and creation of the film's jazzy opening credits sequence. "Hard Parts" (SD, 5:01) explains the methods used to achieve the most difficult (and most impressive) portions of the movie, like the door station and Sulley's hair. "Shots Department" (SD, 2:15) similarly delves into the creation of difficult shots and character movements.
Inside the Animation section is a sub-section entitled Production Demo. An intro from Unkrich (SD, 0:42) leads to four different presentations of the same scene from the movie ("23-19!"; SD, 1:50), each time in a different stage of development. Each of the four stages (Storyreel, Layout, Animation, and Final Color) can be watched in its entirety or -- even better -- players and remotes equipped with angle toggling capability can alternate between them.
(11) Music and Sound includes two items. "Monster Song" (SD, 3:17) is a behind-the-scenes look at the Goodman-Crystal duet of Randy Newman's "If I Didn't Have You" with interviews from all three parties. "Sound Design" (SD, 4:16) is a conventional but adequate look at the film's sound effects and scoring, covering both the technical and the creative.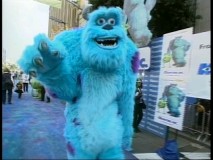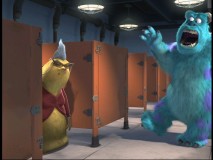 (12) The Release section holds promotional material that accompanied the movie's theatrical debut. First is "The Premiere" (SD, 0:58), a brief montage of footage from the world premiere at the El Capitan Theatre in Hollywood. Next is a collection of both theatrical trailers and four different TV spots (all in SD and running just under five minutes together, without a "Play All"). "International Inserts" (HD, 1:08) documents the efforts Pixar takes to make their movies feel native to any country in which they're seen, and a "Multi-Language Clip Reel" (HD, 3:47) plays a scene while cycling through many different foreign dubs. "Toys" (SD, 1:32) is a featurette on the movie's merchandise. Lastly, there's "Outtakes and Company Play" (HD, 5:27), featuring several original segments meant to imitate the kind of bloopers that are common in live-action productions. The reel is brilliant and inspired, showcasing the trademark Pixar ingenuity. There's even some footage from the final production of Mike's Put That Thing Back Where It Came From or So Help Me! musical. It's a mustn't-miss.
(13) The last section behind the Humans Only door is Wrap-Up, which directly accesses a short video clip of the same name (SD, 0:46). This is a little video segment left over from the 2002 DVD, where it was the tail-end of a larger Production Tour. In it, the Pixar crew hints at DVD Easter Eggs, their hint being less accurate but still technically valid, given the Blu-ray's new menu design.
The much smaller Monsters Only door has just three sub-sections behind it.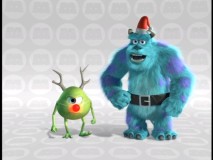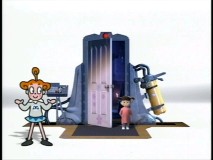 (1) Two featurettes and a music video lay in New Monster Adventures. "Monster TV Treats" (SD, 1:13) is a reel of various animated interstitials promoting the movie, most related to a holiday or sporting event. Assuming that they were aired at the time of release, they should probably be in Humans Only's Releases section, but don't feel out of place here. The same can be said for Mike and Sulley's two quirky promotional appearances on the popular Japanese cartoon, "Ponkickies 21" (SD, 1:34 combined), available with or without subtitles. Finally, there's a music video (HD, 1:12) for the Goodman/Crystal-sung "If I Didn't Have You," an excellent end credits number that captures the protagonists' friendship. The video doesn't necessarily enhance the Oscar-winning tune, as it's just film clips with audio excerpts that occasionally override the music, but it is cleverly edited to create the illusion that the characters are singing along at times.
(2) The next section, Behind the Screams, contains just one thing: "On the Job with Mike & Sulley" (SD, 2:33), a highly enjoyable fictitious news interview the buddies give live from the Scare Floor. Originally created for the 2002 DVD, this is a quality Pixar cartoon in its own right.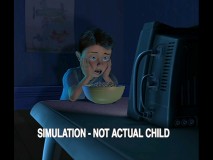 (3) The last section behind the Monsters Only door is Orientation. It plays out like it sounds and will probably be the most fun for children, assuming they can handle the required interactivity. First is "Welcome to Monsters, Inc." (SD, 0:56), the scare factory commercial that plays inside the movie. It's cool to see this in full on its own and it works nicely as an introduction to this section. "Your First Day" (SD, 3:37) gives new employees an effective overview of the company and its facilities.
That's followed by "History of the Monster World" (HD, 1:36), a sketch-animated short that gives a humorous account of monsterkind's history.

The DVD included in this new combo set is simply Disc One of the 2002 Collector's Edition DVD release. Not one little thing has changed. The first of two bonus features found here is the same audio commentary found on Blu-ray Disc One. The second unfortunately doesn't resurface on the Blu-ray discs: a Dolby Digital 5.1 EX sound effects-only audio track. Though it gets old long before the closing credits, this is really cool to listen to a few scenes at a time. A score-only track would have been even better, especially given that Randy Newman's score is so great. For Blu-ray owners, the effects track is the key benefit to having the DVD in this combo unit. Both the commentary and effects track are available only on the widescreen version of the movie.

Also on the DVD but not the Blu-ray is a THX Optimizer, something that was all the rage at the beginning of this decade but doesn't show up anymore. Blu-ray Disc One's "Maximize Your Home Theater" feature accomplishes basically the same thing, but this is nice to have for those who don't have a Blu-ray player yet.

Speaking of DVD-only folks, they'll have to settle for these three bonuses for now. All the other bonus features in this combo set are Blu-ray only.

Disc Four doesn't have any bonus features of its own... the disc itself is considered a bonus. The DVD-ROM platter contains an iTunes and Windows Media Player-compatible digital copy that allows you to put the movie on your computer, iPod, or other such device with the unique, enclosed Disney Movie Rewards code.

EASTER EGGS

My general feeling on DVD and Blu-ray Easter eggs is that while the idea sounds nice on the surface, in practice, they needlessly complicate access to bonus features that are "hidden" for no real reason. Unless they are especially playful or frivolous, I'd rather have them listed up-front along with everything else. That's no exception for the several Easter eggs found on this Blu-ray release, though I must give Pixar credit for presenting theirs in true Easter egg style... bunny and all (well, sort of). The eggs I was able to uncover are described below. Those who prefer to discover them all on their own can skip over the next two paragraphs.

To access the Easter eggs, open the Humans Only door on Blu-ray Disc Two and scroll to the very bottom and enter the Wrap-Up section. When you do that, you'll see that a very small door appears in the bottom-right corner of the screen. Scroll there with your remote, select the door, and press enter. This will load a new menu screen of closed doors. Scroll around and you'll find that you can highlight and select six of these doors, opening them to reveal Easter eggs.

The first is "Atrium Design" (SD, 0:28), which finds producer Darla Anderson standing alongside John Lasseter, talking about the spacious atrium in the Pixar studio. This serves as an intro for the second egg: "Pixar Air Show" (SD, 2:13), a very fun taping of a Lasster-hosted team model airplane flying contest. An "Early Animation Test" (SD, 0:45) shows an armless Mike talking to a pink monster.

The next three eggs bring more scenes in unfinished form, all of them rather funny: "Animation Gag Reel 1: Sulley/Boo/Waternoose" (SD, 0:12), "Animation Gag Reel 2: Giraffe Gag" (SD, 0:32), and the somewhat disturbing "Animation Gag Reel 3: Sulley Bowling Boo" (SD, 0:08). I didn't find Easter eggs on any of the other discs.

WHAT'S MISSING FROM THE DVD?

Most things worth worrying about have been carried over from the 2002 Collector's Edition DVD to this release's two Blu-ray discs. Those thinking of upgrading who want to know every little thing they'll be missing, though, need look no further. We've got it all covered right here, including the relative value of each:

As mentioned above, the Dolby 5.1 EX sound effects-only audio track has not been carried over to the Blu-ray. While that's something less than a capitol crime, it is frustrating. Fortunately, the DVD in this combo unit preserves the track here. The same goes for Pixar's specially formatted full screen version -- it's available on the DVD but not on the Blu-ray discs. (But really, who cares?)

The most notable thing that's gone missing is the twenty minute Production Tour. This was a kind of cool/kind of unnecessary overview that plucked parts of five different DVD supplements and made one featurette out of them, adding in some transitional stuff from inside the Pixar studio. On the DVD, it was largely retread. On Blu-ray, it would make even less sense, given the improved menu design. The substantive portions of this are retained on the Blu-ray, as is the closing "Wrap-Up", but some other transitional stuff is lost.

More lamentable is the absence of "Step Through", which presented a bare scene from Monstropolis and enabled viewers to advance through one stage of detailing to the next, eventually arriving at the final, finished scene.

The DVD had a "Binaural" section, for which viewers were encouraged to use headphones. Through an introduction video, an in-studio video starring John Goodman and Billy Crystal, and a series of three different sound mixes, viewers were treated to some fun left-ear/right-ear audio gags and a pretty cool exploration of sound design. That this wasn't ported over is a bummer.

In addition to the two trailers and four TV spots on the Blu-ray, the '02 DVD also had a theatrical teaser trailer (1:53). Why it wasn't ported over too is beyond me.

"Storytime", the Welcome to Monstropolis virtual storybook, has not been carried over. This was one of those read along or read to yourself things meant for kids. While I'm sure they'd enjoy it as much in 2009 as in 2002, this is no big loss.

A few things have been cut out of the Monsters Only: Orientation section. An amusing and interactive virtual "Employee Handbook", the interactive Easter Egg contained within it, a still image showing past "Monster of the Month" award winners, and a gallery of "Scarer Cards" (resembling baseball cards) have all been dropped. All of these existed to further the DVD's workplace theme, a concept that isn't really translated to the Blu-ray. I suppose their exclusion is therefore understandable, but while they were all pretty menial, they were also kind of fun and are missed.

The 23-page "Company Play Program" realistically replicated a theater program for Mike's Put That Thing Back Where It Came From or So Help Me! musical. While text-heavy and a bit of a chore to wade through, this very clever virtual booklet showed impressive attention to detail. It's another regrettable, if not terribly tragic, absence.

Also missing is "Guide to In-Jokes", a 21-still gallery pointing out and explaining some of the visual nods to other works that Pixar loves to hide inside their films.

Some of the DVD's Easter eggs appear to be missing too, including some extra footage of Pixar's "Easter monkey", a gallery of blueprints for the Pixar Studio atrium (these followed the atrium intro video that did make the Blu-ray cut), some fun moments with the Pixar crew inside their studio, a clip of Sulley roaring at a child, and DVD credits (which aren't replaced by any Blu-ray credits).

As much as I don't like Easter eggs, these were largely the kind of fun, random surprises that are appropriate as hidden treats. Without them, the Blu-ray's attention to the Pixar Easter monkey seems a little out of place; some of his best moments don't survive the upgrade.

A virtual game called "Peek-A-Boo: Boo's Door Game" has been dropped in favor of the new Roz's 100 Door Challenge. A DVD-ROM game called "The Lunch Room" has been dropped too, with no apparent substitute.

I will confess that with nearly a thousand images in the Blu-ray art gallery, I did not perform a still-for-still comparison to the countless images scattered randomly across the 2002 DVD. I'm assuming that they all survived but can't confirm that to be entirely true.

MENUS, PACKAGING, and DESIGN

The four discs are held in a double-sized Blu-ray keepcase, the DVD and digital copy sitting on the interior panels and the Blu-ray discs on a swinging tray in the middle. The case comes inside an embossed and slightly holographic slipcover, repeating the attractive cover art and adding a blue border with tiny Monsters, Inc. logos on the bottom and sides. As the DVD had no slipcover, this will come as a big relief to those concerned. Inside the case is a Disney Movie Rewards magic code (also the activation code for the digital copy) and a Disney Blu-ray flyer.

The full-color label artwork on the two Blu-ray discs matches the cover and looks very nice. The DVD has the same label on it as Disc One in the 2002 Collector's Edition (they are identical, after all). The less attractive Digital Copy disc sticks out like a sore thumb, one graphic of Sulley and another of Boo printed directly onto the otherwise barren and reflective disc.

The Blu-ray menus use a door motif, similar to the one on the DVD release. Of course, this being a Blu-ray, menus are downplayed all around. Disney has put a lot of effort into significantly improving the organization of supplementary content this time around, the one area of weakness in the excessively cumbersome 2002 release. One note: the full menu is not available as a pop-up while in playback mode, requiring a return trip to the main menu screen. On the DVD copy of the movie, the 16x9 animated main menu emulates the film's opening titles sequence and presents the standard options behind an opened door. The design is creative but loading time is slow. The sub-menus are stagnant but accompanied by score.

When the Blu-ray is inserted, the viewer can either watch previews right away or use the Menu button to movie directly to Pete Docter's intro. (This is a little too reminiscent of Disney's annoying FastPlay system of DVD menu design for my taste). The previews are individually and collectively available from the main menu's Sneak Peeks listing too. They are: the "On Blu-ray Disc" promo, Santa Buddies, Ponyo, an updated "There is a Place..." Disney Parks promo, Toy Story 3, Up, and Dumbo: Special Edition. The DVD opens with hilariously outdated ads for Finding Nemo, Beauty and the Beast: Platinum Edition, the old Lilo & Stitch DVD, Inspector Gadget 2, and Treasure Planet, all of which are also accessible from a Sneak Peeks menu.
CLOSING THOUGHTS

There are two kinds of people reading this review: those who already own Monsters, Inc. and those who don't. For the latter, I advise remedying that problem as soon as possible. Whether you do that with the 2002 Collector's Edition DVD (still in print and available for about ten dollars less)

or this new 4-Disc Blu-Ray/DVD Combo Pack depends on how likely you are to go Blu in the near future.

For those who already own the 2002 DVD, an upgrade is recommended on the merits of the stunning hi-def transfer and HD audio track alone. Assuming you've gone Blu or plan to in the next few years, you'll want to enjoy the leaps and bounds this new experience takes over the already excellent DVD transfer. For those who don't have a Blu-ray player yet, this combo set allows you to enjoy the movie and two cool bonus features in the meantime.

I'm well into my second dozen of Monsters, Inc. viewings and could easily watch it for the third time this week right now. Ripe for frequent revisiting and thoroughly enjoyable beginning to end, I can't recommend the movie enough. The amount of bonus material on this set is mind-boggling, including some outstanding new additions and a number of supplements now appearing in HD. This is easily one of the best home video releases of 2009 and a no-brainer as far as purchases go.

Buy Monsters, Inc. from Amazon.com:
Blu-ray/DVD/Digital Copy Combo / 2-Disc Collector's Edition DVD