This review has taken nearly three weeks for me to finish. That's about as long as any DVD review has ever taken me, and it is not merely due to scheduling conflicts or oversight.

Toy Story is one of those handful of films that I have seen countless times and in which I cannot find any fault. The idea of writing something new and brilliant for a movie on which so much has been written has dealt me quite the dilemma. Furthermore, I decided that I cannot take the cop-out route I did faced with a similar situation when reviewing The Lion King two years ago and simply more or less omit a section on the movie itself. That, coupled with the critic's challenge of being thoroughly accurate in covering the DVD's amalgam of new and recycled bonus material, has had me feeling quite overwhelmed. So while I was able to put this task off to pour out thoughts about the earlier Lilo & Stitch 2 and concurrently-issued Disney Princess Sing-Along Songs: Volume Two, with this release becoming available nationwide today, I will simply struggle ahead, fully knowing that my words cannot do justice to this wonderful film.

By now, chances are you know all about Toy Story, the first feature-length film animated entirely on computers. Created by Pixar Animation Studios and co-funded, aided, and distributed by Walt Disney Pictures, this clever production tells a tale filled with comedy, drama, and adventure from a toy's point of view. The interesting premise here is that toys come to life when their owners are away. The setting is the bedroom of Andy (voiced by John Morris), an ordinary young boy who has a caring mother (Laurie Metcalf), a drooly younger sister named Molly, and no shortage of playthings. The various toys in Andy and Molly's room range from tacky to cool, vintage to modern. When the children are elsewhere, the toys themselves play. They even work, as their first scene shows them taking care of administrative duties at a type of staff meeting, where they have assumed assorted roles. Atop the toy hierarchy is Woody (voiced by two-time Oscar winner Tom Hanks), a pull-string cowboy who has long been Andy's favorite and accordingly, is looked to as a leader among his kin. Among the most vocal of his counterparts are the quick-tempered Mr. Potato Head (Don Rickles), the fidgety green dinosaur Rex (Wallace Shawn), stretchy Slinky Dog (Jim Varney, of "Ernest" film fame), observant piggy bank Hamm (John Ratzenberger, who has since become Pixar's "good luck charm"), semi-romantic interest porcelain lamp doll Bo Peep (Annie Potts), and the commanding plastic army figure Sarge (R. Lee Ermey, of drill sergeant role fame). The most pressing matter for Andy's toys seems to be his family's imminent relocation to a nearby neighborhood, but another move puts them in a tizzy early on; Andy's mom has pushed up his birthday party to today!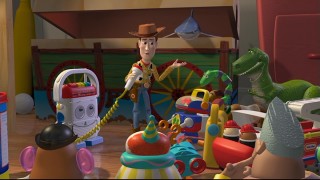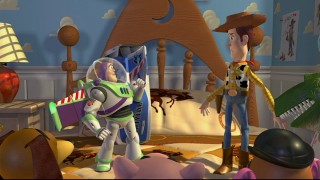 While birthdays and holidays generally offer feelings of happiness for children and their families, they create quite a different sensation for toys. Paranoia spreads, as many of Andy's possessions fear that any wrapped package accompanying the party guests could be a replacement and in turn, signal a thoughtless send-off for them to a garage sale or goodwill box. Amidst the chaos, Woody maintains his composure and, as is apparently standard operating procedure, a pack of green army men parachute downstairs to scout out the scene, using a baby monitor to report on any present activity. Turns out Woody did have something to fear, for among Andy's numerous and mostly unthreatening acquisitions is Buzz Lightyear (voiced by Tim Allen, star of "Home Improvement"), a high-tech "space ranger" action figure who comes boxed in a spaceship. Buzz boasts a laser light, glow-in-the-dark capabilities, expandable wings, karate chop action, and a slew of crisply-delivered catchphrases. In short, he is one cool toy.
The joy that Buzz brings Andy creates much anguish for the quickly-supplanted Woody, as Andy's room transforms from its rodeo theme to an intergalactic motif, complete with Buzz Lightyear poster and bedsheets. Furthermore, Buzz seems completely oblivious to the fact that he is a toy. Around the others, he uses official-sounding spacey talk and is constantly trying to get in touch with Star Command. While everyone else seems unfazed by their exciting pal's apparent delusions, Woody grows increasingly annoyed. Likewise, even the most reliable of Woody's friends seem bedazzled enough by their new roommate to overlook the cowboy's plight of envy and despair.
Woody makes efforts to have Andy pick him rather than Buzz for an outing to Pizza Planet, but in the process, he knocks the shorter spaceman out the window. Behind Mr. Potato Head's finger-pointing accusations and quick-to-dishonor army men, Andy's other toys turn against their former friend. This sets up the remainder of the film, where the old-fashioned lawman and new age spaceman are on their own in the real world, forced to get along with each other to survive. Their adventures take them to the kid's paradise eatery Pizza Planet and the toy's nightmare world of destructive next-door neighbor Sid Phillips (voiced by Erik von Detten), with every twist of peril providing humbling experience and subtle lessons towards understanding one another. All the while, Woody and eventually Buzz yearn to reunite with their owner and fellow toys before Andy and company leave town.
If you were not among the hordes of moviegoers who caught the film in its theatrical run and have somehow missed it in the years since, you are in for a real treat when you finally discover Toy Story, for it is one of the most excellent movies ever made. It is marked by no shortage of endearing characters, writing that is both wise and witty, and unprecedented visuals loaded to the brim with in-jokes.

Together, this winning combination holds out a standing invitation for you to revisit it again and again. It is perhaps the most rewatchable film in cinema's history, presenting a rare instance where knowledge of almost every line in every scene does not deter one's enjoyment in the slightest. Besides, there is always a new angle or image to newly observe on each return trip.

Pixar's debut film boasted a story and characters so rich and endearing that I would argue there hasn't been an animated film since to outdo it. The film's look is dazzling, but it is always used to serve and advance the story; Pixar's storytelling efforts are the real foundation for their wizardry, even if the animation gets the kudos and acknowledgement from many. We have seen plenty of visually potent films with nothing or not enough to back them up (see Disney's Dinosaur for instance). That is simply not the case with Toy Story or any subsequent Pixar film.

We can now look back ten years later and credit Toy Story with single-handedly changing the face of animation. To some degree, that is quite true. The film launched a medium accepted and embraced by the public, and when follow-up efforts from Pixar and (its chief replicator--I mean, competitor) DreamWorks came a full three years later, they proved that computer animation was here to stay. Today, the CGI comedy is an almost certain blockbuster, a fact that has driven some studios including Disney, the longest-running and most reputable, away from traditional animation. The results have not always been golden and this current trend seems both short-sighted and bound to be short-lived.
Nonetheless, the endless value of Toy Story appears to be anything but short-lived. With its statuses as G-rated family and sharp, genuinely funny comedy, it is truly a universally pleasing masterpiece. It is smart, original, and displays a timeless flair which makes one wonder how this story went untold until 1995.
As I have already gone into more detail than most would say is needed, let me briefly wrap up with two particular aspects in which the film is particularly outstanding. One of the qualities of Toy Story which amazes me most is just how much is packed into what is just over 80 minutes with end credits. The resulting effect is that every shot has a potency which sticks with you. Another area where the film's creators deserve endless credit is that Pixar's moviemaking intentions seem pure and noble. Their characters are quite literally products, but one never feels a particular drive towards commercialism. Such a trait would have easily undermined the entirety of the film, and the makers gladly avoided any temptation to go down this path. Sure, countless items of Toy Story merchandise have been sold in ten years and there is a fold-out insert inside this DVD's case to promote tie-in products. But the movie exists to tell a story, that story is infinitely charming, and if you couldn't get a Buzz Lightyear for Christmas of '95, it is because the makers of Toy Story had far loftier and artistically admirable aspirations.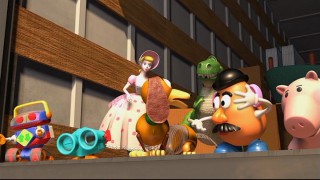 This Toy Story: 10th Anniversary Edition represents a fifth way in which to purchase this film on DVD. The movie was first released to the format in October of 2000, qualifying it as one of the first "long-awaited" catalogue DVD titles. In its DVD debut, the film was exclusively packaged alongside its blockbuster sequel Toy Story 2 in both a 2-Pack (light on extras with a $39.99 SRP) and a jam-packed, 3-disc set entitled The Ultimate Toy Box (SRP $69.99). In late March 2001, single-disc individual releases of Toy Story and Toy Story 2 were made available, each carrying a $29.99 SRP and replicating the discs held in the still-available low-priced 2-Pack. That fall, the same week that Monsters, Inc. burst into theaters, Disney released a DVD 3-Pack holding both Toy Story movies (again, using the single-disc versions contained in the 2-Pack and individual releases) and the Gold Collection version of A Bug's Life. In May of 2003, all Toy Story and Toy Story 2 DVDs and videos headed back into the Disney vault, thus making The Ultimate Toy Box a rare, highly-sought treasure for DVD collectors and a lucrative market for "international" bootleggers.
Even in just over two years, the discontinuation was enough to create substantial demand for those wanting to own the Toy Story movies on DVD and for those wanting all of the bells and whistles of The Ultimate Toy Box without paying 3-digit prices. This 2-Disc 10th Anniversary Edition re-release recycles most of The Ultimate Toy Box's delightful bonus features, while adding some new ones and upping the ante on its already-acclaimed audio/video presentation with a higher bitrate and new remastering efforts. Similar treatment will be bestowed upon Toy Story 2 when it is released as a 2-Disc Special Edition on the day after Christmas this year.
DVD Details

1.77:1 Anamorphic Widescreen
DTS 5.1 ES (English)
Dolby Digital 5.1 EX (English), Dolby Surround 2.0 (English, French, Spanish)
Subtitles: English, French, Spanish; Closed Captioned
Release Date: September 6, 2005
Two single-sided, dual-layered discs (DVD-9s)
THX-Certified with Optimizer tests
Suggested Retail Price: $29.99
Black Dual Amaray Keepcase with Cardboard Slipcover
Later released as Blu-ray + DVD and
New 1-Disc DVD Special Edition (2010)
VIDEO and AUDIO

How can one top perfection? This was the challenge facing this set's producers following the infallibly praised presentation that adorned Toy Story's earlier DVD releases. Like all of the film's other DVD incarnations, Toy Story is presented in the 1.77:1 aspect ratio and has of course been enhanced for widescreen televisions. Like all previous Pixar DVDs, the film's transfer stems directly from the studio's digital source, with no mediums interfering in the process.

Suffice it to say, the still-alluring eye candy of Pixar's debut feature looks absolutely wonderful here. In fact, it looks as "perfect" as this home video format would allow, as far as I can tell. Sharpness, brightness, detail, color consistency, and range are all consistently outstanding and there were no problems whatsoever to detract from the viewing experience.

Those comments could all readily be applied to the previous Toy Story DVD releases, so what you may want to know is, "Does this 10th Anniversary set actually deliver the 'enhanced picture' promised?" The answer to that is yes, but the degree of difference between the transfers is not drastic and might not even be very noticeable to those who aren't watching on screens of ginormous proportions. In performing a number of scene-to-scene comparisons on an average sized 4x3 television, big screen 16x9 TV, and computer monitor, I noticed minimal improvement in this 10th Anniversary Edition. Predictably, the big screen television comparison yielded the greatest amount of change, but even this was not a jaw-dropping revelation, because the source, transfer method, and format remained the same and because the Ultimate Toy Box's transfer was pretty much flawless to begin with. The one certain thing is that this presentation is not any weaker than the stellar quality previously offered.

This DVD employs a higher bitrate -- an overall average of 8.93 Mb/sec in comparison to the Toy Box transfer's 7.9 Mb/s. As such, the slightly lesser compression made edges appear a bit smoother and "camera movements" a bit more fluid in this edition, when the picture was challenged to fill a commanding widescreen display. Had Disc 1 been a barebones platter offering only a single 5.1 track and commentary, even less compression would have been used and additional minimal improvement might have been detected. As it is, I doubt you'll find a video transfer more pleasing than this on the DVD format, and any hope for further improvement will likely wait until a high-definition format takes over.
| | |
| --- | --- |
| | |
| Screencap from The Ultimate Toy Box DVD | Screencap of same frame from this 10th Anniversary DVD |
Comparing still frames from two different Toy Story DVDs yields not much difference, even when viewing at full resolution. With full-motion video, however, the new 10th Anniversary Edition DVD narrowly edges out the old transfer in the quest for digital perfection, but differences will be most evident on large screen televisions.
In the audio department, this DVD boasts a Pixar first (for Region 1): the film has been encoded in DTS surround sound. One might wonder how they managed to raise the overall average bitrate while packing on six audio tracks (including DVD's least compressive format) and using less of the disc's capacity than before. It is all a matter of arranging the bits, I suppose. The Ultimate Toy Box offered four soundtracks: Dolby Digital 5.1 EX tracks in English and French (encoded at 384 Kb/s), a sound effects-only track in 5.1 (also at 384 Kb/s) and the audio commentary in 2-channels (192 Kb/s).
This 10th Anniversary Edition loses the sound effects-only track altogether; following the absence of this feature on The Incredibles, one assumes the studio may be moving away from including opportunities to marvel at sound design, to the dismay of fans and the apathy of those who feel a single scene demonstration would suffice. Foreign language tracks in French and now Spanish are presented only in 2-channel Dolby Surround (192 Kb/s), as is the ported-over audio commentary (again) and a seemingly pointless additional English track which is also included.
This leaves the two aural options of greatest interest to most viewers: Dolby Digital 5.1 EX (encoded at a higher bitrate of 448 Kb/s) and DTS 5.1 ES, both naturally in the original English language. The Dolby Digital 5.1 EX track on the previous Toy Story DVDs did not leave many disappointed, but with fewer bonus features on the disc and less compression employed, things are apt to sound even better, no? Well, they do, but the extra bits are not the only place to pass the credit. Toy Story sound designer Gary Rydstrom went back and remastered the film's mix to make this re-release offer the ideal home theater presentation.
As Rydstrom himself has pointed out in a recent interview, it may be difficult to articulate the difference between these two soundtracks and the previous DVD's audio presentation. But one (especially an aurally perceptive one) can detect a slightly more pleasing experience with this 10th Anniversary Edition. Naturally, we are not talking about night-and-day, but the two primary sound offerings on this disc provide a bit fuller and richer atmosphere in comparison to the Toy Box's fine Dolby Digital track. As with the picture, pretty much any audio compliment can be applied to both tracks on this disc, with the DTS exhibiting a bit more range. The dialogue recordings are crisp and always fully integrated into the environment. The environments themselves are wonderfully realized. Randy Newman's memorable score and three songs (plus end credits tune) are filled with life. The sound design makes terrific use of the various channels (even for those who don't have a sixth surround back speaker to make use of the EX or ES design) and you'd be hard-pressed to find as dynamic, energetic, and appropriate DVD presentation.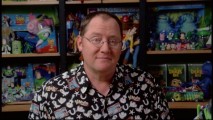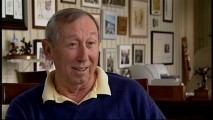 BONUS FEATURES

DISC ONE

A handful of bonus features can be found on the first platter. First, there is a new 66-second introduction from director John Lasseter, who, as now can be expected, is clad in a loud Toy Story-themed Hawaiian shirt and surrounded by a wealth of Pixar toys. He welcomes you to the disc, briefly touting its strong points as has become a norm for Pixar DVDs.

Next is the disc's standout supplement, the brand new featurette "The Legacy of Toy Story" (11:40), which edits together comments from a remarkable roster of important figures in animation and filmmaking at large. Among those appearing are lead voice cast members Tom Hanks (goateed) and Tim Allen, acclaimed animation directors Brad Bird and Hayao Miyazaki (who delivers only a brief subtitled anecdote), helmers of cinematic spectacle George Lucas and a surprisingly svelte Peter Jackson, Disney's go-to film historians Leonard Maltin and John Canemaker, and Roy E. Disney (who gets to sprinkle in the sage observation that the film excels because of story, not CGI - a philosophy Pixar seems to be pushing here).

There are also several animators interviewed who seem young, upcoming, and entirely dazzled by the film, plus Robots director Chris Wedge, who gets too much screen time. They all speak favorably about Toy Story, proclaiming its artistry, technical achievements, and historical significance. There's also a neat section of video clips from other media in which Toy Story is paid homage, from "Duckman" and the BBC's "Coupling" to The Santa Clause 2 and a speech by astronaut Buzz Aldren. This excellent piece would appear to have been culled by a great amount of material and it's chiefly edited so that each subject only gets in a few words. That makes for a tight, brisk, and terrific retrospective, but one which you'll wish there was more to.

Finally, there is a feature-length audio commentary with director Lasseter, writers Andrew Stanton and Pete Docter, supervising technical director Bill Reeves, art director Ralph Eggleston, and producers Ralph Guggenheim and Bonnie Arnold. This is the same audio commentary which appeared on The Ultimate Toy Box, where it was ported over from the film's 1996 laserdisc. In typical Pixar commentary fashion, this offers a spirited screen-specific discussion of the film, covering its progressions and challenges without ever boring or getting redundant. Distinguishing this track as a commentary of yesteryear is a female who precedes some comments by identifying the speaker to come. In a nice improvement over the commentary's appearance on The Ultimate Toy Box, here it comes equipped with two subtitle tracks: one simply identifies the filmmaker who speaks and the other provides a slightly abridged transcript of all the comments uttered. Both subtitle tracks are also available in French and Spanish.

Selecting one of the knobs on the Main Menu's television graphic reveals the disc's lone Easter Egg. It is the Buzz Lightyear toy commercial (0:51) which appears in the film to ground the deluded spaceman. In contrast to its preferred fullscreen presentation on the Ultimate Toy Box, here it appears (like everything on the set) in 16x9 widescreen, framed within the Main Menu's television setup. As is the case for most bonus features, subtitles in English, French, and Spanish are now offered; the filmmakers' 39-second intro from the previous release is not.

At the start of the disc, the standard serving of Disney sneak peeks play. What distinguishes this batch is the first preview, a 2-minute look at Cars, Pixar's next (and potentially last) feature distributed by Disney. It's hosted by director John Lasseter and is more encouraging than the debut teaser that was met with some skepticism when it played in front of The Incredibles in theaters and on DVD. A first trailer for December 26th's ("perfect for that holiday gift card") Toy Story 2: Special Edition DVD and the standard Cinderella: Platinum Edition promo follow. The Sneak Peeks menu holds additional previews for Chicken Little, October's Tarzan Special Edition DVD, Studio Ghibli films on Disney DVD (which touts Howl's Moving Castle and My Neighbor Totoro as coming Spring 2006), next February's Lady and the Tramp Platinum Edition (an unrevealing first spot), and Old Yeller 2-Movie Collection (a misleading look at what is essentially a repackaging).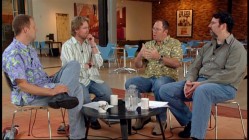 DISC TWO

The first supplement on Disc Two is "Making Toy Story" (20:17), a general featurette which culls archival production and interview footage primarily of Pixar animators. This is not to be confused with "The Story Behind Toy Story", the featurette from Disc One of The Ultimate Toy Box that ran seven minutes longer and is not presented here. "Making" and "Behind" share a fair amount of material with John Lasseter and other Pixar crew members, but this new version loses a lot on the voice cast (now featuring only Tim Allen and Tom Hanks) and everything dealing with Disney animation and its use of computers over time.

"Making" lacks narration, and resultantly, feels less promotional, less redundant with the rest of the disc, and more geared towards a DVD audience accustomed to viewing behind the scenes material. By contrast, "Behind" was broadcast as a TV special and was tailored to a general audience. Why create a new piece from old material rather than simply porting over the full 27-minute featurette from the Ultimate Toy Box? I have no idea, but I doubt many will take notice. To be sure, while this was acceptable, I preferred the Toy Box's longer piece, even if only for the clips from Disney films and of voice cast members like Jim Varney and Wallace Shawn at work.

Next is the compelling new featurette "Filmmakers Reflect" (16:34) in which four key members of Pixar's creative team sit down together and reflect on the unique and unconventional way that Toy Story was brought to the screen. Basking in the glow of Pixar's seemingly bright and joyous workplace environment are director John Lasseter and the three individuals who share an "original story" credit with him: Andrew Stanton, Pete Docter, and the recently-deceased Joe Ranft. A historic camaraderie clearly emerges among these long-term collaborators, which lends this a welcome jokey atmosphere. At the same time, though, the four recall their challenging experiences of working with Disney, a disastrous screening that led to production being shut down, and their "research" trips to toy stores. I can't think of any other studio that could give us such an earnest and unabashed retrospective, but it is undoubtedly the most magnetic supplements on this DVD and any DVD, for that matter.

Deleted Scenes follow and run 18 minutes and 50 seconds in total including two old introductions. The "Deleted Animation" and "Abandoned Sequences" sections of The Ultimate Toy Box are merged and account for the intros, the brief partly-animated "Torture" and "Rain" excerpts, two alternate openings (one featuring Buzz's TV show, the other a Western showdown between Woody and Andy), and "Woody's Nightmare" storyreel. Rounding out this portion are three entirely new scenes. "Eastern Gate" is a quite amusing nighttime encounter between Buzz and Woody (which is partly voiced by Tom Hanks and Tim Allen). "Shakes the Rattle" provides an odd warning about Sid's house from a slightly off squeaky tiger rattle. "Sid's Comeuppance" provides an alternate take on the film's climactic scene, which plays with the subtlety of a poor Afterschool Special.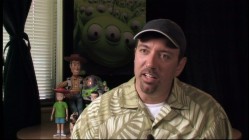 The disc's fourth listing, "Behind the Scenes", makes up the largest portion of the DVD and it is almost entirely recycled from The Ultimate Toy Box. One new piece listed on its own is the brief but decent "Designing Toy Story" (6:09), in which members of Pixar's design team like Ralph Eggleston, Jeff Pidgeon, and Bud Luckey recall the process of finding a visual style for the film and its diverse cast of characters and locations. It's more interesting than it sounds.
The rest of this portion closely resembles the different Disc 3 areas of Toy Story, but a substantial amount of material has not resurfaced. Production art accounts for much of the missing content, but some animation featurettes and all text-based sections are also missing altogether. The biggest change in this department is that art galleries have been somewhat liberally trimmed and converted to slideshows. Likewise, trailer galleries have been converted to reels. Obviously, not every missing still is a great loss, but there was some pretty interesting stuff that does not appear here.
"Design" provides the lightened "galleries" (which as slideshows, no longer require remote control use) for major characters (several have been grouped together) and sets (i.e. "filming locations"). Three-dimensional tours of four sets and turnarounds of a slew of characters are also offered. Under "Color", there is the featurette "Designing Color" (3:34) (ported over from the Toy Box, where it was called "Designing Toy Story") plus slideshows for Concept Art and Color Scripts (but no Color Keys).
"Story" holds Joe Ranft's energetic pitch of the storyboarded "Green Army Men" sequence, which runs 5:55 with intro. A storyreel sequence (4:33) depicts Woody and company's introduction to "Andy's New Toy" Buzz. Lastly, a split-screen comparison (3:16) of the final act sequence "The Chase" is presented.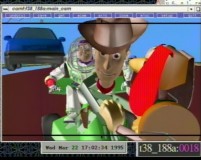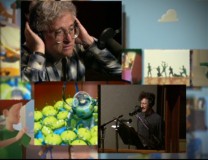 "Production" offers a brief "Production Tour" (1:51) explaining the different stages of computer animation, a Multi-Angle Progression (2:07) which again shows "The Chase" sequence in three different stages, "Layout Tricks" (3:25) detailing various shortcuts taken to create a desired visual effect, an Animation Tour (1:23) hosted by Ash Brannon (Toy Story 2 co-director) and a self-explanatory Multi-Language reel (4:36) depicting Buzz's first bedtop encounter with Andy's toys in a large number of foreign tongues.
"Music & Sound" includes another new bonus feature: a music video for the end credits version of "You've Got a Friend in Me" (2:12) performed by Randy Newman and Lyle Lovett. This appears to be a new edit of an original music video, as the floating artwork that appears on the menus is shuffled with some clearly dated footage of Newman and Lovett recording the song in the studio. This section also houses the fascinating Gary Rydstrom-hosted featurette "Designing Sound" (6:35) with effects-only demonstrations (a consolation prize since no full track is offered), and 17½ minutes of Randy Newman song demos (the three numbers that made it into the film and three work-in-progress tunes that didn't).
"Publicity" is one area I always find interesting. This maintains one of the Toy Box's two Buzz and Woody's Character Interviews with John Mulhane (1:29), two theatrical trailers (4:38) and four TV spots (2:08) (no longer individually accessible, except by skipping chapters) and highly abbreviated slideshows of "Posters" (0:57) (including some print ads) and "Toys & Stuff" (1:02).
The last extra listed is "The Claw!" Game. It basically acts like the machine from the Pizza Planet scene of the movie, with you navigating where the claw moves and drops down. Depending on what you pick up, you may be treated to a short clip on the toy you've just "won." After a long time of playing around with this, I think I only encountered three different "reward" clips, which are diverting on a first viewing but not so much on repeat victories.
Scattered about all of Disc 2's menu screens are stars like Sheriff Woody's. Clicking any of these will play a brief series of "Toy Story Treats", short interstitials that Pixar animated for commercial breaks on ABC's Saturday morning cartoon lineup in 1996. Though not all of the film's original voices return and the writing typically centers on a single simple gag, these are often amusing little bits. From the still Disc 2 "Index" menu, clicking on the star brings up a list of thirteen entries and a Play All option.

Each entry holds a collection of the shorts, rather than the complete listing of all 52 individual Treats that adorned Disc 1 of The Ultimate Toy Box. The whole bunch runs 13 minutes and 13 seconds, and I counted somewhere around 45 Treats. At least one appears to only be listed as an Easter Egg on the Easter Egg index, and several appear to be trimmed a bit. Either way, they were presented in better fashion on The Ultimate Toy Box, where they were arranged in random order as opposed to the theming here, which gets somewhat repetitive. Still, as one of the more memorable and unique bonus features, the Toy Box-less should be quite pleased at their (unannounced) inclusion.

WHAT'S MISSING from THE ULTIMATE TOY BOX?

The lack of the "History" section that appeared on The Ultimate Toy Box leaves a number of supplements missing from this 10th Anniversary Edition, and the "Behind the Scenes" section on Disc 2 abbreviates galleries and loses several featurettes.

Here is a concise summary of what was included on October 2000's 3-disc Ultimate Toy Box release but has not been restored to this 10th Anniversary Edition DVD:
- Pixar's 1988 short Tin Toy (5:10)
- the sound-effects only soundtrack
- two text-based original story treatments from 1991 and 1993, with John Lasseter intro
- one of two Character Interviews with Buzz and Woody (1:50)
- the featurettes "History & Development" (3:40), "Character Animation" (4:35), "Shaders and Lighting" (2:17 plus galleries), "Building a Shot" (1:18)
- many stills of art and photos from the galleries (which are here converted to slideshows)
- Early Animation Tests and Modeling featurettes for several characters
- production notes from the film
- biographies of the cast and Randy Newman
- a text section on "Editing"
- Special Effects test footage and progression plus galleries
- 7 "Render Bugs" clips
- Supplement Disc's intro (expected since it doesn't entirely apply here, but nothing replaces it)
- Early Animation Test (No separate listing is given for this memorable 32-second test, but most of it appears in "Making Toy Story")
MENUS and PACKAGING
As with The Ultimate Toy Box and other Pixar DVDs, the fully-animated menus are admirably themed. Disc One's Main Menu opens with Buzz about to make a flying exhibition after first uttering his catchphrase "To infinity and beyond." It then cuts to a montage of scenes from the film, which appear on a TV in Andy's room in front of those "ooohing" little green aliens from Pizza Planet.
Each submenu features a transition to a different screen (Scene Selections appear on Andy's wall), with the little green men making efforts to change the channel, by bouncing, standing atop one another, or even using the remote. And, as you might expect, if you delay in choosing something, those squeaky aliens begin to question your stagnancy.

Disc Two's menus are rather different from Disc One, but are also inspired. Each features a busy montage of production artwork pertaining to the various sections. For instance, storyboard sketches float around the Deleted Scenes section, and so on. If you take too long to select something, the green aliens again rise from below to check on you. All the menus offer excerpts from Randy Newman's score or instrumentals of his songs. As with Disc One, a simple still index is also offered for one wishing to browse the disc in its entirety on one page. While the floating artwork design is nice, it does lack the creativity and diversity present in the Ultimate Toy Box's supplement disc menus which emulated everything from Buzz's wrist panel to Pizza Planet's entrance and Claw machine. I don't think anyone buys DVDs just for the menus, but this pleasing collection is a small step down from the Toy Box.

As you probably expect, Toy Story: 10th Anniversary Edition comes in a standard-width black keepcase, which is housed in a cardboard slipcover. Those with a Pixar section in their DVD collection will gladly notice that this packaging matches that of the initial printings of other currently-available Pixar film DVDs A Bug's Life, Finding Nemo, The Incredibles, though they may not be easy to score with slipcovers anymore and Monsters, Inc. never featured one. Inside the case, there is a savings booklet with coupons for $3 off The Incredibles and December's Toy Story 2 Special Edition. There is also the aforementioned fold-open, 4-sided insert which promotes all kinds of Toy Story movie merchandise such as books, apparel, party goods, and of course, toys. Most importantly, though, there is an 8-page "DVD Guide" booklet. The front of this neatly features the whole gang on what would have probably made a nicer DVD cover. Opening it up, you'll find a letter from John Lasseter touting your newly-purchased DVD (accompanied by what is basically an ad for the set), a two-page map of the set's two discs ("drawn" on Etch A Sketch), a two-page overview of some important new bonus features, and of course, a list of scene selections.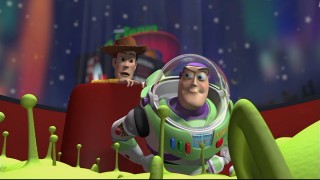 CLOSING THOUGHTS

For those who missed out on previously buying Toy Story on DVD or who understandably (but foolishly) opted for the cheaper lightweight individual disc or 2-Pack, Disney and Pixar have put together a wonderful thank-you for your patience with this highly pleasing two-disc 10th Anniversary Edition. With picture and sound that are truly exemplary, substantial bonus features which will interest even casual supplement fans,

and a movie which soars as high as the best cinema has ever offered, you simply cannot go wrong with this solid re-release of a positively delightful film.

Those with that treasured Ultimate Toy Box in their collection already own one of the finest DVD sets ever released and may well want to hold onto it. The 10th Anniversary Edition's feature presentation does improve a bit upon past DVD releases of the film, but just how evident such improvements in picture and sound will depend squarely on the size and power of your home theater equipment. As past Toy Story DVDs left little room for enhancement in most areas, even with the higher bitrate and genuinely welcome handful of new bonus features here, the necessity to "double-dip" relies upon how much value you place on the film and this new set's various additions. If the completist inside you opts to pick up this set at its reasonable release date discount pricing, you'll likely want to still keep the Toy Box, if only for the worthwhile extras from that set which have not been ported over here, such as the Tin Toy short, several animation featurettes, more expansive art galleries, original story treatments, sound effects-only track, and the making-of documentary that has been unfavorably abbreviated.

Of course, the entirely unacquainted should pick up this fine DVD release without hesitation. I cannot recommend either the film or the digital presentation more strongly, even in the odd absence of some previously-offered supplements.

More on the DVD / Buy from Amazon.com / Buy on Blu-ray from Amazon.com