and Kelvin Cedeno

Market studies must still be a part of filmmaking, especially when it comes to big family event movies. If they've played any role at Pixar Animation Studios in the past few years, though, it is an ironic one. As in rather than giving people what they already know and like, the wizards at Pixar would interpret data atypically,

coming away with original ideas and scenarios that will interest themselves and challenge viewers to appreciate something different.

If polls show NASCAR's popularity rising, then maybe people will want to spend two hours in a world inhabited entirely by vehicles and centered on a racecar. Talking furry animals are huge, so naturally people would like to see a movie about a rat preparing meals in an haute Parisian restaurant. Everyone thinks robots are cool; employing two of them in a dialogue-free romance recalling Charlie Chaplin's work eighty years ago is sure to be a winner.

This summer, Up became Pixar's tenth feature film and the fourth to clearly defy conventionality. Research could have shown that big adventures, talking dogs, and balloons all play well with today's kids. Leave it to Pixar to then extrapolate that a cranky septuagenarian, an obese Asian boy scout, a mute exotic bird, and a villain resembling Kirk Douglas today would also figure largely in such an outing.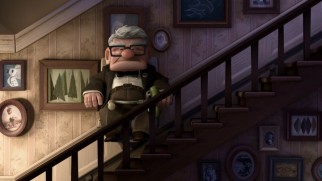 As unlikely a line-up for a costly summer family film as that was, Up helped reverse the trend of declining domestic returns that the studio's three previous creations bore. Credit that to the premium ticket prices Disney Digital 3D engagements carry, the lack of a competing summer DreamWorks release, or the strengths and appeal of the movie. Whatever the reasons, Up briefly stood as 2009's top-grossing film and ended up, disregarding the industry's steep inflation, as Pixar's second highest-earning release of all time behind Finding Nemo.
Up opens with one of the most affecting sequences committed to film. It shows us how life has unfolded for protagonist Carl Fredricksen, who has grown from imaginative 1930s boy to happily married zoo balloon salesman to cranky widower. Now 78 years old and alone, Carl (voiced by Ed Asner) has only routines and memories to get him through the day. His house, the site of his and his wife-to-be Ellie's childhood play, is suddenly surrounded by construction. A big mall is being put up and the real estate developers are eager for their plans to include Carl's modest but central land. With palpable and understandable tension standing in the way of "progress", an incident occurs which has Carl involuntarily destined for retirement home life.
When his ride to change arrives, Carl pulls an epic stunt. Lifted by thousands of bright, colorful helium balloons, his entire house takes to the skies. His destination: Paradise Falls, a scenic and secluded South American location he and Ellie had long planned to visit. In no uncertain terms, Carl's flying abode represents his wife and this journey is meant to provide fulfillment and redemption of the highest order.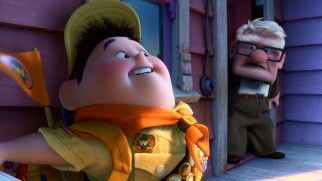 The first and perhaps biggest surprise of the trip is that Carl has company. Russell (Jordan Nagai), a young Wilderness Explorer eager to earn the assisting the elderly badge he needs for promotion, managed to be onboard for takeoff. The boy's enthusiasm and age instantly put him at odds with Carl, but tolerance is established by the time they touch down in South America.
Every shot of every Pixar film goes through eight stages of development. Here is a look at four of them performed on this Russell & Carl moment from Up:

Many adventures await the pair there, including a friendly giant of a flightless tropical bird (whom Russell names Kevin, before learning her gender), a band of dogs whose mechanical collars coherently communicate thoughts, and their reclusive master Charles Muntz (Christopher Plummer), a man with a connection to Carl's past.

With their feature output settled into a yearly release strategy and now numbering in the double digits, it seems beyond passι to claim "Pixar has done it again." And yet, of course, they have. Up is a wonderful film. I can tell you that it is by far the best of the fifty 2009 films I've seen to date. But honestly, I would rank all but one of the studio's films among the very best released in their respective years. A more noteworthy appraisal is that I enjoyed Up more than any Pixar picture since The Incredibles all the way back in 2004. (That's a statement I'm confident I will stand by after revisiting the entire canon this fall; I've got four more to rewatch.)

So many animated films aspire to nothing more than being wide entertainment in the here and now, especially with the medium's boom this decade as all studios realize they can deliver sleek CGI. Where Up leaves its contemporary competition in the dust is in its timelessness. The film opens with an authentic recreation of a vintage newsreel and its admiration of classic cinema doesn't end there. Besides Muntz resembling the sharp-cheeked, cleft-chinned Kirk Douglas we see today, the square-faced, thickly-bespectacled Carl is apparently modeled after Spencer Tracy. It is tempting to say that the film feels old-fashioned, but that requires ignoring its cutting-edge technology and present-day setting. Still, GPS reference and broken family theme aside, this doesn't feel anchored to 2009. The fanciful conceit of a small old man taking off in a house pulled by balloons feels like it could have come from a beloved children's book written many decades ago. Trendy references, fleetingly famous comedians, and bodily humor gags might work fine for the other companies, but Pixar strives to make this picture something of worth for the long haul. They succeed tremendously.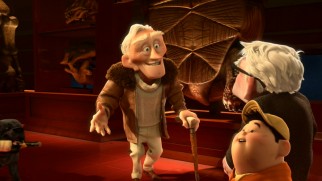 Up is funny, smart, touching, exciting, and everything else you could ask a movie to be. This may be the studio's most unanimously pleasing work to date. All of their productions have had some naysayers, few and far between though they may be, making claims like so: Cars is slightly pandering, WALL•E requires too much patience, Ratatouille is cold and sort of smug.

(For the record, I only would really make a case for the last argument and it seems I'm still in the minority on that one.) Up should delight the typical targeted child, the open-minded relative, and the highbrow critic alike. As on previous Pixar flicks, the biggest obstacle to viewers' enjoyment may just be that it has to live up to the company's past triumphs which remain fresh in mind. Remarkably, it mostly does. The closest to a complaint I can throw at Up is that the film's climax is, uh, conventionally climactic and a bit preposterous to boot. Such a reaction barely enters the mind for a few minutes, so the final act follies (if you can call them that) aren't even as mildly taxing as, say, those of WALL•E.

With just four potential competitors yet to open, Up seems destined to become the fifth Pixar film to take home the Best Animated Feature Oscar in the category's first nine years. Perhaps an even bigger honor than that would be receiving a nomination for Best Picture. While animated fare (especially the kind preceded by Luxo Jr. hops) regularly ranks among the best-reviewed and most-enjoyed cinema of any given year, only Beauty and the Beast has ever been considered for the Academy's top prize. With the category expanding from five nominees to ten this year, Up is at this point one of the best bets to be a part of that class. The wider playing field may diminish the meaning, but it would still be an achievement, one overdue for Pixar and one needed to prove that the animated award isn't relegating non-live action cinema to second-class status.

Up comes to DVD and Blu-ray next Tuesday in the three versions that Disney has come to stand by this year: a single-disc DVD, a deluxe DVD with additional bonus features and a digital copy second disc, and a Blu-ray combo which includes the deluxe DVD and digital copy. With two Blu-ray discs, Up's combo serves up four platters altogether, although it's only the rare customer who will make use of all of them.
Blu-ray Disc Details

BD: 1.78:1 Widescreen, DTS-HD 5.1 (English), Dolby 5.1 (Eng, Fre, Spa)
DVD: 1.78:1 Anamorphic Widescreen, Dolby Digital 5.1 (English), Dolby Surround 2.0 (English, Descriptive Video Service)
Release Date: November 10, 2009
Four single-sided discs (2 BD-50s, 1 DVD-9, 1 DVD-5 DVD-ROM)
Suggested Retail Price: $45.99
Double-wide blue keepcase with two trays in Embossed Cardboard Slipcover
Also available in 1-Disc DVD and Deluxe DVD with Digital Copy
VIDEO and AUDIO
Up brings Pixar back to the 1.85:1 aspect ratio they haven't used on a feature since 2003's Finding Nemo. As always, the film's dynamic visuals translate directly and flawlessly to digital home video. The DVD's 1.78:1 anamorphic widescreen presentation merits no complaints whatsoever. The beautiful animation is effortlessly enjoyed in all its glory and, without polarized 3D glasses, colors are as vibrant as intended. The Dolby 5.1 soundtrack is no slouch, either. The entire field is well-utilized to put you within the action. Volume levels are mixed so that peaks and valleys are kept within reason. And both the sound design and the score (whimsical work by Michael Giacchino) offer uncommon degrees of satisfaction. In a very rare touch, a descriptive track for the blind has been included.
The Blu-ray also shows the feature in 1.78:1. Pixar has had an excellent track record in DVD transfers, and that trend has continued onto their BDs, as well. The image is, in a word, astounding. Arguably the most colorful film from the studio yet, the hues pop out and dazzle, and the detail truly makes one appreciate the effort that goes into the animation. A minor moirι effect occurs on Carl's chair at one point, but other than this, the image remains devoid of flaws. This is yet another reference transfer from both Disney and Pixar.
The DTS-HD 5.1 track (incorrectly labeled 2.0 on the case) also impresses. Up is not necessarily an action-heavy feature, but that doesn't stop the sound mixers from creating a lively and dynamic track. While a thunder storm scene truly shows off the surrounds and bass, there is quite a bit of subtle mixing in the jungle ambience and even in the balloons bumping into each other. Dialogue always is clear and often shows nice directionality. The score is consistently rich without overpowering. No complaints are to be had with this satisfying track.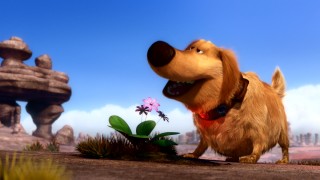 BONUS FEATURES, MENUS and PACKAGING
Pixar used to be in a class of their own when it came to fun and substantive DVD extras. Then, Blu-ray was introduced and many of the studio's good bonus features were made exclusive to that format on Cars and Ratatouille. Holding nearly everything the Blu-ray did, last year's three-disc WALL•E DVD release suggested the shenanigans were done. But Up illustrates they're clearly not. The standard DVD includes just two shorts. The Deluxe DVD adds an audio commentary, a digital copy, and 27 additional minutes of content in the form of a featurette and an alternate scene.
The first of two extras common to all editions is the Pixar short film Partly Cloudy (5:46), which preceded Up in many of its theatrical screenings. One of Pixar's better and more substantial dialogue-free shorts, this one tells the story of a baby-delivering stork whose assigned cloud gives him porcupines and electric eels instead of cuddly newborn creatures. Picturesque, funny, touching, and happily more than one-note, this is a must-see cartoon.
Next comes the all-new original short Dug's Special Mission (4:42). It shows us what life was like for Dug (and his less than accepting fellow dogs) before meeting Carl and Russell. Mildly amusing but simple, one senses that the home entertainment division's need to deliver a never-before-seen short had more to do with this than inspiration and great ideas.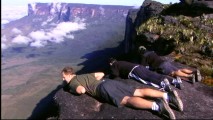 "Adventure Is Out There" (22:16) documents the filmmakers' research trip to the tepuis, Venezuela's table-top mountains. The sights, silences, storms, and sensations of their observations are poignantly conveyed in extensive footage, while the travelers also reflect on what they took from the experience and what they put into Up. It's a serious look at a perilous, profound journey not often taken in the name of a summer blockbuster.
"Alternate Scene: The Many Endings of Muntz" (4:55) is a short featurette on the film's antagonist in which the filmmakers discuss how they tried to redeem or resolve his issues. One such way, in which Muntz chases Kevin into a Shining-like labyrinth, is shown in animatic form.
Last and longest is an audio commentary by director Pete Docter and co-director Bob Peterson. It is a fairly average track, which puts it near the bottom of Pixar commentaries. Docter and Peterson offer a full discussion, but one that's very invested in the minutiae. The best aspect is their revelation that for every good idea used, there were many potentially satisfying story concepts they abandoned. Beyond that running motif, a few interesting remarks emerge, like the pair's delight at working with Ed Asner, the sheer volume of balloons used (10,297, with cheats), and backstories to the male nurses who come to pick Carl up.
The rest of the supplements are only found on the Blu-ray discs, where they are all presented in HD.
On Disc One's Cine-Explore, Docter and Peterson's audio commentary is joined by picture-in-picture visuals that accentuate both what's on screen and what's being discussed. These include concept art, storyboards, rough animation, photos, and behind-the-scenes footage. It can be easy to tune out commentary audio if one is paying more attention to the film in question, so the idea of Cine-Explore helps rectify that. It's a preferable experience, especially since it contains the set's only footage of Ed Asner in the recording booth.

Disc Two holds a collection of seven Documentaries, the first of which is "Geriatric Hero" (6:23). This takes a look at Carl, his origins, and how his age affected the story.

The filmmakers discuss the challenges of animating his stiff movements and compare/contrast him with Muntz. For whatever reason, actors Ed Asner and Christopher Plummer are conspicuously absent here.

"Canine Companions" (8:27) focuses on Dug and Muntz's other pets. It details the extensive research that went into giving the dogs realistic forms of expression and movement, including meeting with dog experts in canine psychology as well as reference footage of the animals participating in various physical obstacle courses.

"Russell: Wilderness Explorer" (9:02) reveals the different stages of development for Carl's overly-enthusiastic tag-along. Recording sessions with actor Jordan Nagai are shown and accompanied by explanations as to how the directors got line readings out of him that didn't sound too rehearsed or phony. Russell's deeper issues, namely his relationship with his estranged father, is also explored.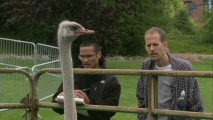 Next comes "Our Giant, Flightless Friend Kevin" (5:06), which examines the film's quirky bird character. Some of the inspirations for his personality, namely ostriches, are touched upon as are his design choices and sound effects. Some time is also given to used and unused story points that Kevin directly causes.

"Homemakers of Pixar" (4:34) shows how an actual model of Carl and Ellie's house was created. This model served as a reference as to how the house would move given certain conditions, and the crew even points out the furniture and knick knacks directly inspired by their own grandparents' homes.

The symbolism of the house representing Ellie is briefly talked about, as well.

"Balloons and Flight" (6:26) devotes its first half to the film's iconic usage of balloons and its second to Muntz's airship, the Spirit of Adventure. Topics range from experimental research to animating these elements in believable ways. Like in the previous featurette, the metaphorical role these objects play in relation to their owners is given some mention.

The seventh and final Documentaries piece, "Composing for Characters" (7:40), offers an analysis of how each character is given his own musical theme. These themes often intersect and adapt to both the scenario and how that particular character has developed. This and all the aforementioned featurettes offer a satisfying look at the film's creation, though a "Play All" option would've been ideal. With so many animated titles leaning towards the technical side of production, it's refreshing to see Up's supplements focus more on the artistry.
"Alternate Scene: Married Life" (9:12) begins with an explanation of how the potent Carl and Ellie montage was mapped out. Some ideas didn't make it in, and it's explained why. After the discussion, the original storyboard version of the sequence is shown. The deleted portions, many of which come from Carl and Ellie's childhood and young adult years, are fun to see, and other bits in the final version are slightly different here.

The edits were wise ones, but that doesn't stop them from entertaining here.

"Up Promo Montage" (5:51) pieces together all of the bumpers and interstitials created to promote the film ahead of its release. Some of these are quick blips, like a gag with Kevin and a basketball. Others, like Russell's failure at setting up a snipe trap, play out as if they were unseen sequences from the final film. These clever segments are a treat to watch and are a more-than-welcome inclusion.

Russell hosts the set-top Global Guardian Badge Game. In this, the player must successfully pinpoint different geographical regions including states and countries. Successful answers lead to an accumulation of points and an entry to another higher level of difficulty. If the player's geography skills are a bit rusty, they can choose to play via a learning mode that provides the correct answer if a wrong one is selected. The navigation and gameplay is surprisingly fluid, and while the concept is simple, it's a cute way to brush up on some locale identification.

Finally, Worldwide Trailers holds "Theatrical Trailer #2" (1:51) and "Theatrical Trailer #3" (2:32). This labeling seems strange as there was never another (domestic) trailer outside of these two. It's possible that an online video introduction involving Carl's house slowly passing the camera while he greets the audience can be considered a teaser trailer. It continued the Pixar tradition of having the first bits of public animation be segments not found in the final film. That clip is nowhere to be found on this set, not even in the promo montage, so it's possible it was intended to be included here at some point. Either way, it's great to have the two widely-seen trailers included.

Pixar loves its Easter eggs, and there just so happens to be one on the first Blu-ray disc. Appropriately titled "The Egg" (1:56), it expands on a deleted story thread briefly mentioned in the commentary in which Charles Muntz finds a way to gain eternal youth. It wouldn't have gelled well with the main storyline, but this interesting premise would've cleared up a source of confusion in the film regarding Carl and Muntz's age difference.

More of a public service announcement than a bonus feature is a 1-minute spot on the DVD touting the ease and usefulness of DisneyFile, known to the rest of the industry simply as digital copy.

The DVD loads with trailers for Toy Story 3, The Princess and the Frog, and Santa Buddies: The Legend of Santa Paws. The Sneak Peeks menu adds promos for Dumbo: 70th Anniversary Edition, Ponyo, Prep & Landing, Disney Movie Rewards, and Disney Blu-ray.

The DVD's menus offer pleasantly quaint two-dimensional illustrations of the house and balloons in flight. Blu-ray Disc 1's main menu features Carl's house gently gliding above the clouds as upbeat score plays. The second disc shows the house after it has landed with some of the balloons starting to deflate. A red balloon acts as a cursor to the clear and simple menu selections on the left-hand side. The loading screens show Dug wagging his tail as his collar light turns on and off.

The slipcovered Blu-ray combo pack holds its four discs on two swinging trays. They're accompanied by three booklets: one holding and explaining your joint Disney Movie Rewards/DisneyFile code, one promoting Blu-ray and Disney's new Upgrade2Blu program, and one advertising miscellaneous things.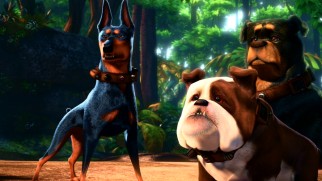 CLOSING THOUGHTS
With seemingly endless amounts of effort and imagination, Pixar puts out another masterpiece in the mature, poignant, visually stunning, and highly entertaining Up. Yet again, the studio has crafted something able to unite moviegoers and critics in approval. For my part in the latter class, I am challenged to find new superlatives worthy of this film. But standing out as the best of this year's movies that I've encountered and as part of the better half of Pixar's unbelievable first ten films, I wholeheartedly recommend that you see and buy this.
It is unfortunate that Up is dealt the weakest collection of DVD extras in Pixar history. There is simply no good reason that most of the Blu-ray exclusives aren't also offered on DVD; they could have accompanied the digital copy and rendered that disc infinitely less disposable. Nevertheless, Amazon's current prices make it very clear that anyone making a release date purchase should buy the Blu-ray combo. Despite its colossal $46 list price, it is currently selling for just $4 more than the nearly-barebones single disc and $1 less than the disappointing Deluxe DVD. Even if you're bothered to support a format that studios have tackily elevated, annoyed to have a case smaller than your other DVDs, and opposed to buying a Blu-ray player and/or HDTV, the Blu-ray combo is still clearly the best deal in this instance.
Buy Up from Amazon.com: Blu-ray + DVD + Digital Copy / DVD + Digital Copy / 1-Disc DVD