If the Muppets were ever to disappear, the early 1990s was the time to do it. Creator and lead puppeteer Jim Henson had died suddenly in 1990 at the young age of 53. "The Muppet Show" was long ended and even disappeared temporarily from syndication. "Muppet Babies" had just wrapped up. There hadn't been a new Muppet movie in eight years. And The Jim Henson Company puppeteers had taken their talents to the primetime ABC sitcom "Dinosaurs." Rather than allow the beloved old characters to fade from sight, though,

Henson's son Brian and Jim's trusted longtime performers came together to make The Muppet Christmas Carol, arguably the franchise's greatest film up to that time.

Carol was a change of pace from past Muppet movies. Gone were the celebrity cameos and anything-can-happen attitude. In its place was one of the most familiar and frequently adapted texts in the English language. Charles Dickens' dark tale of holiday redemption would be brought to life quite faithfully and seriously, while still prominently featuring the Muppets and their widely appealing brand of comedy and music.

The regular Muppets would be cast in mostly supporting roles. Kermit the Frog (Steve Whitmire assuming one of Jim Henson's oldest and best characters) would play the part of thankless clerk Bob Cratchit, making his young nephew Robin an obvious choice for infirm son Tiny Tim. Naturally, Miss Piggy (Frank Oz) would be Bob's wife Emily. Fezziwig became Fozziwig, with the bear (also Oz) filling the role. Claiming more screentime than any of them would be The Great Gonzo and Rizzo the Rat sharing storytelling duties as Charles Dickens and Rizzo the Rat, respectively. The miserly protagonist Ebenezer Scrooge would be played by Oscar-winning veteran Michael Caine, who could supply the cold sternness that the fuzzy, smiley puppets could not.
You know the story, but I still feel compelled to briefly recap it. In 19th century London, on Christmas Eve, heartless money lender Scrooge is visited by his old business partner, in this case partners Jacob and Robert Marley (Statler and Waldorf), who warn him of the chains they carry and, unchanged, he will too in the afterlife. Scrooge proceeds to be visited by three additional ghosts: the ethereal young redheaded Ghost of Christmas Past, the large, bearded, and jovial Ghost of Christmas Present, and the faceless, mute Ghost of Christmas Yet to Come, all of whom illustrate Scrooge's misplaced priorities and lack of compassion.
Seeing this, one wonders how it took around twenty years for the Muppets as we know them to be put to use in a literary adaptation. It's a brilliant match, the Muppets getting to put their distinct mark on a famous tale and that tale becoming the sturdy foundation for musical comedy designed to play to all ages. Even something as heavy and bleak as Dickens' novella leaves ample opportunity for the Muppets to do their thing. Screenwriter Jerry Juhl, a prized Henson collaborator since "Sam and Friends" back in the early 1960s, seized such moments, allowing irreverent riffs and bold personalities to sneak in without trivializing or undermining Dickens' enduring story.
The results are nothing short of wonderful. The $12 million budget was stretched to cover impressive Victorian England sets and still admirable visual effects. Paul Williams, a Season 1 "Muppet Show" guest and the man behind the delightful songs from 1979's original The Muppet Movie, works his magic again with infectious compositions that nicely complement the story without pulling us out of it. In film musicals, breaking into song and dance can easily upset realism and jar viewers. With the right sentiment and lyrics, though, musical numbers can strengthen the story in creative ways. That describes nearly all of Muppet Christmas Carol's songs, which are as strong as any Broadway-adapted and Broadway-style numbers.
The musical numbers and the rest of the film are staged with absolute competence by 29-year-old first-time feature director Brian Henson.

His last name may have gotten him this job, but his creative work confirms he was as qualified as anyone else. As someone who had worked on his father's films and kindred fantasy tales (e.g. Return to Oz) beginning as a teenager, the young Henson knew his way around a puppet production. With him behind the camera and old pros like Frank Oz, Jerry Nelson, Steve Whitmire, and Dave Goelz in front of it, no one was in over their head or in any danger of tarnishing the Muppets' legacy that belonged so thoroughly to Jim Henson himself.

With Henson's death just about cancelling out all that experience and pedigree, it's tough to believe just how well this turned out. By no means intended as a revival or a huge box office force (hence, the opening day just two weeks before Christmas), this little production somehow manages to be supremely entertaining, noticeably better than the gang's two 1980s movies and, though it seems like sacrilege to say so, even more satisfying than the very first Muppet Movie, its wit, heart, and message serving it so well.

Muppet Christmas Carol was something of a box office flop, its $5 million, 6th place opening weekend performance at the time one of the worst ever put up by a movie released to 2,000 theaters. It recovered from that somewhat and its $27.3 M final haul (the equivalent of $52.7 M today) wasn't too big a disappointment for Disney in their first feature film collaboration with these characters. Not only did the Muppets not fade away, but the numbers were respectable enough for a second film to be made in the same mold in 1996's Muppet Treasure Island, which performed a little better in theaters.

It is tempting to consider Muppet Christmas Carol something of a fluke creatively. Though enjoyable, Treasure Island wasn't in the same league. Muppets from Space wasn't even all that enjoyable. Nothing else that came about provided as much fun until last year's delightful reboot The Muppets breathed new life into the franchise while basically pretending that nothing since the 1980s had really happened. People as passionate about these characters as I am are likely to agree that 1979's Muppet Movie, 1992's Muppet Christmas Carol, and 2011's Muppets form the top tier of Muppets cinema, a sacred triumvirate in the history of family films. Christmas Carol differs from the other two in striking ways, but it maintains the same caliber of writing, songs, technique, and humor.
The Muppet Christmas Carol becomes the franchise's fourth movie to reach Blu-ray Disc, the second from Disney, and the first to be made available without a DVD included. Labeled both a 20th Anniversary Edition and the It's Not Easy Being Scrooge Special Edition, this set arrives near the start of the holiday retail season as one of Disney's rare Blu-ray + Digital Copy combo packs. Online retail giant Amazon.com is offering an exclusive gold-bordered 3-disc Collector's Edition which adds the new DVD that's also available on its own. Even that version is being deemed unacceptable by some, earning an unusually low 2½ star (out of 5) rating there.
The reason for the dissatisfaction is that all these new discs present the film exclusively in its 86-minute theatrical cut and not the 89-minute extended cut offered on some television and home video versions. Accounting for the difference is "When Love Is Gone", a song to be performed at the film's center by young Scrooge's love interest Belle (and Scrooge) during the scenes of Christmas Past. The song was cut prior to theatrical release when it was seen as slowing down the film. I must say I fully support that decision. The song is weak, melodramatic, and inessential to the film. I would have been very disappointed if Disney only offered the film with this segment reinserted.
Having said that, I agree that it is unconscionable to not be given the option to view the film with that song included. DVD's seamless branching technology could have easily achieved that. The Kermit's 50th Anniversary Edition DVD of the film, released in 2005, didn't do that, but as an imperfect compromise, its full screen version was the extended cut with "When Love Is Gone" intact. Seamless branching is even more seamless and common on Blu-ray, yet no such option is offered here. Furthermore and quite ridiculously, that musical number is not included on this Blu-ray in any way. Even those like I who aren't crazy about the song would surely appreciate the chance to see it, even out of complete movie context. Heck, even if Disney were to clip the 3-minute segment from the 50th Anniversary DVD or the moniker-less edition before that and present it in 1.33:1 standard definition, that would have been acceptable. Even incorporating that pillarboxed clip into the film seamless branching would have been better than the Blu-ray's decision to drop it altogether. There is a case to be made for the song's inclusion, too, its loss rendering the Christmas Past scene abrupt and robbing the altered climactic reprise "When Love Is Found" and Martina McBride's end credits cover "When Love is Gone" of full meaning.
Watch a clip from The Muppet Christmas Carol:

Blu-ray Disc Details

1.85:1 Widescreen
5.1 DTS-HD MA (English), Dolby Digital 5.1 (French), Dolby Surround 2.0 (Spanish)
Subtitles: English for Hearing Impaired, French, Spanish
Not Closed Captioned; Extras Subtitled
Release Date: November 6, 2012 / Suggested Retail Price: $26.50
Single-sided, dual-layered disc (BD-50)
Blue Keepcase with Side Snap in Embossed Holographic Cardboard Slipcover
Also available as Amazon.com-exclusive 3-disc Collector's Edition with DVD ($39.99 SRP), new DVD ($19.99 SRP), and on Amazon Instant Video
Previously released as WS Theatrical & P & S Extended Kermit's 50th Anniversary Edition DVD (November 29, 2005) and Pan & Scan Extended Cut DVD (October 8, 2002)
VIDEO and AUDIO
The Muppet Christmas Carol looks quite excellent on Blu-ray. The 1.85:1 transfer remains surprisingly clean and sharp throughout. A few effects shots exhibit a bit more grain and less detail than most, but on the whole, this is a highly satisfying presentation that definitely improves upon both of the movie's previous DVDs.
The default 5.1 DTS-HD master audio isn't as expansive as you'd expect, but it is happily crisp and always intelligible. Musical numbers inject life into the proceedings, but without spreading much to the rear channels. Miles Goodman's score commands notice on a few occasions, its instrumentation showing nice range and depth.
BONUS FEATURES, MENUS, PACKAGING and DESIGN

Blu-ray's higher capacity and the lack of space wasted on a full screen presentation allows the disc to include all the bonus features from both of its DVD releases, aside from the aforementioned and unfortunate loss of the deleted/reinserted song. But let's not dwell on the negative, when Muppet Christmas Carol boasts one of the strongest slates of extras for any post-Walt, pre-DVD live-action Disney film.

First up come two audio commentaries. The brand new one primarily features Gonzo and Rizzo. Their remarks are often amusing and pretty true to the characters, but mainly consist of them pointing out the funny bits and laughing about them. It's kind of like a sloppy, truly spontaneous, silhouette-free version of "Mystery Science Theater 3000" with a movie neither warranting nor receiving derision.

Kermit the Frog is heard at the beginning and pops in again with "the real Charles Dickens" an hour later. A couple of other cranky characters turn up at the end.

More serious and substantial is the second commentary, a solo one by director Brian Henson recorded for the movie's 2002 DVD debut. He is full of information and since puppet movies are fairly uncommon, it's interesting information about moving miniatures, removable floors, performing practical and post-production visual effects in unexpected ways, and so on. It's not all technical talk either, as Henson recalls being surprised by what gags worked for audiences, places this production in the context of the Muppets, notes the adherence to and departure from Dickens' prose, and shares the discarded plans for star Muppets to play all the Christmas ghosts. Originally attached to the extended cut of the film, this is clipped to align with the theatrical cut here, losing Henson's comments on the "When Love Is Gone" reinsertion.

On the video side, where everything remains in standard definition, things begin with "Frogs, Pigs and Humbug: Unwrapping a New Holiday Classic" (21:56), a 2002 making-of featurette that was sadly left off the movie's previous DVD. It mixes an entertaining reunion of director Brian Henson, Gonzo and Rizzo with production B-roll, on-set interviews by the likes of Michael Caine, Steve Whitmire, Dave Goelz, Kermit, and Miss Piggy, and then-new reflections by screenwriter Jerry Juhl and songwriter Paul Williams. It's an outstanding companion to the film, one of the best documentaries any Disney film has gotten. Interestingly, it features in part and discusses at length "When Love Is Gone", even sharing footage of Caine and Meredith Braun recording the song in the studio.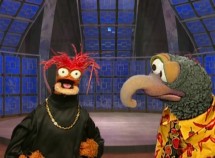 The gag reel "On the Set" runs 2 minutes and 33 seconds with Gonzo and Rizzo introduction. Muppet bloopers are better than other movie bloopers because the performers stay in character and humorously acknowledge the goofs.

Created for the Kermit's 50th Anniversary Edition, "Pepe Profiles Presents - Gonzo: Portrait of the Artist as a Young Weirdo" (5:29) is a brief biography of Gonzo. Amidst clips from the Disney-owned Muppet movies and remarks by fellow Muppets, Gonzo joins host Pepe.

I'm not sure why Disney was so crazy about Pepe for a while, but he's bearable in a small dose like this.

"Christmas Around the World" (2:58) lives up to its title. Gonzo and Rizzo educate us on holiday folklore and traditions in various parts of the globe. It's both enlightening and, thanks to its hosts, amusing.

The other new feature is Disney Intermission, which aims to liven up paused playback of the movie. With this activated (as it is by default), after ten seconds paused, the movie will randomly jump to one of five newly-shot clips of Christmas carols being sung by: Rizzo and some of his rat family, the chickens (with and without The Swedish Chef), and the penguins. When I press "pause", I want to pause the movie, so in that way it's annoying and also that there is no other means of access. Still, it's fun new content.

Those who own The Muppet Christmas Carol soundtrack know that "When Love Is Gone" isn't the only song that was deleted from the film. Two others made it to the album. It stands to reason that they were also shot, but they and any other deleted scenes remain excluded here. Also more frustratingly absent is the movie's original theatrical trailer, which has never been released to DVD, but should really be a standard inclusion here.

The BD opens with trailers for Wreck-It Ralph and Santa Paws 2: The Santa Puppies. The menu's Sneak Peeks entry repeats those, then adds a Disney Movie Rewards promo, an abbreviated version of The Band Perry's ABC Family-promoting "25 Days of Christmas" music video, and home video trailers for Finding Nemo, Peter Pan: Diamond Edition, and Planes.
The second disc is simply a digital copy containing the film in two Windows Media and one iTunes files. It'd be a nice inclusion if it were complimentary, but the bonus disc has clearly bumped the list price $6.50 higher than Disney's standard catalog Blu-ray SRP. So even if you're among the majority who won't do anything with that disc, you're still paying for it. With a lot of space to spare, the DVD-ROM could have fit the movie and been a standard DVD, instead of requiring another price bump for the Amazon-exclusive set, which presumably at least has the bonus features on DVD too (and potentially could even be the 2005 DVD simply relabeled).
The winning menu plays the film's opening credits suite while falling snow is added to a shot of rooftops. Like most Disney BDs, this one doesn't support bookmarks or resume playback, but it does remember where you left off if you did not finish watching the movie.
The silly moniker is easy to overlook amidst the Blu-ray's tasteful embossed, holographic cardboard slipcover featuring new cover artwork. Inside the side-snapped Blu-ray case, a booklet supplies your combination Disney Movie Rewards/Digital Copy code. Interestingly, Disney seems to have dropped the "Disneyfile" name they were using on digital copies; now it's just "Disney Digital Copy." Neither disc features artwork, instead adding to the studio's current solid color trend.
CLOSING THOUGHTS

Though Dickens' story is the bigger star than Jim Henson's characters, The Muppet Christmas Carol still offers the Muppets at their very best. This diverting and stirring production has deservedly come to be recognized as one of the tale's strongest adaptations, one of the most rewarding Christmas movies, and simply one of the best family films of its or any time.

While my high estimation has been shaped by countless viewings over the past twenty years, the film never fails to enchant and I'm certain you'll love it enough to watch with some frequency.

This Blu-ray release is mostly a success, though it does clearly fall short of perfection. I'm all for consumer crusades and bemoaning studio negligence (especially from Disney, who has made it into an art form, recently pulling something resembling this same stunt on Pocahontas), and this Blu-ray definitely does less than it should. But I don't think boycotting the release and depriving yourself of the best presentation to date of one of the best Christmas movies ever made is the answer. It's not as if low sales numbers will encourage Disney to revisit the movie in a more accommodating edition anytime soon. In my opinion, the best thing to do would be to take one of the movie's out-of-print previous DVDs (which hopefully you already have, because the second-hand prices are soaring) and add it to this combo pack. That's not ideal, but it preserves "When Love Is Gone" and still gives you a dazzling presentation of the superior original theatrical cut.

Now if only Disney could get around to giving us an uncut and remastered release of A Muppet Family Christmas!

Support this site and great cinema when you buy The Muppet Christmas Carol now from Amazon.com: Blu-ray + DC / Blu-ray + DVD + DC / New DVD / Instant Video / 2005 Kermit's 50th Anniversary Edition DVD / 2002 Pan & Scan DVD