Page 1: The Movie, Video and Audio, Disc 1 Bonus Features
Page 2: Disc 2 Bonus Features, Menus and Packaging, Closing Thoughts



Sleeping Beauty was in production for nearly all of Walt Disney's last full decade on Earth. It was a busy and exciting time for Walt,

amidst the introduction of and warm reception to his first television programs, the opening of Disneyland, and the prosperity enjoyed by his live-action films. And yet, while some might cite preoccupation as the reason for an unprecedented four years passing between new animated features, Disney has a more ambitious explanation.

Walt, of course, was no stranger to fairy tales. The genre had provided his entry into feature filmmaking (1937's Snow White and the Seven Dwarfs) and welcomed back widespread public approval (1950's Cinderella) after reduced wartime efforts. Rather than repeating past triumphs, the studio namesake wanted to do things differently on Sleeping Beauty. Attributed to Charles Perrault's 17th century telling but having more in common with the version gathered in the 1812 Brothers Grimm collection, Disney's adaptation strove to reach new artistic heights.

Sleeping was created in the Technirama widescreen format and shot in 70mm, becoming the first film able to claim both of those specs. In light of that, special emphasis was placed on the visuals, which (inspired by medieval artwork) strikingly would be more angular and dramatic than those before it. For music, Disney would adapt the score of Peter Tchaikovsky's Sleeping Beauty ballet and fit it with lyrics.

The story, as you likely know, involves a princess named Aurora, who at her christening is cursed by the wicked, powerful Maleficent to die before her sixteenth birthday ends.

To avoid this fate, Aurora is raised in the woods under the name Briar Rose and the protection of the Three Good Fairies (red Flora, green Fauna, and blue Merryweather). Gifted with beauty and song, teenaged Aurora/Briar attracts the attention of a gallant stranger and also, despite many precautions, the reconnoitering pet raven of Maleficent.

With lines of Good and Evil clearly drawn and fate pulling the princess toward doom, Sleeping Beauty plays out with grand adventure and magic in the foreground and true love as the power vying to conquer all.

It really is a wonderful film, one which does not need nostalgia, fondness for the source tale, childhood attachment, or historical significance to earn high praise.

On an emotional level, Sleeping Beauty soars. As it deals us a story that's slight and technicality-driven, the provided poignancy is essential to the movie's success. It manifests itself in remaining ever mindful of the humanity in the fairy tale, whether it's in some truly somber moments or the climax that's probably the most rousing one found in Walt-era animation.

Pulling off the dark material is a tricky feat that Sleeping achieves. Were it made today, 21st century filmmakers would no doubt worry of being too grim for children. The obvious but unappealing solutions -- lightening the mood with restraint or manufactured cheeriness -- are gladly avoided here. Only in error could a viewer call the film saccharine or cute.

And yet, Sleeping boasts a fine sense of humor. In gentle strokes it is spotted in the actions of the iconic characters Aurora, Prince Phillip, and "mistress of all evil" Maleficent. But another trio -- Flora, Fauna, and Merryweather -- regularly amuse with their antics, particularly while struggling to pose as peasant mortals. Though at first glance, the fairies appear to be unassuming comic relief, they actually claim the most screentime and dialogue of anyone in the picture. That design serves the film well. Though they're given gags and aren't quite mistakable for flesh and blood, the ladies aren't broad caricatures. The spunky, size-shifting do-gooders emerge as the heart and soul of the piece, the group with whom audiences identify (consciously or not) when they're not wrapped up in the fantastic storybook romance.
Like many an early Disney classic (including Pinocchio, Fantasia, and Alice in Wonderland), Sleeping Beauty wasn't exuberantly embraced by its first critics and audiences. It still managed to be the second highest-grossing film of 1959, but even good earnings on a then-colossal $6 million budget posed not only a financial loss but the possibility of bankruptcy for the Disney studio.
Like those other works, Sleeping Beauty's reputation has grown exponentially in the decades since its debut. Today, it is widely admired for both its entertainment and artistic values. Neither of those were enough to rank the film among Disney's ten top-selling animated home video titles as of 2000. Those ten movies comprised the studio's original surefire Platinum Edition DVD lineup.
In May of 2003, in between the DVD announcement and debut of Sleeping Beauty, Disney proclaimed the Platinum collection would come both faster (semiannual releases) and longer (14 titles, instead of 10). Sleeping made the expanded cut. Now, with the original list exhausted and the film's fine 2-Disc Special Edition having been out-of-print for over four years, Sleeping Beauty returns to DVD as a 2-disc Platinum Edition (Disney's twelfth), also dubbed a 50th Anniversary Edition a few months shy of that major milestone.
Disney has given a heavy push to the set's concurrent Blu-ray Disc release, which marks the studio's first treatment of a traditionally-animated classic to the high-definition format. They've even gone so far as to attach Disc 1 of the standard DVD version to the Blu-ray edition, in the hopes that such a move will encourage a massive adoption of the premium format that, despite rampant promotion (by Disney and others), currently accounts for just 8 percent of all home video sales. Considering this title a worthy one with which to dip into the waters of high-def coverage, we did request a Blu-ray version for review, but all we could get from Disney was the standard DVD version, covered in detail below and beyond.
Long predating the era of home video controversies and subsequent cover-ups, Sleeping Beauty appears to be in its original form on DVD. One minor exception is that the film now closes with the new 2006-introduced CGI Disney castle logo. That replaces the 1980s blue castle logo that previously opened and closed things. The film now simply opens with the original Buena Vista studio credit.
DVD Details

2.55:1 Anamorphic Widescreen
Dolby Digital 5.1 Disney Enhanced Home Theater Mix (English,
French, Spanish), Dolby Digital Surround 4.0 (English)
Subtitles: English for Hearing Impaired, French, Spanish
Closed Captioned; Extras Subtitled
Release Date: October 7, 2008
Two single-sided, dual-layered discs (DVD-9)
Suggested Retail Price: $29.99
Black Dual Amaray Keepcase with Side Snaps in an
Embossed, Reflective Cardboard Slipcover
Also Available on Blu-ray Disc
VIDEO and AUDIO

On its first DVD release, Sleeping Beauty was presented in 2.35:1 widescreen and 1.33:1 pan & scan fullscreen. Neither of those ratios is upheld this time, as the movie appears exclusively in 2.55:1, apparently the true original aspect ratio of this Super Technirama 70 production.

It is little surprise that the movie returns to DVD without any concerns in the picture department. Sharp, colorful, and immaculately clean, it would look like a brand new movie if only new movies employed cel animation and artistry with such pride.

Though new efforts have been taken to make this movie look its very best, the original DVD release is recent enough that only mild improvement will be noticed by most viewers. But all should notice some improvement, as scenes boast more vibrancy, detail, (seemingly) appropriate coloring,

and overall picture quality than before. The average bit rate has risen from 6.13 Mb/sec to 7.9 Mb/sec. I think this is as close to flawless as a 50-year-old film is going to look on the format.

In the sound department, the Platinum Edition offers a Dolby Digital 5.1 Disney Enhanced Home Theater Mix in English, French, and Spanish. (On the last DVD, those foreign tracks were limited to the pan and scan presentation. On its own merits, the audio is quite satisfying, although it is a front-heavy mix most of the time. There is also a four-channel English Dolby surround track billed as the restored original soundtrack and presumably staying faithful to the stereophonic mix offered on some 35mm exhibitions. (Technirama 70 prints boasted six-track stereo.) Comparing the two reveals the DEHT track as having much more of a kick. The amplified bass also clearly distinguishes the presentation from the 5.1 offered on the Special Edition DVD.
DISC 1 BONUS FEATURES

As is almost always the case for a Platinum Edition, the bonus feature easiest to access is a new tween-friendly music video covering one of the featured film's songs.

Here, we get "Once Upon a Dream" performed by "Hannah Montana" co-star Emily Osment (3:30). The terms "generic pop" and "needless" instantly spring to mind, but though completely forgettable, this one isn't quite as offensive as some previous efforts.

Disney Song Selection breaks no new ground with its offering of the film's songs with on-screen lyric subtitles. As usual, you can choose an individual song or the whole lot (7:49), which blatantly neglects to include a couple of less memorable tunes. You can also view the whole film with the lyrics merely turning up on the five songs given the treatment. Wheeee!

Four additional extras are listed under the Backstage Disney header. First and perhaps most exciting is a new audio commentary by Pixar honcho John Lasseter, longtime Disney animator and classics fan Andreas Deja, and film critic/historian Leonard Maltin. That grouping satisfies on both practical and general levels, as there are three distinct voices, two of which (Lasseter, Maltin) are otherwise glaringly absent from the set. In a nice touch, the trio welcomes you to the track they're about to record in a short introductory video.

Like the previous DVD's commentary, this one makes use of archival sound clips from the likes of Walt Disney, color stylist Eyvind Earle, and an assortment of animators (including Frank Thomas, Ollie Johnston, and Marc Davis). The clips (some of which are recycled from the old track) feature far less than they did before, rendering this predominantly a present-day discussion. Praise is rampant but so is perspective, as each recalls the role Sleeping played in attracting them to animation as an art form. Among the topics discussed with admiration are the film's style, widescreen framing, live-action reference, voice cast, story points, and characters.

"Princess Fun Facts" gives us a new colorful pop-up facts subtitle track. Though the name might lead you to believe otherwise, the trivia tidbits aren't targeted at young girls and actually do cover a wide range of topics pertaining to the film's creation. Amidst the anecdotes about cast/crew members and the production are some items about real 14th century princesses and castles. The facts flow irregularly and somewhat infrequently, averaging about one fact per minute. That's enough to intrude on an attentive film viewing but not enough to overload the senses when coupled with the commentary.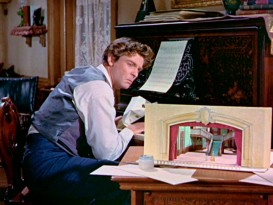 Grand Canyon (28:53) is a lengthy, Oscar-winning, live-action Disney CinemaScope short that pairs aerial photography of the famous Arizona landmark with Ferde Grofι's "The Grand Canyon Suite."

Though far from spellbinding, its well-shot footage of the landscape and wildlife with the sensibilities of Fantasia merits at least a viewing. It theatrically preceded Sleeping Beauty in 1959 and also accompanied it on its previous DVD, though it looks a lot better here, where it's now enhanced for 16:9 displays.

Next is the "Disneyland" anthology episode "The Peter Tchaikovsky Story" (49:22). In it, host Walt Disney talks up Sleeping Beauty as a set-up to a narrated live-action biopic of the film's posthumous composer. Tchaikovsky's story documents his attraction to the piano, from youth to bearded adulthood, with the Sleeping Beauty fairy tale acting as haunting inspiration. That amounts to a bit more than half the runtime, and is followed by more tasteful Sleeping Beauty promotion including -- a TV first! -- widescreen clips. The episode is presented in two versions, the only difference being one features Walt's instructions for achieving full stereophonic sound with your TV and radio(s) while the other instead excerpts Snow White and the Seven Dwarfs. Each runs 20 minutes longer than the episode excerpt on Sleeping's previous DVD. The program is also more colorful and sharper but grainier here.

Disc 1 loads with Disney company and Blu-ray promos, trailers for Pinocchio: Platinum Edition, The Princess and the Frog, Tinker Bell, and Space Buddies, and a spot for the Disney Movie Rewards program. Other Sneak Peeks on the disc advertise WALL•E, The Chronicles of Narnia: Prince Caspian, The Little Mermaid II: Return to the Sea Special Edition, "Wizards of Waverly Place", Hannah Montana and High School Musical DVD games, and the Disney Parks.

Buy Sleeping Beauty: Platinum Edition DVD from Amazon.com

Buy Sleeping Beauty: Platinum Edition Blu-ray from Amazon.com

Continue >>