It's truly the end of an era. For the first time since 1999,

there is no upcoming Harry Potter movie to look forward to.

Few would dispute that Harry Potter and the Deathly Hallows Part 2 concluded things on a high note for the biggest series in film history by earnings and concentration. The reviews were clearly the best in the franchise and in fact more favorable than those given to any other wide release this year. No release was wider, nor was any better attended. This eighth and final installment even posted franchise-high grosses, finally eclipsing the long-reigning series debut, 2001's Harry Potter and the Sorcerer's Stone, with help from inflation and 3D ticket premiums. (It ranks second when adjusted for inflation.) A worldwide phenomenon to the very end, Part 2's $1.3 billion global take is the third biggest ever, trailing only James Cameron's two record-setting epics.
I could spout statistics at you all day, but none of them would mean much without being attached to a powerful and satisfying finale, which Deathly Hallows Part 2 certainly is. An immediate continuation of its predecessor, Part 2 nonetheless has a feel and manner all its own. When we last saw them, one-of-a-kind teenaged wizard Harry Potter (Daniel Radcliffe) and best friends Ron Weasley (Rupert Grint) and Hermione Granger (Emma Watson) were in the process of tracking down the seven Horcruxes whose destruction is essential to wiping out the dark, vile, noseless Lord Voldemort (Ralph Fiennes) once and for all.
Casualties have been piling up on both ends of the morality spectrum. At the film's opening, Harry is mourning the fresh loss of a brave, loyal friend. But, life goes on and so do ruthless Voldemort's plans to kill Harry Potter. The next Horcrux on Harry and friends' checklist requires them to get inside the vaults of Gringotts Wizarding Bank. To do so, Hermione poses as wicked Voldemort ally Bellatrix Lestrange (Helena Bonham Carter), with Ron also disguising himself, and Harry and accomplice goblin banker Griphook (Warwick Davis) taking shelter in an invisibility cloak.
After close calls with multiplying riches, security officers, and a fiery guard dragon, Harry, Ron, and Hermione get out with the necessary cup. Other Horcruxes, however, remain. Getting support and encouragement from his fellow Hogwarts students, Harry turns to a ghost for help in locating an elusive diadem. That leaves just two additional Horcruxes to find and destroy, which is no easy task with Voldemort and his Death Eaters turning up the heat on Hogwarts.
About the only viable argument you could throw at the Harry Potter series is "if you've seen one, you've seen them all." Indeed, if we're boiling the films down to their most basic essence, a number of them play out in similar fashion, charting a year of adventure with an eccentric new teacher and new threats to be defeated with wand and spell. It's not a sturdy argument because it needs extreme simplification to fly, tantamount to boiling down almost every story ever told to "hero overcomes obstacle and finds love." Alas, the world population is nearly at 7 billion and movie tickets aren't $0.18, so it is clear that the vast majority of people didn't see this, by far the most popular movie of the year, in theaters.
There really is no good reason for anyone who enjoys cinema to miss out. Sure, an eighth movie released just shy of the first one's tenth anniversary seems more than a little overwhelming, but the payoffs have been grand for anyone who has remained faithful and invested in these characters and the complex whimsy over the years. The "same old, same old" argument gets crushed here, because like Part 1, Part 2 departs from formula. Whereas the previous installment was all set-up and centered primarily on waiting around in the woods, this one has a story and it's the only one to tell with the stakes at their all-time high. Everything that has transcended, no matter how self-contained and forgotten, leads into this and colors the finale's rich emotional palette.
Though the movie could have easily generated pleasure with callbacks and cameos, it does not exploit its voluminous past. Nor does it get overblown; that quite possibly is its greatest achievement. Surely, there must have been a temptation to deliver one ambitious set piece after another. There is just a small taste of action excess early on and the rest gets surprisingly excellent mileage out of quiet introspection and drama. It wouldn't be Harry Potter without wands being drawn, "Expelliarmus" being shouted, and ornate visuals and effects surrounding our young leads. But there is impressive restraint and thought exhibited here. Part 2 is not some exhausting, go-for-broke epic. Though it does run an emotional gamut, visiting the past and some spectral purgatory with many deaths and one big brush in between, the film remains lean, exciting, and smart.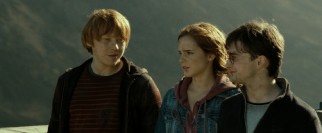 The latter two adjectives are easily applied to all the best films in the franchise and though there isn't too much consensus, the initial public sentiment has declared this last chapter the greatest of all.

I don't object to those claims, as I would first have to revisit the entire series start to finish. Having seen all the movies either in theaters or at home close to their initial release, third installment Harry Potter and the Prisoner of Azkaban seems like it might be this one's strongest competition for series-best.

Part 2 is the runaway winner by one measure: brevity. It runs just under two hours before its twelve minutes of credits roll. I bemoaned the decision to split up the final book into two movies because it seemed like a money-motivated move and self-containment seemed essential to a satisfying resolution. Part 1 definitely suffered on account of the split, feeling like half a movie at best. But no related issues plague Part 2, which wastes no time nor lacks proper setup. The biggest shortcoming -- and perhaps the most/only significant one of the entire series -- may be that viewers entering the film without reading the books will not be able to comprehend nearly as much as those who have. The density of J.K. Rowling's novels and the universe they comprise is one of the series' greatest attractions. Inevitably, not everything can be sufficiently conveyed on film. At least, the adaptations are designed for you to get all you need, with the implied and untranslated an enjoyable gravy for the most ardent fans. Still, I can't help feeling at a disadvantage approaching these purely as films.

Though it's among the best-reviewed movies of the year and is just about guaranteed to be 2011's #1 film by earnings, don't expect Deathly Hallows Part 2 to score a Best Picture Academy Award win like Lord of the Rings: Return of the King did. Oscar season is only just beginning, but already the movie isn't being treated like a serious contender, even with a Best Picture category that could support up to ten nominees. The Potter films have never gotten the accolades that Lord of the Rings did, but from the beginning, I've seen the two fantasy series of comparable quality. Some things that probably factor into the industry's disagreement: Peter Jackson adapted books fifty years old and respected as great literature, the Potter books were being written alongside the first movies; Lord of the Rings centered on adult characters and played to a wider audience with PG-13 ratings, the first Potter movies were PG, skewed younger, and starred kids (though anyone can see the films matured and so did the fans, many already wrote the series off); finally, where Jackson provided one distinct vision and a cast of respected performers, Potter had a rotating director roster (all of them secondary to Rowling) and limited opportunities for its accomplished actors, giving the brunt of the work to the three kids and spectacle.
As early reviews of Clint Eastwood's J. Edgar are tepid, Warner may only have one other serious Oscar contender in the 9/11 tearjerker Extremely Loud & Incredibly Close, so Potter should get a formidable campaign pushing it. With its record-shattering opening, Part 2 seemed like it could be headed for the same must-see event that Inception and The Dark Knight had given Warner in past mid-July debuts. Instead, it had some of the weakest legs of any big blockbuster. Its numbers were not remarkably better than past Potter movies and even in the same league as the third Transformers, which itself had eroded from its former series high. Still, it does seem criminal that this behemothic enterprise, the most consistent, consistently attended, and consistently entertaining undertaking of any size has not won a single Academy Award to date.
If anything, that reflects more poorly on the Oscars than it does on Harry Potter, which has found tremendous success by every other standard. The success continues with this week's Blu-ray and DVD release, which Amazon.co.uk recently declared its most pre-ordered of all time. This final chapter arrives with less fanfare than you might have expected, but that is sure to come at some point (presumably with a Blu-ray 3D release, which is presently a Best Buy exclusive
). For now, Deathly Hallows Part 2 can be owned starting Friday in a single-disc DVD, a single-disc Blu-ray, the 2 Blu-ray + DVD + Digital Copy combo pack we review here, and basic 8-film, 8-disc complete series collections on DVD and Blu-ray.
In a move resembling Disney's marketing strategies, Warner has announced that new shipments of all eight Harry Potter films will cease on December 29, 2011, at which time they'll go out of print. The moratorium won't last as long as Disney's, which themselves have been shortened from an inhumane ten-year rotation plan. The Potter movies will return in a bigger and better "Definitive Collection" Blu-ray next year, if Warner's Disc 1 promo makes good on its word. Until then, so many copies of all these movies have been sold that it's doubtful you'll have to worry about avoiding bootlegs or paying two limbs to track down any missing entries in the series.
Blu-ray & DVD Details

2.40:1 Widescreen (DVD Anamorphic)
Blu-ray: DTS-HD 5.1 MA (English), Dolby Digital 5.1 (Portuguese)
Both: Dolby Digital 5.1 (French, Spanish); DVD: Dolby Digital 5.1 (English)
Subtitles: English for Hearing Impaired, French, Spanish; Blu-ray Only: Portuguese
Not Closed Captioned; Extras Subtitled
Release Date: November 11, 2011
Three single-sided discs (BD-50, BD-25, and DVD-9)
Suggested Retail Price: $35.99
Blue Keepcase in Lenticular Cardboard Slipcover
Also available in DVD ($28.98 SRP), Movie-Only Blu-ray ($29.98 SRP), Complete 8-Film Collection (8-Disc DVD: $98.92 SRP; 8-Disc Blu-ray: $139.99 SRP), on Amazon Instant Video and, exclusively from Walmart, Two-Disc Special Edition DVD ($29.99 SRP)
VIDEO and AUDIO
Deathly Hallows Part 2 boasts strong picture and sound on Blu-ray. Like Part 1, this is a dark movie, but the lack of color and light does not create any specific problems. The 2.40:1 video remains clean and sharp, exhibiting nothing worse than rare, light grain. A pivotal scene is bright and looks equally great. The 5.1 DTS-HD master audio mix is more thrilling yet, utilizing all speakers tastefully and heavily, never drowning out dialogue or making you reach for the remote. Technical categories, where these movies have always excelled, may this finale's best shot at Oscar recognition.
The DVD wisely relegates the obligatory digital copies to download. Although this may pose challenges for those who like digital copies and iTunes formats, it gives the DVD's feature presentation some welcome breathing room. That presentation is dandy by the standards of that format, exhibiting the same characteristics as the Blu-ray with lower resolution and less dynamic sound. French and Spanish dubs and subtitles are retained, along with English SDH subs.
BONUS FEATURES, MENUS and PACKAGING

The all-HD extras slate begins with "Maximum Movie Mode", a feature playback enhancement that Warner has applied to the previous two installments as well. Hosted by Matthew Lewis, better known as Neville Longbottom (who is given some fine moments in this film), the mode extends playback of the movie to 2:47:25 and that is only if you refuse to take detours offered. As usual, cast and crew (producer David Heyman, and actors Rupert Grint, Bonnie Wright, and the Phelps twins, among many others) pop up to talk about the movie, which is occasionally paused, but usually continues playing either in a small window or full-sized.

The picture-in-picture and sometimes full-sized comments and behind the scenes footage catch you up on minor characters' roles and objects' significance in past films (with clips) and generally shed scene-specific light on the film. In addition, deleted scenes are played where they were intended and Emma Watson, Warwick Davis and Mark Williams reads corresponding excerpts from the book. This is a fantastic way to gain insight into the film's making without the lulls and dullness of even strong audio commentaries. It also plays without a delay or hitch and even remembers where you left off if you need to break it up into two sittings.

Eight Focus Points, the short topical detours offered at carefully chosen spots on Maximum Movie Mode, can also be more easily enjoyed on their own or in succession (26:27). "Aberforth Dumbledore" (2:37) touches on Dumbledore's brother, paying special attention to Ciarán Hinds' transformative make-up. "Deathly Hallows Costume Changes" (3:24) gains insight into the final appearances of Lucius Malfoy and Neville Longbottom from the actors and costume designer Jany Temime. "Harry Returns to Hogwarts" (3:22) discusses Harry's return as a reunion and as an action sequence. "The Hogwarts Shield" (2:27) deconstructs the many visual effects employed for the school battle sequence.

"The Room of Requirement Set" (3:14) celebrates the prop-loaded production design of one of the series' grandest locations. "The Fiery Escape" (3:49) looks at the action sequence set in The Room of Requirement, primarily in terms of wire and real-time stunts. "Neville's Stand" (4:16) gathers accounts of filming that climactic scene. "Molly Takes Down Bellatrix" (3:28) details one of the movie's most iconic moments with comments from cast and director David Yates.

Listed separately from the other Focus Points, "Final Farewells from Cast and Crew" (3:05) collects a closing thought or two from every leading Part 2 cast and crew member, which are sprinkled throughout behind-the-scenes photos from over the years.

There's also a BD-Live section, but like all other Warner ones, I was unable to access it; after minutes of trying to connect, it timed out. Hmm.

The movie Blu-ray opens with promos for LEGO Harry Potter: Years 5-7, Harry Potter: The Definitive Collection (a limited edition Blu-ray set due next year), and Pottermore.
At first glance, the bonus Blu-ray disc looks pretty light, but the first of its four listings does contain an hour and a half of content, all of it in HD. That section, Behind the Story, represents the majority of the supplements.
First and longest is "A Conversation with J.K. Rowling and Daniel Radcliffe" (53:03), an unusually substantial and mature reflection on the series by the author and the star. They question each other seemingly entirely on their own, which makes for a chat that is slightly awkward but more strikingly real. They start at the beginning, recalling Radcliffe getting the titular role and revealing the moderate extent of Rowling's involvement in casting. The author touches upon changes she allowed and those she objected to. They touch upon the inevitable nature of fan complaints to adaptation, the atmosphere of the productions, actor acne, the movies' impact on their lives, and Radcliffe's early allergic reactions to contact lenses and Harry's glasses. Rowling reveals halfway through the series, she considered killing off Ron (news that has made headlines in recent days). Perhaps more interesting than that are the pasts and threads conceived but not written, which the author shares amidst surprisingly frank discussion of Dumbledore's gayness. This may be the most candid and human of the many bonus features that have documented this franchise.
"The Goblins of Gringotts" (10:56) considers the casting and make-up done with dozens of little actors from Warwick Davis' specialized agency. Davis talks about his history with the series and we get plenty of looks at the ambitious makeovers performed on men (including Willy Wonka Oompa Loompa Rusty Goffe) and women alike. It's a good making-of piece on a narrow topic.
"The Women of Harry Potter" (22:31) celebrates the series' female characters with comments from Rowling and some of the series' actresses, along with clips from all the films and even some premieres. Though Mrs. Weasley, Mrs. Malfoy, Ginny, and Luna are touched upon, the piece is mostly a celebration of Hermione as a reflection of Rowling herself. Accordingly the author and Emma Watson do most of the talking. While it's not a topic that would seem to merit such attention, eight films in, it seems appropriate and is tastefully done.

Most of the eight deleted scenes (6:33) are brief extensions of existing ones. They tend to lose inessential supporting character moments, including bits with Fleur Delacour (Clémence Poésy) and Bill Weasley (Domnhall Gleeson),

Luna Lovegood (Evanna Lynch), Dumbledore's brother (Ciarán Hinds), Neville Longbottom (Matthew Lewis), Lupin (David Thewlis) and Tonks (Natalia Tena), and Argus Filch (David Bradley). Fun to see, but surprisingly minor given the short runtime.

The disc's final two listings are promos, albeit of the relevant variety. First comes a 93-second look at Warner Bros. Studio Tour London: The Making of Harry Potter, which will give you the opportunity to explore the movies' sets beginning spring 2012. Then, J.K. Rowling further talks up Pottermore (1:07), "an online reading experience unlike any other", with animations from the currently beta-stage site. As far as welcome advertising goes, it is regrettable that no trailers for Deathly Hallows Part 2 are included, not that I've been able to share in others excitement over any of the series' like-minded previews.

One last item mentioned on a slipcover sticker but inaccessible to me is a PlayStation 3 game demo for LEGO Harry Potter Years 5-7, which releases the same day as this.

The DVD included here is as close to a no-frills presentation as you can get, offering just "Languages" and "Play", because scene selection would have killed them! The one bonus feature from the DVD sold on its own ("additional scenes") is not supplied. I'll leave it to you to speculate what advantage there was to authoring a new barebones disc instead of just including the same lightweight DVD from retail. Once again, the DVD-buying general public will have to turn to Walmart
if they want real bonus features. That retail giant is the exclusive home of Part 2's Two-Disc Special Edition DVD.
You don't need the DVD or a DVD-ROM drive to access the digital copy, which arrives in Warner's preferred new format. With your free Flixster and UltraViolet accounts, you will be able (in theory, at least) to stream the movie on any computer or portable device and download it to three places within the next two years.
The DVD's two menu screens are static and standard, the main of which loops a dramatic 45-second excerpt of Alexandre Desplat's score. The two Blu-rays feature a more exciting but equally standard montage of dramatic and action-packed clips with the same score excerpt. Listings rise with a fizz sound and are navigated with a putt sound.
Though the disc doesn't resume playback in a traditional sense, it does remember where you left off on the Maximum Viewing Mode if you need to split it up.
The three plainly-labeled discs fit into a standard slim Blu-ray case, which plays the two BDs on opposite sides of a swinging tray. Two inserts supply your digital copy/WB Insider Rewards code and state what you'll need to access BD-Live (a list that, based on experience, is incomplete to me). The case is topped by a cardboard slipcover, whose nifty lenticular face alternates between the keepcase's three-hero pose and Voldemort and his Death Eaters as you rotate it.
CLOSING THOUGHTS

As widely entertaining and commendable as almost anything from this century,

the Harry Potter series draws to a close most satisfyingly in the taut and often arresting Deathly Hallows Part 2. Though more highly praised than its predecessors, this one still needs to be seen in order and preferably after reading all the books first. That legwork is needed to get the most from this, but you could skip it and still end up with an enjoyable (if not entirely comprehensible) two hours. This final episode of the crowd-pleasing franchise might be its very best and certainly compares favorably to the vast majority of modern film.

Warner's Blu-ray combo pack is not the film's be-all, end-all edition, but it will suffice for all but the most diehard fans. The movie gets a fine feature presentation and substantial lot of bonus features. That's more than enough to keep you occupied and happy until The Definitive Blu-ray Collection arrives next year.

Buy Harry Potter and the Deathly Hallows Part 2 from Amazon.com: Blu-ray + DVD + Digital
Copy / DVD / Movie-Only Blu-ray / 8-Film DVD Collection / 8-Film Blu-ray Collection

Only at Walmart: Two-Disc Special Edition DVD
/ Only at Best Buy: Blu-ray 3D Combo