Darby O'Gill and the Little People quickly takes viewers into its enchanting world. Set in a small Irish town, the film wastes no time before introducing us to the father and daughter at its center. Darby O'Gill (Albert Sharpe) is an old widower who likes to pass the time telling stories at the pub, to the delight and disbelief of others. As long as town priest Father Murphy isn't around, Darby will spin yarns about the little people who he has encountered at a hilltop known as Knocknasheega. Meanwhile, Katie (Janet Munro), his 20-year-old daughter, is content to take care of things at home, and insists she doesn't have time or great desire for a love.
One day, with both Darby and Katie at their usual locations, Lord Fitzpatrick (Walter Fitzgerald) arrives in town unexpectedly and delivers the disheartening news that Darby is to be replaced as caretaker of the Lord's estate. Rather than upset his daughter with the word of his retirement, Darby tells her that the caretaker-to-be is merely helping with some house work. That man is Michael MacBride (Sean Connery, in one of his earliest film roles), a polite, handsome young fellow who feels that Darby should let his daughter in on things.
But Darby doesn't. He has another task in mind. He's to ride into the next town and bring back the new church bell for Father Murphy. At night, while he's trying to get his horse, he falls down the well atop Knocknasheega and plummets into the world of the little people!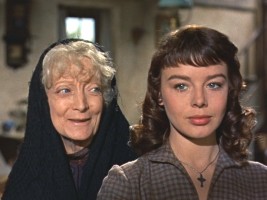 Here, a wonderland sequence depicts Darby amongst countless leprechauns, a the type of visually astounding and endlessly entertaining scene one might expect more of from the title of the film. Once again, Darby encounters the legendary King Brian Connors (Jimmy O'Dea), the 5,000-year-old 21-inch leprechaun monarch. King Brian explains that Darby has been brought to their world as a favor, allowing him to escape the disappointing early retirement he faces in the other world.
The film is keen on teaching some rules about leprechauns, and Darby dispenses something his grandfather once said, that leprechauns most love three things: dancing, whisky, and hunting. We also learn that leprechauns can only work their magic when it's dark out, and while a leprechaun will grant you three wishes, making a fourth wish negates the three before. General merriment ensues as Darby plays the fiddle and the leprechauns leap around, a chaotic scene which enables Darby to escape.
When Darby is found by King Brian, he tries to keep the leprechaun in his possession the whole night by providing a constant outpouring of poteen. The film is minorly slurred by Darby's drunken tomfoolery, as the two try to improvise song until the wee morning hours. When this does in fact go on, Darby's got King Brian in his possession, and demands his three wishes.
Darby and King Brian battle wits, respectively trying to make the most and least of the three wishes. Darby decides that his best plan is to make one wish and keeps King Brian captive until he can decide on the last two. Meanwhile, back at home, Katie and houseguest Michael might be getting close to one another, but Darby still has to let his daughter know what's going on.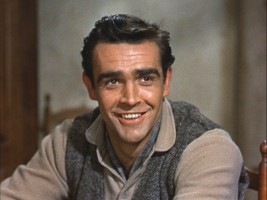 A simple plot outline doesn't do the film justice, as Darby O'Gill and the Little People succeeds with a winning, whimsical spirit that pervades all. In its depiction of both the fantastic and the commonplace small town atmosphere, the film sweeps the viewer up in its charms, all the way through its gripping climax and sweet, utterly pleasing ending.
Darby O'Gill was a personal project of Walt Disney's, and it took well over a decade to come to fruition from concept and planning. This extensive pre-production period layed groundwork for two areas where the film most succeeds: great attention to detail and superior visual effects. Both result in a fantastic, but believable atmosphere, where everything from leprechaun folklore to Irish Catholic imagery, rings of authenticity.
The strong visual effects remain convincing all these decades later, with remarkably greater consistency than 1967's The Gnome-Mobile, and merely two unsightly scenes (one involving a doll, the other a fake hand) that stand out. It is a testament to the matte and camerawork of Peter Ellenshaw and the effects crew, which is aptly documented elsewhere on the DVD.
The cast is inspired and photogenic, with young leads Munro and Connery flashing their earnest, infectious smiles, and Albert Sharpe successfully displaying a small range of interesting faces and a wide range of character traits. Robert Stevenson directs the film with the sensibility that would mark most of the dozens of Disney works he would helm over the next two decades.
But beyond the specific praise, Darby O'Gill suceeds by weaving Disney magic with its old-fashioned, romantic heart. This makes the film stand up to any test all these years later.
DVD Details

1.33:1 Fullscreen (Full Frame)
Dolby Digital Mono (English, French)
Subtitles: English, French, Spanish
Closed Captioned
Release Date: August 3, 2004
Single-sided, dual-layered disc (DVD-9)
Suggested Retail Price: $19.99
White Keepcase
VIDEO and AUDIO
For once, Disney has made a point of giving out clear aspect ratio information. So as not to dissuade fans who cried foul at the sound of "fullscreen," Disney has included a one-sided color insert with a note stating "DARBY O'GILL AND THE LITTLE PEOPLE is presented as it was originally shot, in a 1.33:1 aspect ratio. When released to theaters in 1959, the studio recommended projecting the image at 1.75:1, to satisfy the public's growing appetite for widescreen movies. To give the illusion of this wider image, theaters often needed to crop films at that time, and some of the picture was not seen. The following presentation has not been cropped, and none of the original image has been lost."
The back of the package also specifies "Presented as Originally Filmed in 1959 - Fullscreen (1.33:1)." From this clarification and the rest of this month's releases, it certainly appears that the studio is making a wholehearted effort to release their catalogue titles to DVD in their original aspect ratio.
So, unlike Old Yeller's matted transfer which has some odd framing, Darby O'Gill is presented in a fullframe open matte transfer. This is an all new digital transfer and it looks rather good. Some wear is evident, but for a 45-year-old film, there's far less than you might expect.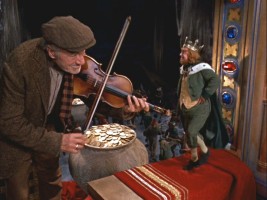 Colors are perfectly rendered. The palette of grays and drab colors of the pub are accurately defined, as are the more lively hues of the leprechaun world and picturesque countryside. There is a great amount of detail to this transfer. Some grain plagues certain scenes, but surprisingly few effects shots. For some reason, the natural sky poses more problems in this area.
If you were to provide your own makeshift 1.75:1 transfer using mattes, you'd end up with some odd compositions, as there's never an excess of space at the top and bottom of the frame and elements often occupy either extreme. Overall, this fullframe transfer isn't perfect, but it shows considerable restoration and is certainly pleasing for a film of this age.
Darby O'Gill and the Little People is presented in its original monoaural audio format. Even though the sound is limited to one channel, there is depth to the Dolby Digital Mono track. When the film employs music, it does so with an effective and wide range. While the elements are dated, they remain accurate, with little distortion.
The good news is that this DVD contains the original audio, and not the redubbed version that appeared with re-release prints designed to be more accessible for American audiences. The thick Irish accents, not the soundtrack, are the biggest challenge to understanding all the dialogue. The audio seems a bit out of synch in places, but this is a product of imperfect looping of the '50s, rather than a DVD flaw.
EXTRAS
Fortunately, Disney has granted Darby O'Gill and the Little People worthy of a few special features. First up is "Mr. Connery Goes to Hollywood", a newly-produced featurette (8:30) that catches up with the impressionable Scottish-Irish actor who made one of his earliest film appearances here. Some of Darby's biggest cast members are briefly profiled, and Connery talks about them and his experience making a movie for Disney. Narration and clips from the film tie it all together. While the piece can't decide if it wants to focus on Connery as an actor or the film itself, it's a very nice addition to the disc.
Next is "Little People, Big Effects", an 11-minute featurette on the visual magic from this and other Disney films. The piece discusses Walt's efforts to make the film seem real, mentioning the next supplemental feature, and the film's campaign to pretend that leprechauns really made the movie. Darby's optical effects and mechanical effects are both discused. The Disney studio's effects guru Peter Ellenshaw appears and two of his techniques (matte paintings and forced perspective) are covered, with examples from his work on Treasure Island and Darby O'Gill. There are even three-dimensional computer graphics to illustrate how the trickery is seamlessly pulled off. All of this makes for another enlightening and welcome bonus.
The last bonus feature is "I Captured the King of the Leprechauns", a 49-minute episode of "Disneyland" all about Darby O'Gill and the Little People. As the special begins, Walt discusses the Irish film he is making with guest star Pat O'Brien. O'Brien provides details on his homeland's culture for the half-Irish Walt, discussing leprechauns and banshees. Walt is convinced that he needs to go to Ireland to find the little people for his film, so he hops on a plane and goes to Dublin.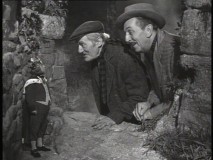 In Dublin, Walt learns more about leprechaun folklore, even becoming part of the pub audience for Darby O'Gill's stories. Darby takes Walt to Knocknasheega to get a glimpse of King Brian and Walt asks him to be in his movie. In between clips from the film (which reveal some late plot points), there's some entertaining banter between Darby and King Brian.
As entertaining as any "Disneyland" episode or on-camera appearance by Walt Disney, this supplement is a charming inclusion. It reveals Walt's personal devotion to the film and the attention to detail that pervades the production. With his charismatic persona on full display, Walt tries to make the film and its subject matter as real and convincing as ever. This vintage television special is presented in black and white and looks rather clean and nicely restored.
Disney almost did a perfect job with these clever animated menus which feature leapin' leprechauns and an unfortunately overloud, bass-heavy selection from the score. These 16x9 screens are the first to feature the studio's new EasyFind graphics for each menu section.
CLOSING THOUGHTS
Darby O'Gill and the Little People is one of Disney's better films and this long-awaited Region 1 DVD debut does not disappoint. Presented with care and nice offering of bonus features, this is the most satisfying catalogue DVD the studio has put out this year. Both the film and this DVD are highly recommended.