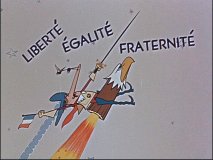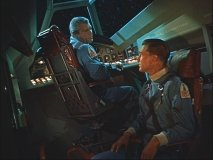 CLOSING THOUGHTS
There's an unexpected but definite appeal to these Tomorrowland programs. Though scientific and technological breakthroughs over the past few decades have rendered this material somewhat dated, that doesn't detract from the value of these shows. If anything, a modern understanding enhances one's appreciation of this older thinking. The entertainment value to the animated and live action sequences of "Tomorrowland" remains strong on several levels, even as the space program has in recent years mostly fallen off the radar in the United States.
Though these programs are informative, they are not dry. They maintain an approachable casual tone that lends to their entertainment value. While Walt Disney should get his due for approving this series, a great deal of credit goes to Ward Kimball, the longtime Disney animator who produced and directed these early programs.
Maltin states elsewhere that Disney selected Kimball to host the program in part to his lack of knowledge on the subject matter. Kimball could structure these programs and teach as he was learning about space and the future of travel. The interesting blend of lighthearted speculation and hard scientific fact shows that this tactic worked.
As with the other Walt Disney Treasures sets, Tomorrowland displays its vintage content with the utmost care. The context that Leonard Maltin provides, coupled with some genuinely enjoyable bonus features, contributes to making this a special package. For most Disney collectors, the question may not be whether to buy, but how to buy a copy of this set, the most limited Treasure printed.