DVDizzy.com | DVD and Blu-ray Reviews | New and Upcoming DVD & Blu-ray Schedule | Upcoming Cover Art | Search This Site
Directors Series: Stanley Kubrick Box Set DVD Review
Warner Home Video Directors Series: Stanley Kubrick

6-Movie Set Contains: 2001: A Space Odyssey (1968), A Clockwork Orange (1971), The Shining (1980), Full Metal Jacket (1987), Eyes Wide Shut (1999), and Stanley Kubrick: A Life in Pictures (2001)

5 Stanley Kubrick-directed films: Anamorphic Widescreen -- 2001: 2.20:1; A Clockwork Orange: 1.66:1; all others: 1.78:1 / Stanley Kubrick: A Life in Pictures: 1.33:1 Fullscreen with letterboxed clips
Dolby Digital 5.1 (English, all but A Life in Pictures: French, The Shining and Full Metal Jacket only: Spanish)
Subtitles: English for Hearing Impaired, French, Spanish; A Life in Pictures only: Portuguese
Movies Closed Captioned; Extras Not Subtitled or Captioned
Running Time: 846 Minutes (14 Hours, 6 Minutes) plus 1152 Minutes (19 Hours, 12 Minutes) of Extras
Release Date: October 23, 2007 / Suggested Retail Price: $79.98
Ten single-sided discs (8 DVD-9s and 2 DVD-5s) / Six Black Keepcases in Cardboard Box
See Below for Cast, Directors and Other Film Details
Stanley Kubrick never went to film school or even college. He never made a movie that set any kind of attendance records or could be classified as more than moderately profitable. His only Academy Award was for visual effects when it was a two-nominee category. Yet, over his seventy years on earth and the eight and a half years since his 1999 passing, Kubrick has repeatedly earned the reputation of one of the greatest filmmakers in cinema history.

Though Kubrick's career in film spanned nearly 50 years, he directed just thirteen features, a mere five of which were made over his final three decades.

Trying to find a unifying theme to the Kubrick canon is no easy task. John Ford made Westerns, Alfred Hitchcock is celebrated for his suspense thrillers, David Lean is synonymous with grand scale epics, even the versatile Steven Spielberg can almost be summed up as a helmer of crowd-pleasing adventures. It's impossible to thematically link Kubrick's works, for each of his projects treads different ground. Even seemingly recurring elements break down under scrutiny; while five of his films centered on war, broad satire, graphic intensity, 18th century and ancient Rome period settings ensure that none would ever be confused for the other.

But the films hold several things in common when only public response is considered: controversial upon release, able to spark discussion, open to wide interpretation, covered extensively in film study, and still highly praised many years later.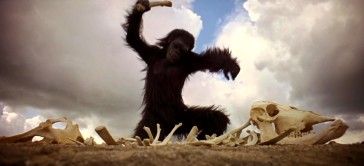 The making of a Kubrick film also grew to be consistent. Increasingly notorious for his love of privacy and fear of flying, the Bronx-raised Kubrick shot movies in secrecy, almost exclusively in his adopted homeland of London, England, regardless of a film's temporal or geographic setting. Both a perfectionist and an experimenter, Kubrick often demanded dozens of takes for each shot, resulting in productions that repeatedly spanned multiple years. Such devotion and patience kept Kubrick's curriculum vitae slim in his later life, when those attributes were at their highest. They also ensured a buzz would be generated for whatever new movie bore his name while assuring him that each project was able to reach its full potential in his eyes.
After working as a photographer for Look magazine from his late teens through early 20s, Kubrick began making short documentaries for movie theater newsreels in the early 1950s. This led to his feature directorial debut, 1953's Fear and Desire, a film he disowned and later tracked down and acquired prints of to prevent distribution. To date, the fictional war drama has never received an official video release, although bootlegged copies exist. A sophomore effort, Killer's Kiss (1955), was distributed by MGM but remains his second least-known work. Acclaimed back-to-back films for the studio, racetrack crime caper The Killing (1956) and anti-war downer Paths of Glory (1957), gained Kubrick significant notice.
The 1960s saw Kubrick rise to the top ranks in Hollywood. At the request of producer-star Kirk Douglas (who headed Paths' cast), Kubrick took over the reins on Spartacus (1960), which did expectedly big business and received critical favor. Alas, disenchanted with having to bow to the demands of Douglas and others, the experience led Kubrick to seek greater creative control on his films. He gained it upon moving to England, where he made the controversial Lolita (1962) and the wildly popular black comedy Dr. Strangelove or: How I Learned to Stop Worrying and Love the Bomb (1964), each employing the talents of Peter Sellers in multiple roles.
For 2001: A Space Odyssey, released in 1968, Kubrick collaborated with author Arthur C. Clarke. Like many Kubrick films, 2001 slowly gained appreciation over time and would eventually be recognized for the visual and structural innovation it brought to the science-fiction genre. A much different and coarser vision for the future was provided in the director's next work, A Clockwork Orange (1971), which garnered an X rating for its content and would quickly be withdrawn in the United Kingdom for the remainder of Kubrick's life. The period drama Barry Lyndon (1975) followed; considered a flop, it nonetheless earned the most Oscars (4) of any Kubrick film. Supernatural horror and the Vietnam War were at the foreground of Kubrick's two releases in the 1980s, The Shining (1980) and Full Metal Jacket (1987). His career came to a close with 1999's Eyes Wide Shut, a strange contemporary tale that was released posthumously in a noticeably changed climate of cinema.
Though the DVD format is just a little over ten years old, Warner Home Video has a somewhat extensive history of releasing Kubrick's films on the format. In June of 1999, with the director's final film just a few weeks from opening in theaters, the studio issued a 7-film Stanley Kubrick Collection. It offered single-disc versions of Lolita, Dr. Strangelove (from Columbia Pictures), 2001, A Clockwork Orange, Barry Lyndon, The Shining, and Full Metal Jacket.

Two summers later, a new Stanley Kubrick Collection came, delivering remastered versions of the seven aforementioned works with slight supplemental enhancements, plus Eyes Wide Shut and the new documentary Stanley Kubrick: A Life in Pictures.

Late last month, Warner took another look at Kubrick's films. In doing so, the company issued the first Blu-ray Disc and HD DVD versions of 2001, Clockwork Orange, The Shining, Full Metal Jacket, and Eyes Wide Shut. With the exception of Full Metal Jacket, the same films were given new 2-disc DVD treatment individually. Each of those four 2-disc sets, plus a new and improved version of Full Metal Jacket and a new standalone release of Stanley Kubrick: A Life in Pictures were simultaneously compiled in the subject of this review, the 6-film, 10-disc Directors Series: Stanley Kubrick box set. Though the moniker suggests it's part of a collection of collections and Warner has probably dabbled in more multi-movie boxes than any other studio, the "Directors Series" brand is new.

A question that should instantly come to mind regarding this newest box set as it stands in the Warner Kubrick DVD lineage is "Where are those other movies?" Well, one can guess that Sony no longer wanted to cooperate with Dr. Strangelove, but that still leaves Lolita and Barry Lyndon in Warner's hands. Apparently, these two lesser-known films were deemed not significant enough to be a part of the essential Kubrick set. Their concurrently-released new DVDs were merely repackagings of the old letterboxed versions, with the old blue Stanley Kubrick collection banners dropped.
2001: A Space Odyssey

Theatrical Release: April 6, 1968 / Running Time: 149 Minutes / Rating: G

Director: Stanley Kubrick

Cast: Keir Dullea (Dr. Dave Bowman), Gary Lockwood (Dr. Frank Poole), William Sylvester (Dr. Heywood R. Floyd), Daniel Richter (Moon Watcher), Leonard Rossiter (Dr. Andrei Smyslov), Margaret Tyzack (Elena), Robert Beatty (Dr. Ralph Halvorsen), Sean Sullivan (Dr. Bill Michaels), Douglas Rain (voice of HAL 9000), Frank Miller (voice of Mission Controller), Bill Weston (Astronaut), Edward Bishop (Aries-1B Captain), Glenn Beck (Astronaut), Alan Gifford (Poole's Father), Ann Gillis (Poole's Mother), Edwina Carroll (Stewardess), Penny Brahms (Stewardess), Heather Downham (Stewardess), Mike Lovell (Astronaut)
2001: A Space Odyssey, Kubrick's final project at MGM, is essentially three loosely-related films in one. We begin at what a title card proclaims "The Dawn of Man", where apes merely exist and grunt among a cliffy terrain. A black monolith appears and proves to hold an undeniable attraction for the apes, who cautiously touch it and come away somehow wiser. Shortly after, a single ape discovers the concept of tools, realizing that the bone of an animal carcass can be used to strike things like living animals, presumably making hunting and survival easier. We don't stick around to find out, though. Instead, we jump millennia ahead to outer space, where an assortment of vessels are carrying out tasks to the peaceful non-diegetic sound of Johann Strauss' The Blue Danube.
Settling into our futuristic setting of zero gravity and liquid foods, we eventually turn our attentions to Heywood Floyd (William Sylvester), an American astronaut who is heading to the Moon on a mission that's shrouded in secrecy. While the rest of mankind is concerned about lunar disturbances, Floyd and a small crew are in fact investigating the nature of an unknown object that appears to have been deliberately buried in the surface of the celestial body. Investigating the same are the subjects of our third and final chapter, a pack of astronauts led by Dave Bowman (Keir Dullea), Frank Poole (Gary Lockwood), and the believed infallible computer HAL 9000 (voiced by Douglas Rain).
By far the strongest element of the narrative is the powerful and impressive man versus machine tale that claims the third quarter of the film, set on and around the sleepy rotating Discovery spaceship. Beyond that, sizable chunks are comprised merely of outer space astronaut scenery skillfully married to classical music pieces. There are a number of glimpses of eating food and a couple of touching exchanges with those back on Earth. In general, though, the movie tells us very little, leaving even the ultimate destination an expository afterthought. There is a paucity of dialogue, none of which can be found in the first half-hour.

While 2001's most ardent supporters may object to such a notion, I'm convinced that much of the reason why it's so widely admired is that in stating so little, Kubrick leaves viewers to derive their own interpretation to the film, which in turn will be the one most satisfying to them. That said, there's more than sheer simplicity. There are a few thoughtful ideas on the nature of man and the existence of alien life. As important is transcendent spectacle, in which the visual effects hold up expertly.

The best example of this comes late in the game as we journey to Jupiter, leaving behind standard colors, sights, and rationale. Though incredibly slow-moving (I don't think I've encountered a more patient and relaxed movie), the film holds the viewer captive like few others, with its long-held shots and extreme understatement. Through it all, 2001 evokes unique feelings.

The ending bears some reminder that for all the brilliance of leaving itself so open, the film could say a little more, be decisive and the slightest bit specific. I defy anyone to claim there is a clear, logical reading to the final sequence. For that, you'll have to turn to Arthur C. Clarke's novel, which was written concurrently with the screenplay and published around the film's arrival in theaters, both narrowly forecasting Man's historic first Moon landing. The fact that 2001 has come and gone bearing little resemblance to the future depicted is of the least relevance. One simply cannot deny that this 2001 makes us feel and think wondrous things unlike any other film. But as cinema is a storytelling medium, one must also acknowledge that 2001 is a little slight in this department, delivering a few gripping passages but remaining overly vague. On a lesser film, that would matter a lot more.

Buy 2001: A Space Odyssey from Amazon.com: Two-Disc Special Edition DVD • Blu-ray • HD DVD
A Clockwork Orange

US Theatrical Release: February 2, 1972 / Running Time: 136 Minutes / Rating: R (edited from X)

Director: Stanley Kubrick

Cast: Malcolm McDowell (Alex DeLarge), Patrick Magee (Mr. Alexander), Michael Bates (Chief Guard), Warren Clarke (Dim), John Clive (Stage Actor), Adrienne Corri (Mrs. Alexander), Carl Duering (Dr. Brodsky), Paul Farrell (Tramp), Clive Francis (Lodger), Michael Gover (Prison Governor), Miriam Karlin (Catlady), James Marcus (Georgie), Aubrey Morris (Mr. Deltoid), Godfrey Quigley (Prison Chaplain), Sheila Raynor (Mum), Madge Ryan (Dr. Branom), John Savident (Conspirator), Anthony Sharp (Minister), Philip Stone (Dad), Pauline Taylor (Psychiatrist), Margaret Tyzack (Conspirator), David Prowse (Julian)
Shortly after 2001 was finished, Kubrick turned to a much bleaker and more vulgar vision of the 21st century in A Clockwork Orange, adapted from the dark novel of the same name by British author Anthony Burgess. The protagonist here is Alex (Malcolm McDowell), an adolescent man who along with his three "droogs" (cronies) spends nights at a bizarrely-decorated bar drinking mixes of milk and drugs. This prepares the four pals for their favorite nightly pastimes: "ultra-violence" and rape. The loathsome actions of the degenerate group are depicted in detail and glorified with cinematography, art design, and classical music selections. The first act of the film seems designed to shock and trigger a subconscious taste in viewers for vicarious violence. It culminates with Alex, having recently reinforced his status as gang leader, accidentally murdering a frightened "cat lady" with a giant ornamental phallus sculpture and single-handedly taking the blame.
Once the film is kind enough to aspire to more than stylized acts of random serious crime, it improves some. But irreparable damage has already been done by this point; there is not an ounce of sympathy to Alex despite the aftermath's calculated efforts to transform him into a misunderstood Beethoven-loving victim, who is stripped naked, renamed a number, and treated, well, like the prisoner he is, only with some needless shouting. Hoping to get out of his 14-year sentence, the seemingly unrepentant Alex pursues a rumored test phase treatment. Insensitive authority figures administer the Ludovico Technique, an aversion therapy of eye-dropped drugs and violent movies that is meant to free criminals from the lure of wrongdoing.
Though it is one of Kubrick's most popular films and celebrated as one of the definitive tales of delinquency, A Clockwork Orange is a pretty wretched work in my book. It is so unhappy and immature a production. Any aesthetic values are overshadowed by universally detestable characters and a failure to rebound from its shamelessly sinful opening. One even receives an acrid taste from the unfortunate misuse of enduring staples of classical music (the "William Tell Overture", "Pomp and Circumstance", and Beethoven's plot-hedging "Ninth Symphony") and the sweet "Singin' in the Rain" made famous by Gene Kelly. It's tough to believe the director who so sensibly linked intergalactic doings to multiple Strausses just a few years earlier here resorts to oddly and continuously reprising Walter/Wendy Carlos' synthesized renditions of Henry Purcell's "Music for the Funeral of Queen Mary." Then there is the slang dialect, reportedly lightened from the book, that comes across merely as pretentious, and a visual element which leaves no wall mural without graffito genitalia and suggestive captions.
I'd be glad to forgive the movie's indecent tastes if it all added up to something that justified it. It doesn't. I'm happy that the time period depicted in the film will soon prove itself to be more enlightened in reality. But I think not only did Kubrick take a misstep here, he inspired an objectionable brand of revered cinematic violence. Not only were Clockwork's reprehensible transgressions revered, they were imitated, leading the director to successfully plea Warner to outright ban the film in its native United Kingdom.
Buy A Clockwork Orange from Amazon.com: Two-Disc Special Edition DVD • Blu-ray • HD DVD
The Shining

Theatrical Release: May 23, 1980 / Running Time: 144 Minutes / Rating: R

Director: Stanley Kubrick

Cast: Jack Nicholson (Jack Torrance), Shelley Duvall (Wendy Torrance), Danny Lloyd (Danny Torrance), Scatman Crothers (Dick Hallorann), Barry Nelson (Stuart Ullman), Philip Stone (Delbert Grady), Joe Turkel (Lloyd), Anne Jackson (Doctor), Tony Burton (Larry Durkin), Lia Beldam (Young Woman in Bath), Billie Gibson (Old Woman in Bath), Barry Dennen (Bill Watson), David Baxt (Forest Ranger 1), Manning Redwood (Forest Ranger 2), Lisa Burns (Grady Daughter), Louise Burns (Grady Daughter), Robin Pappas (Nurse), Alison Coleridge (Secretary), Burnell Tucker (Policeman)
Adapting a Stephen King thriller hardly seemed like the next logical step for Kubrick on the heels of Dr. Strangelove, 2001, Clockwork and Barry Lyndon. But that is what the director did, entering production in the late-1970s on a film version of The Shining, King's first best-selling hardcover novel. While the project may have looked like an unexpected move towards middlebrow tastes, The Shining would become one of Kubrick's least polarizing works and one of the most revered horror films ever made. Customary for the filmmaker, that would take some time; the only award recognition bestowed upon the film were a quartet of nods in the Saturn Awards for genre fare and a pair of nominations in the premiere Golden Razzies for Worst Director and Worst Actress.
The Shining centers on the three-member Torrance family: father Jack (Jack Nicholson), mother Wendy (Shelley Duvall), and 6-year-old son Danny (Danny Lloyd). Although there is a dark episode in their semi-recent past, the Torrances appear to be a close, normal, genial clan at first appearance. But they need a source of income, which leads them out to Colorado, where the vast, opulent Overlook Hotel is in need of a caretaker for the six-month period from October to April, when snowy roads require the hotel to close to remain profitable. The hiring party warns about the job's tragic history and the genuine possibility of developing "cabin fever", but Jack takes it in stride, expecting the quietude to afford him opportunity to work on an undetermined writing project.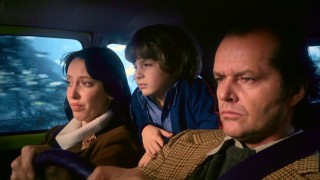 The audience, of course, knows better. Every bit of the Overlook that's introduced to the Torrance parents, from the spacious kitchen area to the topiary maze, inevitably hold importance later on. As does the father that recently and severely failed in the position, granting a haunted vibe to the expansive grounds. There's also Danny's imaginary friend Tony, who is connected to mysterious telepathic powers that sympathetic cook Dick Hallorann (Scatman Crothers) identifies as "the shine."
Jack's alcohol-aided descent into madness makes for a heck of a ride. Unquestionably atmospheric, the film offers enough to sustain those looking only for suspense and those who want blood too. There are jump-in-your-seat scares and plenty of oddities. At nearly 2½ hours, the film is longer than necessary, especially for how many of the book's elements are dropped. And the director pulls out another ambiguous ending that can be interpreted in many ways, none of which fully satisfy in context. Like 2001, enough goes right for one to overlook the fact that the pieces don't all fit together.
Kubrick takes Stephen King horror to an entirely different plane, though one which didn't satisfy the author, who would adapt his book for a 1997 ABC miniseries.
Buy The Shining from Amazon.com: Two-Disc Special Edition DVD • Blu-ray • HD DVD
Full Metal Jacket

Theatrical Release: June 26, 1987 / Running Time: 116 Minutes / Rating: R

Director: Stanley Kubrick

Cast: Matthew Modine (Pvt. Joker), Adam Baldwin (Animal Mother), Vincent D'Onofrio (Private Pyle), Lee Ermey (Gny. Sgt. Hartman), Dorian Harewood (Eightball), Arliss Howard (Pvt. Cowboy), Kevyn Major Howard (Rafterman), Ed O'Ross (Lt. Touchdown), John Terry (Lt. Lockhart), Kieron Jecchinis (Crazy Earl), Bruce Boa (Poge Colonel), Kirk Taylor (Payback), John Stafford (Doc Jay), Tim Colceri (Doorgunner), Ian Tyler (Lt. Cleves), Gary Landon Mills (Donlon), Sal Lopez (T.H.E. Rock), Papillon Soon Soon (Da Nang Hooker), Ngoc Le (VC Sniper), Peter Edmund (Snowball), Tan Hung Francione (ARVN Pimp), Leanne Hong (Motorbike Hooker)



Kubrick moved from a bestselling piece of fiction to an out-of-print semi-autobiographical novel, selecting Marine veteran Gustav Hasford's The Short-Timers as the source for his take on the Vietnam War.

After the absolute minimum of setup (soldiers getting crew cuts),

Full Metal Jacket dives into the rigors of a Marine training camp. There, we discover our easy-going protagonist (Matthew Modine), who is quickly dubbed Private Joker, and a portly screw-up (Vincent D'Onofrio) who receives the nickname Gomer Pyle. They are just two of the dozens of young trainees who are at the mercy of the strict and impossibly foul-mouthed drill instructor Gunnery Sergeant Hartman (former Marine R. Lee Ermey in a career-making performance). The intense and riveting boot camp sequence holds us captive for 45½ minutes, at which point progress and achievement come to a bitter and bloody end.

Like its inspiration, the film abruptly changes gear and follows Private Joker to Vietnam, where he becomes a combat correspondent for the army's Stars and Stripes newspaper. The relaxed newsroom setting is never more eventful than when soldiers are casually asked to manipulate news in the name of keeping morale high. But change is in order for Joker and his photographer friend Rafterman (Kevyn Major Howard) when they're transferred to join the Lusthog Squad in Phu Bai. There, the headstrong and sometimes clashing personalities are met with serious combat.
Operating in a genre that lends itself to ambition and excess, you'd think a man known to dabble in both those things would have gone bigger than he does in this taut and fragmented under-2-hour drama. The anti-war sentiment that marked Paths of Glory does not enter the fray here; politics are more or less kept out of it, allowing Kubrick to pay more attention to the effects war has on young men barely out of childhood. The climactic "battle" (it's far too small for such a label) arrives without any indication, following lighter scenes involving pimps and prostitutes who spout Engrish (including the immortal "Me so horny") as well as candid soldier interviews. The showdown occupies the final half-hour of the film and manages to underscore the futility of war without getting political or hackneyed.

Full Metal Jacket may not pack the punch that Oscar winners Apocalypse Now and Platoon did, but it succeeds at taking an alternative approach to the Vietnam film and keeping viewers hooked. Ermey, who was cast after beginning to serve as technical advisor, dominates the boot camp proceedings with sharp-tongued supreme authority; the change of pace, tone, and setting is jarring -- making this feel more like two short films -- but it wisely realizes it can't be entirely about just training for Vietnam. One area where the film falters is in its character development; we barely get a feel for the ironic Joker over the course of the movie, the iconic Pyle and Hartman are both dropped before the halfway point, and the assortment of Marines don't make much of an impression even when they're addressing the camera. You can identify the few that matter by nickname, but one doesn't really feel any deaths more powerfully than the sight of bright red blood forces them to.

The film is noteworthy for its use of pre-period pop music, which makes it stand out in Kubrick's canon. Among the '60s tunes prominently featured are Nancy Sinatra's "These Boots are Made for Walking", Sam the Sham & the Pharaohs' "Wooly Bully", The Trashmen's title-combining "Surfin' Bird", The Dixie Cups' "Chapel of Love", and as end credits accompaniment, The Rolling Stones' "Paint It, Black." Interestingly, the one older song that carries the most dramatic meaning, the troops' film-closing rendition of "The Mickey Mouse Club March", doesn't appear in the end credits. Still, its significance -- that war makes boys out of men, rather than the converse -- isn't to be missed by many.

Buy Full Metal Jacket from Amazon.com: 2001 DVD • Deluxe Edition Blu-ray • Deluxe Edition HD DVD

Buy the Directors Series: Stanley Kubrick DVD Box Set from Amazon.com

Continue to Page 2 >>>

Related Reviews:
2001: A Space Odyssey: The Graduate: 40th Anniversary Edition (1967) • Black Hole (1979) • Renaissance (2006)
A Clockwork Orange: Saturday Night Fever: 30th Anniversary Edition (1977) • Elvis: That's the Way It Is - Two-Disc Special Edition (1970)
The Shining: Misery: Collector's Edition (1990) • Cujo: 25th Anniversary Ed. (1983) • Chinatown: Special Collector's Ed. (1974) • Popeye (1980)
Full Metal Jacket: Good Morning Vietnam: SE (1987) • Wall Street: 20th Ann. Ed. (1987) • Walt Disney Treasures: The Mickey Mouse Club
Eyes Wide Shut: The Straight Story (1999) • Shall We Dance? (2004) • Sweet Land (2006) • Hocus Pocus (1993)
Stanley Kubrick: A Life in Pictures: Hearts of Darkness: A Filmmaker's Apocalypse (1991) • Walt Disney: The Man Behind the Myth (2001)
Esther Williams Collection, Volume 1 • Poltergeist: 25th Anniversary Edition (1982) • Shooter (2007)

DVDizzy.com | DVD and Blu-ray Reviews | New and Upcoming DVD & Blu-ray Schedule | Upcoming Cover Art | Search This Site

DVDizzy.com Top Stories:


Reviewed November 22, 2007.



Text copyright 2007 DVDizzy.com. Images copyright 1968-2001 MGM, Turner, Warner Bros. Pictures, and 2007 Warner Home Video. Unauthorized reproduction prohibited.