This decade, Spider-Man, X-Men, and their four respective sequels have amassed a worldwide box office grand total of $3.66 billion. That had to bode well for Iron Man,

another PG-13 film adapted from a 1960s Stan Lee-created Marvel Comics line with a short, masculine-ended title. Iron Man held true to tradition, kicking off the summer movie season several weeks early with attendance levels surpassing understandably high expectations. Settled into budget theaters having made $318 million domestically and $574 M worldwide on a $140 M budget, Iron Man now ranks as the fifth highest-grossing comic book movie of all-time, trailing only the Spider-Man trilogy and this summer's colossal DC Comics blockbuster The Dark Knight.

While those numbers surely delight employees of Marvel Studios (who made Iron Man their first self-production) and distributor Paramount Pictures, I'm more impressed by the critical reaction to the film. Near-unanimous approval pointed to Iron Man as a new benchmark for superhero films, a title then passed onto The Dark Knight only two and a half months later.
In keeping with the modern practice of casting actors more known for performance acclaim than box office pull, indie bad boy Robert Downey Jr. assumes the title role. When the film opens, he is Tony Stark, a womanizing billionaire whose industrial empire is built manufacturing military weaponry. In Afghanistan to promote the newest addition to his company's arsenal, Stark is captured by local terrorists and held in one of the area's many hidden mountain caves. Instead of building the high-impact Jericho missile his captors demand, Tony constructs a full-body armor suit for himself. Rendered nearly indestructible, he escapes from the villains' lair and makes it back safely to his California home.
The trying experience produces a change of heart in Tony, who decides his namesake corporation should cease manufacturing weapons and focus on arc reactors, the technology that now keeps him alive. Upon this public declaration, Stark Industries stock takes a dive and its board members are thrown into a flurry of uncertainty. Meanwhile, in his high-tech workshop, Tony secretly works to perfect his life-saving armor suit, granting it powers of flight, intelligence, and defense.
As Tony explores the potential good his improved suit can achieve, secondary attention is given to three people in his life. There is his loyal all-purpose assistant Pepper Potts (Gwyneth Paltrow). Stark's military liaison is by-the-book colonel James Rhodes (Terrence Howard). Tony's father figure and business partner is Obadiah Stone (Jeff Bridges). One of the three turns on him, serving as villain for the film's second half. You needn't be seasoned in Marvel lore to guess who, as appearances clue viewers to ulterior character.
There is much to like about Iron Man. A definite one-lead piece, the film coasts on the ample talents of Robert Downey Jr., whose snappy delivery makes him a natural fit for the complicated protagonist part. Like Batman, Stark is a hero whose only superpower is his own industriousness, a fact that supports the movie's placement of realism above fantasy. The resulting story stands clearly in the 21st century, with its use of war economy, stealthy terrorists, and media celebrity.

In his fourth film behind the camera, Jon Favreau pours noticeable passion into the project while further demonstrating his versatility as a director.

And yet, Iron Man never reaches the towering heights of the Spider-Man films. There are a few reasons for that, but I think the biggest is that this universe simply isn't as compelling. That giant supplier of gravitas in the superhero genre -- the battle between good and evil which sets cities ablaze and twists souls into limbo -- is mostly overlooked to deliver a straightforward origin story. Supporting characters are treated perfunctorily and the prevailing feel has the same sheen as Iron Man's hot-rod-colored exterior.

With postmodern pacing, an overactive rock-inspired score, restrained comedy and a final act too Transformersy for my liking, Iron Man strives to be different and edgy without softening its grip on tried-and-true formula. The final product is something that's easy to enjoy but for many will lack the special spark to make it a clear favorite.

Kicking off the holiday retail season, Paramount recently released Iron Man as a single-disc DVD, a double-disc DVD, and a double-disc Blu-ray. We look at the Ultimate 2-Disc Edition DVD below.
DVD Details

2.35:1 Anamorphic Widescreen
Dolby Digital 5.1 (English, French, Spanish)
Subtitles: English, French, Spanish;
Closed Captioned; Extras Subtitled
Release Date: September 30, 2008
Suggested Retail Price: $39.99
Two single-sided, dual-layered discs (DVD-9s)
Black keepcase with side snaps in
embossed cardboard slipcover with opening
Also available in Single-Disc DVD
and on Ultimate 2-Disc Edition Blu-ray
VIDEO and AUDIO
Expectedly, Iron Man looks pretty great. The widescreen-only DVD boasts the clean, sharp, and detailed presentation that's a given for most new films, particularly ones of this scale. The 2.35:1 movie has a number of dark scenes, especially in its first half. They make it less to look at while bathing us in dreary scenery. When we return to US soil, the color palette gets brighter but with contrast remaining high. Visual effects are, of course, pretty terrific and something most viewers will take for granted. Though the film doesn't excite the eyes as much as some other superhero outings, the DVD can't be faulted for its picture quality.
The Dolby Digital 5.1 soundtrack is a livelier crowd-pleaser. The film's high action quotient ensures an active audio experience, which the mix delivers in spades. Engulfing, dynamic, and aurally varied, Iron Man stands as one of the better-sounding DVDs I've encountered.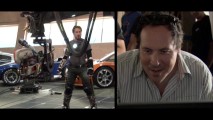 BONUS FEATURES, MENUS and PACKAGING

Disc 1, i.e. the single-disc version, provides one main extra: a set of eleven deleted/extended scenes (24:00). As you'd expect of a costly, effects-heavy film, there are more mild extensions than substantial deletions found here. Among the elongated are the film-opening combat, Tony and Rhodes' plane ride, and a post-climactic chat featuring Tony and foe on their backs.

The few short fully-deleted scenes feature Tony's return to his home workshop, Rhodes vowing to find his friend, and the lead-in to an unrealized bedroom conquest with three bikini-clad women.

"Iron Man: Armored Adventures" is merely a 50-second preview for the Nicktoons animated series that will debut in 2009. Along the same lines, the disc loads with the teaser for J.J. Abrams' Star Trek reboot and trailers for Indiana Jones and the Kingdom of the Crystal Skull and, in a rare display of interstudio promotion, The Incredible Hulk (in a spot that emphasizes the appearance of Robert Downey Jr. as Tony Stark in that film). The same three are all that play from the disc's "Previews" feature.

An Easter Egg can be spotted on Disc 1's Special Features menu. It is a short clip (1:48) documenting Stan Lee filming his red carpet cameo and includes a nice little chat between the Iron Man creator and Robert Downey Jr.

Disc 2's bonus features begin with "I Am Iron Man", a feature-length documentary (1:48:55) that can also be viewed as 7 featurettes. Thorough and enjoyable, it succeeds by doing much more showing than telling. Because you're exposed to so many different facets -- selecting armor, overseeing stunts and pyrotechnics, braving a sandstorm, considering opening titles, evaluating the editing and sound mixing -- you feel as if you're actually there alongside director Jon Favreau as part of this long, expensive, challenging production. Coherent, candid, and comprehensive, this documentary is easily the set's best special feature.
"The Invincible Iron Man" can also be viewed as a documentary or a section of featurettes. It starts promisingly enough with ever spunky Marvel guru and Iron Man creator Stan Lee discussing the character's origins and reception. The concepts, characters, themes, and plots of the comic books are addressed. Less than halfway in, though, it becomes less about Iron Man's comic legacy and more about the latest takes and the people who work on them. In these portions, we hear from active artists, writers, and editors about their contributions and perspectives. Unless you geek out about today's new comic books, you probably won't want to stick with this for the full 47 minutes. If you do, you'll likely be underwhelmed by the padded-feeling latter stretches. Your best bet is to watch the first four parts ("Origins", "Friends and Foes", "The Definitive Iron Man", and "Demon in a Bottle" about Iron Man's bout with alcoholism) and skip the more promotional last two (25-minute "Extremis and Beyond" and 4-minute "Ultimate Iron Man").
"Wired: The Visual Effects of Iron Man" (26:58) celebrates the work of the three effects houses used on the film. It includes tests, demonstrations, detailed deconstructions of illusions, and many crew members discussing techniques. Though it takes efforts to be lively and unique, I still found this piece kind of dry. If this is your field or future calling, though, you may enjoy that everyone has a lot to say about specific effects and the project as a whole.
The 6-minute "Robert Downey Jr. Screen Test" consists of the actor performing three scenes in sustained takes across from stand-ins. That they're shot with cinema-ready costumes, lighting, and film and Downey having the characters and dialogue down cold drains the feature of its normal value.
"The Actor's Process" (4:05) lives up to its title with candid video of Downey, Jeff Bridges, and director Jon Favreau talking out, staging, and rehearsing a confrontational scene between Tony and Obadiah.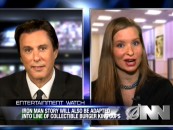 Next is a short video (2:35) from the website of satirical newspaper The Onion. This funny piece discusses Iron Man's warmly-received trailer being expanded into a full-length film, to the concern of fanboys everywhere. It nails the tone of a real broadcast news segment, mining hilarity with subtlety. The only problem: it makes one especially longs for the trailer itself, which is puzzlingly absent from the set.
Lastly, there are a number of Galleries. Divided into more subsections than necessary, "Concept Art" provides design imagery in 14 environment stills and 76 character ones (including some nice drawings of Robert Downey Jr.) "Tech" holds 27 stills that range from graphic design elements to detailed story sketches. "Unit Photography" offers 50 press-friendly images of scenes and behind-the-scenes. And "Posters" supplies just three employed North American one-sheet designs.
The menus of both discs rely on Iron Man's hand-controlled computer sessions while score excerpts play. Submenus are static but scored.
Iron Man's Ultimate 2-Disc Edition gives a worthwhile lesson on special DVD packaging. Of course, it starts with an embossed cardboard slipcover. But it's cut out on the front to reveal the character's mechanical heart below. The holographic keepcase artwork features Robert Downey Jr. out of the metal suit in the same pose and the effect is reversed for the back. It's a nice, clever touch like that which makes it easy to overlook the lack of an insert and colorful disc art.
CLOSING THOUGHTS

Though technically sound, engaging, and well-executed, Iron Man didn't do enough for me to earn masterpiece status. But unless you go in expecting that, you should be pleased. This is a fine film which won't easily be mistaken for other Marvel superhero tales.

It will be interesting to see where the already developing sequels take us. (Stick around past the end credits for a clue.)

Paramount's Ultimate 2-Disc Edition DVD offers a solid presentation of the film. Not all of the bonus features enchant and some will bemoan the exclusion of a few standards (trailers and commentary). But Disc 2's nearly two-hour standout documentary helps make up for most shortcomings as it offers an unusually comprehensive look at the entire production.

Despite the few reservations I maintain, Iron Man merits as strong a recommendation as nearly any 2008 movie I've encountered so far. With an average price difference of about eight dollars separating the standard and two-disc versions, which DVD you buy will test how much value you place on substantial bonus features.

Buy Iron Man from Amazon.com: Ultimate 2-Disc Edition DVD / 1-Disc DVD / Ultimate Blu-ray