In the late 1970s, The Black Hole was the Disney studio's full-force venture to make a sci-fi epic, coming on the heels of Star Wars. From the bombastic opening overture and impressively elaborate, high-tech opening credits, you expect a grand-scale space opera and on the surface, it appears to be that.

It is in the future, and the members of the spaceship Palomino, on an unspecified space mission, pick up two things on their radar.

The first is the biggest black hole that the ship's robotic informant V.I.N.CENT (voice of Roddy McDowall) has ever seen. The second is a motionless ship that they identify as the U.S.S. Cygnus. This is an unexpected presence, considering that it was ordered back to Earth, and the crew of the Palomino go for a closer look.

Gradually we become familiar with the crew of the Palomino, headed by the quiet and determined Captain Dan Holland (Robert Forster). When V.I.N.CENT isn't spouting out proverbs as his unsolicited wisdom, he is communicating with Dr. Kate McCrae (Yvette Mimieux, who has aged a lot since Monkeys, Go Home!) through her speciality: E.S.P. Kate's father was once aboard the Cygnus, and she is interested to see what's going on there. Rounding out the crew are veteran Dr. Alex Durant (Anthony Perkins, Psycho), young Lt. Charles Pizer (Joseph Bottoms) and everyman Harry Booth (Ernest Borgnine).
Aboard the Cygnus, they come across Dr. Hans Reinhardt (Maximilian Schell), an interesting character who ignored orders for his craft to return to Earth and has spent the last twenty years with mute robots that he created as his only companions. Most notable of these is Maximilian (no relation), an intimidating red robot whose hands are like menacing egg beaters when faced with agression.

Dr. Reinhardt reveals his plan to his guests: he intends to travel "in, through, and beyond" the black hole. It is an improbable journey to find answers to the unknown in a place where time and space supposedly will no longer exist.

Among the eery atmosphere of the Cygnus, where hundreds of robots maintain a presence and destroy weapons on sight, the crew of the Palomino is understandbly skeptical of Dr. Reinhardt. The one exception is Dr. Durant, who appreciates Reinhardt's intentions and longs to be a part of his magnificent breakthroughs.

Meanwhile, V.I.N.CENT learns from Bob, an aging fellow robot of a similar make (voiced by Slim Pickens), that the Cygnus is a death ship and that the crew of the Palomino is in for trouble. Things go a bit haywire in the final third of the film, as Robert Forster becomes action star and we are thrown into a faster-paced adventure, with less to think about. Complete with a heroic score which flairs up and wants you to think it's John Williams, it starts to feel a bit derivative and not like the movie it was turning out to be. Though it doesn't desert viewers altogether, this final act is a bit of a letdown.
If it is not the out-and-out success that Disney hoped for, The Black Hole is nonetheless certainly one of the studio's finest straight science fiction films, possessing a credibility and coherency (for the most part) that something like The Cat From Outer Space lacks. Though not as refined or focused as Star Wars and its kin, the film aspires to a similar kind of tone, aiming to be a human drama that happens to be set in outer space where things are different.
Performances from the cast of familiar faces are mostly just adequate, with the standout being Maximilian Schell who shines, playing his compelling on-the-cusp-of-madness scientist as a 23rd century Captain Nemo. At certain points, though, it does seem as if the robots (V.I.N.CENT and old Bob) are more interesting than most of their human co-stars.
One area where the film excels is its look. The Black Hole boasts impressive visual effects and set design, the fruits of Disney's extensive efforts in this regard. The film manages to appear futuristic and ahead of its time, while at the same time, maintaining a late '70s look and feel to it. One minor drawback, which draws the viewer out of the otherwise convincing environment: we do see some strings on floating bodies on several occasions.
The Black Hole is a significant film in the history of Disney's live action works. It was the studio's first film to earn a "PG" rating and it was their first and last big-budget no-holds barred futuristic sci-fi epic. Though Disney flirted with science fiction in the years before and after, The Black Hole is their most sincere effort, and one which seems out of place alongside films like Freaky Friday and The Apple Dumpling Gang Rides Again. People may give the film a hard time and label it 'campy', and while it's certainly not the most sophisticated of stories, it is genuinely and consistently entertaining.
DVD Details

2.35:1 Anamorphic Widescreen
Dolby Digital 5.1 (English, French)
Dolby Surround (Spanish)
Subtitles: English, French
Closed Captioned
Release Date: August 3, 2004
Single-sided, dual-layered disc (DVD-9)
Suggested Retail Price: $14.99 (Reduced from $19.99)
Black Keepcase
VIDEO and AUDIO


The Black Hole is fortunately presented in its original widescreen aspect ratio, 2.35:1, and has been enhanced for 16x9 televisions, for the first time on DVD. Some scenes appeared excessively grainy, but for the most part, video quality was pleasing.

While one never got the idea that this was a brand new film ('70s palettes and film stock is telling, even on the biggest of big budget films), it did exhibit a clarity, vibrancy, and sharpness which was satisfying. Without having seen Anchor Bay's letterboxed releases, I can't say for certain how this compares, but I'd be shocked if Disney's solid anamorphic transfer didn't overshadow all previous efforts.

The Dolby Digital 5.1 track was surprisingly powerful, making good use of the entire soundfield, and conveying a bevvy of sound effects with direction. The subwoofer was called into duty quite a bit, sometimes to excess, and some action scenes may have you reaching for the remote to turn down the volume, or at least the bass. This is quite a lively audio presentation, and the film's terrific sound design engulfs the viewer. Laser blasts shoot off in every direction and the hypothetical out-of-this-world experiences are nicely handled, if just sometimes overly dynamic.
BONUS FEATURES


There are a couple of bonus features here, which puts this slightly above other Disney catalogue releases. First up is the newly-produced featurette "Through The Black Hole" (16:20), which focuses on the visual effects on the film.

Commenting is Harrison Ellenshaw, the son of Disney's visual effects genius Peter Ellenshaw who designed the entire production. Ellenshaw discusses a number of techniques, from the intense volume of matte paintings used to wiring robots and Ernest Borgnine for an illusion of zero gravity.

Fullscreen clips from the film accompany Ellenshaw's reflections. While this isn't the most exciting feature to stand alone and speak about the entire film, it sheds lots of light on the film's state-of-the-art visual appeal and is a nice inclusion.

Second and last is the film's original extended theatrical trailer, which runs 3 minutes and 24 seconds. This gives away a bunch of cool scenes from the movie. What we gather from this is how bad the film could look without proper remastering, as the cropped-for-fullscreen preview shows the film in subpar quality.

The Black Hole features some sleek 16x9 menus with selections from the score and some subtle, but effective animation. Running time for the bonus features is listed on the menu. The disc opens with a 1½ minute preview for recent live action movies on DVD and video, including Remember the Titans, The Princess Diaries, Snow Dogs, Freaky Friday (2003), and Holes.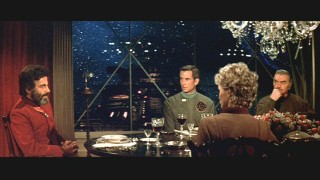 CLOSING THOUGHTS

Disney's release of The Black Hole is the finest presentation the film has received on DVD. Owners of the previous Anchor Bay DVD may well consider upgrading based on the potent video (including new anamorphic enhancement) and stellar audio quality of this one, plus a neat new featurette. Those Black Hole fans who did not pick up the previous DVD should be pleased with this release, which shows quite a bit more care from Disney than the types of catalogue DVDs they were putting out last year at this time. Those who are entirely unacquainted with the film are encouraged to see this big-budget sci-fi flick which holds a significant place in Disney history. It may not be one of the studio's best films, but it is thoroughly entertaining and remains visually impressive twenty-five years later.