Ben Stiller followed up The Heartbreak Kid, the most unexpected and documented flop of his 21st century movie stardom,

with Tropic Thunder, a big budget action-comedy that he wrote, produced, directed, and starred in.

In this film, a group of movie actors making a serious, true to life Vietnam War drama end up in uncharted territories of Vietnamese jungle. There to salvage the costly, behind-schedule production with guerilla-style filming, they instead run into a violent drug gang. Unsupervised, the pampered performers initially assume they're still on script and the threat is staged. But they're wrong.

Tropic Thunder's premise isn't entirely original. Actors facing danger unwittingly have been seen in ¡Three Amigos! and Galaxy Quest. The concept worked well in those comedies, and it does so again here, adding war to the western and sci-fi contexts successfully tested.

Stiller's movie introduces its colorful characters in a most creative way, with a fake commercial and three fake trailers. It's an appropriate starting place, as the inevitable prelude to a theatrical exhibition becomes the first of countless movie industry aspects uproariously sent up here.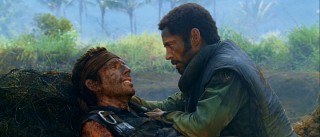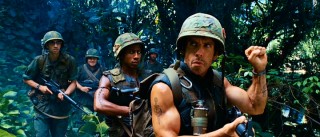 The central unit of the movie-within-a-movie is portrayed by a diverse lot of talent. Claiming the lead role of "Four Leaf" Tayback, Tugg Speedman (Stiller) is a fading action star whose signature Scorcher franchise has been milked beyond dry. Leaping out of his comfort zone, hefty comedian Jeff Portnoy (Jack Black) reminds one of Chris Farley, had he lived to tread down Eddie Murphy's career path with nothing but fat and fart jokes. Kirk Lazarus (Robert Downey Jr.) is a 5-time Oscar-winning Australian method actor. His belief in the craft has prompted him to undergo skin color treatment to portray the outfit's African American sergeant. Younger and less accomplished are Alpa Chino (Brandon T. Jackson), an energy drink-shilling rapper trying his hand at movies, and the straight-laced Kevin Sandusky (Jay Baruchel, "Undeclared") who hopes to make this his big break.
In the helm but hardly calling the shots is theatrically-seasoned British director Damien Cockburn (Steve Coogan). Serving as consultant is the grizzled, real-life "Four Leaf" (Nick Nolte). Cody (Danny McBride) handles explosives more by pyromania than expertise. Also behind the camera, normally leading men Tom Cruise and Matthew McConaughey hold unadvertised but significant supporting roles; Cruise plays tough-talking, foul-mouthed, hairy-armed studio head Les Grossman, and McConaughey is Speedman's agent, a confident and unstressed overgrown boy.
I wouldn't ordinarily spend two paragraphs rattling off actors and their parts, but Tropic Thunder lends itself to such a task because it is driven by strongly-written and well-realized characters. Each of the aforementioned make the most of their role, conveying more than their screentime should allow.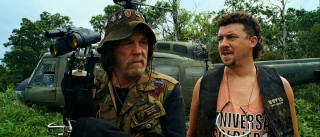 Stiller effortlessly gives us another sympathetic, identifiable comic protagonist in the dim-witted performer convinced everything's under control and that the script should still be followed.

Gladly, both his turn and the film around it are much less broad than on his benign previous directorial effort Zoolander.

Continuing his welcome yet unprecedented embrace of mainstream work, Robert Downey Jr. pulls off the unthinkable. He makes something that could have played as modern blackface or (maybe even worse) the negative of Wayans Brothers shtick into something hilarious and almost profound. Paramount's recent announcement that they will back an awards season campaign for this performance is unbelievable, encouraging, and oddly appropriate all at the same time.

Jack Black also takes a part that would be questionable on page -- that of a funnyman with a serious drug addiction -- and makes it more diverting than it ought to be. Other cast members make fine cases for them to receive more comic work, especially the understated Baruchel and Coogan.

Whereas a drama with such a gathering of ability might be content to simply let its cast take turns acting and monologuing, Tropic Thunder doesn't dwell on its excellent characterization and performances, instead moving ahead with a funny story. Every plot development manages to locate a relevant target within the world of cinema for ribbing. An early sequence showcasing material from the fake movie has fun with the conventions of gritty, authentic war dramas. We finally get an opportunity to laugh at the staginess, ceaseless profanity, and over-the-top gruesomeness that mark acclaimed works taken seriously. Before the end credits roll, homage is paid to Platoon, Apocalypse Now, Saving Private Ryan, and Bridge on the River Kwai.

When the actors step out of their troop characters (all but the committed Lazarus, that is), chances arise to discuss no shortage of showbiz topics. Witty, astute observations abound on everything, including what kind of mental disability the Academy likes to see. Notably, the film and its actors never give off the vibe that they're not a proud part of the laughingstock. It's not even just Hollywood that's covered in the utterly contemporary and sharp satire. TiVo, Blu-ray, VHS, iPod video, YouTube, and Wii Sports are all mentioned or seen and not with the faintest trace of product placement or manufactured hipness. It's all done in the name of laughs, and they come more often and heartier than in anything else I've encountered this year.
Tropic Thunder even largely works as an action film. It's not to be taken too seriously, and fans of the genre may be disappointed by the low body count. But, particularly in the final act, it's investable on that level, humorously drawing upon the class's conventions and cliché like America's answer to Hot Fuzz. The only transgressions noticed are when the movie oversteps bounds of good taste. My threshold was only tested a few times and that makes this tame compared to some of today's bawdy R-rated comedies. Many viewers, however, will be instantly and regularly offended by the content, including those wrongly expecting the PG-13 material Stiller is best known for.
Earning $110 million domestically in its leggy late-summer run, Tropic Thunder offers a rebound for Stiller. With a reported budget of $92 million, the profits weren't extraordinary and the earnings weren't in the same league as his Meet the, Madagascar, and Museum franchises (or Downey and Black's respective summer '08 hits, for that matter). But the solid attendance levels and warm critical reception classify this as one of the biggest creative successes in Stiller's two-decade career.
Despite its robust box office performance, Tropic Thunder rushed to DVD and Blu-ray this week with the speed of lightning, entering the holiday season blitz before competition thickens. DreamWorks gives fans the choice of a single-disc theatrical cut DVD, a 2-Disc Director's Cut DVD, and a single-disc Director's Cut Blu-ray. We look at the middle one, which unfortunately doesn't provide the theatrical cut through branching. Gladly, though the Director's Cut runs a reported 15 minutes longer than the theatrical cut, it doesn't suffer the way many extended DVD versions do. I only noticed a few small additions (most noticeably, a one-week production party) to what was shown in theaters and most of these fit the film smoothly, matching in tone and pacing without needlessly elevating raciness levels. Calling this a "Director's Cut", and not an "Unrated" or "Extended" one, feels right and reflects the satisfying nature of the edit offered.
DVD Details

2.35:1 Anamorphic Widescreen
Dolby Digital 5.1 (English, French, Spanish)
Subtitles: English, French, Spanish;
Closed Captioned; Video Extras Subtitled
Release Date: September 30, 2008
Suggested Retail Price: $34.98
Two single-sided, dual-layered discs (DVD-9s)
Clear keepcase housed in embossed cardboard slipcover
Also available in Single-Disc Theatrical Cut DVD
and Director's Cut Blu-ray
VIDEO and AUDIO
Tropic Thunder won't fill any screens with its 2.35:1 anamorphic widescreen presentation matching theatrical dimensions. The high-contrast picture is clean, sharp, and understandably darker than your typical comedy. (Cinematographer John Toll's prior credits include Braveheart, The Thin Red Line, and The Last Samurai.) The Dolby 5.1 soundtrack isn't as dynamic as on a real war action flick, but aurally it still resembles one of those, with apt period tunes, ample gunfire, and the occasional dramatic score cue.
BONUS FEATURES, MENUS and PACKAGING
Disc 1 contains two audio commentaries.
On the Filmmaker Commentary, Ben Stiller is joined by co-writer/producer Justin Theroux, producer Stuart Cornfeld, production designer Jeff Mann, cinematographer John Toll, and editor Greg Hayden. As you can guess from that line-up, this track offers a serious discussion of production. Among the topics covered are the locations, the visual style and influences, design, effects, script concepts dropped, and Director's Cut extensions that pained them to delete from the theatrical cut. Though this informative Stiller-led group chat isn't dry by commentary standards, it's bland compared to the film. Since many of the subjects are tackled at more appropriate lengths in the featurettes, most viewers would be fine skipping this and watching them instead. (Apparently, the single-disc edition doesn't contain this track.)
The Cast Commentary boasts an impressive amount of star power, as Stiller reteams with his two pre-title-billed co-stars, Jack Black and Robert Downey Jr. It's much more entertaining and that's in no small part due to Downey who, true to a line in the film, doesn't break character until the commentary's been recorded. His tough black man voice makes everything funny, even though the three mainly just remark casually and favorably about what's going on. Some making-of material does emerge, including more from Stiller on the Director's Cut additions. But this merits a listen because of the personalities and Downey's impressive endurance (he only drops Osiris to play Aussie Lazarus).
Disc 1 opens with trailers for the recently-delayed The Soloist, Eagle Eye, National Lampoon's Van Wilder: Unrated, Van Wilder: Freshman Year, and Ghost Town. These also play as a group from the "Previews" listing on the second Special Features menu page after trailers for The Foot Fist Way and The Godfather: Coppola Restoration.
Also found there is a "DreamWorks Public Service Announcement" (1:45) advocating just one R-word for those with intellectual disabilities: "Respect." Clearly meant to make peace with those offended by the other R-word repeatedly used in Tropic Thunder with regards to Speedman's failed Oscar attempt Simple Jack, this newly-produced PSA is funnier than it ought to be.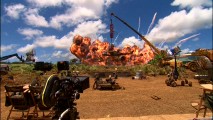 Disc 2's bonuses begin with four short featurettes.
"Before the Thunder" (4:48) discusses the inspiration for the film and its long development process, showing us video of the upbeat table read and letting a few cast members reflect on the big meaning of it all. This is exclusive to the 2-Disc.
"The Hot LZ" (6:20) covers the efforts to achieve the reality of real war dramas. Without going into too much detail, it discusses the practical effects and phenomena employed during filming and post-production of the opening sequence.
"Blowing Shit Up" (6:14) deals with the explosions staged and all that went into them. It's an interesting topic, especially since it doesn't apply to about 99.99% of comedy films made.
"Designing the Thunder" (7:25) starts out focusing on finding and using appropriate filming locations, then it turns its attention to the remarkable detail that brought the settings to life. This is another 2-Disc exclusive.
"The Cast of Tropic Thunder" (22:00) gives us featurettes on seven of the film stars: Stiller, Black, Downey, Jackson, Baruchel, McBride, and Nolte. The actors comment upon one another and themselves, without taking that task too seriously. Even better than the witty remarks is the plethora of set footage and raw takes. Interesting subjects tackled include Ben Stiller juggling acting and directing and Robert Downey Jr.'s transformation.

We even get some looks at screen tests. I wish these great pieces went even further down the deep cast list.

The half-hour "Rain of Madness" (29:55) is one of the best and most hilarious DVD bonus features I've ever seen. Screenwriter Justin Theroux portrays Jan Jürgen, a heard-more-than-seen European film theorist documenting the production of Tropic Thunder (the fake one) in Vietnam. This pitch-perfect mockumentary uses and advances the characters appreciated in the real movie, while simultaneously making fun of every pretentious making-of doc ever produced. Included here are ideas that didn't make it into the film (like footage from Portnoy and Sandusky's past credits) and manufactured shenanigans that feel so right (like Tug Speedman's script suggestions and production-delaying "Desperate Housewives" viewings). As exasperated director Damian Cockburn, Steve Coogan really shines here. No stranger to this type of thing, he is credited with Theroux for the concept. That concept is sturdy, but the execution is outright amazing, yielding a fake record of the actor breakdowns and production obstacles that make Coppola's Apocalypse Now experience look a bit like a walk in a Philippine park.

Eleven "Dispatches from the Edge of Madness" (22:50) shorts give us more Jan Jürgen, Damian Cockburn, and entertaining faux making-of. Resembling modern-day fly-on-the-wall DVD production diaries, the vignettes are introduced by Jürgen and mainly depict Cockburn trying to keep face amidst flabbergast and gaffe. Stiller, Black, and Nolte also make in-fun character appearances, while Downey seizes opportunities to reveal new heights to his character's amusing insanity. Both "Rain" and "Dispatches" are absent from the single-disc DVD, which contains only a trailer for the former.
The Director's Cut exclusives continue with the next section. It's comprised of 2 deleted scenes, 2 extended sequences, and an alternate ending. Running over 18 minutes altogether, the footage includes character moments (Black with the water buffalo, Stiller with gift bag items), lengthened action sequences (approaching the heroin camp, an Apocalypse Now Brando-inspired exchange inside), and a conclusion with more Oscar ceremony footage and fate revelation for Matthew McConaughey's agent Peck. It's all plenty entertaining but nothing really screams for reinsertion, and yet a bit of it is included in the director's cut. All but one of the scenes is fitted with optional audio commentary by Ben Stiller and editor Greg Hayden that's strangely abrupt and not worth bothering with. The exception is discussed by them (1:55) in the first of four video introductions on the disc.
A "Make-Up Test with Tom Cruise" (1:36) shows the actor trying out one look and some hip-hop dancing for his studio exec character. It's accompanied by a 70-second video introduction by Stiller and Hayden that explains the birth of the dancing.
Next, we get a very funny 4-minute sketch from the MTV Movie Awards. In it, Stiller meets with Black and Downey to make a viral video that will promote Tropic Thunder in a way that appeals to his teenaged nephew. It has fun with the actor's personal struggles and hit summer personas. It's an excellent inclusion and helps make up for the absence of Tropic Thunder's standard trailer.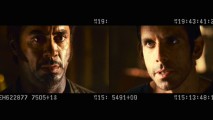 "Full Mags" (33:15) is a collection of four uninterrupted takes that show off the improvisations and riffing abilities of Danny McBride, Black, Stiller, and most of all, Downey. It's a bit of an endurance challenge to keep seeing and hearing the same thing done in slightly different ways, but that's filmmaking and getting such a candid look at it is rewarding. The section includes a 50-second intro by Stiller and Hayden.
Last is "Video Rehearsals" (3:00) which shows us some footage from the cast's location run-throughs. Stiller and Hayden introduce and comment upon the video, which is visually compared to a tiny window displaying the film's cut of the rehearsed scenes. This is the final bonus missing from the theatrical cut DVD.
The packaging on Tropic Thunder's Director's Cut DVD surely ranks among the best I've seen this year. The requisite slipcover opts for an understated and striking yet goofy coat of arms with the initials of the film. Both the glossy rear and the keepcase artwork below feature the type of dramatic collage that might very well market the film-within-a-film or a similarly earnest historical war drama. The reverse of that artwork shows inside through the transparent keepcase with poster imagery and consistent add-ons. Well done!
The menus match the packaging with the same dramatically-scored montage serving as main menu of each disc. The static, silent submenus maintain the serious motif.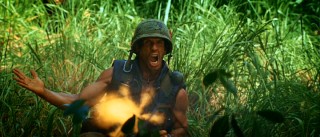 CLOSING THOUGHTS
So far, Tropic Thunder is the funniest film of the year and also one of the best. If you get a kick out of Hollywood filmmaking and aren't easily offended by racy language, I think you'll agree. Some will consider the comedy too inside or the tone too forceful. I can't agree. If you're up on movies and the industry that produces them, you'll find plenty to laugh about, down to a recurring take-off on Randy Edelman's overused Dragonheart score. Even if you don't appreciate all that's offered, the rich characterization, powerhouse performances, and inspired twist on a familiar story should keep you happy.
DreamWorks/Paramount's 2-Disc Director's Cut DVD is nearly everything you could ask for. I do wish the studios could figure out how to include both versions with branching or maximizing disc space, but at least the lengthier cut does no harm to the fine theatrical one. The bonus features, especially the exclusive mockumentaries, include some of the most entertaining you'll find on the format and they make up for the film's limited use of Steve Coogan and behind-the-camera employment of Justin Theroux. Even the clever packaging and menu design exceeds the competition. I highly recommend both the film and this two-disc DVD.
Buy Tropic Thunder from Amazon.com:
2-Disc Director's Cut DVD / 1-Disc Theatrical DVD / Director's Cut Blu-ray