By Aaron Wallace

Donald Duck is second only to Mickey Mouse in the pantheon of animated characters. For much of his theatrical heyday, Donald even eclipsed Mickey in popularity,

a feat that explains the duck's prominence in the Walt Disney Treasures DVD line, which has released Donald Duck cartoons in installments since 2004. The last of those releases came last week with The Chronological Donald, Volume Four.

Focusing on Donald's final decade as a theatrical star, 1951 to 1961, Volume Four presents thirty-one shorts that premiered during a time when Mickey Mouse saw only five cartoons on the big screen under his banner. But even while Donald stayed in the forefront of the Disney studio's short film format, his adventures began to change after fifteen very active years. Always a character of conflict, Donald made a name for himself battling the elements of nature, employment woes, and everyday nuisances like alarm clocks and flat tires. When the United States entered World War II, he found himself on the front lines, facing off against Nazis.
In post-war America, Donald had new sources of antagonism. Of course, nephews Huey, Dewey, and Louie are always on call to prank their irascible uncle. But in the later shorts, characters like Spike the bee, Humphrey the bear, and the legendary team of Chip 'n Dale are more frequently relied upon for some sort of all-out war with Donald. In this "versus" format, Donald becomes less of a harmless-but-stubborn type and more of a likeable heel. In so doing, he loses just a little of his earlier charm.

The same might be said for the educational shorts that comprised Donald's filmography of the late 1950s and 1960s.

In these, the informational efforts -- entertaining though they may be -- leave less room for emphasis on Donald's lovable traits. Of course, there's plenty else magical about these delightful approaches to usually dull subject matter to make them abundantly enjoyable.

In even the weaker cartoons of Volume Four (Humphrey's appearances are my least favorite), however, Donald remains Donald. The irritable, guttural grumbling has never gone away and this too easily flustered character is still plenty relatable and consistently delightful. There are even some classic Donald moments herein, including the wonderful Trick or Treat and How to Have an Accident in the Home. Once again, the Walt Disney Treasures line proves itself a commendable showcase for these quality productions.

PACKAGING

The discs are housed inside a double-wide black Alpha keepcase, which is itself stored inside a collectible metal tin. Long gone are the days when Treasures sets featured Roy Disney's signature on a band around the outside and a copy number imprinted onto the tin. Instead, Roy's signature appears alongside Leonard Maltin's on a Certificate of Authenticity inside the set. The certificate also shows the copy number for your specific set; only a very low 39,500 Volume Four sets have been issued (I have number 20,278). Printed on high-quality paper, an 8-page pamphlet inside includes not only a guide to each disc's content but also a nice introductory letter from Maltin. Per Treasures custom, there is an in-case collectible as well. This time, it's small reprint of Grin and Bear It's original theatrical poster. Finally, a small fold-out booklet advertises Disney on Blu-ray and provides a Disney Movie Rewards Magic code (currently worth 125 points). A thin cardboard sheet replicating the rear cover of the Alpha keepcase is also affixed to the back of the tin.

DISC 1

The disc opens with a promo for Disney DVD and Blu-ray. Then, Leonard Maltin appears with a brief introduction (3:28) that puts the upcoming cartoons into a nice historical context and discusses Working for Peanuts. After that, the cartoons are available in either alphabetical or chronological order and of course, a "Play All" option (1:18:26) is available too. If you want to see Maltin's introduction a second time (and you very well may), it's available on the main menu.

THE SHORTS
Dude Duck (1951) (7:16)
Donald tries his hand at horse-riding but his horse refuses to be mounted and outsmarts even the most focused attempts.

Corn Chips (1951) (7:05)
After a fresh snowfall, Chip and Dale are frolicking and building snowmen while Donald does his best to clear a path. The conflicting interests lead to the first of this set's many battles between Donald and the chipmunks.

Test Pilot Donald (1951) (7:12)
Donald's remote-controlled airplane makes a crash landing in Chip and Dale's tree, prompting Dale to commandeer the rogue craft.

Lucky Number (1951) (6:44)
Donald wins a new car in a contest but when Huey, Dewey, and Louie retrieve it for him, pranks ensue.
Out of Scale (1951) (7:25)
Chip and Dale move in to the miniature town of Donald's toy train set

and Donald crafts proportional illusions to extricate them.

Bee on Guard (1951) (7:09)
Donald, in search of honey, dresses as a bee to sneak past the bee colony's guardian.

Donald Applecore (1952) (6:52)
Rather than planting apple trees, Donald defends them when Chip and Dale help themselves to his fruit. To combat them, he engages in decidedly environmentally unfriendly tactics.

Let's Stick Together (7:00) (6:45)
This fun short finds Spike the bee looking back from the future as an old man reflecting on his various youthful business ventures as Donald Duck's partner.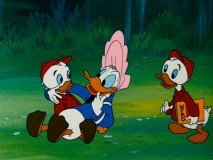 Trick or Treat (1952) (8:18)
Donald opts for trick over treat when Huey, Dewey, and Louie knock on his door. Unhappy with their treatment, an observing hag decides to turn the trick on Donald instead. This iconic short is one of Disney's best.

Don's Fountain of Youth (1953) (6:28)
When Huey, Dewey, and Louie think they have found the legendary fountain of youth, Donald goes to great lengths to reinforce their belief.

The New Neighbor (1953) (7:22)
Donald moves next door to the world's least desirable neighbor: Pete! The two quickly become very competitive and draw a crowd of spectators.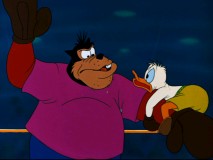 Working for Peanuts (1953) (6:57)
Anxious for peanuts, Chip and Dale attempt to sneak past Donald, who works at the zoo as an elephant supervisor. The short was released in 3-D in 1953 and again in Disney Digital 3-D last year in front of Meet the Robinsons. Presumably because home video 3-D technology hasn't progressed at the same rate, only the two-dimensional version is included here.

Canvas Back Duck (1953) (7:18)
Donald and his nephews visit a carnival, where Donald is lured into a boxing ring. Unbeknownst to him, his opponent is no other than Peg Leg Pete.

FROM THE VAULT

There was a time when cartoons depicting controversial subject matter were included among all the others in a Walt Disney Treasures set and Leonard Maltin appeared before each one to give a very quick explanation (some might say apology).

With Donald Volume Four (and other recent sets), these cartoons are relegated to their own section on the disc, entitled "From the Vault". When this section is selected from the main menu, a non-skippable 25-second introduction from Maltin plays, covering all of the cartoons found within.

The decision to pull these cartoons out of the chronological succession is unfortunate and I can think of only two reasons: less camera time to pay Mr. Maltin for or concern that the objectionable material was too easily accessed by children before. On this set, the objectionable material usually relates either to Native American stereotyping or gunplay. Notably, both of those things show up in some of the shorts that are not secluded in "From the Vault". But while the organizational complaint is worth raising, there is no question that Disney serves its customers and fans well by offering these shorts in their entirety rather than editing or excluding them. The little extra hassle is worth it.

There are only two "From the Vault" shorts on Disc One. A "Play All" option (13:48) is also available.

Uncle Donald's Ants (1952) (7:22)
Donald leaves a sugar trail behind him on his way home. A line of ants follows him, cleverly sneak inside, and invade.

Rugged Bear (1953) (6:29)
Humphrey the Bear hibernates... only it isn't winter and he isn't outside! Trying to elude hunters, Humphrey disguises himself as a rug inside Donald's house.

NEXT >>
ONTO PAGE TWO

Order Walt Disney Treasures: The Chronological Donald, Volume Four from Amazon.com