The Godfather: The Coppola Restoration

The Godfather (1972), The Godfather Part II (1974), The Godfather Part III (1990)

Director: Francis Ford Coppola / Writers: Mario Puzo, Francis Ford Coppola

1.78:1 Anamorphic Widescreen
Dolby Digital 5.1 (English, French), Dolby Mono 2.0 (English - Parts 1 & 2 only)
Subtitles: English, French, Spanish; Closed Captioned; Video Extras Subtitled (No Spanish on Recycled)
Release Date: September 23, 2008 / Suggested Retail Price: $69.99
Five single-sided, dual-layered discs (4 DVD-9s & 1 DVD-5)
Four black slimcases in Embossed Cardboard Box
Buy on DVD from Amazon.com • Buy on Blu-ray from Amazon.com



In the fine world of cinema, very few films are as universally revered as The Godfather. A five-year stretch in the late 1930s and early 1940s produced some prime contenders for the Greatest Film of All-Time title:

The Wizard of Oz, Gone with the Wind, Citizen Kane, and Casablanca. But look beyond that Golden Age in either direction and no other production ever earns quite as much acclaim from filmmakers, critics, historians, and ordinary viewers. Getting a majority of people to agree on anything is a feat in itself, but The Godfather's renown seems extra remarkable based on its unassuming origins and the speed with which it has attained legendary status.

Francis Ford Coppola was 31 years old when filming began on The Godfather, which he and Mario Puzo adapted from Puzo's recent best-selling novel. Coppola already had won an Academy Award for the Patton screenplay he wrote with Edmund North and he had a few fairly prominent directing and producing credits to his name. But he was still considered a gamble by Paramount Pictures and its slick young production head Robert Evans.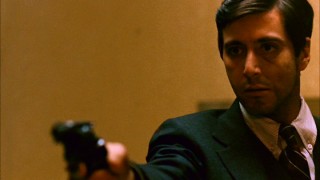 It was, of course, a gamble that would pay off tremendously. The Godfather (1972) would become a major hit with moviegoers, reviewers, and award panels. The casting and stylistic decisions that had concerned the studio during production were the very things cited with praise.
A mere two years later, Coppola and many of his rave-earning actors were back with The Godfather Part II (1974). Little argument is needed to establish this effort as the most praised sequel in film history, if not all art as a whole. Many believe this layered follow-up even exceeds its predecessor and it does, at least by Oscar wins.
Sixteen more years had passed when Coppola returned to the series, hoping to recapture the bottled lightning of the first two films. Released in 1990, The Godfather Part III was met with its fair share of accolades but the general consensus that it didn't live up to the immense heights of the previous chapters. That opinion hasn't grown less popular with the passing years.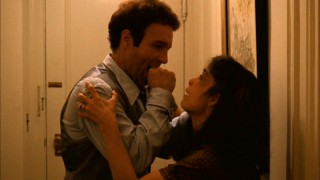 The three films tell us of the Corleone Family, a 20th century Italian-American clan. As one of the most powerful Mafia families in the nation, the Corleones have their sacred bonds of blood and friendship regularly tested by rivals. Privilege and financial comfort come at a price. Lucrative, ongoing dealings in various forms of organized crime ensure the threats of death and deception lurk everywhere around the Corleones. No family member is safe, not even the feared and respected don, Vito Corleone (Marlon Brando). An attempt on Vito's life is at the foundation of the first film and it has dramatic consequences on his kin.
Among them, opposite sons Michael and Sonny initially claim a lot of attention. A college-educated war hero, Michael (Al Pacino) has been kept at a distance from the deadly family business. On the other hand, hotheaded Sonny (James Caan) is a logical successor for the don's seat, having long played an active role in strategic partnerships. Also gaining notice are: family consigliere and lawyer Tom Hagen (Robert Duvall), a non-Italian adopted in youth; Kay Adams (Diane Keaton), the outsider love interest to Michael; middle son Fredo (John Cazale), who is given little responsibility; and sister Connie (Talia Shire), whose choice of men creates conflict.
Michael emerges as the leading focus in Part II, which simultaneously provides backstory on Vito as an orphaned boy in Sicily who immigrates to lower New York, where as a young man (portrayed by an Oscar-winning Robert De Niro), he works his way up in the world. Striving to be a judicious don, Michael invites darkness into his life and the lives of those around him. This reality haunts Michael as he enters the later years of his life, depicted in Part III, craving legitimacy and redemption but unable to make a clean break from his many obligations.
One of film's best-known and most adored trilogies, the Godfather saga continues to affect not with fantasy, sci-fi, action or adventure, but with complex human drama of the most compelling variety. Though the films capture feelings specific to a time, a place, and a people, there is a universality that emerges from the violent lifestyle that reaches out and grips all viewers who enter with an open mind.

Paramount waited until DVD was good and settled as a preferred home video format before releasing the back-to-back masterpieces and adequate bonus movie on the medium. October 9, 2001 was an exciting day for fans as it brought The Godfather DVD Collection, a much-awaited 5-disc set holding the three films (200-minute Part II split between two discs) and a bonus features disc.

The wait to own the Godfather movies on Blu-ray Disc has been much shorter. While the general public remains reluctant to adopt the new technology, studios are actively promoting it in hopes its higher prices will restart the market growth that's halted after a decade of gains. Late last month, Paramount released this new set on both standard DVD and Blu-ray, and this review looks at the former.

Called The Godfather: The Coppola Restoration, this 5-disc collection fits The Godfather Part II onto a single disc and includes two discs of bonus features, many of which are new. In a rare instance where scrupulosity seems to have trumped ease, the "Coppola Restoration" tag attached to the whole set is withheld from The Godfather Part III. That, coupled with the film's reduced age and reputation, suggest it hasn't been remastered. But it has been, just not with the distinction and special closing credits of the other two. In addition to closing with those few minutes of restoration credits, the films now open with sepia-tinted versions of Paramount's present-day logo, replacing the 1980s/'90s one of the last DVD release and evidently their original ones.
The Godfather

Theatrical Release: March 24, 1972 / Running Time: 177 Minutes / Rating: R

Director: Francis Ford Coppola / Writers: Mario Puzo (book, screenplay), Francis Ford Coppola

Cast: Marlon Brando (Don Vito Corleone), Al Pacino (Michael Corleone), James Caan (Santino "Sonny" Corleone), Richard Castellano (Peter Clemenza), Robert Duvall (Tom Hagen), Sterling Hayden (Capt. McCluskey), John Marley (Jack Woltz), Richard Conte (Don Emilio Barzini), Al Lettieri (Virgil "The Turk" Sollozzo), Diane Keaton (Kay Adams), Abe Vigoda (Sal Tessio), Talia Shire (Connie Corleone Rizzi), Gianni Russo (Carlo Rizzi), John Cazale (Fredo Corleone), Rudy Bond (Don Carmine Cuneo), Al Martino (Johnny Fontane), Morgana King (Mama Corleone), Lenny Montana (Luca Brasi), John Martino (Paulie Gatto), Salvatore Corsitto (Bonasera), Richard Bright (Al Neri), Alex Rocco (Moe Greene), Vito Scotti (Nazorine), Tere Livrano (Theresa Hagen), Victor Rendina (Don Philip Tattaglia), Jeannie Linero (Lucy Mancini), Simonetta Stefanelli (Apollonia), Angelo Infanti (Fabrizio), Corrado Gaipa (Don Tommasino), Saro Urzì (Vitelli)
Buy The Godfather: The Coppola Restoration DVD from Amazon.com / Trilogy DVD / Trilogy Blu-ray

Life is good for the Corleones, but Don Vito (an aged Marlon Brando) doesn't think it would get any better should the family enter the narcotics racket as invited by Virgil "The Turk" Sollozzo (Al Lettieri). Believing the don's refusal can be overcome, Sollozzo arranges for Vito to be killed. While Sonny (James Caan) and Tom Hagen (Robert Duvall) figure out how to respond, Michael (Al Pacino) expresses interest in becoming more involved in the family business. That cools off his developing relationship with WASP schoolteacher Kay Adams (Diane Keaton), particularly when he is sent to Sicily for his protection. This original boasts the highest number of iconic lines, scenes, and images, beginning with Don Corleone hearing requests on the day of his daughter's (Talia Shire) wedding and concluding with a bloody turn of events solidifying a rise to power.
The Godfather Part II

Theatrical Release: December 20, 1974 / Running Time: 202 Minutes / Rating: R

Director: Francis Ford Coppola / Writers: Mario Puzo (book, screenplay), Francis Ford Coppola

Cast: Al Pacino (Don Michael Corleone), Robert Duvall (Tom Hagen), Diane Keaton (Kay Corleone), Robert De Niro (Vito Corleone), John Cazale (Fredo Corleone), Talia Shire (Connie Corleone), Lee Strasberg (Hyman Roth), Michael V. Gazzo (Frankie Pentangeli), G.D. Spradlin (Senator Pat Geary), Richard Bright (Al Neri), Gaston Moschin (Don Fanucci), Tom Rosqui (Rocco Lampone), Bruno Kirby (Young Clemenza), Frank Sivero (Genco), Francesca de Sapio (Young Mama Corleone), Morgana King (Mama Corleone), Mariana Hill (Deanna Corleone), Leopoldo Trieste (Signor Roberto), Dominic Chianese (Johnny Ola), Amerigo Tot (Michael's Bodyguard), Troy Donahue (Merle Johnson), John Aprea (Young Tessio), Joe Spinell (Willi Cicci), Oreste Baldini (Vito Andolini as a boy), Harry Dean Stanton (F.B.I. Man #1), Danny Aiello (Tony Rosato)
Buy The Godfather Part II: The Coppola Restoration DVD from Amazon.com / Trilogy DVD / Trilogy Blu-ray

The Corleones are settled into Nevada and business appears to be going well, until an attempt is made on the lives of Michael and his family. Efforts to determine who was behind the Lake Tahoe mission bring Michael to Miami and Cuba, where he consults his father's longtime associate and his potential partner Hyman Roth (a rare performance by renowned acting teacher Lee Strasberg). Meanwhile, we also follow young Vito Andolini from Corleone, Sicily to New York City, where he (Robert De Niro) moves from small-time laborer to respected community figure in scenes conveyed largely with subtitled Italian dialects. Following an intermission, the movie throws us without warning into a Senate Hearing against the Corleone Family, where Michael is asked to respond to a long list of accusations. Preoccupied by business, Michael sees his relationships with wife Kay (Keaton) and brother Fredo (John Cazale) become strained.
Between the dual timelines and more attention being paid to the early century period setting, Part II definitely provides the most epic feel of the three films. I'm always impressed by how one gets so wrapped up in what's presented here that they hardly notice that the film loses two of its predecessor's greatest screen presences in Marlon Brando and James Caan (who's only seen in an evocative newly-created flashback).
The Godfather Part III

Theatrical Release: December 25, 1990 / Running Time: 170 Minutes (director's cut) / Rating: R

Director: Francis Ford Coppola / Writers: Mario Puzo, Francis Ford Coppola

Cast: Al Pacino (Don Michael Corleone), Diane Keaton (Kay Adams), Talia Shire (Connie Corleone Rizzi), Andy Garcia (Vincent Mancini), Eli Wallach (Don Altobello), Joe Mantegna (Joey Zasa), George Hamilton (B.J. Harrison), Bridget Fonda (Grace Hamilton), Sofia Coppola (Mary Corleone), Raf Vallone (Cardinal Lamberto), Franc D'Ambrossio (Anthony Corleone), Donal Donnelly (Archbishop Gilday), Richard Bright (Al Neri), Helmut Berger (Frederick Keinszig), Don Novello (Dominic Abbandando), John Savage (Andrew Hagen), Franco Citti (Calo), Mario Donatone (Mosca), Vittorio Duse (Don Tommasino), Enzo Robutti (Licio Lucchesi), Michele Russo (Spara), Al Martino (Johnny Fontane), Robert Cicchini (Lou Pennino), Rogerio Miranda (Armand), Carlos Miranda (Francesco), Vito Antuofermo (Anthony "The Ant" Squigliaro)
Buy The Godfather Part III new DVD from Amazon.com / Trilogy DVD / Trilogy Blu-ray

Godfather III wastes no time establishing itself as the weak link in the series. Its opening family gathering lacks flavor and kills off Tom Hagen with a casual mention (Robert Duvall's salary requests were not met). Little effort goes into upholding its barely period setting (1979-80) and the passing of years is reflected more in the flow of previously sparse profanity. Furthermore, attempts to find the voices of a new generation of Corleones are somewhat futile. Of them, Michael's son Anthony (Franc D'Ambrosio) shuns the family business to be an opera singer. More attention is paid to daughter Mary (an oft-maligned Sofia Coppola, replacing a withdrawn Winona Ryder), who seems a bit too interested in her first cousin Vincent (Oscar-nominated Andy Garcia), the illegitimate son of Sonny who shares his father's quick temper. The business plot involving the Vatican and gangs with conflicting interests isn't nearly as sharp as past stories. More intriguing is the state of Michael Corleone (Pacino), who claims the foreground grayed, raspy, and diabetic. He's still looking for legitimacy and to make peace with Kay (Diane Keaton), who has moved on and remarried. The rampant shortcomings -- chief among them, the film relies too much on talking and doesn't give us enough to feel -- are somewhat forgotten by the time a climactic Easter opera in Palermo arrives, packing much suspense.
Despite the Oscar nomination for Best Picture, there is no question that Coppola and his lesser cast produce a third chapter that doesn't stand strong next to the amazing first two. The same year, Martin Scorsese, Robert De Niro, and company made a much better gangster movie in Goodfellas. Still, the conclusion is pretty rousing and one can't help but want to see what happens to the rich characters created decades earlier.
As on the previous DVD and all VHS releases, the film is presented in a director's cut which extends the theatrical version by several minutes and differs still from certain television edits.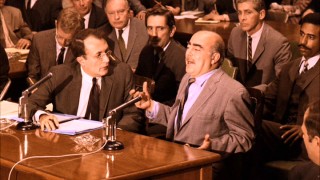 VIDEO and AUDIO

All three films appear in 1.78:1 anamorphic widescreen, approximating the 1.85:1 aspect ratio of their theatrical exhibitions. There is definite improvement in picture and sound of all three films, although how noticeable that is will depend on your equipment. Picture quality on the original film gets about as close to perfection as standard DVD will allow. Godfather II is a little bit less pleasing than its predecessor, but it boasts evident improvement too.

Both are usually brighter and always more vibrant than on their previous DVD transfers. These are still very dark movies, particularly in indoor scenes where characters are drenched in shadows and the whites of their eyes go unseen. Part III actually goes the opposite direction; it's darker here than on the previous DVD while also taking on more of a red tint.

Based on Coppola and cinematographer Gordon Willis' participation on the DVD, I'd have to guess this is a more accurate representation of their visions. Instances of excess grain on the old transfers are more consistent here. Digital artifacts are reduced and almost eliminated altogether. Other print intrusions previously on Part II are gladly nowhere to be found here.

The Dolby Digital 5.1 audio also proves to be a bit livelier than the mixes previously offered. One of the most striking features of the soundtrack is Nina Rota's haunting score; its instrumentation is effectively divided among the three front channels. There is very little surround sound usage on the first film, but Part II opens up the soundfield quite a bit. In doing a direct A/B scene comparison, I noticed a dramatic upgrade in the impact of the shooting spree at Michael's house. I can only guess that there are other instances where the new DVD bests the old in a tactful way. Two-channel mono mixes are also provided for the first two films, reproducing the sound on those films' initial engagements. Part III doesn't seem to differ much from its previous mix, but as a modern movie designed for the full spectrum, it's already active and crisp.
| | |
| --- | --- |
| | |
| Screencap from 2001 Godfather DVD Collection | Screencap of same frame from 2008 Coppola Restoration DVD |
Motion is needed to fully appreciate the improvement, but even these stills illustrate the enhanced vibrancy.
Continue >>
See Page 2 for Bonus Features, Menus & Packaging, Closing Thoughts More on this DVD Collection / Buy from Amazon.com / Buy on Blu-ray from Amazon.com


Related Reviews:
Movies Considered the Greatest of All-Time: Chinatown (Special Collector's Edition) • The Graduate • 2001: A Space Odyssey
AFI's 100 Years...100 Movies: Raiders of the Lost Ark • Snow White and the Seven Dwarfs • Toy Story (10th Anniversary Edition)
New to DVD: Sleeping Beauty (Platinum Edition) • NewsRadio: The Complete Series • Peanuts: Deluxe Holiday Collection
Best Picture Oscar Winners: The Apartment • Braveheart • Chicago (Razzle-Dazzle Edition) • No Country for Old Men
Fellow Academy Award Winners: There Will Be Blood • Wall Street (Actor) | Sling Blade (Adapted Screenplay) | The Little Mermaid (Score)
Francis Ford Coppola: Hearts of Darkness: A Filmmaker's Apocalypse • Bram Stoker's Dracula • John Grisham's The Rainmaker • Jack
The 1970s: Saturday Night Fever • Happy Days: The Third Season • The House Without a Christmas Tree • The Odd Couple: The Third Season
The Cast of The Godfather Trilogy: Ocean's Thirteen • Mama's Boy • Misery • Father of the Bride • Stardust
DVDizzy.com: New and Upcoming DVD & Blu-ray Schedule | DVD and Blu-ray Reviews | UltimateDisney.com | Upcoming Cover Art | Search This Site
Search This Site:
UltimateDisney.com/DVDizzy.com Top Stories:
Reviewed October 31, 2008.


Text copyright 2008 DVDizzy.com. Images copyright 1972-1990 Paramount Pictures, The Coppola Company, Zoetrope Studios, and 2008 Paramount Home Entertainment.
Unauthorized reproduction prohibited.