We don't see many new Christmas specials on network TV these days. Though seasonal programming is certainly one way of confirming that the holidays are upon us, the days of Rankin and Bass regularly crafting stop-motion musical tales are long gone, and no active animation outfit has stepped up to fill their shoes. Last year brought one of the increasingly rare exceptions to the trend in Shrek the Halls, a half-hour special spinning out of DreamWorks' blockbuster computer-animated franchise.
Following Shrek the Third chronologically, Halls provides a first Christmas together for cranky ogre Shrek, his princess-turned-ogre wife Fiona, and their three infant children. For Shrek, it's his first Christmas of any kind, a fact he tries to keep secret while counting on a how-to book to guide him through the celebrations. Of course, Donkey, the well-meaning thorn in Shrek's side, lingers around enough to question the big green guy's decorating style and test his patience.
Throw in the other raucous fairy tale regulars -- Pinocchio, Gingy (the gingerbread man), the Three Blind Mice, the Three Pigs, the Big Bad Wolf, Donkey's fire-breathing dragon wife and crossbred children, and furry musketeer Puss in Boots -- all of whom have their own conflicting contributions and chaos naturally ensues. Said chaos pushes Shrek over the edge and threatens to ruin his family's Christmas. Can he find the true meaning of Christmas (you know, the politically correct kind that has nothing to do with Jesus, Mary, and Joseph) before it's too late? I'll leave you to guess because that's one spoiler I wouldn't dare let slip.
As part of a lucrative, ongoing series, this special gladly retains the look of the Shrek movies. It was made by PDI/DreamWorks and though none of the top credited creative people are those from behind the films, there's no indication that this is some sloppy stepchild like the fabled Star Wars Holiday Special. Supporting the program's credibility is the return of the franchise's four highly-billed voice actors: Mike Myers as the Scottish-sounding Shrek, Eddie Murphy as intended comic dynamo Donkey, Cameron Diaz as supportive yet strong-willed Fiona, and Antonio Banderas as gallant feline Puss. The special must have been written into their existing multi-million dollar contracts.
When the first Shrek film was released in 2001, it was heralded as daring, original, and hilarious. Whether you agree with those descriptions completely or only a little bit, you must admit they seem to apply less and less as the series progresses. That's not to say that the sequels haven't been entertaining or of a caliber comparable to the original. It's more like they're extremely comparable and the universe doesn't seem particularly well-suited for more than a couple of comic adventures. (But then, how many do?)
The Shrek formula seems all the more consistent and hackneyed when boiled down to a slight 22 minutes, which is how long Halls runs before an unusually slow credits scroll. The limited time pushes the special to breakneck pacing as fast exchanges are piled on until viewers approach sensory overload. It's not the type of thing where a second viewing reveals new depth; it simply reinforces the hectic commotion needed to cover the Shrek emotional palette while leaving enough room for the considerable standard 21st century commercial breaks.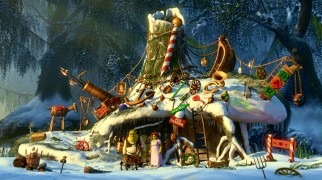 Instead of surprises, we get the tried and true blend of calculated irreverence, gentle gross-out gags, and half a heart to balance the rapid humor.

If you don't think the personalities and style are enough to distinguish this ABC-debuted program from holiday TV specials of the past, then musical sensibilities do the trick. Though a few tastes of the vast library of established Christmas songs are provided in instrumentals and character renditions, more of an impression is made by sampled pop tunes bearing no relation to the season. These include Seals & Croft's "Summer Breeze", Fatboy Slim's "Because We Can" from Moulin Rouge, and "Don't Stop Believin'" by Journey.

VIDEO and AUDIO

Making some use of the ample capacity of even a single-layered DVD, 1.78:1 widescreen and 1.33:1 fullscreen versions of Shrek the Halls are provided. I think that the latter is how the special debuted in standard broadcast transmissions, but framing computer animation is so flexible that the choice is nearly irrelevant. Most will be fine with the default superior 16x9-enhanced presentation, but if you want the dimensions of your Grinch, Charlie Brown Christmas, and Rankin/Bass works, the simply cropped presentation is there to be enjoyed too. Expectedly, picture quality is outstanding. And in stark contrast to its traditionally low-budgeted genre, the pleasant animation boasts remarkable detail and reflects sufficient effort and funding.

Like the picture, the Dolby Digital 5.1 soundtrack could easily be mistaken as the mix of something designed for theaters. The sound is about as crisp as anything you'll find on DVD and the aural environment is appropriately active and directional.
BONUS FEATURES, MENUS and PACKAGING

Despite the feature presentation's brevity, the studio hasn't made much effort to fill up the disc with extras.

The light bonus slate starts with two sing along shorts.

"12 Days of Christmas" (4:05) and "Deck the Halls" (2:40) both provide twists on the famous Christmas carols while employing footage from The Madagascar Penguins in A Christmas Caper. That 12-minute short might as well have been included in its entirety.

Gingy's Dunking Game is a brief, simple activity in which you pick one of three gingerbread men that most closely resembles Gingy. Choose the right decoy from five different trays and you win. Your prize? Nothing.

Next, we get that DreamWorks Animation DVD staple, the DreamWorks Animation Video Jukebox. It promotes the studio's canon with seven familiar musical numbers running 1-3 minutes each. In the rotation here are Shrek's "I'm a Believer", Shrek 2's "Livin' La Vida Loca", Shark Tale's "Car Wash", Madagascar's "I Like to Move It", Over the Hedge's "Heist", Flushed Away's "Dancing with Myself", Bee Movie's "Here Comes the Sun", and Shrek the Third's "Losing Streak."

On DVD-ROM, we're given a demo of the imminently-streeting Shrek's Carnival Craze
. After an easy installation, three activities are playable here: javelin toss Royal Hoopla, bowling game The Melon Bowl, and tricycle race Three-Wheeled Thrills. I found these short activities quite challenging but fun (especially the race), even while being insulted by an unseen announcer. As the disc's best extra, the demo is well worth installing.
Surprisingly, the disc opens with just a single trailer, which previews Madagascar: Escape 2 Africa.
The animated menus please with spirited animation and excerpts of featured songs and melodies (The Waitresses' "Christmas Wrapping", The Nutcracker Suite's "Russian Dance", and so on). They help make up for the boring, insert-free packaging, before triggering an automatic widescreen exhibition.
CLOSING THOUGHTS
It's nice to see the Christmas television special still alive and Shrek the Halls manages to provide a few laughs amidst its routine, forgettable story. Though this wouldn't be a bad DVD for Shrek fans to get cheap, it doesn't provide enough to spend money and shelf space on. The program would make for a good bonus feature and I suspect it will serve as that in some future Shrek movie collection. Until then, they may not have the reference quality picture and sound found here, but there are still far worthier holiday DVDs out there.
More on the DVD / Buy from Amazon.com / Buy 2-Pack with Shrek the Third
Buy with Ty Beanie Babies plush: Shrek / Donkey / Puss in Boots / Gingy