Walt Disney famously declared that "it all started with a mouse", but fans of his life's work know that's not true. While we can probably consider some of the advertisements he created at a Kansas City art studio a preface, Chapter 1 no doubt must open in 1922 when at age 20 Walt led a small company in making a handful of Laugh-o-Grams shorts before going bankrupt. In 1923, five years before Mickey Mouse appeared on celluloid, Walt and right-hand man Ub Iwerks introduced the Alice comedies. Silent like all other films of the time, these short films were noteworthy for mixing animation with live-action in a way that was different from the norm, by placing Alice, a real human girl, into an animated universe instead of the more common method of cartoon character in real life setting.

Mickey Mouse's illustrious career has been celebrated and studied again and again. All of the shorts in his tremendously popular multi-decade series have been released to DVD and many have been rereleased on the format via budget compilations.

And a number of the Alice shorts that survive from the 56 produced have also been made available on disc, between 2005's Disney Rarities collection and other efforts from Inkwell Images and VCI Entertainment.

But in between the Alice comedies and Mickey Mouse's colossal ongoing run existed another popular character, whose absence from the Disney family has always been a sour note. Oswald the Lucky Rabbit made his screen debut near the end of the summer of 1927. Walt Disney and Ub Iwerks created the character and produced his tales, but they were at the command of executives at Universal Pictures. Displeased with the first short submitted (Poor Papa), Universal made some demands, which per the terms of their contract, Walt and Ub honored. Their second cartoon, Trolley Troubles, was better received by the studio and became the first of nine Oswald shorts released to theaters over the final four months of 1927. Eighteen additional Oswald cartoons produced by Disney and Iwerks were distributed by Universal over the first eight months of 1928.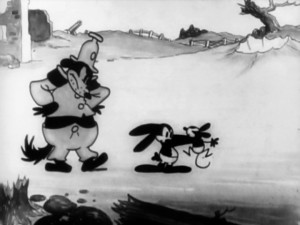 Then in a bit of double-dealing that is typically portrayed as crippling and malicious, Walt Disney's request for a bigger budget led Universal's Charles B. Mintz to instead demand Walt take a major pay cut. While Walt and Iwerks would drop out of the series after fulfilling their commitment, most of the other animators and all rights to the character would stay with Mintz at Universal. Oswald shorts continued to be produced in mass quantities, eventually under Woody Woodpecker creator Walter Lantz, who took the character into the sound age and, on three occasions, Technicolor.
We all know that Walt and Ub rebounded. Within three months of their final Oswald short's release, they had unleashed the one and only Mickey Mouse, a troublemaker in his earliest appearances, to vast public approval. Mickey would go on to be one of the biggest movie stars of the late '20s and 1930s, eventually becoming a company icon and one of the most recognized personalities throughout the world. On the other hand, Oswald, like most early cartoon stars, faded into obscurity, getting most of his modern attention as a footnote to Mickey and Walt's much-exalted legacy.
So it was more an issue of principle and morale than good business sense that drove Robert Iger, current CEO of the Walt Disney Company, to acquire the rights to the character and the 26 Disney-produced shorts of Oswald the Lucky Rabbit. The deal between two media giants went down in February 2006, and required Disney to allow NFL sportscaster Al Michaels to break his ABC/ESPN contract to join the NBC Universal family as part of NBC Sports' Sunday Night Football commentary staff.
Disney's Oswald shorts had remained dormant and many were believed to be extinct. But plans were made for the surviving films to be issued under the 2006-launched DVD line Walt Disney's Legacy Collection. Instead, the lucky rabbit would come to the format in the two-disc, collector-friendly series with seniority. Last week, Walt Disney Treasures: The Adventures of Oswald the Lucky Rabbit reached (some) stores as the most-produced volume in the series' seventh wave and the first gold-colored tin in the annual 6-year-old series.

The set serves up thirteen Oswald cartoons, half of the ones Walt Disney and his staff made from 1927 to 1928, but apparently all that could be located in full and even some of these emanate from incomplete later edits.

It's strange. With all the mentions given to Oswald in Disney biographies and retrospectives, you would expect a unique and memorable personality. But there isn't a lot to be found, at least not in the half of Disney's Oswald output that has survived the past 80 years. A logical intermediate between Alice's cartoon pal Julius the cat and the rebellious early Mickey, Oswald is noticeably slight on personal characteristics. That's not too surprising since silent shorts and their immediate sound successors were driven by visual gags as much as stories and characters. Oswald bears not only a strong physical resemblance to the original Mickey Mouse but their sensibilities are practically interchangeable.

Mickey's early shorts may be technically superior, but the same plots and ideas from them are found right here in Oswald's body of work, from a removable top of head to a love interest and nemesis that require little translation to Minnie and Pete. In fact, the antagonist of the Oswald shorts apparently is Pete, a.k.a. Pegleg Pete and Black Pete, the same anthropomorphic animal who had earlier appeared in some Alice comedies and would more famously torment Mickey and company (a role he holds to this day, most recently on Disney Channel's "Mickey Mouse Clubhouse"). Though more bear-like in appearance, Pete holds the same role of pure opposition.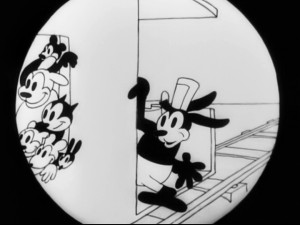 Of course, looking back at early animation from all the studios reveals many similarities; the good, the bad, and the girl was not a formula exclusive to Disney, nor were the round playful depictions of generic anthropomorphized creatures. The gags found in Oswald's universe -- falling pants, sticky gum, et al. -- can also be seen in other surviving cartoons from the same era and later ones.

Still, it's hard to read Oswald as anything else but "essentially Mickey Mouse." The one defining move that distinguishes the rabbit and makes relevant his name (pulling off his foot and kissing it for good luck) is only done in some of the earliest shorts. Watching Walt and Ub's Oswald cartoons makes it abundantly clear why some distributors were reluctant to go into business on Mickey, claiming he was too similar to Oswald.

Maybe the genius of it all is that Mintz' underhanded deed gave Walt a mischievous new character who wasn't so new at all, but was still the perfect showcase for synchronized sound to support. Perhaps disassociating with Universal was one of the best things to happen to Walt, for it stressed the importance of ownership. I must wonder, though, had it been Oswald and not Mickey that dealt Walt and his studio their big break, what would be different about the Disney we know? Part of me thinks not that much. Maybe we'd see longer rabbit ear hats at Disneyland instead of the ubiquitous Mouse ones.

Just thirteen in number and 80 minutes in length, Oswald's surviving shorts unquestionably call for a single disc, even with the inclusion of commentaries, a gallery, and a 14-minute featurette. To conform to two-disc Treasures standards, this set also gives us The Hand Behind the Mouse: The Ub Iwerks Story, a feature-length 1999 documentary on the unusually loyal animator that was previously unavailable on DVD. It's as good a fit here as anything else and it's complemented by a half-dozen significant Iwerks-animated cartoons from the years just before and after Disney's short Oswald run.

PACKAGING

Like the other two dozen DVDs released as Walt Disney Treasures, this Oswald set is elevated above normal DVDs with eye-catching shelf presence. Disney appears to be as fond of the idea of Oswald in gold as David Lynch is of dark roads, for the release is immediately distinguished in a number of places by its gold hue, most notably in the embossed tin (the only non-silver one in the series) and replicated keepcase artwork but also in the booklet and certificate of authenticity. Boasting a print run that's more than twice of its fellow Wave 7 sets, Oswald's COA provides the number of your individual copy in relation to the 120,000 produced.

In addition, the case holds a Disney Movie Rewards program code, a postcard-sized lithograph depicting six pencil drawings from likely extinct Oswald short Sagebrush Sadie, and an 8-page booklet with a note from Leonard Maltin that wonderfully sums up in the set in four short paragraphs. Finally, there's a tiny Oswald the Lucky Rabbit button in plastic which begs to be relocated or else it will fall out each and every time you open the case. As has been true for some years now, the tin is not given a wraparound band and the descriptive page on back is ineffectively affixed with a tiny circle of weak adhesive.
DISC 1

Like the other Wave 7 titles, Disc 1 launches with a promo for Pixar Short Films Collection, Volume 1 and follows with an introduction by Leonard Maltin (3:40). This one puts the star character into context, explaining the significance of this release and the reason for the erratic picture quality. The video quality is strong enough not to merit mention but perhaps seems even stronger after we're cautioned to lower our expectations.

THE SHORTS

Trolley Troubles (1927) (5:45)
A cow, a widely varying track, a goat, and hills all pose problems for Oswald and the trolley full of young passengers that he conducts.

Oh Teacher (1927) (5:53)
This short depicts Oswald's bicycle ride to school

and his recess time plot to win over a female classmate by getting revenge on a rival.

Great Guns! (1927) (6:42)
After enlisting and kissing his lover goodbye, Oswald finds himself in the midst of trench warfare. There, he does battle with a defenseless little mouse and a disapproving big bear.

The Mechanical Cow (1927) (6:03)
Oswald wakes up a mechanical cow and the two work together to serve milk to young animals. The cow becomes a rescue means when Oswald's lady friend is abducted by monstrous trigger-happy gangsters.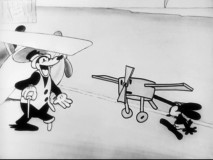 The Ocean Hop (1927) (6:03)
Oswald competes in an airplane race against the unscrupulous Pegleg Pete, who's not above dirty (or sticky) tricks.

All Wet (1927) (6:38)
After a day of selling most unusual hot dogs, Oswald bribes his way into a lifeguard position. Just then, his gal pal needs rescuing.

Rival Romeos (1928) (6:18)
Oswald rushes to get to his feline love interest before another animal suitor (a bear?). While there, Oswald's efforts to serenade the cat are thwarted by a hungry goat.

Bright Lights (1928) (7:32)
Lacking the 50 cents needed for admission, Oswald sneaks into a shimmy dance show, resulting in quite the wild mayhem to eject him from the theater.
Ozzie of the Mounted (1928) (5:05)
As a member of the mounted police,

Oswald tries to catch wanted criminal Pegleg Pete, taking chase on a mechanical horse.

Oh What a Knight (1928) (5:42)
Oswald's efforts to woo a lady in a tower lead to him having to duel with her armored protective father for her hand.

Sky Scrappers (1928) (5:28)
On a day of construction work, Oswald buys a box lunch from his love interest and then must defend her honor by standing up to a much larger co-worker.

The Fox Chase (1928) (5:15)
Oswald has some troubles as one of many participants in a bumpy fox hunt.

Tall Timber (1928) (7:32)
Misadventures abound as Oswald's day of outdoor activities like canoeing and hunting is intruded upon by a bird, a bear, and some boulders.

NEXT >>
ONTO PAGE TWO

Order Walt Disney Treasures: The Adventures of Oswald the Lucky Rabbit from Amazon.com