It's still edited. Diehard fans of Disney animation who have entered this review know exactly what I'm talking about and, for some, it's all that needs to be said about Disney's new 2-Movie DVD, Saludos Amigos & The Three Caballeros: Classic Caballeros Collection.

Those not in the know and those willing to overlook very mild censorship, you are in luck, because I have plenty more to say about both this new disc and the two obscure 1940s animated anthology films it holds.

Preconceived notions, barriers, and box office records were all broken when Walt Disney made the jump from cartoon shorts to feature-length animation. Just over seventy years ago, Disney's Snow White and the Seven Dwarfs became an historic first. Today, it and each of the four animated features with which Disney promptly followed (Pinocchio, Fantasia, Dumbo, and Bambi) are considered among the greatest and most beloved movies of all-time. Not all were instantly recognized as such; Pinocchio, Bambi, and (to the greatest degree) Fantasia failed to recoup their considerable budgets during their initial releases.

Between the financial challenges and the United States' entry into World War II, Walt Disney and his studio would have to dial down their collective ambitions and depart from the breakthrough (today, commonplace) format of feature-length cartoons. From Bambi's debut in August of 1942 through the end of the decade, the Disney movies seen in theaters fell into three classes: re-releases of the early features (Snow White et al.), original cartoon shorts (starring the likes of Mickey Mouse and friends), and new feature films composed of a number of short sequences.
That last class -- the largely forgotten 1940s anthology films -- began with Saludos Amigos, commissioned by the U.S. Department of State

in the hopes of aiding relations between the United States and its Western Hemisphere neighbors in Central and South America. The movie opened in South American cinemas within days of Bambi, but it would take an additional six months to reach the States.

At a mere 42 minutes, Saludos narrowly qualifies as a feature-length film by the standards of the Academy of Motion Picture Arts and Sciences, who nominated it for three aural awards (Best Original Song, Best Scoring of a Musical, and Best Sound) in categories of 9-12 competitors.

Constituting the bulk of the film are four animated sequences. The first features Donald Duck as a Lake Titicaca tourist who stumbles while attempting regional customs and interacting with a local boy and his musically-trained llama. The second and oddest cartoon segment takes us to Santiago, Chile, where a young anthropomorphic airplane named Pedro braves tough storm conditions and notorious Andes Mountains to cover his sick father's mail route. In the third piece, North American cowboy Goofy demonstrates life as an Argentinean gaucho, from dressing and eating to pursuing an ostrich. Finally, Brazil is the setting as Donald meets a new character, parrot José "Joe" Carioca, and is shown the sights and sounds of the region with watercolor imagery, samba, and the still-recognizable (then-new) song, "Aquarela do Brasil."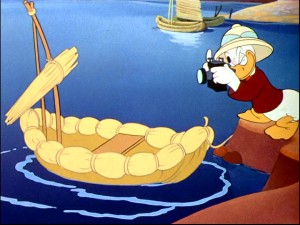 There is also some live-action footage along the way. We see Disney artists board a plane as their journey is explained. Townsfolk of the Titicaca area are witnessed, their routine activities, clothing, and livestock noted. Before getting to Goofy's tale, time is spent in Argentina, where gauchos and traditional dances are observed. Leading into to the finale is a survey of the scenic Rio de Janeiro, covering its popular beach, urban locales, and festive annual Carnival celebrations.
Wit, humor, and charm are easy to identify in every component of Saludos Amigos. While it dispenses some knowledge of geography and culture, the film keeps entertainment a top priority. Though clearly dated, it delivers some diverting moments amidst its rampant admiration of all things South American. Inevitably brisk and not overly fragmented considering the format, the film nonetheless doesn't lend itself to tough criticism. The whole feels less than the sum of its parts and although it does a fair job of holding the open-minded viewer's attention, in retrospect it feels both forgettable and dull.
It's tough to say exactly why that is. Part of it may be that the union of 1940s Disney animation sensibilities with South American locales feels forced. That should be eradicated by the fact that it belong to a rare class of theatrical features that enlist short subject stars Donald and Goofy, then near the heights of their popularity. Or the fact that there is an impressive amount of visual imagination on display, from the reverse and slow motion tricks of "El Gaucho Goofy" to the paint motif and inspired transitions of "Aquarela do Brasil", where bananas turn into vibrant birds and such. But, though it's easy to point out things that are interesting about Saludos Amigos, it's not something one rushes to label a well-kept secret or little-known gem. By Disney feature standards, it's about as unremarkable as anything.
The Three Caballeros nearly matches Saludos in the number of joys it provides, but its more ordinary runtime of 71½ minutes means it has a considerably lower success rate.

Caballeros is slightly less fragmented in structure and though it contains substantially more live-action content, this almost always shares the screen with some animation. While both of those facts sound like welcome news to your typical fan of Disney animation, they actually appear to work against the film for the most part.

Things open with Donald Duck receiving a bundle of gifts for his forthcoming Friday the 13th birthday from his Latin American friends. His first gift is the film later titled The Cold-Blooded Penguin. Narrated by "Professor" Sterling Holloway in one of his many notable Disney voice roles, the short tells of a South Pole penguin who endures a variety of obstacles en route to warmer pastures. The second sequence introduces the Aracuan Bird, an exotic red inhabitant of South America who leaps out of his film strip to interact with Donald. (The Aracuan is less elusive and irritating than in his more recent appearances on "Mickey Mouse Works" and "House of Mouse.") Far lengthier, the next portion ("The Flying Gauchito") involves an Argentinean boy and the burrito (a winged little donkey, not the tortilla-based Mexican dish) he discovers and races on.

The second gift Donald gets to is a pop-up book on Brazil which provides the return of Joe Carioca. The feathered Rio resident becomes our guide to central Brazilian state Baía (Bahia). The trip begins as a leisurely look at some impressively rendered visuals, shifts to our first of many brushes with psychedelia, and proceeds to a spirited but frankly underwhelming mixed-medium escapade that finds Donald and José smitten with a local woman (Aurora Miranda, sister of famous singer-star Carmen Miranda).

More trippy animation follows, calling to mind Dumbo's disjointed "Pink Elephants in Parade" sequence but lacking the creativity and temporal restraint. The eponymous dynamic finally emerges past the halfway point when gun-toting rooster Panchito shows up, allowing the almost memorable title song to be performed with flair. Donald is then schooled on the Mexican Christmas traditions of Las Posadas and follow-up piñata party. With Mexico being discussed, the three Caballeros take a magic serape ride to a few spots in America's southern neighbor. Even with a trio of bold personalities, the live-action showcases of folk song and dance, folk song and dance, and beach gawking are none too lively. By the time the head of Dora Luz appears in a starry sky with neon arrows pointing at it, chances are you'll have already given up trying to figure things out, and maybe just plain given up.
It feels wrong to speak lowly about something over sixty years old that clearly possesses some merit and was worked on by many of the same folks that had just crafted masterpieces like Pinocchio.

There might be some inclination to view Saludos and Caballeros as sacred achievements. But to be fair to the real gems, we owe it to ourselves to be honest and admit that despite supplying fascination and a bit of fun, these two compilation films fall far short of specialness. They are apt to be considered among the bottom rung of Disney feature animation right along with modern day duds like Atlantis and Chicken Little.

After assessing the limited value of the two films, it almost seems silly to mention the censorship which ranks as extremely minor. But the obvious counterargument is that if it was so minor, why did it need to be done? The biggest and perhaps only edit in question is the digital removal of a cigarette from Goofy in his introductory shot of Saludos Amigos' "El Gaucho Goofy" segment. His hand remains deliberately posed but any evidence of this wannabe gaucho smoking is gone.

Humanity is quite in agreement that smoking is harmful and that a positive portrayal of the practice, particularly by a kid-friendly icon, is wrong. Then again, selectively cleaning up the past isn't exactly virtuous. If the one known redacted shot is all that's been edited, then we're talking about 8 seconds of affected footage, so it is more the principle than the practice that's the issue. But on a film that's more likely to be seen by adult animation buffs than children, the move (done for the film's first DVD release) seems objectionable. As does the disappearance of the disclaimer advising that the film has been "edited for content." While I've already said far too much about such a small thing, it's worth noting the irony that so much questionable material has gone untouched -- Joe Carioca is rarely seen without a cigar, Panchito fires his two pistols frequently and recklessly, Donald Duck leers and lusts over every woman he sees -- yet Goofy's (perhaps historically accurate) portrayal of a cowboy gets the lasso tool and virtual scissors.

Both Saludos Amigos and The Three Caballeros made their DVD debuts on May 2, 2000, under the Gold Classic Collection banner, as part of Disney's intense year-long devotion to putting its animated films on disc. Though they were never as widely available as the studio's more popular cartoon features, it was only recently that the two essentially disappeared from stores. Those who notice the quiet discontinuations alongside those which return to the proverbial Disney vault with pomp were right to suspect a new release was in the works. And so, eight years after their format debuts and just in time for every U.S. and Canadian family's Cinco De Mayo celebrations, Disney gives us this Classic Caballeros Collection, a single disc that pairs up the two films and a modest slate of bonus features at a price that's especially low for Disney animation.
DVD Details

1.33:1 Fullscreen (Original Aspect Ratio)
Dolby Digital 5.1 (English, French, Spanish)
Subtitles: English, French, Spanish
Closed Captioned; Extras Subtitled
Release Date: April 29, 2008
Single-sided, dual-layered disc (DVD-9)
Suggested Retail Price: $19.99
Black Keepcase with Side Snaps and Cardboard Slipcover
VIDEO and AUDIO

Products of the Academy Ratio age, both Saludos Amigos and The Three Caballeros appear in 1.33:1 fullscreen transfers that approximate their theatrical presentations. Neither the package nor the press materials make any mention of remastering, but I still did some A/B comparisons between the films' Gold Collection DVDs and this new disc.

While the transfers look nearly identical, I noticed extremely slight improvement on the new release in sharpness and consistency.

Saludos contains 16 mm live-action footage which is jerky and irregular in speed. The animation fares noticeably better, but in both films, certain shots -- mostly dark ones -- are lightly littered with white speckles that appear to be a mix of digital artifacts and source flaws. In Three Caballeros, when combined with live-action footage, the animation tends to look soft and out of focus so that the medium integration is not quite as seamless as later attempts.

On the whole, most shots are vibrant and clean. For 60-year-old films, these look pretty good. Still, they're clearly several notches below their predecessors that have been meticulously restored for their Platinum Edition releases. Worth pointing out but not overstating is the fact that the films boasted higher average bit rates when given their own single-layered discs than here; Saludos takes a big dive from 8.5 Mb/sec to 6.7 Mb/sec, while Caballeros barely steps down from 6.62 M/s to 6.6 M/s.
| | |
| --- | --- |
| | |
| Screencap from Three Caballeros Gold Collection DVD | Screencap of same shot from this 2-Movie Collection |
Where the new DVD offers more noticeable improvement is in the Saludos Amigos soundtrack. Both films were presented in two-channel Mono on their initial DVDs. Here, they're encoded in Dolby Digital 5.1, but they could easily be mistaken for plain Surround, offering extremely slight musical reinforcement from the rear speakers and no evidence of channel separation or directional effects. However, Saludos clearly benefits from the new mix; the hiss and static of its original DVD is far less prominent and the narration a little cleaner on this new release. Caballeros didn't have as many problems on its original disc and it doesn't sound all that different here. So long as you don't go in expecting Disney Enhanced Home Theater Mixes that rock your system, you should be pleased with the audio portions of the disc. Saludos has gained a French track, which like the disc's other French and Spanish mixes are all offered in 5.1 sound.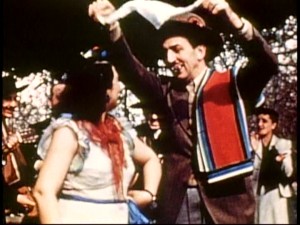 BONUS FEATURES, MENUS and PACKAGING

Four bonus features are divided into two sections. First is Backstage Disney, which holds the disc's most substantial supplement, South of the Border with Disney (33:16). Serving as a companion to the features, this live-action two-reel short

expands upon the real world material in Saludos. Pure travelogue, it devotes a few minutes to each of the stops on the Disney staff's tour: Brazil, Argentina, Chile, Lake Titicaca, and Mexico. Released in American theaters three months before Saludos (and containing minimal overlap with that film), the movie may have had extra appeal when such culture documentaries weren't so rampant. But today's audiences might find the survey of local animals, attire, and activities a bit dry. It doesn't help that the film is rather rough in appearance, having not received the remastering it plainly needs.

Closing out Backstage Disney is an excerpt of a Walt Disney CBC Interview (1:45). In it, he discusses how Saludos Amigos came to be and briefly mentions Three Caballeros. It's a valuable clip, but the runtime is no typo; at under two minutes, it's one of the shortest listed extras you'll find.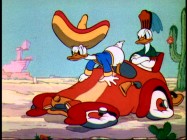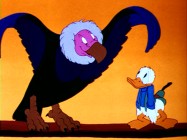 In Bonus Shorts, we get two additional cartoons: Don Donald (8:03) and Contrary Condor (8:03).

These supplant the two different shorts (Pueblo Pluto and Don's Fountain of Youth) that accompanied Three Caballeros on its Gold Collection DVD. Don Donald (1937) introduces Daisy Duck as Donna Duck, a love interest for Donald, who rides a burro to her Mexican pueblo. Their rocky courtship is marked by an unappreciated Hat Dance and a bartered jalopy. In Contrary Condor (1944), Donald is treated like a baby bird after his egg collecting excursion in the Andes goes awry.

Failing to make the jump from Gold to 2-Movie are the original trailers for Saludos and Caballeros. That's really too bad, especially after you read the next two paragraphs.

After the now-familiar Disney company promo and FastPlay selection screen, previews play for Sleeping Beauty: Platinum Edition, WALL-E (a trailer which showcases the film, rather than talking up its company's track record), The Jungle Book 2: Special Edition, and 101 Dalmatians II: Patch's London Adventure, followed by a Disney Movie Rewards program promo. The Sneak Peeks menu holds all the previews plus additional ones (summoned post-feature with FastPlay) for The Little Mermaid: Ariel's Beginning, "Little Einsteins": Flight of the Instrument Fairies, and "Handy Manny": Manny's Pet Round Up.

How disappointing that the studio could find room for all these yawn-inducing commercials, but not the featured movies' trailers. In fact, there were enough 0's and 1's available; clocking in at 7.30 GB, the disc could have easily included the original trailers, all the requisite ads, and still more Playhouse Disney promos while staying under the 8.54 GB capacity of a DVD-9.

Clearly improving upon the old releases' static selection screens, the DVD's animated main menu moves around Donald, Jose, and Panchito while an instrumental version of "The Three Caballeros" plays and streamers and confetti fall. Submenus maintain the same theme of bright colors and the three birds with different music, but only the main Bonus Features page features animation.

The DVD's side-snapped black keepcase is housed in an utterly unremarkable cardboard slipcover that merely reproduces all of the artwork below. Two in-case inserts provide a Disney Movie Rewards code and scene selections, while also finding room for print ads.
CLOSING THOUGHTS
While pretty much every fan of Disney animation should see Saludos Amigos and The Three Caballeros, only those set on collecting every one of the studio's cartoon features will feel a strong need to own the films. Even they are more likely to appreciate the two as shelf dressing or for fascination value than as movies crying to be rewatched. The anthology format that occupied Disney for most of the 1940s was not a complete loss. The films generally got better, but largely because Saludos and especially Caballeros left plenty of room for improvement.
This Classic Caballeros Collection DVD doesn't approach the full re-release potential. Picture and sound are still lacking, the bonus features are slightly weaker than the Gold Collection DVDs, and Saludos is still mildly but unfortunately edited. However, the $19.99 list price is mightily attractive, $10 below the studio's standard SRP for animated features (be they brand new blockbusters or pointless reissues of 10-year-old direct-to-video sequels). Especially when you consider the fact that sold separately 8 years ago, the two films carried a combined retail price of $59.98. In most stores for $15 or even less, this flawed new edition is bound to tempt many a Disney fan. It's terribly easy to justify spending $7 and change each on a pair of relative rarities that were long unavailable to own at all.
That's as close as I can come to recommending the disc, as most will find that the two forgettable films lend themselves to a single curiosity viewing.