When Universal's art house division Focus Features advertised Coraline as being "from the director of The Nightmare Before Christmas", they had to know the name that would come to people's minds is "Tim Burton." After all, Burton got his name in the full title of that 1993 cult classic, which he produced from an original story. But it's actually Henry Selick who directed Nightmare. Without Burton's involvement, Selick continues to work in his preferred medium -- stop motion animation -- and he directed Coraline from Neil Gaiman's 2002 fantasy book of the same name.
Blue-haired girl Coraline Jones (voiced by Dakota Fanning) has just moved from Pontiac, Michigan to Oregon with her mother and father (Teri Hatcher, John Hodgman). The new location does not make a good first impression on Coraline, as she endures rain, off-putting local boy Wybie (Robert Bailey Jr.) and his shrieking cat, and the effects of holding poisoned oak. Her dull, oft-preoccupied garden catalog writer parents are little help, but two objects of interest emerge. First, Wybie gives Coraline a tiny wool doll that bears a striking resemblance to her.
Secondly and more importantly, Coraline discovers one remarkable curiosity about her new house, which is actually very old. The outline of a small, locked door can be seen through one room's wallpaper. Behind it lays only solid brick. But a night soon comes in which Coraline is able to enter, crawl through a blue passageway, and wind up in some alternate reality. There, Coraline's "other" parents -- who look just like the real thing, save for their button eyes -- are attentive, patient,

creative, culinarily competent, and utterly concerned with keeping her happy. Basically, they're polar opposites of Coraline's real parents.

They're not the only thing about this world that's more fun. There, the button-eyed versions of Coraline's oddball neighbors -- hirsute Russian acrobat Mr. Bobinsky (Ian McShane) and contradictory retired British burlesque actresses Miss Spink and Miss Forcible (comedy team Jennifer Saunders and Dawn French) -- are actually able to put on exciting shows. And, rendering him more tolerable, Wybie can't speak, although his cat can (thanks to Keith David) and does so in a way that belies his real world demeanor.

It's only a matter of time before this dream world is revealed to be more of a nightmare, in a tone-changing turn the film arrives at abruptly. Suddenly, the allure of the fantasy realm fades, leaving Coraline wanting nothing more than to return to drab reality and the parents that frustratingly don't listen to her.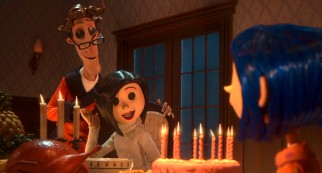 I entered this film with some reservations. I knew that critics got behind it as did viewers most vocal on the Internet. But even if it weren't being marketed to suggest a nonexistent Tim Burton connection, it already looked the part, causing me to fear a triumph of style over substance. Those fears, it turns out, were dispersed. Unlike Nightmare, Burton's Corpse Bride, and even Miyazaki's much-hailed Spirited Away, Coraline does not dish out weird elements simply to be weird and have viewers create their own interpretation. I can think of only one disposable scene where oddities raise unanswered questions.
I suspect why the movie transcends that can be traced back to its foundation. I can't confess to having read Neil Gaiman's novella or any of his other print. But the most recent three (Stardust, Beowulf, and this) of the four feature films he's had a hand in have convinced me of his storytelling proficiency (I'm willfully forgetting MirrorMask, which is easy to do). Coraline succeeds because it is a taut contemporary fable and for that, Gaiman deserves credit.
Of course, we can't overlook Henry Selick's achievements. He is clearly the film's driving force, serving as adaptor, production designer, executive producer and director. He does right on every one of those fronts and is more responsible for this film's strengths than past credits' shortcomings.
The artistry of the film's stop motion work is most impressive. On a presentation this polished, it's all too easy to forget just how much effort goes into making all of these miniature characters and settings come to life fluidly and naturally. You're more likely to invest in the imaginative story and scenarios, but give it thought and you'll recognize how well the painstakingly detailed visuals serve the film. The days of limitations to the medium seem to have passed; there's no element or realistic effect that seems unattainable by these skilled professionals.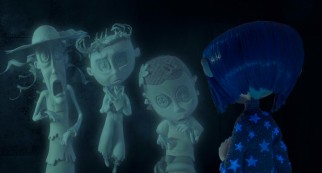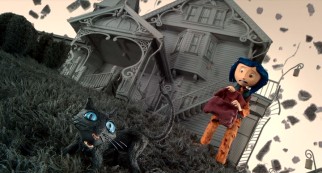 Coraline is part of cinema's current revival of 3-D movies. That revival remains largely a theatrical phenomenon, one meant to sweeten the moviegoing experience and, via admission premiums, strengthen the returns.
Over the past year, studios have been making more of a point to try to translate the digital clear glasses big screen presentation to home video with traditionally polarized colored glasses. Universal does that here with results I go into detail about a little later.

Despite opening in the uncertain month of February with an animation technique whose big screen applications and appeal have been limited, Coraline performed well at the box office. Its recently-finalized North American take of $75 million exceeded the film's $60 M production budget. It also compared favorably to the latest stop motion fare, the well-received Wallace and Gromit in The Curse of the Were-Rabbit and Corpse Bride. Acknowledging ticket price inflation (which is even steeper when 3-D prices are considered), Coraline drew crowds on the order of Nightmare Before Christmas' original 1993 run. In other words, it was no behemoth and a far cry from the numbers that the computer-animated films of Pixar, DreamWorks, Blue Sky, and Disney earn, but a respectable attraction nonetheless.

Next Tuesday, Universal brings Coraline to home video in a single-disc DVD, a 2-Disc Collector's Edition DVD (the subject of this review), and a Blu-ray/DVD Combo. All three releases present the film in both 2-D and 3-D, the latter format requiring the use of four complimentary pairs of green/magenta glasses.
DVD Details

1.85:1 Anamorphic Widescreen
Dolby Digital 5.1 (English, Spanish, French)
Subtitles: English for Hearing Impaired, Spanish, French
Not Closed Captioned; Video Extras Subtitled
Release Date: July 21, 2009
Two discs (DVD-18 & DVD-9)
Suggested Retail Price: $26.98 (Reduced from $34.98)
Black Keepcase in Embossed, Holographic,
Reflective Cardboard Slipcover
Also available in Single-Disc DVD ($19.98 SRP)
and Blu-ray Disc/DVD Combo ($26.98 SRP)


VIDEO and AUDIO
Coraline's 1.85:1 widescreen theatrical aspect ratio is upheld in all three of its releases and in all three of the Collector's Edition DVD's presentations. This visually striking film is a treat to behold in this immaculate, colorful transfer. The simple, erratic stagings of old Rankin-Bass television specials are but a distant memory now, as the sharp stop motion here is unflawed and easy to admire.
The 3-D presentation appears on Side B of Disc 1 (a rare, spacious DVD-18). As stated before, this is achieved with the green/magenta glasses provided. First, the good news. The film isn't too blurry and watching it this way doesn't seem certain to give you a headache. Dimensionality is inherent to the stop motion medium. There are some bits clearly meant to make use of a third dimension, but not in a gimmicky way like 3-D movies of yore. You occasionally get a moment of impact, but generally, the effects aren't extreme. Characters always subtly pop out from their surroundings.

The bad news is that while this might be the best application of 3-D I've come across on DVD, I struggle to see much purpose in it.

Unlike the dulling of colors that theatrical 3-D now entails, these polarized glasses increase vibrancy but also give an unintended tint you must overlook. On the whole, I don't think the benefits outweigh the drawbacks. I see more fun in coming-at-ya theme park illusions than general cinema simply conveying different planes. But as long as people are willing to pay a few dollars more to see movies this way, the studios will continue to offer such treatment, especially on animation.

The Dolby Digital 5.1 soundtrack also merits praise. Surround channels are used sparingly but effectively; the atmosphere they generate in active climactic scenes is palpable. Dialogue occasionally gets slightly drowned out by effects and music, but other than that, the potent mix excels.

BONUS FEATURES, MENUS and PACKAGING

Both the 2-D and 3-D versions of the film come equipped with an audio commentary by director Henry Selick. Selick talks practically non-stop and he has many interesting things to share. He spends much of the time remarking on departures from Gaiman's text, production techniques, creative decisions, and characters. It's a little repetitive and suffers a bit from a lack of company and name-dropping, but those who like the movie stand to benefit by giving a listen. Though also billed as a commentator, French composer Bruno Coulais talks alone for just four minutes over the end credits.
That's where the bonus features expectedly end for the single-disc DVD, but the second disc of the Collector's Edition adds another hour of video plus a digital copy.
First up are Deleted Scenes (8:50). Though not particularly substantial, what's here is for the most part fully animated. We get some short extensions, an additional Coraline-Mother exchange, a montage of disposed moments, an extended version of the ghost children bedroom visit, and a cut dream sequence that took 66 days of hand animation (a tiny fraction of which we get to see). Selick's explanatory scene and section introductions are cut in an hilariously offbeat fashion.
Next, "The Making of Coraline" (35:56) can be viewed as a 10-part mini-documentary or as 10 topical featurettes. It works fine either way, but seems to have been created for consumption as shorts. Those shorts cover the differences from book to film, the world's design, the voice cast, stop motion puppets, the tiny clothes made for Coraline, the tiny paper flowers made for the fantastic garden, the animation process, creating fire and fog, how the film was shot in 3-D with an automated sliding stereoscopic camera, and the artists' handiwork. This material supplies satisfactory behind-the-scenes looks with an appropriate amount of detail and apt editing.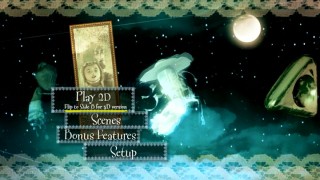 "Voicing the Characters" (10:46) delves deeper into the vocal cast.

It supplies lots of recording studio clips and lets us hear some thoughts from the well-known and familiar actors on their parts. A piece like this always carries a promotional air, but it's something viewers understandably enjoy seeing, myself included.

Finally, Disc 2 serves up the practically requisite digital copy of the film, which can be transferred to iTunes or Windows Media Player with the provided code.

Both sides of Disc 1 load with ads for 9, Bionicle: The Legend Reborn, Curious George 2: Follow That Monkey!, Blu-ray, Duplicity, and Bring It On: Fight to the Finish.

Each disc's main menu runs with an ethereal montage of flying, floating objects against a starry night sky, while an excerpt of the gibberish choral end credits theme plays. Submenus are static and, with the exception of bonus features menus, silent.

Coraline's Collector's Edition comes packaged within a sturdy cardboard that's equipped with embossing and reflective touches on front plus some holography on back. Besides the two discs, you'll find the four pairs of 3D glasses and unique digital copy code sheet inside the case.
CLOSING THOUGHTS

At times, Coraline is dark, dramatic, and fanciful. While other such films win favor simply by being strange and different, this is more deserving of praise. Style and substance stay supportive of one another, with substance doing the driving.

Delivering compelling fantasy along with Henry Selick and company's handsome stop motion, Coraline entertains and entrances about as well as any recent animated film outside of Pixar's domain.

Universal's DVD deserves credit for including a 3-D version at no extra cost. Even if it's not a particularly meaningful presentation, it hints at the format in which a majority of theatrical exhibitions were screened. The 55 minutes of Collector's Edition extras lend good insight into this unique production. Is it enough to spend an extra $5 or so on? Or is saving $5 or so worth missing out on fine accompaniment to a film you wish to own? Those are questions for you to answer, and ones that didn't need to be asked just a few years ago. If you consider a digital copy important, then you might as well go for the two-disc set, in which case you might as well consider the Blu-ray/DVD combo for just $1 more. It isn't clear, however, if the combo holds Disc 2's extras on DVD, Blu-ray, or both.

Whichever route you go, though, you should definitely check out Coraline, a fun movie that seems to lend itself to regular viewings.

Buy Coraline from Amazon.com: 2-Disc Collector's Edition DVD / 1-Disc DVD / Blu-ray/DVD Combo