By Kelvin Cedeno

After 2003's Pirates of the Caribbean: The Curse of the Black Pearl became an enormous success, Disney was understandably eager to make another adventure with producer Jerry Bruckheimer. Pirates was far from the first film Bruckheimer did for the company; movies like Con Air, Armageddon and Gone in Sixty Seconds were released through Disney's Touchstone Pictures. National Treasure was set to join the Touchstone family until shortly before release when it was moved to Walt Disney Pictures. Undoubtedly the result both of a generous PG rating from the MPAA and the warm reception given the edgier Pirates, Treasure became another production that shook up the notion of a live-action Disney family film. It would gross a surprising $173 million domestically and $347 million worldwide.

Such a hit would make any studio think sequels, and on the eve of such a thing's theatrical release, Disney has seen fit to reissue the original on DVD in a 2-Disc Collector's Edition.

National Treasure tells of a legend passed down from generation to generation concerning a treasure buried by the Masons, a group that includes some of the very men who founded the United States. Members of the Gates family, descendants of Benjamin Franklin, have devoted their lives to unlocking the clues that point to this fabled treasure's location. Benjamin (Nicolas Cage) is the only Gate of his generation still obsessed with this legend.

Following clues, he finally discovers where the map leading to the treasure can be found. Unfortunately, it happens to be on the back of the Declaration of Independence, complicating matters considerably. When his former colleague Ian Howe (Sean Bean) plans to steal the document for his own purposes, Ben has no choice but to steal it himself, and he does so with the aid of his sarcastic, computer-savvy friend Riley Poole (Justin Bartha). The curator of the National Archives, Abigail Chase (Diane Kruger), catches them in the act and is forced to tag along in part to keep the Declaration safe but also to satisfy her own curiosity. A chase begins with Ben and company trying to decipher the codes and clues given to them, and Ian and his company hot on their trail.
This film is a sort of return to form for the classic action-adventure genre. Most of the new millennium's entries to the genre have been period pieces or stories that leaned more towards action-thriller. National Treasure brings back the type of classic treasure hunting and riddle-solving not seen since the Indiana Jones trilogy. Of course, it doesn't live up to that series, but that is an unfair comparison.
The feel here is unique, perhaps because few movies set in the present rely on American history as heavily as this one does. It also has a fairly well-thought out storyline that's a refreshing departure from the usual cookie-cutter plots that are an excuse for gunfights and explosions. It's true that the story stretches credibility past the point of no return, but the only reason anyone would find this distracting is if while watching they consistently try to work out the plot in the real world, instead of staying in the film's depiction of it. That the filmmakers chose to keep things as grounded as they do is something that should be commended, as it's undeniably easier to build a similar story in an alternate world with 100 percent fictional elements.
Being a Jerry Bruckheimer film, National Treasure offers the values that one now expects from this helmer of spectacle blockbusters. Production design is of the highest caliber. Much of the film was actually shot on location in both Washington and Philadelphia, and it shows. Cinematographer Caleb Deschanel was able to let the camera work take in all the sights, something that could not be done on a Hollywood film set. The few pieces where sets are relied upon are seamlessly integrated with the location footage.
Performances are solid all around, with Nicolas Cage being decidedly more low-key than usual while still giving his character some color. Justin Bartha gets the usually thankless role of the sidekick but proves to have a knack for comedy and timing without being grating or out of place. The rest of cast -- which includes Bruckheimer favorite Jon Voight plus Harvey Keitel and Christopher Plummer -- does well with what they're given, even if the script seems more concerned with plot than characterization.

Speaking of the script, that is perhaps the film's greatest weakness. It's apparent that time and care was given to ensure the twisting plotline worked and that its historical aspects had merit. The dialogue, however, is a bit clunky. Ben often sounds more like an encyclopedia than a person, and there's a desperate need on display here to explain every minute detail. There's also a level of corniness to some of the humor that tends to lower the impact of the drama rather than simply letting the audience take it in.

As said earlier, little is done to give the characters distinctive personalities. Everyone is basically pulled along by the plot, and there are few scenes that establish character development. Then again, the intricate plot takes up so much screentime that the film would have to overstay its welcome in order for us to properly get to know these people. As is, it still clocks in 11 minutes longer than two hours.

National Treasure's scripting may be flawed, but everything else about the film is able to overcome this. Unlike many modern action flicks, it presents an interesting storyline and is joined by decent performances and excellent visuals. It works just as Disney intended: an action film that's suitable for the whole family. While children may not get as much out of it as teens and adults will, there at least isn't gratuitous violence, profanity, or nudity on display here (three checkpoints many action films try to deliver in spades). It can get a bit silly at times, but it still is a fun and often exciting action-adventure piece.
DVD Details

2.35:1 Anamorphic Widescreen
Dolby Digital 5.1 (English, French),
Dolby Surround 2.0 (Spanish),
Subtitles: English, French, Spanish;
Closed Captioned; Extras Subtitled
Release Date: December 18, 2007
Two single-sided discs (DVD-9 & DVD-5)
Suggested Retail Price: $29.99
Black Keepcase with side snaps housed in
Embossed Holographic Cardboard Slipcover
VIDEO and AUDIO
National Treasure's 2.35:1 anamorphic widescreen transfer is identical to its original single-disc release. This certainly isn't a bad thing as the image quality is excellent. Colors are rich and warm, sharpness is consistently detailed, and there are absolutely no print flaws on display. Some minor edge enhancement creeps up at times, but it's not distracting enough to harm this pristine transfer.
Likewise, the Dolby Digital 5.1 surround soundtrack is the same as before, and there is nothing to complain about on this front. The soundfield is always immersive. Even during dialogue-heavy scenes, background ambience fills the speakers. Of course, a Jerry Bruckheimer production must always have detailed surround effects, and that's just what we find here. From speeding cars to explosions, the rear channels are put to good use. Trevor Rabin's musical score tends to be a bit loud at times, but this is due more to design than the track reproduction itself, and it doesn't interfere in hearing the dialogue.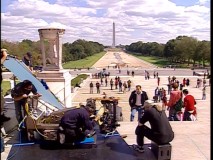 BONUS FEATURES, MENUS and PACKAGING

Timed to the theatrical release of National Treasure: Book of Secrets, Disney has issued this attractive 2-Disc Collector's Edition. Unfortunately, much of it will be familiar to customers because the first disc is nearly identical to the original single-disc release. The supplements on Disc 1 begin with "National Treasure on Location" (11:19). This acts as a sort of all-encompassing "making of" featurette, with an emphasis placed

on the how much of the film was shot in Washington and Philadelphia. While it's no substitute for a meatier documentary, it provides a decent production overview in a short amount of time.

Next come two deleted scenes introduced by director Jon Turteltaub (8:38). The first, "Thomas and the President" is an outtake from the opening prologue that would've slowed things down a bit too much. The second, "Extended Shaft Sequence", also would've stalled things slightly in its context. These are both accompanied by audio commentary from Turteltaub, which explains why they were cut.

An Opening Scene Animatic (2:50) presents, after another intro by Turteltaub, the film's sequence on the treasure hunts throughout history in crude CGI to act as a sort of animated storyboard. It's interesting to see the similarities and differences between this and the final version. Turteltaub provides another commentary for this, but mainly narration, it's not so useful.

Turteltaub appears yet again to introduce an "Alternate Ending" (1:50). It's not a radical departure from what's in the final film, but it's certainly less satisfying. Commentary arrives again from Turteltaub explaining why this was cut, but his comments largely just repeat his introduction.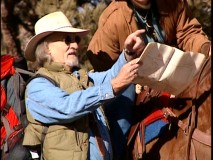 After each of the above features, Justin Bartha appears (vocally) as Riley Poole to give the viewer a couple of seemingly random letters for safe-keeping.

When one has viewed of all the contents above, a screen pops up with all of the letters presented. The viewer must scramble them to spell out a (fairly obvious) word. Successful completion leads to a menu containing more features as well as a three-digit secret key one can enter in the main menu's logbook to skip right to this menu.

The first bonus of the second level is "Treasure Hunters Revealed" (8:35), a featurette that interviews real life treasure hunters on what they go through to unearth historical artifacts. This interesting piece feels like it could have easily been longer.

Bartha lends his voice again for "Riley Poole's Decode This!", a three-part set-top game. Each level starts with a brief, informative short about secret languages and codes before moving on to the related activity. They involve hieroglyphics, Cardano grilles, and ocular devices. Each is either quite easy or involves random guessing, so it's only Bartha's historical narration before each game that makes this slightly entertaining. When successfully beaten, a four-digit code is given that can be entered on an Easter egg menu for a pretty substantial surprise.

The second menu wraps up with "The Templar Knights" (5:01), which interviews historians on the legendary group and its history. It's shorter and fluffier than it should be.

Hidden on this second menu is an icon that, when selected, asks for the four-digit code given at the end of the "Decode This" activities. Upon entering it, you're given the chance to watch the film with a pop-up fact subtitle track. This certainly is the biggest reward any Disney DVD has given for winning a set-top game; of course, you could also access it by toggling with subtitles during playback. The track's historical tidbits range from the rudimentary to the obscure and unfortunately long gaps are in between each one.

Viewers are also given a three-digit master key, which unlocks a master menu list of all the disc's bonus material (including the fact track). This welcome addition prevents having to jump through hoops to access particular feature (as on Warner Brothers' infamous second disc of Harry Potter and the Sorcerer's Stone.)
Disc 2 is considerably light. In fact, only one new featurette distinguishes it from the bonus disc made available exclusively at Best Buy at the time of the original DVD release.
Five deleted/extended scenes (7:53) are each individually introduced by director Jon Turteltaub: "Reviewing the Plan," "Ian Breaks Silence," "Sadusky Takes Charge," "An Unexpected Detour," and "Lighting the Path." Most of these needlessly explain the historical significance of things for the audiences' benefit. Turteltaub provides commentary for all of these, but once again he reiterates what he says in his intros.
The lone new supplement of this disc is one that isn't about the film itself: "Ciphers, Codes & Codebreakers" (11:55). The use of the secrets and codes throughout history (from the Roman Empire through World War II) is explained. While a tad dry at times, it still provides an enlightening glimpse of how prevalent secret codes have long been.
"Exploding Charlotte" (6:35) provides what its title implies. The early scene in which the ship explodes is seen from the perspectives of cast and crew members and the challenges involved with creating such an effect on location are discussed. It's a tight and informative examination of one of the film's set pieces.
"To Steal a National Treasure" (6:46) examines the key scene where Ben Gates steals the Declaration of Independence. The filmmaker's research as to how the Declaration is actually protected and how it could be stolen is explained as well as the construction of a National Archives replica. Like the previous, it offers a good look at what went into this key scene.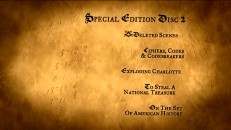 "On the Set of American History" (6:06) is awfully similar to Disc 1's "On Location" featurette. Many sound bites and footage overlaps between the two, though some good notes appear exclusively here. Those bits should've just been edited into the first featurette to begin with.

This Collector's Edition re-release of National Treasure noticeably pales in comparison to Disney's other live-action 2-disc sets.

All the studio did here was combine the original disc and the Best Buy bonus disc together in a set with a few minor tweaks. They could've taken the opportunity to include a feature commentary from the Jon Turteltaub. The man comments on so many of the supplements that it's tough to believe he didn't record anything on the film itself. A comprehensive documentary consisting of fly-on-the-wall footage would've been fascinating, not to mention concept artwork for places like the catacombs.

Usually when a film is re-released to promote its sequel, two things are often included: a sneak peek at said sequel and a movie ticket for it, as well. That's what Disney did for The Santa Clause and The Princess Diaries, but they fail to do so here. What exactly is the point of re-releasing a title to promote a sequel if actual material pertaining to the sequel is not present? This set proves to be a wasted opportunity from a promotional angle and from the angle of giving fans something worthwhile. It's also worth noting that this DVD actually loses something from the original disc. Its Verizon wireless menu offered a version of its famous "Can you hear me now?" ad campaign set to a National Treasure theme, a text screen promoting mobile games for the film, and some cheat codes for these.

Disc 1's menus are the same as those found on the original release, only with the words "Special Edition" awkwardly stamped over the main menu (which doesn't coincide with the case's Collector's Edition designation). The dark animated main menu shows small clips from the film floating amidst Declaration of Independence text and key symbols. Aside from the bonus features menu (which shows the dollar bill pyramid spinning inside a pendant), the other selection screens are static and contain shots of the cast aged to look like they're part of an old document. Disc 2's menus are noticeably simpler. It has the back of the Declaration slowly panning behind the listings while the hidden numerical codes fade in and out. All of these menus are 16x9-enhanced. The only supplements treated the same are Disc 2's deleted scenes and the new "Ciphers, Codes & Codebreakers" featurette.

This set comes in a dual Amaray keepcase with a flimsier-than-usual disc tray. It's housed in a slipcover that replicates the artwork with embossment and shine. Inside the case is an eight-page logbook breaking down all of the supplements, chapter listings, and providing spaces for one to write the access codes given throughout the supplements. A leaflet for Disney Blu-ray titles and a Disney Movie Rewards code are also included.

Both discs begin with a recently-debuted Disney DVD promo. Providing some of the only change from the original release, Disc 1 follows this with trailers for 101 Dalmatians: Platinum Edition, Disney Blu-ray titles, Underdog, National Treasure: Book of Secrets, and Disney Movie Rewards. All of these can be found in the Sneak Peeks menu along with trailers for Pirates of the Caribbean: At World's End and The Game Plan. In a nice touch, all of the widescreen trailers are presented anamorphically.
CLOSING THOUGHTS
National Treasure may have a plot that's too outrageous for some, but it shows a level of thought and creativity that one doesn't often encounter in this genre. Picture and audio on this Collector's Edition are exactly the same as the original release, which is fine since they're excellent. Though the supplements overall are decent, they easily could've been more substantial on both the original release and now this new one. There's a lack of effort here, and the fact that this retails for ten dollars more than the original release also doesn't help.
There's not enough reason for current owners to upgrade, especially those who have the Best Buy-exclusive bonus disc that's nearly recreated here. Any other fan would do just as well to track down the original release or to wait for when this set undergoes the inevitable price drop.
More on the DVD / Buy from Amazon.com / Buy the original DVD from Amazon.com