Between directing and producing record-setting blockbusters, winning Academy Awards for historical epics, and establishing his own movie studio, Steven Spielberg was plenty busy during the 1990s. Not too busy, however, to make his mark on a new world: television animation. The extent of Spielberg's involvement may have been limited, but the decade brought a host of exciting shows produced by Warner Bros. Animation and Spielberg's Amblin Entertainment.

Each project bore the filmmaker's name in the title ("Steven Spielberg Presents...") and today, each is remembered as smart, sophisticated programming that stood out from its cartoon competition.

Probably the two most popular Spielberg animated series are "Tiny Toon Adventures" and "Animaniacs." In September of 1995, though "Tiny Toon" had long ceased production, "Animaniacs" was beginning its third season, launching the Saturday morning Kids' WB lineup alongside brand new spin-off "Pinky and the Brain." Also debuting in the same place from the same sources was "Freakazoid!", an off-the-wall comedy about an unlikely superhero.

Freakazoid is a superhero in the loosest sense of the word. While surfing the Internet in its relative infancy, 16-year-old computer nerd Dexter Douglas was sucked into the World Wide Web. Now, upon the command "freak out", he turns into a lightning-haired, blue-skinned character with an "F!" on his red-tighted chest. Though you're more likely to detect ADHD in him than any superpowers, Freakazoid nonetheless stands up to and outwits a host of strange rogues. But while it was conceived as an action series like the Marvel and DC cartoons so ubiquitous during the decade, "Freakazoid!" keeps conflict to a minimum and comedy as its fulfilling main course.
The show finds great success with this approach. Like its mid-'90s WB brethren, "Freakazoid!" aims above your typical daytime TV cartoon audience not with the raunchy crudeness of today's Adult Swim fare but with an active satirical bent and an insatiable appetite for pop culture references.
The show has an excellent sense of humor. It's zany, but it's not random for randomness' sake. Its allusions and parodies tie to an array of past and contemporary personalities and properties. Never content to merely mention something and have audiences make the connection, the show's use of targets always push towards a joke, many of which are likely to float right over kids' heads. In the nearly five hours of content produced in the first season, there are jokes about Sharon Stone, Jerry Springer, and Rush Limbaugh. There are parodies of Alfred Hitchcock thrillers, "Quantum Leap", and 2001: A Space Odyssey. There's even a discourse of "F Troop", complete with video evidence.
It's all very funny too, but a Saturday Morning timeslot in a block called "Kids' WB" invites an audience unlikely to appreciate the rich intertextuality. Perhaps none too surprisingly, "Freakazoid!" failed to approach the nearly 100-episode runs of "Tiny Toons" and "Animaniacs", getting cancelled after two short seasons and 24 half-hour episodes.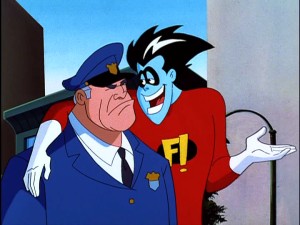 "Freakazoid!" is divided into fragments, but it is presented in a very loose, open format that never grows tired. There are some stories told in other universes not involving Freakazoid. Among the colorful personalities making multiple appearances are: plump, obsessive Fan Boy (who knew this type was so perfectly recognized back then?); The Huntsman, an eager-to-help hero who's like Charlton Heston crossed with the Jolly Green Giant;

The Lobe, a baddie without the know-how to support his brainy look; and Lord Bravery, a rawther British John Cleese-type wannabe superhero. One of the more entertaining characters is Sergeant Cosgrove, who appears to be Freakazoid's best friend. Without fail, the Ed Asner-voiced policeman's non sequitur invitations provide at least a hearty chuckle.

Whether the focus is on the titular split personality, a quirky nemesis, or a newly-introduced character somewhere in between, this series consistently entertains. If you're familiar with "Animaniacs", then you have a good idea of what to expect here. "Freakazoid!" is a little wilder and less story-driven. Dramatic interruptions are a recurring element. The fourth wall is regularly broken down. There is sparing but highly inspired use of live-action footage. Reinforcing the 1990s flavor, President Bill Clinton is practically a recurring caricature. One department some might consider overly visited is bathroom humor. We do encounter a knowingly overlong series of spit/vomit takes and mentions of other private functions. Even these brief bodily forays somehow manage to be funny.

Next week, after years of being relegated to peer-to-peer networks and insufficiently policed video sharing sites, "Freakazoid!" makes a legitimate return with Warner's Season 1 DVD release. Issued alongside the much-anticipated debut of "Tiny Toon Adventures", the two-disc set holds the first thirteen "Freakazoid!" episodes. The package claims there are fourteen episodes and that's true, but one of them -- the set's sixth designated episode -- is disposable, a fact that somehow slipped by quality control. Absent from episode guides, it is comprised of two halves which show up in full as part of other episodes. It also stands out for running a minute longer than most other episodes.

Episode synopses appear below, with a trusty red star (

) designating my six favorite shows of the season.
Disc 1
1. Five Day Forecast / Dance of Doom / Handman (21:14) (Originally aired September 9, 1995)
The series opens with a strange weather report. Surprisingly articulate Cave Guy takes hostages at Harry Connick High School's daylight savings dance. After the Animaniacs perform their version of a "Freakazoid!" theme tune, Freakazoid introduces potential sidekick Handman, who soon gets bitten by the love bug.

2. Candle Jack / Toby Danger in Doomsday Bet / The Lobe (21:23) (Originally aired September 16, 1995)
Utterances of the name "Candle Jack" result in the ghostly villain abducting kids at a summer camp in a segment presented in "Scream-o-Vision." In a pitch-perfect parody of 1960s Hannah-Barbera action cartoons (specifically, "Johnny Quest"), a corny family of adventurers try to set things right in Las Vegas. The Lobe looks to perform a much-anticipated lobotomy on Freakazoid.
3. Mo-Ron / Sewer Rescue / The Big Question / Legends Who Lunch (21:10) (Originally aired September 23, 1995)
Planet Earth gets two alien visits, one from the simple-minded Mo-Ron. Wannabe British superhero Lord Bravery tries to build his reputation, but a sewer rescue gives him pause. Aging superheroes recall their glory days over lunch. We also get a number of short sketches, from a network censor's remarks to Freakazoid pondering what "WB" stands for.

4. And Fanboy is His Name / Lawn Gnomes: Chapter IV: Fun in the Sun / Frenching with Freakazoid (21:17) (Originally aired September 30, 1995)
After awkwardly meeting George Takei, Fan Boy sees becoming Freakazoid's sidekick as the path to respect in a segment prescient of The Incredibles. Lawn gnomes try to change their malicious ways in a parody of Disney's "Gargoyles."

Freakazoid closes the episode with a short French lesson.

5. Foamy the Freakadog / Office Visit / Ode to Leonard Nimoy / Emergency Broadcast System / C๖nversational N๖rwegian (21:12) (Originally aired October 7, 1995)
In a Sidekick Chronicles segment, Freakazoid recalls Foamy, the clearly rabid canine who offered a unique brand of "help." Upon learning that his name is already trademarked, Lord Bravery ventures to get it all sorted out. In three closing short pieces, Fan Boy waxes poetic about his quest for a Leonard Nimoy autograph, Freakazoid conducts an emergency broadcast test, and Norwegian is taught on a boat.

6. The Cloud / Candle Jack (22:17)
Hitchcock is spoofed as Freakazoid investigates a Schnitzel cloud that turns mountain climbers into clowns. Then, for unclear reasons, Episode 2's "Candle Jack" segment is repeated, as "The Cloud" will be on Disc 2.

Disc 2 - Side A

7. The Chip: Part I (21:50) (Originally aired November 4, 1995)
A letter to MPAA chief Jack Valenti leads to us getting the story of Freakazoid's origins. A flawed computer chip given as Christmas gift to Dexter Douglas transforms the geeky teen into the powerful freak, putting him, his family, and a concerned Scotsman named Roddy in peril. To be continued...

8. The Chip: Part II / Freakazoid is History! (21:18) (Originally aired November 11, 1995)
Freakazoid's origin story continues with Freakazoid and Roddy looking to escape the clutches of microchip mogul Mr. Guitierrez. Then, while trying to save Air Force One in flight during a storm, Freakazoid journeys through a vortex back to 1941 Pearl Harbor, where in the spirit of "Quantum Leap", he tries to divert the Japanese attack that expands World War II.

9. Hot Rods from Heck! / A Time for Evil (21:21) (Originally aired November 18, 1995)
After the Douglas family encounters robotic hot rodders on a road trip, Dexter freaks out and attempts to thwart their mastermind: outlaw, bull-man, and aspiring country singer Longhorn. Newly-introduced hero The Huntsman is bummed to learn of a lull in crime.

Freakazoid is thanked for the "toyetic" nature of the episode.

10. Relax-O-Vision / Fatman and Boy Blubber / Limbo Lock-up / Terror Palace (21:23) (Originally aired November 25, 1995)
Using Stephanie as bait and fellow villains as backup, The Lobe seeks to knock off Freakazoid. Per Relax-O-Vision, at all suspenseful moments, we cut away to calm visuals. Hefty do-gooders Fatman and Boy Blubber offer their "help" to a bullied schoolboy. Captured by the Idiotic Police, Freakazoid is forced to hear Fan Boy sound off on live-action Disney flops. Eager to aid, The Huntsman is summoned by mistake.

11. In Arms Way / The Cloud (21:23) (Originally aired December 16, 1995)
Freakazoid's Christmas shopping is disturbed when jaunty Arms Akimbo wreaks havoc on the store. The holiday theme carries over to Freakazoid's brief musical interlude of "Jingle Bells." Then, the Hitchcockian European mystery "The Cloud" is replayed.
12. Next Time, Phone Ahead / Nerdator (21:39) (Originally aired February 3, 1996)
In an E.T.-inspired segment, Dexter is visited by the oafish alien Bo-Ron, with Steven Spielberg approving and advising the tale. Then, nerds of the world are assembled by another alien with big plans.
Disc 2 - Side B
13. House of Freakazoid / Sewer or Later (21:30) (Originally aired February 10, 1996)
Freakazoid helps a werewolf who's looking to help him. Freakazoid is reluctant to face the "poo gas" in order to deal with sewer menace Cobra Queen.
14. The Wrath of Guitierrez (21:27) (Originally aired February 17, 1996)
In a short pre-credits bit, newly-introduced face-changer Deadpan hatches a plan. The rest of the episode centers on Armando Guitierrez, who busts out of jail with a Freakazoid-type transformation and then prepares to delete Freakazoid with an armband and a cyberspace-real recreation of an Amazing Castle.
VIDEO and AUDIO

Appearing in its original fullscreen, "Freakazoid!" looks pretty great on DVD. Visuals are bright, sharp, and satisfactorily clean. Once in a great while, a thin line or tiny speck will appear on screen, but it's evident that Warner hasn't just digitized old tapes without any care.

Or maybe they have and the 13-year-old materials have simply been perfectly preserved. But I suspect some work has gone into this set and paid off. One exception is "The Chip: Part 1", which is marred by frequent scratches and an unpolished air.

English audio is offered in Dolby Digital 5.1 and two-channel Stereo. There is not a great deal of difference between the two crisp tracks, as the 5.1 mix stays almost entirely in the front soundfield. Each gets the job done well.

BONUS FEATURES, MENUS, DESIGN and PACKAGING

Warner has wisely made the effort to give fans more than just the show they love. Bonus features begin with three audio commentaries. Writer/story editor/Freakazoid voice Paul Rugg, writer/story editor/Mr. Douglas voice John McCann and senior producer/writer Tom Ruegger appear on tracks for what the set calls Episodes 1, 2, and 12.

From the start, the tracks are lively and filled with vivid memories of what was written versus what was improvised. Naturally, a lot of laughter flows as the trio is amusingly critical of their work and recognizant of comedy inspirations like Marty Feldman and Jerry Lewis. There is some discussion of the creative process, and the group is noticeably excited by their esteemed "Johnny Quest" parody. When they start to lose steam, they still provide some value by identifying voice actors and caricatures.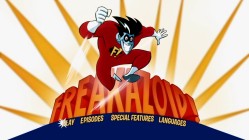 While commentaries are the extra I'm most likely to skip,

I would discourage such a response here. Anyone deeming the series worth owning will find enlightenment and ample enjoyment in the hour needed to hear these.

The remaining bonus features are videos found on the light B side of Disc 2.

"Freakazoid!: The Original Freak" (17:10) is a great featurette that sheds a lot of light on the show while emulating some of its zany comic stylings. In interview comments and well-timed clips, we learn of the conception as a Bruce Timm ("Batman") action series, Steven Spielberg's redirection toward comedy, the casting of Paul Rugg, the free-floating format, and the difficulty finding an audience. It's a succinct, outstanding, must-see companion to the show, with Spielberg being the most glaring yet understandable no-show.

Set up by Ruegger and Rugg, "Freakazoid-Less Freakazoid! Promos" (4:30) plays seven 30-second clips touting the series' premiere with black & white spots inspired by Norwegian Cruise Line's "It's different out here" mid-'90s ad campaign. Giving positively no indication of what to expect from "Freakazoid", the quirky, poetic commercials are nonetheless fun and one of them surfaced in a Season 1 episode.

There are also trailers provided for "The Richie Rich/Scooby-Doo Show": Season 1, Volume 1, Popeye & Friends: Volume One, LEGO Batman: The Videogame, and Popeye the Sailor: Volume Two. In addition, Disc 1 launches with a Wizard of Oz-themed anti-piracy spot and a composite preview for "Tiny Toon Adventures": Season 1, Volume 1 and "Freazakoid!" Season 1.

The colorful menus are all static and 16x9-enhanced. They're also silent, with the exception of each disc's main menu which loops -- you guessed it -- the theme tune before triggering the "Play" sequence. Episodes are divided into chapters for each segment, although the segments aren't accessible from the menu the way they are for "Animaniacs."

"Freakazoid!" is packaged in a clear standard-sized keepcase, which slides into a cardboard slipcover that recreates the artwork below, only with embossing and reflective gold. The reverse side of the keepcase cover supplies episode and supplement titles plus additional character art.
CLOSING THOUGHTS
There's unmistakable irony in the fact that children may be the one demographic which least appreciates "Freakazoid!", a cartoon that first ran in the Saturday morning Kids' WB block. Even youths who didn't see the humor in this energetic comedy series back in the '90s are encouraged to give it another shot today. Some familiarity with pop culture institutions certainly helps, but even less seasoned viewers should find plenty to laugh about here. If you can tolerate the frantic pace and free-spirited format (e.g. several minutes of the first episode are dedicated to fists kissing), I'm confident you'll get a big kick out of this show.
Warner's DVD merits accolade as well. An unnecessary episode inclusion is in our favor and with little exception, picture and sound are praiseworthy. Throw in worthwhile bonus features and a low list price, and this set earns a definite recommendation for anyone interested.