By Kelvin Cedeno

Ice Age is almost archetypal in how it relates to modern animation cinema. Most animated features today are created with CGI, skew towards comedy, hire well-known actors to do the voices, and are followed by sequels should they prove profitable enough. For better or worse, all of these qualities apply to Blue Sky's Ice Age franchise.

Perhaps because DreamWorks found this template all too rewarding on its Shrek movies, others have followed suit in hopes of catching similar lightning in a bottle. After dabbling with Robots and Dr. Seuss (via Horton Hears a Who!), Blue Sky returned to its tried and true cast of prehistoric outcasts in Ice Age: Dawn of the Dinosaurs, the series' third film in seven years.

This installment has wooly mammoths Manny (voiced by Ray Romano) and Ellie (Queen Latifah) expecting their first child. With Manny devoting so much of his time and attention to the upcoming birth, his best friends, Diego the saber-toothed tiger (Denis Leary) and Sid the sloth (John Leguizamo), begin feeling left out. Sid comes across a trio of eggs and decides to take them on as his new family, unaware that these are, in fact, Tyrannosaurus rex eggs. Their mother unexpectedly arrives, taking both her children and Sid with her. Manny and the rest of the group follow in hot pursuit and discover a tropical paradise inhabited by all sorts of dinosaurs. An eccentric weasel named Buck (Simon Pegg) acts as their guide on this adventure while the arrival of Manny and Ellie's baby draws closer.
The Ice Age franchise has never been exceptionally memorable. At their best, the movies have been enjoyable ways to pass time, and at their worst, they've been riddled with plot points that hark back to superior films. Of the three, Dawn of the Dinosaurs probably fares the best. There aren't any shockingly innovative moments, but it never feels like it's rehashing either its predecessors or other animated features. The change of scenery helps set this entry apart from the previous two and offers new challenges and obstacles. The addition of Buck also comes as a benefit. Outside of the heavily-marketed exploits of Scrat the squirrel, Buck brings in most of the film's best gags. Adding characters to an established ensemble can be a disaster of cousin Oliver proportions, but Buck fits in well with the rest of the group.

The members of said group bring about perhaps the one problem with Dawn of the Dinosaurs: the returning characters aren't given a great deal of development. For the most part, each has been a one-note personality throughout the series. Manny is the everyman, Diego is the tough guy, and Sid is the stupid one. Of the three, Diego is perhaps the most given the most substance overall, but his arc here feels half-baked.

Manny is oddly passive despite his dry, sardonic humor. Sid is technically given the most to do, but one gets the impression that his adventures haven't really changed him, or the others, very much. The main goal of a sequel should be to take the characters to different places not just physically, but emotionally as well. When everyone more or less returns to where they began, it raises the question of whether or not this was a story that needed to be told.

It's still fairly easy to forgive the lack of character development. The film manages to keep one entertained throughout the course of its standard runtime. This feat seems more impressive in retrospect when one considers how thin yet somehow unpadded the storyline truly is. Neither this nor its two predecessors are in any way groundbreaking, but that's an unfair expectation to throw on its shoulders. Their only aspiration is to distract and amuse, and in that regard, they succeed.

Dawn of the Dinosaurs has grossed over $196 million domestically, a number in line with its two predecessors when we ignore ticket price inflation and the fact that many of the film's admissions carried a 3-D premium. While doubling one's budget in the local market is no small feat, where the movie truly excelled was on the global front. With $682 M coming from overseas exhibitions, the film's $879 M worldwide gross has lifted it above Finding Nemo to be called the highest-earning animated film of all-time.

Making a swift journey to home video, this third Ice Age movie came to DVD last week in a single-disc edition and a Dreamworksean double pack. Reviewed here, its Blu-ray release also included a DVD of the movie and a digital copy disc in the type of combo that's become common for new family films.
Blu-ray Details

1.85:1 Widescreen
7.1 DTS-HD Surround (English),
Dolby Digital 5.1 Surround (Spanish, French, Portuguese)
Subtitles: English, Spanish, Portuguese, Cantonese, Mandarin
Closed Captioned; Extras Not Subtitled
Release Date: October 27, 2009
Three single-sided discs (1 BD-50, 1 DVD-9 & 1 DVD-5 DVD-ROM)
Suggested Retail Price: $39.99
Also available in Single-Disc DVD
and in Double DVD Pack with The Scrat Pack
VIDEO and AUDIO
Ice Age: Dawn of the Dinosaurs: comes to Blu-ray in its original aspect ratio of 1.85:1. Reviewing computer animated features on Blu-ray has become a bit predictable, but one certainly can't complain of it meeting expectations. The image, in a word, is flawless. It's filled with rich colors, fine details, and is completely devoid of any sort of digital issues such as compression. There are no complaints to be had here.
The 7.1 DTS-HD isn't quite as impressive, but that isn't to say it does anything wrong in particular. With a basis in studio recordings, dialogue and effects always remain crystal clear. Surrounds open up nicely during action sequences, but scenes in between these don't play around with directionality as much as one would think. The music is broad and rich and doesn't overpower the other sound elements. This isn't a feast for the ears, but it's a fine track, regardless.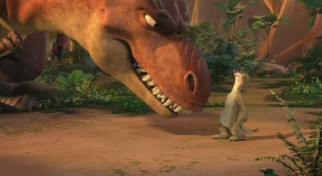 BONUS FEATURES, MENUS and PACKAGING

The Blu-ray's supplements on this combo pack start with a filmmaker commentary by directors Carlos Saldanha and Mike Thurmeier, producer John Donkin, art director Michael Knapp, character designer Peter DeSθve, producer Lori Forte, and supervising animator Galen Tan Chu. With such a large group, the discussion rarely lets up as they compare this film to its predecessors.

Various production aspects are touched upon, but there's a definite emphasis on the animation and the challenges it brought. It's a bit dry and doesn't make for the easiest listen, but one certainly can't accuse the participants of not being informative.

Next is an "Ice Age Storybook Maker." This game allows players to create their own virtual book by taking screen captures from provided clips, choosing dialogue and narration, and even formatting page layouts. These books can then be saved and played back with accompanying score. It can be a bit clunky to work through at times, but the creativity on display here makes this more fun than most set-top games.

"Evolution Expedition" (18:23) (HD) goes through each animal represented in the film, comparing their behavior there to what science knows of them. Modern-day cousins are also showcased and are contrasted with their prehistoric counterparts. This featurette actually is classier and more revealing than similar features on other discs.

"Buck: From Easel to Weasel" (7:11) (HD) takes a look Simon Pegg's outrageous new character. He shares some of his early approaches to the character before settling on the final one, and the filmmakers explain their intentions with the latest addition. Some interesting tidbits emerge, but mostly it's praise for Pegg from the crew.

"Unearthing the Lost World" (8:41) (HD) acts a general EPK making-of piece. Multiple cast and crew members offer sound bites on both the film's technical and story aspects. An emphasis is placed on the former with a lot of talk on the design and execution of the new settings. While it's harmless and watchable, it's also not terribly enlightening.

Two deleted scenes (4:33) (HD) come next. "Mission" shows the characters risking their lives for the sake of baby mobile decorum. In "Headbutters", a herd of bumbling dinosaurs fight for Ellie as their mate. Presented in storyboard form, both are fun to see, and Manny's character would've benefited from the inclusion of the second scene.

"Walk the Dinosaur" Music Video (1:31) (HD) has Queen Latifah performing the tune, though she never actually appears. Instead, her track is joined by film clips. It's a forgettable rendition and an even blander video.

Scrat Shorts (11:54) (HD) are two previously-seen short films starring the underdog squirrel: Gone Nutty - Scrat's Missing Adventure and No Time for Nuts. Oscar-nominated No Time for Nuts is the funnier of the two as Scrat goes after his precious acorn through different historical eras. Each of these already appeared on the previous two Ice Age films' DVDs and Blu-rays, but they're still a treat to see here.

"Scrat Featurettes" (23:00) holds five brief clips, most of which were created for Ice Age: The Meltdown. "The Saber-Toothed Squirrel: Nature's Nutty Buddy" is a mock educational film designed to resemble something out of the 1950s. "Scrat: From Head to Toe" begins with a tutorial on how to draw the character and segues into a look at how the character came to be. "Breaking Story" and "News Report", both designed to mimic news broadcasts, reveal modern scientists' discovery of Scrat beneath the ice and their attempts to revive him. The final short is the only one presented in high definition and also the only one pertaining specifically to the third film. "Falling for Scratte" (HD) talks about the inclusion of a female counterpart to Scrat and the efforts made to keep them noticeably different.

"Fox Movie Channel Specials" (27:53) (SD) contains five more brief featurettes. Two of these, entitled "Making a Scene", focus on the production process from a particular sequence's standpoint. One of these is actually from the second Ice Age and was inexplicably left off its release. It deals with a scene between Scrat and piranhas while the other centers on the carnivorous plant sequence from the third film. Of the two, The Meltdown's is more satisfying as it's more focused and informative. The other three pieces deal with the voice actors: "In Character with John Leguizamo," "In Character with Ray Romano," and "In Character with Queen Latifah." Each performer explains their approach, inspirations and influences, and how they relate to their characters.

The only supplement on the Blu-ray combo's second disc, the DVD copy of the film, is the audio commentary. A digital copy disc is also included for portable video devices.

Both the Blu-ray and DVD open with previews for Alvin & the Chipmunks: The Squeakquel, Percy Jackson and the Olympians: The Lightning Thief, Night at the Museum: Battle of the Smithsonian, and Aliens in the Attic. The DVD adds a preview for "Glee" on top of all this. A Trailers submenu in the bonus material holds an ad for The Pink Panther 2. The DVD includes additional previews for Fox Family Favorites, the Love Comes Softly Collection, Strawberry Shortcake: Sky's the Limit, Flicka 2, and a "Marley Meets Purina Puppy Chow" commercial.

The main menu for both the BD and DVD takes place inside of a dinosaur's mouth, which remains open enough for us to see that it's chasing Scrat through various locales. The BD's pop-up menus are designed like wooden planks that open up to reveal selections on either the right or left depending on the choice. The static DVD submenus contain stills with musical score.

All three discs come in a standard Blu-ray case, an interior hinge holding two of the discs and a cardboard, embossed slipcover outside it all. Digital copy instructions are found inside along with a pamphlet advertising Ice Age mobile games and features.
CLOSING THOUGHTS

Dawn of the Dinosaurs is the best of the three Ice Age films,

but offering more of the same, audiences should know what to expect. It will neither disenchant current fans nor make the unimpressed suddenly take notice. It doesn't carry much weight or make a lasting impression, but it pleases as it's being viewed.

The Blu-ray provides excellent picture and very good audio. The supplements are rather shallow, though, with many of them pertaining, for whatever reason, to the second film. This combo is recommended for fans of the first two movies who are either Blu-ray adopters or intend to soon become them. Otherwise, the DVD should suffice since the bonus material this time around isn't essential.

Buy Ice Age: Dawn of the Dinosaurs from Amazon.com:
Blu-ray/DVD/Digital Copy Combo / 1-Disc DVD / Double DVD Pack