Walt Disney entered the realm of regularly-scheduled television in 1954 with the one-hour weekly anthology series "Disneyland." A way to fund the opening of the Anaheim theme park and a forum for showing past films and advertising new ones, "Disneyland" became a hit when its original Davy Crockett adventures inspired a national craze.

The following fall, Disney jumped into daily television with "The Mickey Mouse Club", an hour-long variety show starring kids. It too was warmly received, defining the first generation of children's television.

Disney's third television series came in 1957 and it offered something both similar and different: similar in that the production was launched with ambition and appeal, different in that it was an entirely original show void of direct addresses as well as recycled and promotional bits. "Zorro" came to ABC as pure primetime programming. A half-hour drama is practically unheard of today, but it was commonplace in the 1950s, when most westerns ran as long as their prevalent company of sitcoms and game shows. In its 8 PM Thursday slot, "Zorro" ran in between "Circus Boy" and "The Real McCoys" and across from CBS' "Harbourmaster" and NBC's "You Bet Your Life."

While lacking an historical basis, "Zorro" was made in the mold of the Davy Crockett tales and Frontierland sagas yet to come, opening with a folksy choral theme song and centering on a crusader for the people in yesteryear America. The setting here is 1820 Spanish California. Thirty years before the area would become part of the United States, military law is in effect, but crime and corruption are widespread.
Falling short of his father's expectations, Don Diego de la Vega (Guy Williams, later of "Lost in Space") returns home from three years in Spain a scholar who appreciates classic literature and making music. At least that is the mild-mannered, unsuspecting persona Diego publicly maintains. In truth, this young man is as concerned with justice and citizens' well-being as anyone in the pueblo of Los Angeles. When civil action fails (and it always does), Diego breaks out his black cowl mask, hat, and cape to transform into Zorro. With a name that in Spanish means "fox", Zorro is a cunning hero who fights for the oppressed, often against the unjust powers that be.

An unrivaled swordsman who uses three quick slashes to leave his signature "Z" mark, Zorro avoids danger and operates with as much secrecy as possible for an outlaw whose deeds inspire local admiration, administrative fear, and a substantial outstanding bounty offer.

Initially, Diego/Zorro's double life is known only by his mute confidant and occasional sidekick Bernardo (Gene Sheldon), who poses as Diego's deaf manservant and whose secret hearing abilities prove invaluable. Bernardo is not only one of three characters who maintains a full-time presence on the series, he is also one of the two leading sources of comic relief, the existence of which grants "Zorro" a lighter tone than Frontierland dramas like those of Davy Crockett and the Swamp Fox. Gene Sheldon, a pantomimist for much of his career, mimes to Zorro as Bernardo, his hand gestures punctuated by "Mickey Moused" score.

The other source of comedy is Henry Calvin, who plays Sergeant Garcia. Big, fat, slow-witted, and gullible, Garcia is an endearing and evidently harmless figure despite his law enforcement position technically being at odds with Zorro's interests. Calvin, who would co-star with Sheldon in Toby Tyler and as bumbling henchmen in Babes in Toyland, takes a broad approach, but it is the right kind of broad, which amuses without upstaging or taking you out of the fictional universe.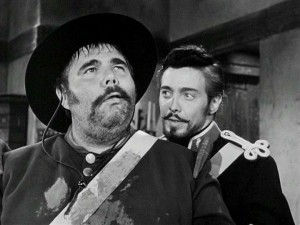 A genuine threat is posed by Zorro's first nemesis and Garcia's superior, Comandante Monastario (Britt Lomond). Second-billed in the thirteen episodes he appears, the tough Capitan is a formidable foe bent on capturing the masked one who opposes his corrupt practices. In many ways, Monastario is the show's original protagonist, his actions yielding reactions from Diego/Zorro. Sticking around much longer than Monastario but never claiming as much power or interest is Diego's wealthy, respected father Don Alejandro (George J. Lewis), who wishes his son was more like Zorro and fought injustice more proactively (little does he know...). And I would be remiss if I didn't mention Tornado (Spanish pronunciation), the speedy, faithful black horse who transports Zorro to and from the action.
"Zorro" is old-fashioned hero/villain adventure. Shades of gray are much more noticeable in the visuals than characters, but it is compelling all the same thanks largely to the distinctive lead characters and actors. The first season appears to aspire to three firm, even arcs, but only the first 13 episodes truly play that way. After showing us the ongoing battle of wits between Diego and Monastario, the show suddenly dismisses the previously integral villain. Then, a mysterious conspiracy involving eagle's feathers is introduced. Perhaps partly because the looming street date pushed me through them at a faster than ideal rate, the show seemed to flag in its second arc. Following the flashy Monastario, the bland, secretive Magistrado Galindo (Vinton Hayworth) does not make for compelling opposition.
The eagle conspiracy continues beyond episode 26, Magistrado's last, and strengthens. A less cut-and-dry foe emerges when a new comidante's wife (Suzanne Lloyd) briefly seizes the foreground in her husband's absence. "Zorro" also takes a break from its main serialized plot for four episodes depicting the mischief created by a visiting stranger (Kent Taylor). Bringing the eagle conspiracy to a close in the season's final few episodes, "Zorro" gets about as exciting as ever.
While a little more effort is needed to stay invested here than on most of the today's programming, there is far more charm and skill to appreciate on "Zorro". What is fairly amazing is that the show isn't repetitive. Using a limited cast, narrow story ground, and a design that calls for at least some Zorro swordplay action in every episode, the show proves itself creative within those confines and not particularly tedious. One can tell that many of the hundreds of Zorro stories that his creator, pulp writer Johnston McCulley penned from 1919 to his 1958 death, are never touched. And yet the cautious treatment of intimate mysteries, while regularly invoking duplicity and multiplicity, rarely feel tired or drawn-out.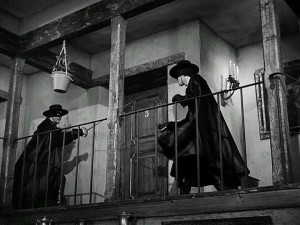 The series became Disney's third success in three attempts, earning more than the one-third of television audience that the 3-network system suggested. It was renewed for a second season and its viewership grew, but almost forty years before they became one and the same, Disney and ABC fought over the rights to Walt's television programs. With the legal battle growing bitter, "Zorro" became a casualty.

The franchise continued for four double-length episodes of Walt's anthology series, titled "Walt Disney Presents" in the 1960-61 season, but while Disney held onto the property's rights for years to come, the company decided against further revival.

"Zorro" did enter syndication in 1965, where it would maintain a presence for a long time to come. Before that, episodes of the show had been compiled into feature film form in 1958's The Sign of Zorro. The project's success overseas (where the show hadn't yet aired) inspired a second such movie in the foreign market release Zorro, the Avenger (1959). On the heels of the 1981 George Hamilton comedy Zorro, The Gay Blade and a Filmation Saturday morning cartoon, Disney returned to the world for the limited CBS sitcom "Zorro and Son." While Guy Williams was supposed to reprise his famous eponymous role as the hero slowed down with age, he backed out and without him, the show ran for just five episodes in the spring of 1983. (Sadly, the DVD makes no reference to this short-lived sequel show.) The original "Zorro" would live on in Disney Channel reruns, when the cable network celebrated the company's legacy with a "Vault Disney" programming block.

While the original series was only in production for less than three years, a substantial amount of content was created in this time. There were no reruns and no preemptions. "Zorro" ran for 39 consecutive weeks, from the middle of October to the beginning of July, for two years in a row. Today's half-hour shows run about 21 minutes sans commercials. Back in 1957-58, only four minutes and change went to ads. Some would fit in the one noticeable act-break fadeout found at the center of each show. Each episode ends with a short preview of the next.

Clearly, that makes The Complete First Season of "Zorro" an unusual choice for Walt Disney Treasures treatment. Launched in 2001, this annual series of limited edition tins has wooed collectors by bestowing satisfying restorations and fancy packages upon vintage animated shorts and 1950s and '60s TV programming. While "Zorro" squarely fits the latter bill, it does so with so much more material than would fit on two DVDs, the line's fixed disc count. Fortunately, rather than just including certain episodes, as was done for "The Mickey Mouse Club" and the Elfego Baca and Swamp Fox anthology miniseries, Disney has put out the entire "Zorro" run in two six-disc sets. The Season 1 and Season 2 sets arrive with thrice the content of past Treasures and yet less than double the list price.

Another difference between this and previous Walt Disney Treasures subjects is that "Zorro" has already been made available. Alas, box sets released in Europe's Region 2 as early as 2004 were in the PAL format and unplayable for most North American customers. The diehard Disney fan demographic did, however, have a chance to buy Region 1 versions of the season sets, as they were issued as Disney Movie Club exclusives and later redeemable as Disney Movie Rewards. However, those 5-disc sets not only lacked the four hour-long episodes and bonus features, they also presented the show in its colorized form, as was sometimes shown on the Disney Channel. "Zorro" was not filmed in color or widescreen as certain "Disneyland" anthology series were. Thus, the Treasures DVDs present the show in its intended black and white format.

Short episode synopses follow.
Disc 1
1. Presenting Seρor Zorro (25:47) (Originally October 10, 1957)
Diego de la Vega returns to California, where he poses as a bookish scholar for his thorough military inspection. In response to the injustice around him, he secretly adopts the Zorro persona to free a wrongly jailed man.
2. Zorro's Secret Passage (25:47) (Originally aired October 17, 1957)
In the hunt for Zorro, Monastario zeroes in on an innocent cowboy. Meanwhile, the real deal unveils his secret cave to Bernardo.
3. Zorro Rides to the Mission (25:46) (Originally aired October 24, 1957)
The authorities arrive at the church where escaped prisoner Torres is claiming sanctuary. To change his mind, Monastario takes the Indian workers away from the mission's orange grove to do meaningless hard labor.
4. The Ghost of the Mission (25:46) (Originally aired October 31, 1957)
Citing martial law, Monastario and his men set themselves up at the mission. A ghost story from Diego puts the soldiers on edge and Zorro does the rest.
5. Zorro's Romance (25:38) (Originally aired November 7, 1957)
Monastario and Garcia scour the Torres family ranch in search of their fugitive.
6. Zorro Saves a Friend (25:36) (Originally aired November 14, 1957)
Diego tries to get Torres' imprisoned wife and daughter freed, first as himself and then as Zorro.
7. Monastario Sets a Trap (25:46) (Originally aired November 21, 1957)
Diego's father and other land-owning dons hatch a plan to break out the Torres ladies. Zorro sees the situation in a different way.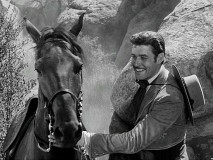 Disc 2

8. Zorro's Ride Into Terror (25:36) (Originally aired November 28, 1957)


Monastario puts Don Diego on house arrest, hindering his abilities to aid his wounded father, at least until drunken revelry breaks out with wine and song.

9. A Fair Trial (25:37) (Originally aired December 5, 1957)
Sergeant Garcia is assigned to delay a fair visiting judge (Sebastian Cabot) from presiding over the trial of Torres and Don Alejandro. Zorro takes it upon himself to thwart this insidious plan.

10. Garcia's Secret Mission (25:36) (Originally aired December 12, 1957)
Monastario ceremoniously gives Garcia a dishonorable discharge in order to gain information on Zorro, who helps a couple of citizens exploited to patch a roof.

11. Double Trouble for Zorro (25:36) (Originally aired December 19, 1957)
Monastario enlists a murderer to pose as and discredit Zorro at a community social event.
12. Zorro, Luckiest Swordsman Alive (25:36) (Originally aired December 26, 1957)
Monastario spreads news about the death of the man who impersonated Zorro. In reality, though, he's back in the black mask, stealing valuable articles from the church.
13. The Fall of Monastario (25:36) (Originally aired January 2, 1958)
In his final appearance, Monastario accuses Diego of being Zorro and tries to put happy face on his command for the king's visiting viceroy inspector.
14. Shadow of Doubt (25:36) (Originally aired January 9, 1958)
When the new comandante is murdered, Diego and Garcia try to figure out whodunit.
15. Garcia Stands Accused (25:35) (Originally aired January 16, 1958)
Acting comandante Garcia receives a message that Zorro will surrender to him alone. It's a setup, enabling Garcia to be framed for robbing the king's messenger carrying the soldiers' pay.
Disc 3
16. Slaves of the Eagle (25:35) (Originally aired January 23, 1958)
Bandits posing as the king's tax collectors throw many poor men into jail and into indentured servitude.
17. Sweet Face of Danger (25:36) (Originally aired January 30, 1958)
Zorro investigates a possible connection between the return of a beautiful woman to California and a puzzling street murder.
18. Zorro Fights His Father (25:36) (Originally aired February 6, 1958)
Zorro is caught in the middle between official corruption and his father's citizen vigilantism.
19. Death Stacks the Deck (25:36) (Originally aired February 13, 1958)
Zorro is suspicious of a man racking up riches in card games.
20. Agent of the Eagle (25:35) (Originally aired February 20, 1958)
As the new comandate is installed, Diego reconnects with Rosarita, a childhood friend.
21. Zorro Springs a Trap (25:37) (Originally aired February 27, 1958)
Capitan Ortega places a (phony) captured Zorro as bait to ensnare the genuine article. When that doesn't work, the law auctions off Zorro's real horse Tornado.
22. The Unmasking of Zorro (25:36) (Originally aired March 6, 1958)
The comandante's deadly deceptions come into focus as Zorro's heroics are needed to save Rosarita's life.
23. The Secret of the Sierra (25:37) (Originally aired March 13, 1958)
Diego/Zorro and Bernardo get mixed up with a Gypsy, her curandera grandmother, dishonorable diggers, and Indians in a secret quest to find and protect gold in the mountains.
Buy Walt Disney Treasures: Zorro - Season 1 from Amazon.com
Continue >>