DVDizzy.com | DVD and Blu-ray Reviews | New and Upcoming DVD & Blu-ray Schedule | Upcoming Cover Art | Search This Site

The Spider-Man Trilogy on Blu-ray Disc: Spider-Man • Spider-Man 2 • Spider-Man 3
Spider-Man 2 Blu-ray + UltraViolet Review
Spider-Man 2

Theatrical Release: June 30, 2004 / Running Time: 127 Minutes (Theatrical Cut), 136 Minutes (Extended Cut) / Rating: PG-13 (Theatrical Cut), Unrated (Extended Cut) / Songs List

Director: Sam Raimi / Writers: Alvin Sargent (screenplay); Alfred Gough, Miles Millar, Michael Chabon (screen story); Stan Lee, Steve Ditko (Marvel comic book)

Cast: Tobey Maguire (Spider-Man/Peter Parker), Kirsten Dunst (Mary Jane Watson), James Franco (Harry Osborn), Alfred Molina (Doc Ock/Dr. Otto Octavius), Rosemary Harris (Aunt May Parker), J.K. Simmons (J. Jonah Jameson), Donna Murphy (Rosalie Octavius), Daniel Gillies (John Jameson), Dylan Baker (Dr. Curt Connors), Bill Nunn (Joseph "Robbie" Robertson), Vanessa Ferlito (Louise), Aasif Mandvi (Mr. Aziz), Willem Dafoe (Green Goblin/Norman Osborn), Cliff Robertson (Uncle Ben Parker), Ted Raimi (Hoffman), Elizabeth Banks (Miss Betty Brant), Bruce Campbell (Snooty Usher), Gregg Edelman (Dr. Davis), Elya Baskin (Mr. Ditkovich), Mageina Tovah (Ursula Ditkovich), Daniel Dae Kim (Raymond), Hal Sparks (Elevator Passenger), Joel McHale (Mr. Jacks), Stan Lee (Man Dodging Debris), Kelly Connell (Dr. Isaacs), Brent Briscoe (Garbage Man), Emily Deschanel (Receptionist), Jason Fiore-Ortiz (Henry Jackson), Scott Spiegel (Man on Balcony), Andrew Bale (Oscorp Executive), Christine Estabrook (Mrs. Jameson), Molly Cheek (Society Woman), John Paxton (Houseman)
Buy Spider-Man 2 from Amazon.com: Blu-ray + UltraViolet • 2-Disc DVD • Instant Video
With the box office success that 2002's Spider-Man had, a sequel was inevitable. It also could be swiftly produced. After all, there were forty years of comic book storylines to draw upon,

of which little more than Spidey's origins had already been put on film. Realizing the special thing they had on their hands even before the first film's release, Sony and Marvel brought back all principal cast members (even a couple whose characters had died make cameos) and director Sam Raimi for Spider-Man 2, the #2 grossing film of 2004.

A little bit has changed since we last saw Peter Parker (Tobey Maguire). He is now living on his own in a shabby apartment whose modest rent he can't even afford. His widowed Aunt May (Rosemary Harris) has some financial concerns of her own, as indicated by a foreclosure notice Peter spots on a visit. Peter's friend and former roommate Harry Osborn (James Franco) has inherited his late father's laboratory Oscorp. Unaware of Dad's secret mayhem but blaming Spider-Man for his death, Harry has developed a taste for vengeance.
Mary Jane Watson (Kirsten Dunst), the love of Peter's life, clearly shares his feelings but is kept at a distance out of deference to his own secret alter ego. After some time, wearing the Spidey suit and doing anonymous good deeds for New York City has felt as much a curse as a gift for Peter. When he misses a chance to see Mary Jane in a Broadway play, it is because his speedy, high-flying heroics were needed. The ensuing disappointment this causes his apparent soulmate prompts Peter to give serious thought to hanging up his suit and returning to his old, ordinary life. Though average citizenship seems to work okay for Peter, New York soon suffers the consequences, as crime rises.
There is also a major threat looming in the form of Dr. Otto Octavius (Alfred Molina), a respected scientist who is developing new age technology at Oscorp from a rare and expensive substance. Octavius' demonstration quickly turns from impressive to frightening as his four robotic tentacles surge and malfunction, eventually overriding the security feature and putting him at the disposal of his revolutionary invention. With that, Dr. Octopus is born and set upon bringing Spider-Man down.
Fittingly, Spider-Man's origins claimed a considerable portion of the first film's two-hour runtime. This sequel actually runs six minutes longer, giving it a lot more time to spend on self-contained story. Spider-Man 2 feels a little slight for having that much carte blanche. The Spider-Man/Doc Ock rivalry comes and goes as the film needs it, naturally supplying the climax but otherwise surfacing when we get a break from Peter's internal conflict. Peter's dilemma definitely provides fertile ground for waxing upon the complications of superherodom and fleshing out his own clashing desires. A montage set to B.J. Thomas' "Raindrops Keep Fallin' On My Head" (a Best Original Song winner thirty-five years earlier) perfectly conveys the taken for granted freedoms which Peter misses.
Amidst this character material, Spider-Man 2 does seem to spend an awful lot of time with Peter and Mary Jane in will-they-or-won't-they mode. Freed from the demands of his dangerous unpaid work, he makes another play for her affections, but she is dating and then engaged to the astronaut son of his Daily Bugle editor J. Jonah Jameson (J.K. Simmons, hilarious again). Then, Mary Jane takes Peter's mellowed vibe seriously and considers giving him a chance, but not until he has already realized the world needs Spider-Man.
Meanwhile, there is also the most conventional aspect of comic book superheroes: the tension with Doc Ock, a villain adequately compelling and imposing. Doc Ock is more menacing than the first film's antagonist Green Goblin, but Goblin's torment and personal connection to Peter gave him more weight and relevance. The doctor's world domination plot seems a bit old hat by comparison.
On none of its three fronts does Spider-Man 2 best its predecessor, but it nonetheless is the rare sequel to play at the same level. Raimi again provides a human touch. While there is a little less humor and more action in this one, the tone is consistent and the results are similarly satisfying. By this chapter, we have a clear sense of this universe: which characters will remain focal and which will be rotated out. And it is a marvelous universe (no pun intended), full of intrigue, personality, and thought.
Surprisingly, our guide to that utterly contemporary universe is a screenwriter nearly 80 years old at the time. Alvin Sargent, whose film career dates back to the mid-1960s (and whose television work extends another ten years) and who won adapted screenplay Oscars for Ordinary People and Julia (with another nomination for Paper Moon), defies his age to prove he knows 21st century superheroes and the complicated feelings of young adulthood. Spider-Man seems to be the Fountain of Youth for Sargent; he subsequently has earned screenplay credits on Spider-Man 3 and, at age 85, the imminent reboot The Amazing Spider-Man.
Perhaps you can accuse Spider-Man 2 of piling on too many high-octane sequences (and a burning building sequence is absurdly reminiscent of a scene from the first film), but each is capably handled and distinct, culminating with the final act's show-stopping runaway elevated subway train on an incomplete track. The passing of just two years and a $60 M increase in production budget (Spider-Man 2's $200 M bill tied Titanic for a cinema record at the time) result in improved visual effects.

That coupled with the conclusion of the Lord of the Rings trilogy netted this sequel not just a nomination but a win for the Visual Effects Oscar. Though these ambitious visuals aren't always perfect, they come close. But this high-priced adventure is nothing like the Transformers series, which will subject you to endless, meaningless clanging just because it supposedly looks cool. This is the same Sam Raimi who managed to stretch $350 thousand on The Evil Dead and only ten times as much on its more esteemed, comical sequel. You won't find him presenting needless diversion; it's all there to advance the story and expand the characters.

The sheer fact that it is a sequel keeps Spider-Man 2 from being as special and substantial as its forebear, although critics and the general public tend to rank the two neck and neck, with many even slightly favoring this follow-up. Either way, out of the many superhero movies that have come before and since, few offer the impact and satisfaction of this one. Sticking to just this century's output, I can think of only two entries from other superhero series in the same league: The Dark Knight and X-Men: First Class.

I was among those disappointed to hear that plans for a fourth Spider-Man film from Raimi, Maguire, and company fell through in early 2010, prompting Sony to hatch a reboot, which struck me as unnecessary and premature. At least one good thing comes from The Amazing Spider-Man, opening July 3: its release has inspired Sony to reissue Raimi's trilogy in new and improved individual Blu-ray Discs. Now available, each comes with movie cash for the reboot and access to an UltraViolet stream or download.

In advance of Spider-Man 3's 2007 theatrical release, Sony issued a DVD called Spider-Man 2.1, presenting an extended cut of Spider-Man 2. With branching, this Blu-ray thankfully offers both the original theatrical cut and that unrated longer edit. The extended cut runs 8 minutes and 20 seconds longer, with a number of minor changes contribute to the difference. Some seconds are added with Aasif Mandvi's pizzeria boss, Emily Deschanel's receptionist, Bruce Campbell's snooty usher, Hal Sparks' elevator rider, and Cliff Robertson's Uncle Ben. Peter's birthday party and aftermath run a bit longer. There's a moment of Peter distractedly drawing in Dr. Connors' class. There is a scene with Mary Jane shopping with a friend (Vanessa Ferlito) and another in which J.J. Jameson tries on the Spidey suit in his office. Finally, the climactic subway sequence gains some shots. None of this drastically changes the film, which plenty long as is, so I prefer the theatrical cut, but it's nice that both are here, especially since the reinsertions are still not presented as deleted/extended scenes.
Blu-ray Disc Details

2.40:1 Widescreen
5.1 DTS-HD MA (English), Dolby Digital 5.1 (French, Portuguese, Spanish), Dolby Stereo 2.0 (English)
Subtitles: English, English for Hearing Impaired, French, Portuguese, Spanish Japanese, Korean, Portuguese, Spanish, Thai
Most Extras Subtitled in English, Portuguese, Spanish
Release Date: June 12, 2012 / Suggested Retail Price: $19.99
Single-sided, dual-layered disc (BD-50)
Blue Keepcase with Side Snap in Embossed Cardboard Slipcover
Still available as 2-Disc Widescreen Special Edition DVD ($14.99 SRP; 2002), 2-Disc Full Screen Special Edition DVD ($14.99 SRP; 2002) and Amazon Instant Video
Previous Releases: Blu-ray Essentials Blu-ray (2010), 4-Disc High Definition Trilogy Blu-ray (2007), 5-Disc Motion Picture Trilogy DVD (2007), 2-Disc Spider-Man 2.1 DVD (2007), Superbit DVD (2004), and Limited Edition Collector's Gift Set DVD (2004)
VIDEO and AUDIO
Spider-Man 2 moves the series to the wider 2.40:1, an aspect ratio it now seems surprising the first movie didn't employ. The Blu-ray's transfer looks a tad bit better than its predecessor's, which itself looked pretty fantastic. The visuals are everything you could want them to be: polished, cinematic, immaculate, sharp, vibrant, and varied.
The 5.1 DTS-HD master audio is even more striking and satisfying. It's kind of surprising that this terrific mix lost both of the sound Oscars for which it was nominated (though The Incredibles deserved its one win there and every other accolade it received). It provides a truly electrifying experience on BD, in moments big and small. We do get a mix of both, the grand former sure to command your attention, while the latter impressing that you can find a big $200 million movie that can arrest with quiet scenes of dialogue and characters. On both fronts, Spider-Man 2's Blu-ray is choice demo material.
BONUS FEATURES, MENUS, PACKAGING and DESIGN

Extras begin with three audio commentaries. First, a Cast & Crew Commentary on the theatrical cut features director Sam Raimi, Tobey Maguire, producer Avi Arad, and co-producer Grant Curtis. Also on the theatrical cut is a Technical Commentary by six crew members from the visual effects, animation, and animatronics departments.

Producer Laura Ziskin and writer Alvin Sargent offer a third commentary, speaking over the extended version. Sargent, who confesses he wasn't a comic book reader, lets

Ziskin, his wife at the time (and up until her 2011 death) and more involved in the film's production, do the bulk of the speaking. It is an okay and informative track.

On the video side, all supplements are presented in standard definition, most of them in 1.33:1.

"Making the Amazing" is a massive 12-part making-of documentary (2:06:26). This is about as comprehensive as any single-film documentary around, covering various aspects from story themes to the technical. This epic feature-length companion utilizes interview remarks from all relevant cast and crew members as well as a wealth of behind-the-scenes footage (including lots of playful Raimi-Maguire interaction). From the spider logo on Spidey's subtly redesigned suit and creating the sound of his web slings, no topic is too minor to merit several minutes of consideration here. That is paradise for someone wanting to sweat the details of filmmaking, although more casual fans will probably find it overkill. Either way, it's strong content well presented.

"Hero in Crisis" (14:59) considers Spider-Man's blue period in the film as a reflection of the comic books. Cast, crew, and comic artists weigh in on the character's development.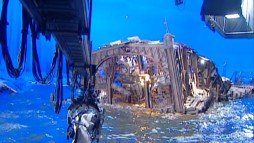 "Ock-umentary: 8 Arms to Hold You" (22:10) is an in-depth piece on Spider-Man 2's villain. It addresses the character both in the comics (from Stan Lee and fellow Marvel artists) and in the film (with insight from Molina and others). The latter aspect lends to a look at creating Ock's robotic tentacles.

A long, windowboxed Blooper Reel (7:31) amuses with flubs, pranks, bleeped profanity, and Alfred Molina silliness.

Five Visual Effects Breakdowns (32:38) take us behind the scenes of Spider-Man 2's illusions.

Assorted crew members dissect the different kinds of effects, from stunts to CGI with looks at 360-degree Alfred Molina photo shoots, wireframe animation, miniatures, and the like. It's probably too technical for the typical viewer, but insightful for those fascinated by VFX. These are presented in widescreen, having been produced for the Spider-Man 2.1 DVD.

The disc opens with a trailer for The Amazing Spider-Man. The menu's Previews listing also plays that, before running ads for Ghost Rider: Spirit of Vengeance, Men in Black 3, Starship Troopers: Invasion, and Resident Evil: Damnation. The lack of Spider-Man 2's own trailers and TV spots is unfortunate.

WHAT'S MISSING?

A number of bonus features from Spider-Man 2's original DVD are not included here: another Spidey Sense graphic subtitle trivia track, Train's "Ordinary" music video, four making-of webisodes, the 15-minute "Interwoven: The Women of Spider-Man", "Enter the Web" (multi-angle B-roll from the filming of four sequences), a gallery of Alex Ross' paintings of scenes from the original film used in the opening credits, a trailer for and making-of featurette on Activision's Spider-Man 2 video game, and, least importantly, DVD-ROM content supposedly consisting of weblinks and an S-M 3 countdown which I couldn't even get to work (trying to use InterActual these days is a disaster). Also sadly lost are two short but funny Easter eggs involving Alfred Molina, one of them featuring an appearance by Willem Dafoe.

A few supplements from the Spider-Man 2.1 DVD also fail to resurface: the Spidey-Sense 2.1 trivia track, "Inside Spider-Man 2.1" on producing the extended cut, "With Great Effort, Comes Great Recognition" on the Visual Effects Oscar win, "Danny Elfman Scores Spider-Man 2", and a sneak peek, trailer, and video game trailer for Spider-Man 3.

While it's easy to accept the loss of any one of these features and it's tough to feel the need for extras beyond the over two-hour documentary included here, it is still frustrating for all this bonus material to get cut. Isn't Blu-ray supposed to best DVD in every way (including capacity, which this disc at least is very close to)? Would it have killed Sony to include a second disc with this content? The omissions are certainly enough to keep this from being Spider-Man 2's definitive Blu-ray Disc.
MENUS, PACKAGING and DESIGN
Recycling the original DVD's Disc 1 main menu in 1080p, the Blu-ray's menu plays clips within web graphics resembling the opening titles. Pop-up menus are lacking on all but film playback. Oddly, the disc did not resume playback for me, as Sony Blu-rays usually do, but it does support bookmarking.
The disc is packaged in a side-snapped standard Blu-ray case, whose translucency is utilized in nice reverse cover artwork. An insert promotes The Amazing Spider-Man's video game. Another offers directions and a unique code for UltraViolet. Your code for the Amazing movie ticket offer is on a shrinkwrap sticker which is below a sleek, embossed cardboard slipcover.
CLOSING THOUGHTS
Spider-Man 2 comes extremely close to reaching the same lofty heights as the predecessor it closely follows. Few superhero movies provide as much to love as this winning sequel.
Offering first-rate picture and sound, two cuts of the film, three audio commentaries, over three hours of video extras, and a free movie ticket all for just a little over $10, this new Blu-ray Disc would appear to be the ideal release of this film. If DVD hadn't existed, it probably would be. Since DVD does exist and this movie was twice released on that format with many bells and whistles, we know that numerous bonus features aren't preserved here. That is a little disappointing, but primarily to completists, who would be better off hanging on to their Spider-Man 2 DVD(s) than trying to sell it/them for a dollar or so.
The exclusions are certainly not major enough to prevent me from highly recommending this set, which is practically free if you were already planning to see The Amazing Spider-Man in theaters.
Support great cinema and this site when you buy Spider-Man 2 now from Amazon.com:
Blu-ray + UltraViolet / 2-Disc Widescreen Special Edition DVD / Instant Video


Related Reviews:
Spider-Man • The Spectacular Spider-Man: The Complete First Season • Spider-Man: The Venom Saga
New: Ghost Rider: Spirit of Vengeance • Sherlock Holmes: A Game of Shadows • John Carter • Journey 2: The Mysterious Island • Men in Black II
2004: The Incredibles • Harry Potter and the Prisoner of Azkaban • King Arthur • Around the World in 80 Days
Fantastic Four: Rise of the Silver Surfer • X-Men: First Class • Thor • Iron Man • Captain America: The First Avenger • Fantastic Four • Ghost Rider
Alfred Molina: Prince of Persia: The Sands of Time • Enchanted April • The Sorcerer's Apprentice • An Education • Dead Man | Donna Murphy: Tangled
James Franco: Rise of the Planet of the Apes • 127 Hours • Annapolis • Eat Pray Love | Tobey Maguire: Fear and Loathing in Las Vegas
J.K. Simmons: Juno • I Love You, Man | Rosemary Harris: This Means War | Kirsten Dunst: Kiki's Delivery Service

Best Visual Effects Oscar Winners:
Hugo • Avatar • The Curious Case of Benjamin Button • Pirates of the Caribbean: Dead Man's Chest
Forrest Gump • Indiana Jones and the Temple of Doom • Raiders of the Lost Ark

Spider-Man 2 Songs List: "Special Delivery", "Take Girl", "Happy" Bernie Goydish & His Orchestra - "Suicide Polka", "Piano Quintet in A, D. 667 ('The Trout')", Jet - "Hold On", Elyse Dinh - "Theme from Spider-Man", "The Demonstration", "Runaway Train", Peter Cincotti and the Peter Cincotti Trio - "I Only Have Eyes for You", Peter Cincotti and the Peter Cincotti Trio - "Stars and Stripes Forever", Peter Cincotti and the Peter Cincotti Trio - "Love is the Sweetest Thing", B.J. Thomas - "Raindrops Keep Fallin' on My Head", "Suite No. 2 in B Minor", "Bridal Chorus from 'Lohengrin'", Dashboard Confessional - "Vindicated", Train - "Ordinary", Michael Bublé - "Theme from Spider-Man"

DVDizzy.com | DVD and Blu-ray Reviews | New and Upcoming DVD & Blu-ray Schedule | Upcoming Cover Art | Search This Site

DVDizzy.com Top Stories:


Reviewed June 17, 2012.



Text copyright 2012 DVDizzy.com. Images copyright 2004 Columbia Pictures, Marvel Enterprises and 2012 Sony Pictures Home Entertainment.
Unauthorized reproduction prohibited.