When The Walt Disney Company acquired Marvel Entertainment in 2009,

news articles cited that the deal included rights to an astounding 5,000 characters. One wonders how many of those mean anything to the general public and how many even to the passionate fan base Marvel has built in its seventy years of publishing.

Among that vast pantheon, Thor would have to rank in the top one percentile by recognizability. People seem to know Thor. I can remember owning just a single comic book in my youth (an unauthorized Michael Jordan biography, at that) and even I know Thor, if primarily from his fine work as a moonlighting mechanic in Adventures in Babysitting. Thus, the hammer-swinging god of Norse mythology made a logical choice for feature film treatment and all the more so as one of the founding members of The Avengers, the superhero dream team whose film, arriving in theaters next May, has been several years in the making.

Thor, however, is no mere appetizer, but another fine self-contained story told with the polish, pedigree, and production values we've all come to expect from Marvel Studios.
Most of the film's first forty minutes are set in Asgard, the home realm of Thor (Chris Hemsworth), his brother Loki (Tom Hiddleston), and their father, Asgard's king Odin (Anthony Hopkins). Odin has grown old and is about to pass his crown to first-born Thor, but before the coronation is complete, Asgard has been invaded by Frost Giants, ending a centuries-long understanding. Thor does not take kindly to the intrusion and leads an angry army to the Giants' home, hungry for revenge. Nearly bringing about a disastrous war, Thor's lack of good judgment is such a disappointment to Odin that he not only reneges on his succession plan, he also banishes Thor to Midgard, a realm you might know as Earth.
On our planet, specifically the desert town of Puente Antiguo, New Mexico, Thor crosses paths with hard-working astrophysicist Jane Foster (Natalie Portman), her mentor Erik Selvig (Stellan Skarsgård), and intern Darcy (Kat Dennings). The three humans suspect their research on certain local atmospheric disturbances is related to the appearance of this out-of-place tall, bearded, long-haired blonde muscleman. They're not the only ones; agent Phil Coulson (Clark Gregg, reprising his Iron Man role) and his secretive law enforcement agency S.H.I.E.L.D. seize all of Jane and company's data and devices, setting up base around the immovable hammer that has inexplicably been lodged in the terrain.
While Thor and his new friends try to recover their belongings, change is afoot back in Asgard, where Odin has taken ill, Loki has discovered his true nature, and others are unsure of whom to give their allegiance. Before the movie is over, the two realms will collide in an effort to sort this all out.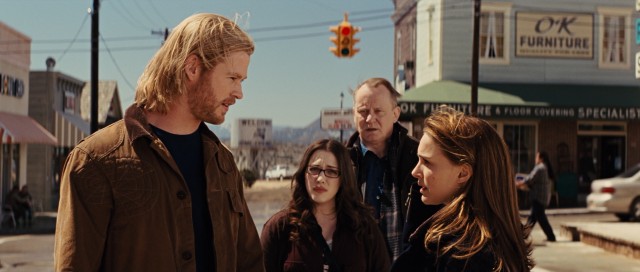 There have definitely been enough comic book superheroes brought to the screen in the past decade for a new introduction to potentially face accusations of banality. Fortunately, Thor's origin story differs from most of the others in one fundamental way: he's not from our world.

So rather than a geeky, rich, or average citizen being transformed into something formidable, we get a prince who is strong by birth. In lieu of the traditional power acquisition, we get culture shock, an always alluring premise that is put to terrific use here.

The fish out of water material injects welcome levity to the proceedings and smoothes the disconnect between our world and Thor's. It definitely isn't overdone, too. If anything, it is underplayed, leaving us to wonder just how this Norse god is familiar with some things (the English language, needles) and unacquainted with others (crossing streets). Even if questions like that go unanswered, the design grants the film an alien on Earth tone that, as usual, is a source of relatable creativity.

Thor is directed by Kenneth Branagh, an unexpected choice for a superhero movie (but then, who isn't, these days?). Undoubtedly, the rationale behind that offer must have considered the Asgard material, as Shakespearean as superhero lore gets. Branagh brings class and comfort to the ethereal realm's royal drama. He also proves at ease handling the grounded, human interest fare: the beautiful scientist, coy officials, and teased romance that are an integral part of any Marvel Universe tale.

That leaves just a couple of other essential aspects for Branagh to defy inexperience: action and visual effects. I think he does just fine on both of those fronts, although admittedly, they are not the parts of superhero cinema that draw me in or stay with me. Action is largely limited to an early sequence and an abbreviated climax, which keeps the pacing strong. Effects also are used sparingly and subtly outside of Asgard, and even that land is home more to extensive green screen-replacing CG production design than amped-up combat sequences. Asgard and Jotunheim (the Frost Giants' realm) are visually striking, albeit more reliant on artifice than desired. That is an inevitability of remaining true to the comic series, which dates back to 1962, the height of Marvel invention from Stan Lee and Jack Kirby, who created the comic book version of the character with Iron Man scripter Larry Lieber.

Lee makes his practically mandatory cameo in the film and it's a fun one. Another Marvel Studios tradition is upheld in a brief appearance made by a character of later importance. In this case, it is master archer Hawkeye (Jeremy Renner), who will play a bigger role in The Avengers. Future happenings are also teased in the requisite post-end credits scene, in which Nick Fury (Samuel L. Jackson) shows up and the fates of two other Thor leads are called into question.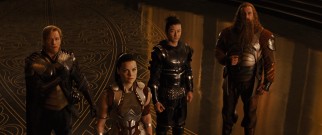 With its box office run recently ended, Thor grossed $181 million domestically. That was quite a bit shy of the over $300 million North American earnings of each of the first two Iron Man movies, but it was also a safe enough distance above superhero films whose performances have raised doubt and disappointment (the two Hulks and DC's Watchmen and Green Lantern). Besides, American numbers are becoming less important to studios every year, as foreign markets increasingly comprise a majority of the grand total. On Thor, 60% of worldwide grosses came from foreign markets (although business in Norway was surprisingly ordinary). Counting all of Midgard, Thor has tallied just under $450 million, which even with a $150 production budget, is not too shabby.
Walt Disney Pictures, in an effort to maximize the company's $4 billion investment, has acquired sequel rights to the franchises Paramount Pictures had been distributing. By the end of June, Disney was pleased enough with the numbers to schedule Thor 2 for release on July 26, 2013, less than three months after the studio releases Iron Man 3 and a little over a year after the stars of those two series team up with Captain America, et al.
That makes Thor Paramount's penultimate Marvel Studios film for the foreseeable future. Paramount releases Thor to stores on Tuesday in a single-disc DVD, a two-disc Blu-ray + DVD + Digital Copy, and, the subject of this review, a three-disc Blu-ray 3D + Blu-ray + DVD + Digital Copy combo pack that is also dubbed Limited 3D Edition.
Hearing the phrase "Thor in 3D", you might expect a lot of in-your-face hammer-throwing, but gladly, the movie spares that kind of unneeded gimmickry that translates awkwardly to 2D. Instead, the movie employs fields of depth tastefully, most extensively in Asgard, where spatial constraints do not apply. Of course, you don't really need a 3D system and charged glasses to appreciate the effect.
Blu-ray & DVD Details

2.40:1 Widescreen (DVD Anamorphic)
Blu-ray: 7.1 DTS-HD MA (English), Dolby Digital 5.1 (French, Spanish, Portuguese, Descriptive Video Service)
DVD: Dolby Digital 5.1 (English)
Subtitles: English, French, Spanish, Portuguese; BD Film Only: English SDH
DVD Closed Captioned; Video Extras Subtitled
Release Date: September 13, 2011 / Suggested Retail Price: $54.99
Three single-sided, dual-layered discs (2 BD-50s & 1 DVD-9)
Blue Eco-Friendly Keepcase in Embossed Cardboard Slipcover
Also available in 2-Disc Blu-ray + DVD + Digital Copy combo ($44.99 SRP),
on DVD ($29.99 SRP) and on Amazon Instant Video
VIDEO and AUDIO
The Blu-ray's picture quality is outstanding. You don't expect a big budget movie made in 2011 to exhibit any flaws in high definition and Thor does not, boasting sharp, clean, detailed 2.40:1 visuals. As impressive as the video is, the sound makes even greater impact. The 7.1 DTS-HD master audio is a knockout and I'd be surprised if the film doesn't get some sound category loving in next year's Oscars. The design is highly effective and immersive, and although the peaks and valleys are a bit much, they do add character to a highly satisfying sensory experience.
Though it's not as crystal-clear or powerful as the Blu-ray, the DVD remains fairly exemplary of standard definition excellence, which is especially impressive in light of how much of its limited disc space it devotes to digital copies.
BONUS FEATURES, MENUS, PACKAGING and DESIGN

Extras begin with an audio commentary by director Kenneth Branagh. He speaks without lulls (even returning to comment on the post-credits bit, which The Avengers' Joss Whedon directed), revealing he has immersed himself into the mythos and sweated the details.

His comments run enough of a gamut to satisfy most who will be listening to this: Marvel geek, film buff, and someone who is just intrigued by the combination of Branagh and Thor. Branagh's screen-specific thoughts on 3D and characters won't exactly keep you riveted, but they do make his process better known.

All of the video extras here are presented in high definition.

"Marvel One-Shot: The Consultant" (3:57) is a short film that wraps two original diner scenes between S.H.I.E.L.D. Agents Coulson (Clark Gregg) and Sitwell (Maximiliano Hernández) around Tony Stark's (Robert Downey Jr.) brief meeting with General Ross (William Hurt) in the post-end credits scene from The Incredible Hulk. Giving that bit more context, it's oddly placed here and best enjoyed by those more familiar with the Marvelverse than I, but I do like the idea of a series of original shorts (apparently with a focus on Coulson), which this launches.

The bulk of the extras fall under the header Featurettes, although most of the items there would be more accurately labeled "shorts."

First, longest, and most general, "From Asgard to Earth" (19:40) focuses on design. Costumes and locations are dissected, mostly on their own merits, but with some reference to the comic books. The short, routine "Our Fearless Leader" (3:15) discusses Kenneth Branagh, with cast members speaking highly of his directing methods. As you can guess, "Assembling the Troupe" (4:42) deals with the cast, briefly moving from one lead to the next and pouring praise on all.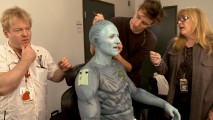 "Hammer Time" (6:12) sadly does not preserve MC Hammer's Thor review; instead, it considers how Thor's hammer, Mjölnir, looks and is used in the film. A prop ordinarily doesn't deserve such attention, but by Thor's hammer, this one does.
"Creating Laffey" (5:32) looks at the Frost Giants, specifically their king played by Colm Feore, who shares his thoughts on the role. "Music of the Gods" (2:00) pays notice to the film's fitting score with remarks from composer Kenneth Doyle and footage of his orchestra performing. "A Conversation" (2:20) is casually conducted on the set between Stan Lee and co-producer Craig Kyle on the day Lee and J. Michael Stracyzynski filmed their cameos.
"Road to The Avengers" (2:57) previews the comic book movie event of next summer with clips from the characters' respective movies, glimpses of the film's 2010 Comic-Con panel, and a few remarks from Joss Whedon, producer Kevin Feige, and Scarlett Johansson.
A substantial deleted scenes section runs 24½ minutes and looks nearly as polished as the film itself. There is some interesting material here, although you can see why most of it would be cut in order to keep the runtime under two hours. Expectedly, we get more of Rene Russo, who the film barely uses as Thor's mother Frigga. There is also more of Asgard (Loki and comic relief from the warrior friends) and a number of amusing extensions. The scenes can also be viewed with Branagh saying a few words on their excisions, though his hit and run technique differs from the air-filling manner of his feature commentary.
The extras come to a close with three welcome ads: Thor's original teaser (2:34) and trailer (2:32), plus a promo for "The Avengers: Earth's Mightiest Heroes" (1:16) animated series. Oddly, no other Paramount trailers appear on any of the discs.

Neither of the other discs offers traditional bonus features. The single-disc DVD sold on its own includes Branagh's commentary, four of the eleven deleted scenes, and "Road to The Avengers."

The combo pack DVD strips those extras along with a descriptive track and French and Spanish dubs to make room for the digital copy of the movie in three standard formats (low-res WMV for portable devices, high-res WMV for computers, and iTunes for the Apple fans).

After showing Odin's most important line of the movie, each of the three discs' main menu follows Thor's hammer flying through space, imagery resembling that of the end credits. The BD's pop-up menu only works on the movie. The Blu-ray disc sadly doesn't resume after powering off your player, but the movie does let you add bookmarks.

This set fits all three discs into a standard Blu-ray case. An insert supplies your unique digital copy redemption code, the back of which features the cover art employed on the movie's other editions. A stylish, embossed foil/cardboard slipcover repeats the artwork below.
CLOSING THOUGHTS
Thor is another fine entry to the spate of Marvel Studios productions that are about as widely appealing as any of today's movies. It isn't up there with the Spider-Man movies, but it is comparable to just about every other one of the better Marvel movies I've seen. That the studio has been able to increase output without decreasing quality bodes well for their future, at least until the public grows tired of superheroes.
Paramount's combo pack is about as pleasing as the movie itself. The feature presentation should elicit nary a complaint and, though not overwhelming, the plentiful extras should satisfy even the most rabid of bonus feature fans. As such, Thor is one of the movies and home video releases easiest to recommend this year so far.
Support this site when you buy Thor now from Amazon.com:
Blu-ray 3D + Blu-ray + DVD + Digital Copy / Blu-ray + DVD + Digital Copy / DVD / Instant Video