DVDizzy.com | DVD and Blu-ray Reviews | New and Upcoming DVD & Blu-ray Schedule | Upcoming Cover Art | Search This Site

The Spider-Man Trilogy on Blu-ray Disc: Spider-Man • Spider-Man 2 • Spider-Man 3
Spider-Man 3 Blu-ray + UltraViolet Review
Spider-Man 3

Theatrical Release: May 4, 2007 / Running Time: 139 Minutes / Rating: PG-13 / Songs List

Director: Sam Raimi / Writers: Sam Raimi, Ivan Raimi (screen story & screenplay); Alvin Sargent (screenplay); Stan Lee, Steve Ditko (Marvel comic book)

Cast: Tobey Maguire (Spider-Man/Peter Parker), Kirsten Dunst (Mary Jane Watson), James Franco (New Goblin/Harry Osborn), Thomas Haden Church (Sandman/Flint Marko), Topher Grace (Venom/Edward Brock Jr.), Bryce Dallas Howard (Gwen Stacy), Rosemary Harris (Aunt May Parker), J.K. Simmons (J. Jonah Jameson), James Cromwell (Captain Stacy), Theresa Russell (Emma Marko), Dylan Baker (Dr. Curt Connors), Bill Nunn (Joseph "Robbie" Robertson), Bruce Campbell (Maξtre d'), Elizabeth Banks (Miss Betty Brant), Ted Raimi (Hoffman), Perla Haney-Jardine (Penny Marko), Willem Dafoe (Green Goblin/Norman Osborn), Cliff Robertson (Uncle Ben Parker), Elya Baskin (Mr. Ditkovich), Mageina Tovah (Ursula Ditkovich), John Paxton (Bernard Houseman), Becky Ann Baker (Mrs. Stacy), Stan Lee (Man in Times Square), Michael Papajohn (Carjacker Dennis Carradine), Joe Manganiello (Flash Thompson), Hal Fishman (Anchorman), Lucy Gordon (Jennifer Dugan)
Buy Spider-Man 3 from Amazon.com: Blu-ray + UltraViolet • 2-Disc Blu-ray • 1-Disc DVD • 2-Disc DVD • Instant Video
In 2007, the stars over Hollywood aligned to produce a summer of threequels. That word "threequel", a catchy way to describe the third installment of a series, was suddenly on everyone's mouths because nearly every week brought a new one. The timing was almost too remarkable to fathom. The three highest-grossing films of the 21st century were each to be followed up and in the course of a single month.

Additional threequels would come later that summer: return to form Ocean's Thirteen, series apex The Bourne Ultimatum, and the overdue Rush Hour 3. But May was the main event, unveiling much-anticipated third chapters to the popular Spider-Man, Shrek, and Pirates of the Caribbean franchises over the course of just four Fridays.

Spider-Man 3 opened first and biggest, ultimately winning the box office crown for the season and the year.

At the film's opening, life is good both for Peter Parker (Tobey Maguire) and his suited alter ego. After the lumps taken in the second movie and the grave doubts he experienced, Peter has won the girl of his dreams, his old neighbor Mary Jane Watson (Kirsten Dunst), and made peace with his superheroic calling. New York loves Spider-Man and the feeling appears to be mutual.

Of course, no one wants to watch a movie where everyone is happy for two hours. There's got to be conflict. Spider-Man 3 provides plenty of that, breaking with the one main villain design of its predecessors to feature three or four antagonists, depending on your count. If we call them three and a half, then we can say all of them are introduced in the first ten minutes.
While Peter and Mary Jane are enjoying a wonderful view of the night sky from the comfort of a web, a volatile black substance crash lands nearby and follows him home. Then there is the escaped convict Flint Marko (Thomas Haden Church), who drops by his old apartment to check in on his beloved sick young daughter Penny. Finally, there is Peter's friend Harry Osborn (James Franco), who is developing into a pretty clear enemy, eager to avenge his father's death at Spider-Man's hands.
Following in his father's footsteps, Harry becomes the New Goblin, hopping on a glider and menacing his web-slinging foe. This early episode leaves Harry with a most welcome case of short-term memory loss. He awakens at the hospital recalling Peter and Mary Jane as his best friends and forgetting the bone he's got to pick.
Meanwhile, on the run from the law, Flint Marko winds up smack in the middle of a research facility's molecular experiment. It turns him into Sandman, a force with a mighty punch but an inconsistent sandy composition. When he begins causing mayhem, he naturally comes face to face with Spider-Man, although it is a new discovery in the murder of Peter's Uncle Ben (Cliff Robertson, making another fitting cameo in this, his final film credit) that ignites the rivalry between the two striking personalities.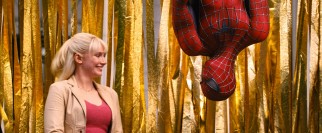 That black substance from the woods winds up holding quite a bit of significance. Testing by Peter's professor Dr. Connors (Dylan Baker) reveals it to be a volatile symbiote in need of a host. It finds just that in Peter Parker, giving him a new black Spider-Man suit and a testier disposition. The new look comes with greater power and fewer inhibitions, rendering our hero reckless and hateful. And it doesn't just slip off the way that Spidey's normal red mask does. It makes over Peter himself, unleashing his id and turning him into -- gasp! -- an emo creep. This personality transformation is one of the most memorable aspects of this installment and some would have you believe it's a terrible misstep. I find it to be the most hilarious turn in a franchise that has relied quite heavily on the cathartic power of humor.
Professionally, Peter Parker encounters some competition at the Daily Bugle, where his shrewd boss J. Jonah Jameson (J.K. Simmons, delightful as always, though used sparingly this time) is prepared to extend a staff photographer position to the overconfident Eddie Brock (Topher Grace) instead of his loyal freelancer and exclusive Spider-Man photojournalist. This tension escalates when a shamed Eddie crosses paths with Spidey's destructive black symbiote.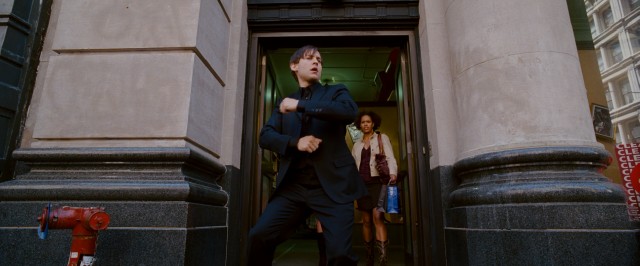 Spider-Man 3 has developed a reputation for being a letdown after the widely appreciated first two films. I didn't understand the public's grumblings back in 2007 and I don't understand them any more now on my distanced second viewing.

The discontent that initially seemed pretty mild has grown over the past five years, leaving this installment with a feeble 6.3 user rating on IMDb, a far cry from the mid-7s of the previous two.

Critics, who are notoriously tougher to please than the general public, didn't voice too many concerns, which is rare for a series that has made it to a third film. Spider-Man 3 has a respectable 63% rating at Rotten Tomatoes, although that too is a far cry from the certified fresh 89% and 95% approvals of the first two. This critic has difficulty perceiving any noticeable drop in quality from the first two movies to this one.

The third outing is the series' most epic, running 139 minutes and the widest emotional gamut. That substantial runtime is effortlessly filled with compelling story and characters. There is none of the second movie's repetition and mild action bloating. Nor is there retread of the first film's origin tale. Spider-Man 3 remembers both of these films and calls back to them, the original more explicitly in following the Green Goblin's lineage and revising the circumstances of Uncle Ben's murder. But it doesn't recreate the films or try to reproduce their beats. This chapter is its own entity and full of original ideas worth exploring.

I can understand some of the public's gripes. After the clearly focused first two films, this one may seem scattered, juggling characters new and old and dividing screentime among multiple villains. Some have come to the defense of director Sam Raimi (who also receives his first writing credits on the series here), pointing out that Marvel executives forced him to incorporate fan favorite Venom against his wishes. If you're coming to this sequel with a deep-seated appreciation for the comic books, disappointment may be warranted in that Venom gets short shrift, taking shape and being conquered in little more than the film's final half-hour.

Comic fans may also be upset by the secondary status afforded Gwen Stacy (a blonde Bryce Dallas Howard), who they'll know as one of Spider-Man's main love interests. She is trotted out here as Peter's classmate, Eddie's would-be girlfriend, and police captain's daughter to create some jealousy in Mary Jane, but becomes an afterthought pretty quickly. Those who prefer Gwen to MJ will be glad to find her front and center in the imminent reboot The Amazing Spider-Man, where she is played by Emma Stone.
Judged purely as a film on its own merits, I find this unintended end to the trilogy sound and profound, chockfull of fascinating ideas, rich scenes, and strong performances. Revisitation leads me to rank this chapter up with the original, which I've seen far more times, and above Spider-Man 2, which would put my opinion in perfect contrast to prevailing Internet opinions.
I don't think that Raimi's trilogy as a whole, created organically and not with back-to-back shoots or spilled-over storylines, has gotten its proper due yet. Yes, the series was wildly successful at the box office, its per-film gross besting every other franchise in history. And the majority of critics have been kind. But to get three fun, exciting, thoughtful films at such a high quality and with consistency is rare. Maybe Harry Potter and Lord of the Rings have spoiled us. In a different era, though, these Spider-Man movies could have been like the original Star Wars trilogy. While I hope the passage of time can earn them that same sacred status, it seems like there are just too many far-reaching, record-shattering franchises these days to truly appreciate this one. The premature reboot won't help matters. Either it will be coldly received and diminish the brand or it will be adopted by the public and supplant Raimi's work as the new, important, active interpretation.
At least, you are free to enjoy these movies as you please and as of last week, you can enjoy Raimi's trilogy in uniformly-packaged, individual Blu-ray releases, each with UltraViolet stream access and $10 movie cash towards Amazing Spider-Man. Unlike its predecessors, treated to newly-authored Blu-rays, Spider-Man 3 simply has the first of its original release's two Blu-ray discs repackaged. That's kind of a bummer for extras fans, as you will soon find out.
Blu-ray Disc Details

2.40:1 Widescreen
Dolby TrueHD 5.1 (English), Uncompressed PCM 5.1 (English), Dolby Digital 5.1 (French, Spanish, Portuguese Thai)
Subtitles: English, English SDH, French, Spanish, Chinese, Cantonese, Korean, Portuguese, Thai
Most Extras Subtitled in Spanish, Chinese, Korean, Portuguese, Thai
Release Date: June 12, 2012 / Suggested Retail Price: $19.99
Single-sided, single-layered disc (BD-50)
Blue Keepcase with Side Snap in Embossed Cardboard Slipcover
Still available on Amazon Instant Video
Previous Releases: 2-Disc Blu-ray (2007), 2-Disc Special Edition DVD (2007), 1-Disc DVD (2007), 4-Disc High Definition Trilogy Blu-ray (2007), 5-Disc Motion Picture Trilogy DVD (2007), 3-Disc Widescreen Deluxe Edition DVD (2007), and Blu-ray Essentials Blu-ray (2010)
VIDEO and AUDIO
Though Spider-Man 3's Blu-ray transfer may be five years old, it still looks terrific. The sharp, detailed 2.40:1 picture leaves nothing to be desired. The soundtrack, presented in Dolby TrueHD 5.1 rather than the prevailing standard of 5.1 DTS-HD master audio, didn't have quite as much impact as the film's predecessor, but it still was plenty powerful when needed, as in Flint Marko's initial transformation into Sandman. An uncompressed PCM 5.1 soundtrack is also offered, along with a bevy of Dolby Digital 5.1 dubs and subtitles.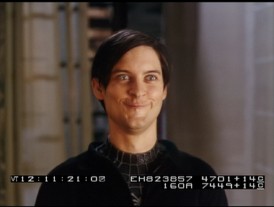 BONUS FEATURES

Spider-Man 3 debuted on Blu-ray as a two-disc set, only the first of which is included here.

Thus, this platter is a lot lighter on extras than the first two movies' new BDs, having relegated most of the meaty video supplements to the second disc that isn't preserved here to give the feature presentation an unusually high bit rate.

The main extra here is audio commentary, which as on the rest of the series, arrives in multiples.

A director and cast commentary features Sam Raimi, Tobey Maguire, Kirsten Dunst, James Franco, Thomas Haden Church, Topher Grace, and Bryce Dallas Howard. The gathering of such a large, charismatic group (only Dunst seems to be recorded separately) ensures a full and lively discussion primarily from the actors'(/fans') point of view. Highlights include recalling the immediate impact of the first film, touching upon the studio's mandate that Venom feature in this movie, and describing the international press tour experience. It's a pretty solid listen.

The second track, called a filmmakers' commentary, collects thoughts from producers Avi Arad, Grant Curtis, and Laura Ziskin alongside editor Bob Murawski and VFX supervisor Scott Stokdyk. They are more focused on the technical side, discussing effects challenges and production schedules, but also hit on more widely interesting topics like casting.

Five galleries allow you to scroll through thumbnails, see the photos in full-sized high definition, or view them as a customizable slideshow. Over 100 stills are arranged into the following categories: publicity photos "Director & Cast" (19), concept art "Paintings" (22), character design "Sculptures" (11), behind-the-scenes "Special Effects" shots (28), and colorless concept art "Sketches" (35).

A couple of HD-resolution but SD-quality pillarboxed or letterboxed 1.33:1 video extras round out the disc.

A highly entertaining bloopers reel (6:43) shows the cast having a lot of fun this time around. Highlights include Tobey Maguire's uncontrollable giggles, bleeped profanity, and even some CG animation gags.

Snow Patrol's "Signal Fire" music video (4:35) creatively features a Spider-Man play by children, who recreate moments from the series on an adorably low budget.

There's also a 93-second Easter egg on Vic Mizzy recording the music for the blooper reel, one of his last works in life.

Missing the opportunity to advertise The Amazing Spider-Man, the disc's Previews submenu offers a short general "Coming to Blu-ray" promo and dated trailers for Surf's Up, Ghost Rider, Across the Universe, and Casino Royale.
WHAT'S MISSING?

The bonus Blu-ray contained a great deal of content, all of it also found on the second disc of the film's 2-Disc Special Edition DVD. Missed here are the making-of featurettes "Grains of Sand: Building Sandman", "Re-imagining The Goblin", and "Covered in Black: Creating Venom", each running 10-15 minutes.

The self-explanatory 4-minute "Inside the Editing Room" and 16-minute "The Science of Sound" are also dropped. "On Location" featurettes for New York (13 minutes) and Cleveland (7 minutes) are -- you guessed it -- not here. Spider-Man 3's trailers and international TV spots are absent. Three stunt featurettes (running 7 to 20 minutes apiece) on various set pieces are also MIA. As is the nearly 10-minute "Tangled Web: The Love Triangles of Spider-Man 3" featurette. One thing from the DVD's first disc not included here are previews for two Spider-Man video games.

In addition to tangible extras (a Spider-Man 3 Trick or Treat bag and a 46-page booklet), the movie's 3-Disc Deluxe Edition DVD had an exclusive bonus DVD holding an on-the-set featurette, 5 winning webisodes from a "Spin Your Own Webisode" Contest, and a featurette on the winners' ceremony at the LA Film Festival. Doesn't sound like essential viewing even for Spider-Geeks and I personally haven't seen it, but its omission here is still worth mentioning.

MENUS, PACKAGING and DESIGN

Comparable to the DVD's selection screen, the inspired menu montage moves around three-dimensional environments, pausing to focus on a character or two. Sony evidently had not yet mastered Blu-ray playback resume back in 2007, but fortunately, the disc supports bookmarks.

Like the concurrent reissues of the first two movies, this one boasts a simplified design of hero and villain on both case and glossy slipcover art. An insert of UltraViolet code and directions and one promoting the new Amazing Spider-Man video game are found inside along with some nice reverse artwork. The unique code for the Amazing movie ticket is found on a shrinkwrap sticker.
CLOSING THOUGHTS

Though many vehemently disagree, I find Spider-Man 3 a winning conclusion to one of cinema's greatest trilogies. This chapter breathes plenty of life into Peter Parker's dual existence with exciting adventure, fascinating ideas,

and a sense of humor. Sam Raimi and his cast really had the right approach to filming this immensely popular character's trials with humanity, personality, and state-of-the-art visuals.

The one way that Spider-Man 3 is a letdown is that its new Blu-ray release repackages merely the first of its two original Blu-ray Discs, losing a wealth of bonus features in the process and greatly paling compared to its predecessors' loaded new discs. If you're not a big fan of extras, this disc with its dynamic presentation and handful of goodies will be more than enough for you, especially with its low price and free movie ticket. Completists, however, are advised to track down the film's out-of-print 2-disc set or to simply pair this BD with its also discontinued 2-disc DVD, if you have that already. It's a little annoying that these reissues fall short of giving you the definitive editions of Raimi's trilogy, but the films are good enough to recommend nonetheless in any shape or form.

Support great cinema and this site when you buy Spider-Man 3 now from Amazon.com:
Blu-ray + UV / 2-Disc Blu-ray / 1-Disc DVD / 2-Disc DVD / 3-Disc DVD / Instant Video


Related Reviews:
Spider-Man • Spider-Man 2• The Spectacular Spider-Man: The Complete First Season • Spider-Man: The Venom Saga
New: Sherlock Holmes: A Game of Shadows • Seeking Justice • Ghost Rider: Spirit of Vengeance • John Carter • Barbarella
2007 Threequels: Shrek the Third • Pirates of the Caribbean: On Stranger Tides • Ocean's Thirteen • Rush Hour 3
2007 Movies: Enchanted • Ratatouille • Fantastic Four: Rise of the Silver Surfer • National Treasure: Book of Secrets
Topher Grace: That '70s Show: Season One • Take Me Home Tonight • Traffic | Thomas Haden Church: We Bought a Zoo • Smart People
Bryce Dallas Howard: The Help • The Village • The Twilight Saga: Eclipse | Dylan Baker: Planes, Trains & Automobiles
X-Men: First Class • Thor • Iron Man • Captain America: The First Avenger • Captain America (1990) • Fantastic Four • Ghost Rider

Spider-Man 3 Music List: "Opening Montage", "Romantic Night", "They Say It's Wonderful", Wolfmother - "Pleased to Meet You", "Backstage", "The Name Game", Port Chester High School Marching Band - "Spider-Man Drum Cadence", Port Chester High School Marching Band - "Mechanized Infantry", Port Chester High School Marching Band - "Theme from Spider-Man", "Minuet from Symphony No. 39, K. 543", "Minuet", "Minuet from 'A Little Notebook for Anna Magdalena Bach", "Lilliburlero", "Peter's Phone Call", "Sad Girl", James Brown - "People Get Up and Drive Your Funky Soul", Chubby Checker - "The Twist", Polish National Symphony Orchestra - "Piano Concerto No. 2 in C Minor, Op. 18, 2nd Movement", "L O V E", "Fever", "Stormy Weather", "Peter's Turmoil", "Peter and Harry", "Peter Saves MJ", "I'm Thru with Love", "Happy Ending", "Love Theme Reprise", Snow Patrol - "Signal Fire", The Killers - "Move Away", Jet - "Falling Star"

DVDizzy.com | DVD and Blu-ray Reviews | New and Upcoming DVD & Blu-ray Schedule | Upcoming Cover Art | Search This Site

DVDizzy.com Top Stories:


Reviewed June 21, 2012.



Text copyright 2012 DVDizzy.com. Images copyright 2007 Columbia Pictures, Marvel Enterprises and 2007/2012 Sony Pictures Home Entertainment.
Unauthorized reproduction prohibited.