The superhero movie has thrived long enough for it to be viewed as Hollywood's safest bet. The film industry often takes hits these days for being short on originality and overly reliant on sequels, remakes, and familiar properties. Who can dispute that? The year's six biggest earners all have a colon or number in their titles. Beyond them, we find five superhero movies adapted from comic books.

Hardly a unique or novel idea, but it must be noted that four of the five heroes have not previously had their stories told in proper theatrical releases and all five tell origin stories. And while I'm sure that many more innovative and exotic pitches were passed on in favor of these, the word "originality" does start with "origin."

Captain America: The First Avenger has both a colon and a number. Its subtitle might be the clearest advertising of a future venture since 1999 gave us both Doug's First Movie (which failed to uphold its promise) and Pokemon: The First Movie (which made all too good on its word). Captain America is a tease for next May's much-anticipated Marvel superhero dream team film The Avengers, but only as much as earlier end credits crossovers and Samuel L. Jackson/Nick Fury sightings have been. Captain America is too iconic a personality to introduce as part of an ensemble, so we get this standalone feature just prior to Avenger assembly.

Captain America predates the majority of Marvel superheroes, and the Marvel company name itself by twenty years. The character was introduced in his own Timely Comics series in March of 1941, quickly joining the ranks of the Human Torch and Namor the Sub-Mariner in popularity. As his name suggests, the Captain is patriotic and quite possibly the most patriotic superhero ever. Naturally, that was a product of the time. The cover of his very first issue depicts Captain America punching out Adolf Hitler, some nine months before the US would officially enter the Second World War.
The film honors that legacy by being set almost entirely in the 1940s. Steve Rogers (Chris Evans), a young man from Brooklyn, wishes to enroll in the Army. But he's short, scrawny, and asthmatic, which gets him rejected at the physical evaluation stage every time he tries under a new name and hometown. On his fifth or sixth attempt, he gets noticed and accepted by German scientist and defector Abraham Erskine (Stanley Tucci). The doctor finds Steve's resolve makes him the perfect candidate for an experimental and highly potent serum he's been developing. With the encouragement of tough British agent Peggy Carter (Hayley Atwell), the reluctant approval of gruff General Chester Phillips (Tommy Lee Jones), and the participation of arms mogul Howard Stark (Dominic Cooper), Erskine injects Steve, immediately transforming him into a tall and muscular super soldier.
In spite of that prowess and a virtually impenetrable shield, Captain America is first put to use on war bond promotions and morale tours. Eventually, though, he becomes the Allied Forces' best hope of defeating the comparably powerful Nazi officer Johann Schmidt (Hugo Weaving), who pulls off a human face to reveal the reason for his nickname, Red Skull.
The first half of Captain America is almost as strong as any superhero movie. The historic period setting is a sharp backdrop for a transformation as dramatic as they come. Characters are capably introduced and satisfyingly personified and an hour just flies by on all this winning material. Once the character is fully made over, though, the film runs out of steam, devolving into action neither exhilarating nor investable. Comic book films require combat and conflict, but these portions are a definite lull here, dragging us down from a most promising beginning. The movie doesn't ever fully recover, either, although a coda, teased in the opening, is as engaging as anything prior.
The underdeveloped physique with which Steve Rogers is introduced is an ambitious visual effect involving head replacement and a double. If we didn't know what Chris Evans looked like, it might have been convincing, but instead it is distracting, the viewer constantly noticing how the actor's jawbone has been shaved down and even so it doesn't match the gangly neck.

While it would have extended the shoot and required some health risk and challenge to Evans, some good old-fashioned Christian Bale weight loss would have rendered both the opening scenes and the post-procedural ones much more powerful. It is obviously an integral part of the movie and as nuanced and well-done as the CG work is, it is still consistently jarring.

Other than that, my only complaint with the film is in the action, which is lacking not in quantity but in quality. The real carnage of World War II is much too bloody for a PG-13 rating, which this one only barely earns with its mostly scarce violence. While director Joe Johnston has many fondly regarded credits in his filmography, much of the enjoyment of things like Honey, I Shrunk the Kids and Jumanji sprung from the fantasy story elements. Those should be plentiful here, but by that time, Steve Rogers' remarkable overhaul has been set aside and he is just a strong man flinging his shield and deflecting bullets.

The character feels bland next to the other Marvel superheroes brought to the screen in recent years, including Evans' own Johnny "Human Torch" Storm in the lighter, underrated Fantastic Four movies. Steve Rogers obviously believes in his country, duty, and friendship, but the protagonist would have benefitted from more humanizing. The characters around him are similarly stoic and one-note, but nicely played by a fine supporting cast.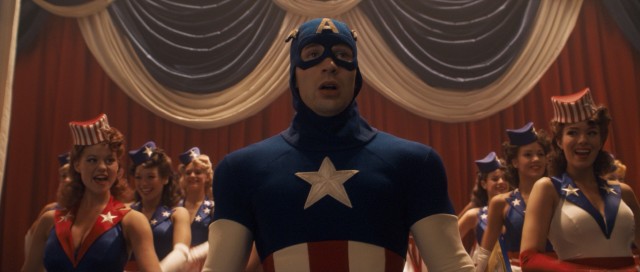 Captain America became one of the last big hits of the summer season, landing at the high end of the second tier of superherodom by box office numbers. From this year's crop of five, only Thor outgrossed it and by under $5 million domestically. Thor and Captain America will team up with Iron Man and the Hulk in The Avengers, a teaser for which closes Captain's end credits scroll. Afterwards, the characters will go their own ways, with Thor 2 lining up for November 2013 release and a second Captain America movie probably not turning up until 2014, when a second Avengers movie may well start to materialize, assuming the world hasn't tired of such fare by then.
Distribution rights to Avengers and all these other sequels will belong to Disney, whose 2009 purchase of Marvel had this in mind. Nonetheless, while Captain America effectively ends Paramount-Marvel relations three years after things began so strongly with the release of Iron Man, Paramount will still collect a portion of the box office grosses and its logo will still appear on the films.
For the time being, though, Captain America is the last Marvel film Paramount will issue on home video in the US. It did so yesterday, releasing the film in a single-disc DVD, a two-disc Blu-ray + DVD/Digital Copy, and this review's subject, a three-disc Blu-ray 3D + Blu-ray + DVD/Digital Copy combo pack. In terms of its 3D use, this is a movie clearly designed to be a movie and not a thrill ride of objects flying at you. There aren't many scenes where planes of depth are particularly noticeable. That is in the film's best artistic interests, but it leads you to question the point of the 3D enhancement.
Blu-ray & DVD Details

2.40:1 Widescreen (DVD Anamorphic)
Blu-ray: 7.1 DTS-HD MA (English), Dolby Digital 5.1 (French, Spanish, Portuguese, Descriptive Video Service)
DVD: Dolby Digital 5.1 (English)
Subtitles: English, French, Spanish, Portuguese; BD Film Only: English SDH
DVD Closed Captioned; Video Extras Subtitled
Release Date: October 25, 2011 / Suggested Retail Price: $54.99
Three single-sided, dual-layered discs (2 BD-50s & 1 DVD-9)
Blue Keepcase in Embossed Cardboard Slipcover
Also available in 2-Disc Blu-ray + DVD + Digital Copy combo ($44.99 SRP),
on DVD ($29.99 SRP) and on Amazon Instant Video
VIDEO and AUDIO
Captain America looks very good on Blu-ray. The 2.40:1 picture has a golden tint to it, presumably by design. I wasn't blown away by sharpness or detail, but the element is expectedly clean and vibrant. While the movie is not as striking visually as many of its comic book brethren, I can't imagine any viewer being disappointed by this fine presentation. The Blu-ray's default 7.1 DTS-HD master audio soundtrack is plenty dynamic. It is marked by extreme peaks and valleys that might have you cranking the volume up to hear dialogue in quiet scenes and down so as not to blow out your speakers in explosive ones. I'm not crazy about that design, which feels a little extreme, but at least it makes sense dramatically. It probably goes without saying that the soundtrack's elements are crisp and make good use of the entire field.
Sharing its limited space with digital copies, the DVD's presentation is less than excellent. The picture is dark, soft, and lacking detail. The Dolby Digital 5.1 soundtrack is better, but of course less dynamic than the Blu-ray's mix.
BONUS FEATURES, MENUS, PACKAGING and DESIGN

The Blu-ray's all-HD extras begin with an audio commentary by director Joe Johnston, cinematographer Shelly Johnson, and editor Jeffrey Ford. Their commentary takes an observe and note approach, which doesn't make for the most engaging listen.

Many trivial facts about locations, sets, scenes, and effects are dispensed, but little in the way of substantive discussion emerges. Most will be fine skipping this dry, technical talk.

The second entry in the Marvel One-Shot short series, A Funny Thing Happened on the Way to Thor's Hammer (4:00) depicts S.H.I.E.L.D.'s Agent Coulson (Clark Gregg) buying mini donuts at a gas station and unleashing a heretofore unknown badass side as he thwarts a robbery attempt. It's very entertaining and a big improvement over the short attached to Thor's Blu-ray.

Seven supplements fall under the Featurettes heading.

"Outfitting a Hero" (10:52) discusses Captain America's costumes (and shield) how the production both incorporated and departed from the designs of the comic book. It's appropriately geeky. "Howling Commandos" (6:05) looks at Captain America's allies: his best friend Bucky (Sebastian Shaw) and the ragtag team of prisoners assembled. This sheds light on characters that make limited impressions in the film. "Heightened Technology" (5:40) covers the weaponry, machinery, vehicles -- yawn -- of antagonist organization HYDRA.
"The Transformation" (8:50) reveals the process of making Chris Evans scrawny for the film's first third with visual effects and a double. It's a topic more interesting than the others and scene deconstructions add value. "Behind the Skull" (10:24) profiles the movie's villain, with most of the time going into his design and appearance. Stepping back from the film technical aspects, "Captain America's Origin" (3:55) gathers some thoughts from the hero's co-creator Joe Simon, who earlier this month celebrated his 98th birthday. His vivid recollections, complemented by plenty of vintage comic book panels and L.A. premiere red carpet remarks from relatives, are a treat. "The Assembly Begins" (1:45) contributes to the ongoing Avengers marketing campaign with clips from the recent Marvel movies whose characters will feature in the forthcoming tentpole and just a few morsels from the filming itself.
Next up come four deleted scenes (5:30), three of which are joined by optional audio commentary by the same group who spoke over the film. Presented with varying mattes, incomplete visual effects, time codes and other text intrusions, the cuts are not particularly notable, save for an extended version of Nick Fury's film-concluding appearance.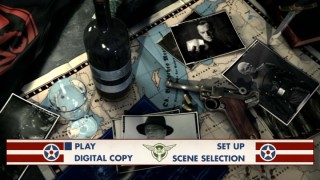 The extras conclude with a Trailers section, which serves up two Captain America previews (2:35 each), a cool Captain America: Super Soldier Sega video game (sadly not available for Genesis) trailer (2:18), and a promo for Disney XD's animated TV series "The Avengers: Earth's Mightiest Heroes!" (1:18).

There are no bonus features on the Blu-ray 3D disc. The third disc included here is a movie-only DVD, which allows you to watch the movie in

any DVD player and transfer a digital copy via DVD-ROM. The DVD sold on its own includes "Outfitting a Hero", "The Assembly Begins", trailers, French and Spanish dubs, and a descriptive track for the blind.

The menu surveys mementos from the film (character photos, maps, propaganda, and other such objects) while a patriotic score excerpt is looped. The DVD's secondary menus are static and silent. The Blu-rays support bookmarks, but do not resume playback.

The three discs fit into a standard-sized Blu-ray keepcase, with the two hi-def discs sharing a swinging tray. The only insert is a sheet of digital copy instructions and authorization code whose rear displays the artwork of the DVD and 2-disc combo. A cardboard slipcover repeats all the case artwork below with some slight embossing on front.
CLOSING THOUGHTS
Captain America: The First Avenger starts off very strong with an arresting hour of origin story. Once that is completed, the movie struggles to sustain interest in dark action sequences. It still qualifies as sufficiently entertaining and it ends on a high note, which hopefully means there is more to this hero's than his fantastic transformation. The film is treated to a pretty good Blu-ray presentation, although most of the bonus features are underwhelming and dull. Though I'd only rank it as a mid-range production in the solid Marvel Studios canon, this is worth a look and is practically a prerequisite for next year's Avengers movie.
Support this site when you buy Captain America: The First Avenger now from Amazon.com:
Blu-ray 3D + Blu-ray + DVD + Digital Copy / Blu-ray + DVD + Digital Copy / DVD / Instant Video