A key part of Will Smith's rise to the world's biggest movie star has been picking projects with the broadest appeal imaginable. Since graduating to a leading man of film in the mid-1990s, Smith has gravitated toward exciting, effects-driven science fiction action movies. They're never too heady or serious, supplying more fun than complexity, with Smith always playing the witty, affable hero, saving the world from vampires, robot uprising, and, above all else, aliens.

That isn't to undermine Smith's drawing power: no other actor could have made Hitch and The Pursuit of Happyness the blockbusters they were and both of those films were well outside the tentpole mold. Still, the man appreciates a crowdpleaser.

With all the box office success he's had, virtually any of Smith's movies could have lent themselves to a sequel. To date, though, only two have. 2003's Bad Boys II saw him reprising his last role before occupying Hollywood's A-list. One July earlier, Smith could be seen back in black as Agent J in Men in Black II. The original MIB was one of the biggest hits of the 1990s. Unlike comparable-performing triumphs like The Sixth Sense, Twister, Armageddon, and Smith's very own Independence Day, Men in Black had genuine sequel potential. Its world-in-peril plot was presented not as an isolated event, but as merely the first of many adventures J would experience as part of the quasi-government agency assigned to keep extraterrestrial life and intergalactic threat top secret.

With Smith, Tommy Lee Jones, director Barry Sonnenfeld, and Sony's Columbia Pictures division all game, Men in Black II made sense. Like the vast majority of sequels, though, this one would not live up to its predecessor either financially or, more importantly, creatively.
MIIB, as it was called in promotional materials, starts off none too promisingly with an unusually lazy piece of exposition. It is a clip from a low-budget UFO conspiracy theory video series hosted by Peter Graves which establishes in no uncertain terms the villain of this movie. It is Serleena, a Hydra-slinging alien with a bone to pick. She soon manifests in Central Park, where she transforms herself to resemble a magazine ad's Victoria's Secret model (Lara Flynn Boyle).
Meanwhile, Agent J is still an integral member of the Men in Black. The closing scene from the first film is almost instantly undone; the MIB are, thankfully, wearing traditional suits with ties again. Agent L is gone, a passing mention returning her to the morgue where she used to work (one suspects Linda Fiorentino's departure was mutual). J's newest partner Agent T (Patrick Warburton) isn't entirely comfortable in the job. T's tug at an oddly-placed flower gives the film its first really big action set piece: a giant monster's high-speed chase of a subway train, from which J emerges heroically.
Of course, there's no glory in MIB heroism after a neuralyzer flash erases civilian memories and a cover story is concocted. That part of the job and the lack of roots and a meaningful identity have J feeling a bit blue. Lucky for him, a love interest is just around the corner in Laura Vasquez (Rosario Dawson), a Manhattan pizzeria employee who witnesses her boss' true alien identity revealed and then destroyed at the hands of the lingerie-clad Serleena and her dim-witted sidekick Scrad (Johnny Knoxville), who carries a tiny second head named Charlie on an extending torso in a backpack.
MIB boss Zed (Rip Torn, returning) informs J that the agency's best defense against Serleena's destructive mission is to bring the neuralyzed former Agent K out of retirement and back up to speed. Twenty-five minutes into the film, we get our first Tommy Lee Jones sighting, as it is now J who must reacquaint his old partner with this fantastic profession. K has been living as Kevin Brown and working as the postmaster of Truro, Massachusetts among, unbeknownst to him, disguised aliens.
This sequel unfolds much like its predecessor did, bouncing between heroes and villains en route to an unforeseen epiphany and a climactic battle.
Between its adherence to the original movie's playbook and its few mild twists, Men in Black II is not the most daring or remarkable of follow-ups. Like your typical sequel (e.g. Home Alone 2: Lost in New York and The Hangover Part II), when it hits the same beats as before, it does so with considerably less success.

This secret world of bizarre aliens, stealthy agents, and high-tech weaponry is no longer new and fascinating. MIIB doesn't come up with anything to substitute for the magic of the first film's introduction to it and that leaves it a middling and downright mediocre adventure.

One of the film's most glaring deficits comes in the antagonist department. Lara Flynn Boyle's villain is neither funny nor menacing. Though widely taken for granted, Vincent D'Onofrio supplied both of those qualities as bug-in-farmer's skin Edgar. Serleena doesn't get one hearty laugh and, in what feels like flavor-of-the-month casting and now looks like substandard CGI, neither does Knoxville's two-headed henchman.

In addition, MIIB takes characters who were amusing in their brief appearances from the first movie and turns them into full-fledged supporting roles. The coffee room bugs warrant a low ceiling gag and play Twister with Dawson, while Frank the Pug becomes a wise-cracking chatterbox as J's temporary partner. The movie would have been better with less of these special effect characters and more Patrick Warburton, who serves as little more than an extended cameo in one of his three underwhelming millennial collaborations with Sonnenfeld. A more notable and bona fide cameo is had in one of the few film acting credits by Michael Jackson, who longs to become Agent M as part of an alien affirmative action program.

Fortunately, Smith and Jones haven't lost their winning chemistry, which buoys the film even when the jokes are thin (and they often are). The plot specifics seem to add up even less here than they do in the Orion's Belt storyline of the original, but again that is not a huge concern. Still, at its best, MIIB is merely semi-satisfying and a far cry from the first-rate entertainment of its predecessor. Even the closing shot, an answer to the original's breathtaking marble game finale, is a poor man's version that crumbles when given the slightest thought. And, though peppy, Smith's new end credits theme song "Black Suits Comin' (Nod Ya Head)" just doesn't have the transformative power of his "Men in Black."

It's only right that this less inspired, less remarkable version of the original grossed less at the box office, despite five years of inflation and playing in over 500 more theaters. This second movie was not quite the behemoth its predecessor was, widely trailing the second entries in the Harry Potter, Lord of the Rings, and Star Wars prequel series, as well as the year's #1 movie, Spider-Man (with which Sony paired this sequel in an unusual Labor Day second push double feature), word-of-mouth sensation My Big Fat Greek Wedding, Signs, and Austin Powers in Goldmember.

Ten summers later, Sony is still pinning their hopes on Spider-Man and the MIB, although the superhero reboot The Amazing Spider-Man and overdue threequel Men in Black III will open in reverse order of 2002's arrangement. It remains to be seen if the third MIB movie can improve on this disappointing follow-up and reverse the declining returns. But because of its Memorial Day weekend debut, Men in Black II came to Blu-ray today with an UltraViolet code and $10 of movie cash good towards an MIB3 movie ticket.

Men in Black II Video Clips:

Original Theatrical Trailer • TV Spot: New Recruits • Don't Worry About a Thing • Why So Comfortable? • Will Smith's "Black Suits Comin' (Nod Ya Head)" music video
Blu-ray Disc Details

1.85:1 Widescreen
5.1 DTS-HD MA (English), Dolby Digital 5.1 (French, Portuguese, Spanish)
Subtitles: English, English for Hearing Impaired, French, Portuguese, Spanish
Not Closed Captioned; Most Extras Subtitled in Spanish and Portuguese
Release Date: May 1, 2012
Suggested Retail Price: $19.99
Single-sided, dual-layered disc (BD-50)
Blue Keepcase with Side Snap in Embossed Cardboard Slipcover
Still available on 1-Disc DVD ($14.99 SRP) and Amazon Instant Video
Previously released in 2002 as 2-Disc Widescreen Special Edition DVD, 2-Disc Full Screen Special Edition DVD, and 4-Disc Double Feature DVD with Men in Black
VIDEO and AUDIO
I was a bit disappointed by Men in Black's Blu-ray transfer, but this newer movie more recently brought to Blu-ray presents no such problems. The 1.85:1 picture is just as clean, sharp, and detailed as a brand new big studio production. The 5.1 DTS-HD master audio soundtrack is equally potent, delivering plenty of out-of-this-world sounds from all channels with strong impact and smooth volume levels.
BONUS FEATURES, MENUS, PACKAGING and DESIGN

All of the on-disc extras are recycled from the movie's original two-disc Special Edition DVD. Video features are presented, as they were before, in 1.33:1 standard definition.

First up is a solo audio commentary by director Barry Sonnenfeld. He gives a dry, ordinary track, discussing actors, locations, and visual effects as they appear, often saying little more than "I love [this joke/this moment]", before a brief lull.

He points out a few minor things, but, clearly, he could have used another speaker to make this more interesting, like his commentary with Tommy Lee Jones on the first movie. Listening to this is not an outstanding use of your time.

An alternate ending (2:13) follows through on the romance plot by sending J on a two-week vacation to...well, it's not what you expect.

A blooper reel (5:09) features goofs, uncontrollable giggles, and some alternate lines, most of them in front of green or blue screen.

From here, we move on to featurettes that cover virtually the entire filmmaking process from top to bottom.

"MIIB: ADR" (9:25) takes us behind the scenes of the film's automated dialogue replacement sessions, with Sonnenfeld sounding off on the process. It's a part of filmmaking rarely given any thought, making this kind of memorable.
"Design in Motion: The Look of MIB II" (10:01) addresses production design in an accessible way. Bo Welch discusses his work on the film with regard to specific sets and sequences.
"Rick Baker: Alien Maker" (10:46) of course turns our attentions to the film's creature make-up, from the use of computers in the design process to how the process differed from the predecessor and Baker's many other efforts.
"Squish, Splat, Sploosh: The Stellar Sounds of MIB II" (8:04) takes us inside Foley recording, with crew making sounds befitting of the action. This is Filmmaking 101, but once again, few bonus features pay attention to this facet, which gives this value.
"Cosmic Symphonies: Elfman in Space" (12:52) pays notice to Men in Black II's score, with comments from composer Danny Elfman and copious looks at orchestra recordings.
"Barry Sonnenfeld's Intergalactic Guide to Comedy" (6:00) shares the tenets of the director's dry, ironic style and how the cast upholds them.
"Creature Featurettes" (25:53) gather some thoughts and behind-the-scenes footage on eight alien characters/groups: Frank the Pug, Scrad/Charlie, The Worms, Serleena, Alien Esoterica (covering Serleena's distinctive rogues and K's fellow postal employees), Jeebs, Jarra, and Jeff the Worm. Offering a mix of creative and technical dissection, these informative shorts will be where many draw the line as overkill, but if you are a big fan of any of these personalities or their actors, you might want to check them out.
As you could guess, "Serleena Animatic Sequence" (1:51) presents a Serleena scene, specifically her introduction, in the previsualization animatic stage, with storyboards and a touch of crude CGI.
"Multi-Angle Scene Deconstructions" (7:42) serve up five scenes from the movie in anywhere from two to five different states of completion. My Sony Blu-ray player's remote is inexplicably without an "angle" button, which makes the toggle part of this much more of a chore than it should be. And a split-screen would seem to better illustrate the different layers of effects anyway. The late spring 2002 dates on some of the work-in-progress shots explains the rushed and subpar nature of certain visuals.

Finally, we get Will Smith's "Black Suits Comin' (Nod Ya Head)" music video (4:39). Like everything else, this isn't as fun as the original movie's equivalent, but the global-scale party does welcome appearances from minor characters from the film.

Though most of MIIB's Special Edition DVD bonus features are retained, a few items are not. Among them is the Oscar-winning short film The Chubbchubbs!, which preceded it in theaters. That's unfortunate, but you can get the short on the DVD and Blu-ray of Surf's Up.

Also lost are a gallery of four posters, outdated filmographies, a booklet of production notes, DVD-ROM content, and, most significantly, a half-hour of behind-the-scenes shorts that were presented via an "Alien Broadcast" playback mode.

The disc is equipped with BD-Live, which provides access to stream trailers of other Sony movies.

The menu plays clips on an oval screen while excerpts of Danny Elfman's score are heard. One-upping DVD, the disc kindly supports both bookmarks and resuming.

Though standardly held in one of Sony's usual double-faced cases and a reflective slipcover, you will want to pay more attention to the packaging than usual. A sticker on the shrinkwrap provides your code for a Men in Black III admission of up to $10 (or a $5 concession stands spree). An insert provides your unique code for redeeming the complimentary UltraViolet stream of the film. Another advertises the upcoming new Men in Black video game, which this BD scores you a demo of on a PlayStation 3 system.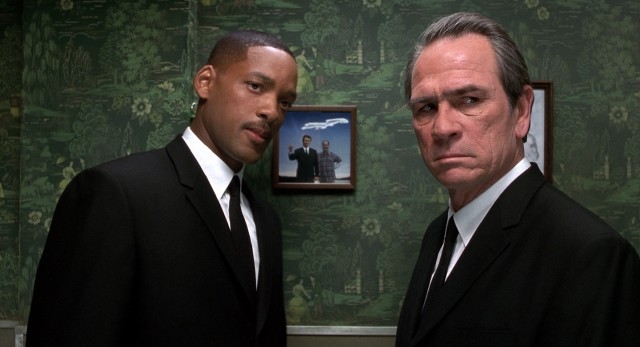 CLOSING THOUGHTS
On its own merits, Men in Black II is an okay summer popcorn movie, but the fact that it follows one of the best of those renders it disappointing. While there is enough charm, wit, and excitement to keep this a moderately entertaining and not altogether forgettable experience, you'll be more inclined to revisit the original, which does a much better job of hitting most of the same beats.
Sony's Blu-ray simply converts the film's exhaustive original two-disc DVD to Blu-ray, with all the same substantial supplements remaining in standard-def fullscreen. The film itself looks and sounds terrific, though. If you're already planning to see Men in Black III in theaters, you can get this loaded platter for just a few dollars after you make use of the $10 movie cash. That helps to justify buying what is not a movie you'll probably wish to watch on a regular basis. Of course, if you choose to wait, chances are a trilogy box set will be in stores by the fall.
Support this site when you buy Men in Black II now from Amazon.com:
Blu-ray + UltraViolet / DVD / Instant Video