For some time now, Julia Roberts has needed a comeback film. It's not that she lost her touch or that audiences grew sick of her. It's that she took time off to have kids. In Hollywood, every year counts and while Roberts was raising her three children, her Q Score was surely taking a dive. Somehow, Roberts hadn't held a star vehicle in close to ten years. She wasn't off the radar, but her movie roles were either as supporting players in ensembles (Ocean's Eleven and Twelve, the Oscar-nominated drama Closer, Charlie Wilson's War, and, most recently, Valentine's Day) or voiceover parts (like the title role in Charlotte's Web). The closest she came to carrying a project was the corporate spy comedy-thriller Duplicity with Clive Owen, which flopped.
Roberts would look to rebound in Eat Pray Love, a project that was all hers as lead actor. This dramedy had a familiar title, being based on the bestselling memoir of Elizabeth Gilbert. It also had a hot writer/director in Ryan Murphy, fresh off the success of his third TV series, "Glee."
Roberts plays Ms. Gilbert, a New York-based travel writer and author who suddenly decides she no longer wants to be married. She leaves her stunned husband (Billy Crudup) and falls into a relationship with David (James Franco), a 28-year-old actor in one of her plays. From him she acquires an interest in yoga and meditation. The romance quickly fizzles when Liz decides to take some time for herself to travel the world and experience life.

She plans to spend four months in each Italy, India, and Bali.

The titular verbs give us a clear, chronological idea of what to expect. In each location, Liz has the good fortune to form meaningful kinship with fellow English-speaking travelers. First up is Italy, where she becomes friends with Sofi (Tuva Novotny), who refers her to someone to help her with the language she's been studying on her own. Sumptuous eats flow there, as Elizabeth indulges in pasta, pizza, and wine while making peace with an expanding waistline we see no evidence of. Eat!

Next, it's onto India, where she enrolls in the ashram of the guru David admires. There, she meets Richard (Richard Jenkins), a divorced Texan who frankly and freely dispenses his wisdom while eventually sharing the source of his personal anguish. Pray!

The final stop is Bali, which is actually where the film opens as Ketut (Hadi Subiyanto), a medicine man of very few teeth, predicts with tremendous accuracy everything that will happen to Liz in the coming months. Liz takes Ketut up on his offer for them to help each other. She also is run off the road by Felipe (Javier Bardem), a divorced mixtape-making Brazilian with a college-aged Australian son. Love!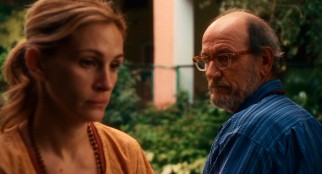 Any movie taking its lead on journey of cultural and spiritual enlightenment has high demands to meet. Eat Pray Love is founded on life-changing experience and therefore isn't doing its job if it merely offers two hours of diversion.

The movie means well and its story of post-marital self-improvement is nice in theory. But it isn't particularly moving or inspiring, as it sets out to be above all else. Personally, I find it tough to muster much sympathy for a woman who spontaneously walks out on her husband without any reason greater than personal dissatisfaction. There is also something vaguely distasteful about how she proceeds to somehow travel the world supposedly without money or employment to cater to her whims and get a look at other cultures.

These sound like fundamental problems, but they're not. They're merely feelings one arrives at reaching the film's overdue ending without taking much emotion from this upbeat travelogue dramedy. It's easy to go along for the ride, especially with Roberts comfortably returning to her charming leading lady persona. This vehicle isn't much of a stretch for her, but it's nice to see she hasn't missed a beat in her time off. One never encounters a moment that feels misplayed, though the movie could be filled with them in the hands of a less confident actress. Roberts doesn't even look noticeably aged from her first lead roles some twenty years ago, and not in any surgically-assisted way.

Most women would be thrilled to look so glamorous at any age, especially above 40. And that is part of Eat Pray Love's appeal. Asserting one's independence via globetrotting is a fantasy that can tickle any romantic. But, were you to actually do it, would your experiences be as happy and heartwarming? Would you and your surroundings look perfect in every moment? It's immensely cheaper, easier, and less risky to take the trip here with a viewing than to actually put the fantasy to the test. That helps explain why Gilbert's book sold well and why the film did a good amount of business all over the world.

Domestically, that business was not up there with Roberts' biggest hits of the '90s, but as far as solo vehicles go, it was her highest-grossing one since her 2000 Oscar winner Erin Brockovich. It's possible to consider Eat Pray Love financially falling short in one regard. Clearly, Columbia Pictures and parent company Sony patterned the film's release after Julie & Julia, their Nora Ephron dramedy from a year earlier. Boasting a female movie star, photogenic food, a European setting, and a bestselling contemporary nonfiction source, Eat Pray Love reasonably assumed the same early August release date. Despite opening stronger (in hundreds more theaters), Eat ended up $14 million shy of Julie & Julia's impressive total, though foreign grosses significantly favored Roberts, not Child.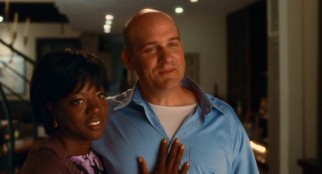 On DVD and Blu-ray, Eat Pray Love boasts that it includes both the Theatrical Version and a Director's Cut. In theaters, the film ran 140 minutes with credits; the new extension takes it up to 146 minutes. Obviously, the alternate cuts make use of DVD's seamless branching technology (something Sony has long proved competent at), rather than trying to squeeze nearly five hours of content onto a disc.
Eat Pray Love needed an appeal to earn a PG-13 rating from the MPAA, but apparently got rerated without any cuts, leaving intact a maternal expletive typically off-limits in PG-13. Though the packaging accurately identifies it as Not Rated, there is no racy added content that would require a harsher rating. In other words, Wal-Mart shouldn't object to carrying this unrated disc to which there is no alternative.
As is the case for the majority of alternate cuts, the movie isn't significantly different in its extended form. I noticed a few insertions: Liz gives a lecture that is interwoven with partially cut bickering with David, a Catholic church visit in Italy, more of the Thanksgiving thanksgiving, an additional ashram class where Liz explains her discomfort, and another scene in which Liz's best friend (Viola Davis) takes her to the airport and wishes she could go. The movie is already plenty long and save for the airport bit, the noticeable changes do not add anything that's not already there elsewhere. Furthermore, without a director's introduction or commentary, it's hard to know why we should care about this new cut. Presumably, it's a consolation gesture from the studio to the director for reasonably not wanting the film to be any longer than it was in theaters.
Watch film clips from Eat Pray Love:
Richard from Texas looks like James Taylor • Liz meets Ketut
DVD Details

1.85:1 Anamorphic Widescreen
Dolby Digital 5.1 Surround (English, French), Dolby Surround (Descriptive Video Service)
Subtitles: English, English for Hearing Impaired, French, Spanish
Not Closed Captioned; Extra Subtitled in English
Release Date: November 23, 2010
Single-sided, dual-layered disc (DVD-9)
Suggested Retail Price: $28.95
Black Eco-Friendly Keepcase
Also available on Blu-ray Disc ($34.95 SRP)
VIDEO and AUDIO
Putting two cuts of the film on one disc seems to have no effect whatsoever on the DVD's terrific picture quality. The 1.85:1 anamorphic widescreen presentation shows off the nice sunny visuals with nary a disappointment. The Dolby 5.1 soundtrack is somewhat restrained and front-heavy, but it gets your attention when it opens up for atmosphere, regional music, or sentimental score. Yellow player-generated subtitles translate the significant amount of foreign dialogue.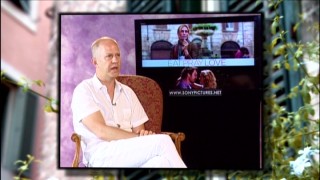 BONUS FEATURES, MENUS and PACKAGING

Besides the multiple cuts of the film, the DVD contains just one real bonus feature, "Ryan Murphy's Journey with Eat Pray Love" (4:20) is a short interview with the director/co-adapter,

who shares general thoughts on the movie and his experience making it. It's different from a standard press kit piece, but not very substantial.

A still page promotes the Eat Pray Love soundtrack.

Three featurettes are exclusive to the Blu-ray version, which should disappoint customers on a such a DVD-friendly title. They are "Eat Pray Love: The Beginning of the Journey", "Finding Balance", and "Praying in India." More understandable and forgivable is movieIQ+sync, which employs technology beyond DVD's reach to provide IMDb-type information during playback.

Watch video clips of Eat Pray Love's Blu-ray-exclusive bonus features:
"The Beginning of the Journey": A Great Adventure • "Finding Balance": Felipe • "Praying in India": Richard from Texas

The DVD opens with Sony's make.believe promo, an anti-tobacco spot (what may be the studio's first) and DVD promos for Salt and The Other Guys, and a full trailer for the curious, shelved Fireflies in the Garden. The movie ads are also available from the Previews menu, where they're joined by pitches for Open Season 3, Mother and Child, Easy A, Welcome to the Rileys, and Tamara Drewe. Inanely, Eat Pray Love's own trailer isn't included.

To piano score, the animated main menu pulls out food, location, and character clips in varying shapes.

A highly rare thing in 2010, Eat Pray Love includes an in-case insert. While it doesn't feature a single picture or detail from the movie, this 12-page booklet is clearly inspired by it. It contains five Italian recipes and five coupons for sauces and salads. There are also instructions for a Delta Italian holiday sweepstakes. It's basically a promotional pamphlet, but coupon clippers and recipe hounds (demographics that probably overlap with this movie's customers) may appreciate it.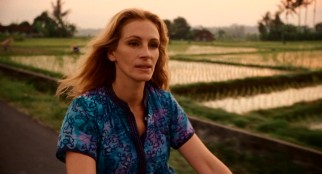 CLOSING THOUGHTS
Adult women who feel like there are no movies just for them have an obligation to see Eat Pray Love. They're the group most likely to relate, although whether they'll enjoy it is far from certain. It's picturesque, well-acted, sufficiently diverting and has some nice moments, but it's not the hugely touching experience it sets out to be. Sony's DVD delivers a solid feature presentation and in two mildly different versions, but little more than that.
More on the DVD / Buy from Amazon.com / Buy on Blu-ray / Buy the Book by Elizabeth Gilbert