DVDizzy.com | DVD and Blu-ray Reviews | New and Upcoming DVD & Blu-ray Schedule | Upcoming Cover Art | Search This Site

The Spider-Man Trilogy on Blu-ray Disc: Spider-Man • Spider-Man 2 • Spider-Man 3
Spider-Man Blu-ray + UltraViolet Review
Spider-Man

Theatrical Release: May 3, 2002 / Running Time: 121 Minutes / Rating: PG-13 / Songs List

Director: Sam Raimi / Writers: David Koepp (screenplay); Stan Lee, Steve Ditko (comic book)

Cast: Tobey Maguire (Spider-Man/Peter Parker), Willem Dafoe (Green Goblin/Norman Osborn), Kirsten Dunst (Mary Jane Watson), James Franco (Harry Osborn), Cliff Robertson (Uncle Ben Parker), Rosemary Harris (Aunt May Parker), J.K. Simmons (J. Jonah Jameson), Joe Manganiello (Flash Thompson), Gerry Becker (Maximilian Fargas), Bill Nunn (Joseph "Robbie" Robertson), Jack Betts (Henry Balkan), Stanley Anderson (General Slocum), Ron Perkins (Dr. Mendell Stromm), Michael Papajohn (Carjacker), K.K. Dodds (Simkins), Ted Raimi (Hoffman), Bruce Campbell (Ring Announcer), Elizabeth Banks (Betty Brant), John Paxton (Houseman), Tim DeZarn (Philip Watson), Taylor Gilbert (Madeline Watson), Randy Savage (Bone Saw McGraw), Octavia Spencer (Check-In Girl), Macy Gray (Herself), Sara Ramirez (Cop at Carjacking), Lucy Lawless (Punk Rock Girl), Jim Norton (Surly Truck Driver)
Buy Spider-Man from Amazon.com: Blu-ray + UltraViolet • 2-Disc DVD • Instant Video
In the final quarter of the 20th century, the superhero feature film became a major force in Hollywood. While you might have expected the genre's popularity to spark a cinematic marketplace full of comic book characters, the industry exhibited rare moderation, ensuring supply did not exceed demand. 1978's Superman launched the modern superhero movie.

After one hit sequel, that franchise began to fizzle, with both the spin-off Supergirl and series-ending Superman IV: The Quest for Peace landing squarely in flop territory.

Then, in 1989, Tim Burton's Batman set the box office aflame, demonstrating an unmistakable torch pass from one iconic DC Comics hero to another. Batman's reign extended into a third movie, in the Joel Schumacher-directed 1995 hit Batman Forever, before its 1997 sequel Batman & Robin killed off audience goodwill and the film franchise. Batman's fall left an opening for dominant movie superhero at the turn of the century, one which 2000's X-Men seemed ready to fill several times over. But two years later, the gifted mutants appeared to merely be the warm-up act for the decade's main event: Spider-Man, another A-list hero whose long list of appearances had previously stopped short of a major motion picture.

Spider-Man's record-smashing success -- a $400 million domestic gross, matched overseas -- paved the way for more superhero movies to come and the marketplace has been somewhat flooded ever since. Spidey's publisher Marvel Comics instantly warmed to cinematic adaptation and soon set the standard for superhero movies. Marvel's rich catalog of fantastic personalities has spawned a number of this century's biggest blockbusters, most recently and substantially The Avengers. If The Avengers ushers in a new age of superhero dream team films (and there is already buzz building over Warner and DC putting together a Justice League movie), then it will do so in part because the unrelated Spider-Man franchise illustrated just how lucrative well-made, big-budget superhero films could be in this effects-driven era.

Though it faced far more competition than either of its predecessors, the Spider-Man franchise does seem to have ruled the genre, at least until Christopher Nolan's perfectly-timed sequel The Dark Knight put Batman back on top. Other than Dark Knight and The Avengers, no superhero movie has topped the original Spider-Man's performance or even that of its two sequels of declining but still formidable returns.

With The Amazing Spider-Man soon rebooting the franchise a bit hastily for most commentators' tastes, Sony this week reissued all three of their Sam Raimi-directed, Tobey Maguire-starring Spider-Man movies in new Blu-ray + UltraViolet sets with $10 movie cash toward seeing Amazing in theaters.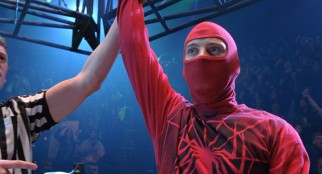 The first film, 2002's Spider-Man, established a perfect model for an origin film. Raimi, whose filmography had grown from low-budget horror films (like the iconic, increasingly comedic Evil Dead series) to more respected adult dramas (like A Simple Plan), was apparently a longtime fan of Marvel's Spidey comics, a clear asset to this production. Raimi and screenwriter David Koepp (Jurassic Park, Mission: Impossible) seem interested in doing justice to the series that Stan Lee and Steve Ditko created in 1962. Accordingly, they remain faithful to and reverent of the source material.

Peter Parker (Tobey Maguire) is a nerdy senior at a New York City high school. Shy, smart, bespectacled, and bullied, he has long pined for the girl next door (literally), Mary Jane Watson (Kirsten Dunst), his red-headed neighbor since childhood. But he can't even work up the courage to talk to her. While snapping photographs of a Columbia University lab for the school newspaper,

Peter gets bit on his hand by a genetically engineered spider. It initially makes him tired and weak, but when he wakes up the next morning, Peter is an altogether different person. His vision and physique have improved and there's all sorts of new developments, like lightning-quick reflexes, sticky fingers that enable him to climb walls, and webs shot from his wrists for swinging on.

Peter's not sure what's happening, his world being one previously absent of Spider-Man media. We, on the other hand, know exactly what's going on and are relishing his transformation from zero to hero. The heroics do not come immediately. Peter's first thought is to make some money to buy a car that will get Mary Jane's attention. But after a selfish lapse in judgment results in the death of his beloved uncle and guardian Ben (Cliff Robertson), the teen decides to start protecting New York from criminals. Spider-Man doles out justice in a full-body costume, with his air of mystery and citizens' mixed reactions immediately turning him into a legend worthy of front page stories. Peter finds a way to monetize his secret calling by becoming a freelance photographer at The Daily Bugle, the only one who can provide clear shots of the quick and elusive vigilante.
Spider-Man isn't the only larger than life personality getting New Yorkers' attentions. A malevolent masked man dubbed the Green Goblin seems hell-bent on bringing destruction and jeopardizing the lives of innocent civilians. We know that Goblin is the alter ego of Norman Osborn (Willem Dafoe), a scientist experiencing professional setbacks and the father of Peter's best friend and roommate Harry (James Franco). Though it shouldn't be too hard to figure out, neither hero nor villain knows the other's true identity, bringing dramatic irony to their high-stakes, high-profile clashes.
Spider-Man gets just about everything right. It is wise to trust in Lee and Ditko's original ideas, which by then were working their magic on a third generation of youths. Relying on 40-year-old storylines and panels imbues the film with a sense of fun that has been missing from most recent superhero films. Spider-Man has a sense of humor to it that is very true to 1960s comic books. That upbeat design, in stark contrast to the Batman of both Burton and Nolan, provides the occasional brush with camp value, but the film decidedly avoids ridiculousness as much as it can with a villain like Green Goblin in its midst.
Key to the film's success is that it is grounded in reality and human emotion. We are endeared to Peter Parker from his introduction and even after his newfound gifts enable him to outfight a school bully and a maniacal wrestler, he remains a lovable underdog, cursed to keep his derring-do a secret from loved ones, even as Spider-Man is winning over Mary Jane.
Some of the Academy Award-nominated visual effects look less than perfect ten years later, but the bulk of them hold up remarkably well. Spider-Man avoids CGI as much as it can, yet implements it tastefully and seamlessly when it must defy the limits of our world. Even the obligatory conflict and action is interestingly executed, from the imaginative conveying of Green Goblin's insane duality to Spider-Man's suspenseful close calls to creative set pieces like a burning building rescue.

The film is most spellbinding when Peter acquires and becomes acquainted with his super powers, but it manages to generate nearly as much excitement all the way through its perfectly-paced two hours.

Raimi's unconventional background is to the film's benefit. Rather than subject us to tired, formulaic elements, battles, and twists, he relishes the opportunities presented by the film's many facets and uncovers ways to keep everything from the requisite romance to the obligatory climax lively and accessible. I think we can also largely credit the director's outside-the-box thinking for the film's inspired casting. Maguire is not a hunk pretending to be a nerd, but an authentic, relatable nerd who uncovers his inner (and outer) super hero with compelling acting (and not just rigorous physical training). Likewise, Dunst is much more than just a pretty face. Dafoe is not the biggest of stars, but a perfect fit for the part. The same goes for James Franco at the time and others down the line, like the sweet Robertson and Rosemary Harris as Peter's affectionate guardians. The casting of J.K. Simmons deserves special notice; not only is the actor a riot as shrewd, fast-talking newspaper editor J. Jonah Jameson, but the performance seems responsible for the Raimi veteran's career taking off shortly before age 50.

Even playing the theme song from the old Spider-Man animated series deep into the end credits is a stroke of genius from a genuine fan.
Blu-ray Disc Details

1.85:1 Widescreen
5.1 DTS-HD MA (English), Dolby Digital 5.1 (French, Japanese, Portuguese, Spanish, Thai), Dolby Stereo 2.0 (English)
Subtitles: English, English for Hearing Impaired, Chinese Traditional, Chinese Simplified, French, Japanese, Korean, Portuguese, Spanish, Thai
Most Extras Subtitled in English, Chinese, Japanese, Portuguese, Spanish, Thai
Release Date: June 12, 2012 / Suggested Retail Price: $19.99
Single-sided, dual-layered disc (BD-50)
Blue Keepcase with Side Snap in Embossed Cardboard Slipcover
Still available as 2-Disc Widescreen Special Edition DVD ($14.99 SRP; 2002), 2-Disc Full Screen Special Edition DVD ($14.99 SRP; 2002) and Amazon Instant Video
Previous Releases: Blu-ray Essentials Blu-ray (2010), 4-Disc High Definition Trilogy Blu-ray (2007), 5-Disc Motion Picture Trilogy DVD (2007), 3-Disc Deluxe Edition DVD (2004), Superbit DVD (2004), and Limited Edition Collector's Gift Set DVD (2002)
VIDEO and AUDIO
Spider-Man is just old enough to start showing some age, but good luck finding it on this dazzling Blu-ray. The disc's near-flawless 1.85:1 picture is clean and vibrant. It has enough faint fine grain to look like film and not digital video. It could stand to be a touch sharper, but you'll be hard-pressed to find any more serious shortcomings in this great presentation.
The default 5.1 DTS-HD master audio soundtrack is just as excellent and maybe even more so. Spider-Man's second Oscar nomination came in the Best Sound category and that recognition is easy to appreciate from this active and engaging lossless mix, which distributes atmosphere and effects with great impact and savvy directionality. No stranger to superheroes, Danny Elfman delivers another fine score with his distinctive offbeat flavor. Sony kindly and wisely loads the disc with a wealth of foreign language dubs and subtitles.
BONUS FEATURES, MENUS, PACKAGING and DESIGN

Correcting upon the movie's barebones release in Sony's 2007 High Definition Trilogy collection, this Blu-ray retains nearly all of the many bonus features of Spider-Man's various DVD editions and adds a couple of new exclusives to them. The result is that this is, without a doubt, one of the most loaded releases given to an individual film. Unless otherwise noted, video extras are all presented in standard definition, as was common practice back in 2002.

First up come the two exclusives.

"Spider Sense Trivia Challenge" is no trifling quiz. This places multiple choice questions over the playback of the film on a regular basis (approximately one question a minute). You get points for speed and accuracy and depending on how well you do, you are treated to one of five video rewards. It's unfortunate that this mode cannot be combined with an audio commentary, since both are a less than ideal way to see the film.

(You also can't rewind or fast-forward with this activated.) The questions are appropriately challenging but rarely pertain to what's onscreen. In my distracted, multi-tasking attempt, I scored a 433. For that, I was treated to a 29-second clip of Peter testing his web powers. Hopefully (but doubtfully), the other rewards are better than that, but I wasn't about to find out.

As a "What is The Cutting Room?" tutorial (2:17, HD) explains, "The Spider-Man Cutting Room" (HD) allows you to create a montage using clips, sounds, and score excerpts from the film. It is a powerful tool, but one that isn't incredibly easy to operate with a standard Blu-ray player remote (despite the best efforts of something like six instruction pages). Still, a little bit of tinkering and you can produce something amusingly random. Unfortunately, all can easily be lost if "Quick Preview" chooses not to work. If you're happy with your not entirely seamless results and feel like dealing with accounts, you can go ahead and upload them through BD-Live.

A whopping three audio commentaries are offered. A Filmmakers & Cast commentary features two different pairings: Kirsten Dunst and producer Laura Ziskin in one place, director Sam Raimi and co-producer Grant Curtis in the other. The geek-friendly second track was recorded by visual effects designer John Dykstra and his crew. The third and final commentary, originally a Superbit exclusive, randomly and casually teams Tobey Maguire and J.K. Simmons. I sampled all three tracks and, as you'd expect, found the first of them to be the most worthwhile.

"Spider-Man: The Mythology of the 21st Century" (25:29) covers the character's comic book legacy, with Stan Lee and a variety of writers and artists (as well as fan Kevin Smith) waxing on the franchise's appeal, evolution, and personalities, focusing largely on the then-current Ultimate Spider-Man series. It is good consideration of an entity without which this film wouldn't exist, but if you're not into comics, this might not do much for you beyond perhaps the human interest of hearing how the series handled 9/11.

HBO's making-of documentary "Behind the Ultimate Spin" (24:42) is a standard but good featurette that is chockfull of behind-the-scenes footage. It begins with the comic books with Stan Lee, then moves to the film, getting good interviews with principal cast and crew members. They speak highly of one another and of the material, before our attentions are turned to the film's production design and visual effects.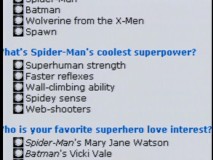 The hour-long E! television special "Spider-Mania" (40:32) is even more promotional but still good. It opens with Stan Lee discussing the comic book's origins. From there, it moves to the three top-billed cast members in credits order. The Maguire talk focuses on his casting, his bulking up on tofu, and getting fitted for his Spidey suit. Defoe discusses his costume and stunts. After Dunst shares her perspective, the piece profiles director Sam Raimi and on-set spider wrangler/entomologist Steven Kutcher. In addition to plenty of B-roll, the program supplies results to E! website polls, each of which, no matter what the topic, ranks Spawn last and Spider-Man first.
The featurettes "Director Profile: Sam Raimi" (7:05) and "Composer Profile: Danny Elfman" (7:27) are logically listed together. Each piece gets reasonably in-depth about its subject. Utilizing more talking heads pulled from the same sources, Raimi's is a bit redundant, as we keep hearing about his lifelong appreciation of Spider-Man and unlikely selection for such a big-budgeted project. On the other hand, Elfman is unnoticed elsewhere, so his reflections on character themes and clips of the score being recorded are welcome.
Seven "Behind the Scenes of Spider-Man" shorts (32:19) tackle costume design, production design, spider wrangling, the wrestling scene, the World Unity Festival scene, Norman Osborn's lab, and the Green Goblin's glider and pumpkin bombs. They get pretty detailed and reveal just how many details had to be considered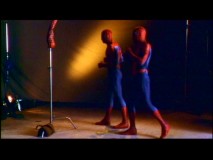 Four Screen Tests (5:19) are provided. The best of these is Tobey Maguire's, which is interestingly shot with real production values. There's also a look at J.K. Simmons auditioning, a trial for the CGI Spider-Man, and a make-up and costume montage that tests out some looks for most of the leading cast members.
The ordinary "Gags & Outtakes" (3:04) offers fumbled lines and some Willem Dafoe fun with bleeped profanity.
Six Webisodes (20:36) pay notice to the following topics: spider wrangling (the longest short, by far), Randy Savage and his character Bone Saw McGraw, model maker Jason Mahakian, production designer Neil Spisak, the art department, and prop maker Bill Naumann. If you've been reading closely, you'll have noticed that these cover some of the same ground as earlier pieces. That renders them inessential viewing, but their content is still strong, especially if you're a fan of the late Savage.
Music videos are provided for the film's two most prominent original songs. The letterboxed "Hero" (3:26) by Chad Kroeger and featuring Josey Scott is the better of those. It finds the band playing on a rooftop with film clips interspersed. Sum 41's "What We're All About" (3:43) lets the Canadian Beastie Boys wannabes perform upside down on the ceiling to a lively party crowd.

Very cool is the inclusion of eleven 30-second TV spots (5:22, now thankfully with a "Play All"), which emphasize different aspects of the film from action to romance to fun to warm reviews. The group even offers a nifty Cingular promo directed by Sam Raimi. Spider-Man's original theatrical trailer (1:19, HD) is included also. Well, one of them. The World Trade Center teaser that was quickly shelved following the 9/11 terrorist attacks is still missing. How long until that is corrected? Are people really potentially going to be offended to see the Twin Towers standing and functional in promo made months prior to their destruction?

Though I couldn't find them through the menus, I did locate three of the film's DVD Easter eggs in digging around the disc's files: CGI bloopers and short pieces on Spider-man's webs and the Romitas, a family of comic book artists.

The disc opens, of course, with a trailer for The Amazing Spider-Man. The menu's Previews listing plays HD trailers for Ghost Rider: Spirit of Vengeance, Men in Black 3, Starship Troopers: Invasion, and the CG-animated Resident Evil: Damnation before repeating Amazing's oddly titleless promo.

WHAT'S MISSING?

Not everything from the DVDs resurfaces here. Unsurprisingly, DVD-ROM content is dropped. Now dated and buggy, that consisted of a two-level demo of Activision's Spider-Man PC video game, three classic Spidey issues of Marvel "dot.comics", a comic-to-movie split-screen comparison (which likened 48 full pages to scenes from the film), the option to record your own audio commentary, a countdown to Spider-Man 2, weblinks, and something called the Spider-Man Visualizer.

Another casualty is a "Spider-Sense" viewing mode which allowed you to view the webisodes during playback of the film; I've never been crazy about that kind of experience myself. More lamentable: rather than getting upgraded to Blu-ray technology,

all of the galleries (villain and love interest biographies, an exhaustive chronological comic archive, concept art, design, comic book artist) are lost. Easter eggs relating to these (like villain 360-degree turnarounds and profiles) are lost. Expectedly, bonus features added for the film's Deluxe Edition to promote Spider-Man 2 (a sneak peek, teaser, and computer video game demo) do not turn up, their relevance reduced. The Limited Edition third disc exclusives "Creating Spider-Man" (a Stan Lee-Kevin Smith interview) and the Marvel documentary "Here Come the Heroes" are not included.

Also lost to nobody's surprise: now-dated selected actor filmographies (and hidden character profiles), Activision game hints and tips, and a chapter list booklet. Finally, "Weaving the Web", a fun graphic subtitle track of pop-up production notes and historical facts, is sadly gone; and it is not at all really supplanted by the trivia mode.

MENUS, PACKAGING and DESIGN

The menu has a dated feel to it, playing a basic montage and being limited in its pop-up offerings. The disc resumes playback, supports bookmarks, and employs a cool spider logo that turns blue as its loading graphic.

This latest release markets the film in a way that's easy to mistake for one of Spidey's countless cartoon incarnations. The slick, foil-faced slipcover attracts fingerprints. One insert supplies your UltraViolet redemption code and instructions, another promotes the upcoming Amazing Spider-Man video game. This being a Sony release, the artwork is double-sided and shows through the case.
CLOSING THOUGHTS
Lovingly-crafted crowd-pleaser Spider-Man is one of the best superhero movies made. It is the kind of film that deserves a spot in every home video collection, even modest and selective ones. This 2012 release is not Spider-Man's first time on Blu-ray, nor will it be its last. But right now, it is absolutely the film's best edition. Boasting terrific picture and sound and one of the strongest collections of bonus features ever assembled (even without retaining every DVD extra), this disc also arrives at a low price (it's currently selling for under $12 at Amazon) and with a free $10 movie ticket. All in all, this is one of the easiest packages I've had the pleasure of recommending.
Support great cinema and this site when you buy Spider-Man now from Amazon.com:
Blu-ray + UltraViolet / 2-Disc Widescreen Special Edition DVD / Instant Video


Related Reviews:
Spider-Man 2 • Spider-Man 3 • The Amazing Spider-Man • The Amazing Spider-Man 2
The Spectacular Spider-Man: The Complete First Season • Spider-Man: The Venom Saga
New: Ghost Rider: Spirit of Vengeance • John Carter • Sherlock Holmes: A Game of Shadows • The Princess Diaries: 2 Movie Collection • Clueless
2002: Men in Black II • The Ring • Chicago • Lilo & Stitch • The Santa Clause 2 • Tuck Everlasting
Chronicle • Sky High • The Spirit • Defendor • Kick-Ass • Hancock • The Incredibles • Teen Wolf
X-Men: First Class • Thor • Iron Man • Captain America: The First Avenger • Fantastic Four • Ghost Rider • Captain America (1990)
Written by David Koepp: Indiana Jones and the Kingdom of the Crystal Skull • Ghost Town • Angels & Demons
Tobey Maguire: Fear and Loathing in Las Vegas | Willem Dafoe: The Last Temptation of Christ • Platoon
James Franco: 127 Hours • Rise of the Planet of the Apes • Annapolis • Eat Pray Love | Kirsten Dunst: Kiki's Delivery Service
Cliff Robertson: Wild Hearts Can't Be Broken | Rosemary Harris: This Means War | J.K. Simmons: Juno • I Love You, Man

Spider-Man Songs List: The Strokes - "When It Started", Laibach - "Panorama", Oleander - "Jimmy Shaker Day", "Theme from Spider Man", Macy Gray - "My Nutmeg Phantasy", "Itsy Bitsy Spider", Chad Kroeger featuring Josey Scott - "Hero", Sum 41 - "What We're All About (The Original Version)", "Theme from Spider Man"

DVDizzy.com | DVD and Blu-ray Reviews | New and Upcoming DVD & Blu-ray Schedule | Upcoming Cover Art | Search This Site

DVDizzy.com Top Stories:


Reviewed June 15, 2012.



Text copyright 2012 DVDizzy.com. Images copyright 2002 Columbia Pictures, Marvel Enterprises and 2012 Sony Pictures Home Entertainment.
Unauthorized reproduction prohibited.