and Kelvin Cedeno

It's a good thing that Jerry Bruckheimer isn't in elementary school anymore, because having to do a "how I spent my summer" report could be pretty painful for him. Sure, he could talk about how production began on a fourth Pirates of the Caribbean movie and how shooting in 3-D will rejuvenate a franchise that many feel has run its course. But, the more interesting and more humiliating news would be the flatline performance of not one but two mega-budget fantasy films he produced with Disney.

Bruckheimer's career dates back nearly forty years and his history of profitability began at Paramount in the 1980s, where he made such blockbusters as Beverly Hills Cop and Top Gun. In the 1990s, Bruckheimer took his high-octane action stylings to Disney, where he gave the adult Touchstone and Hollywood banners hits like Armageddon and The Rock.

With 2003's debut Pirates of the Caribbean movie, easily his top performer up till then, Bruckheimer found a new calling for edgy, exciting adventures that could play to practically all audiences. Between that seafaring series' record-setting grosses and the kindred PG-rated National Treasure movies, Bruckheimer's golden touch was unquestionable and, along with Pixar, his output was one of the only certainties at Walt Disney Pictures.

After an empty 2008, cracks began to show in the Disney-Bruckheimer alliance last year when two movies that departed from the formula (the CGI-heavy guinea pig action-comedy G-Force and Touchstone chick lit flick Confessions of a Shopaholic) failed to exceed or even meet expectations. Such receptions were peachy, however, compared to this summer's offerings, which delivered one of the weakest 1-2 punches in the history of tentpole filmmaking. Whether you blame the timing, the marketing, or the films themselves, Bruckheimer's two releases were met with remarkable apathy and disinterest, at least in their native United States.
Adapted from a video game series introduced in 1989 (specifically the 2003 installment of the same name), Prince of Persia: The Sands of Time was supposed to be big. Pirates of the Caribbean big. In fact, this epic Middle Eastern adventure had a reported production budget of $200 million, $60 M more than what was spent on Curse of the Black Pearl (ignoring seven years of inflation).
Set in the sixth century, the film centers on Dastan, whose actions on the street as an orphan boy catch the eye of Sharaman (Ronald Pickup), king of the vast Persian Empire. The king adopts the boy, who joins two older brothers as heirs to the throne. Our story jumps ahead fifteen years when a now adult Dastan (Jake Gyllenhaal) and his two fellow princes (Richard Coyle, Reece Ritchie) are capable men of action. On the counsel of Uncle Nizam (Ben Kingsley), Sharaman's sons lead armies into nearby city Alamut, which is suspected of forging weapons for Persia's enemies. Alamut's Princess Tamina (Gemma Arterton), renowned for her beauty, is brought to the king as a potential spouse for the eldest son. King Sharaman feels she'd be better off as unwed Dastan's first wife than another mate for Tus.
Before anything else can happen, the king is killed, evidently burned by a poisoned robe presented to him by Dastan. Accused of patricide, Dastan takes off with Tamina, thus setting up the hero's journey that's a requisite of such a film. With his innocence never in doubt to us, Dastan seeks to clear his name, make things right, and simply stay alive with Persia's army after him and a rich reward on his head. The "Sands of Time" subtitle comes into play by the powerful dagger Dastan had acquired in Alamut. With the press of a button, the bejeweled crystal sword can rewind time, enough to reverse a single deadly mistake. Tamina explains the device's sacred history, which is determined to be the motivation of the treacherous individual who framed Dastan for the king's murder.
Prince of Persia applies Bruckheimer sensibilities to the sword and sandal tale, a genre the producer has previously shunned. The characters are archetypal, the themes are universal, and the movie is designed to make visceral impact at every opportunity. As many have noted, the piece neatly aligns with the Pirates of the Caribbean world in its composition.

If Gyllenhaal and Arterton can easily be compared to the Orlando Bloom and Keira Knightley parts, then Alfred Molina is clearly the Jack Sparrow of the piece (complete with mascara and rock star hair), supplying scene-stealing pizzazz as ambiguous taxation-loathing entrepreneur Sheik Amar. Molina doesn't make as large of an impression as Johnny Depp's pirate and his limited screentime ensures that a Lead Actor Oscar nomination is out of the question, but he provides flavor the film could use more of.

Strenuous workouts may make muscles but they do not make an action star and Gyllenhaal never has the screen presence that his lead role demands. Adopting a British accent that most of his castmates naturally have, dopey-eyed Gyllenhaal is more believable as a Persian than as a fierce, daring hero. Arterton too is unconvincing as an outspoken princess who's somehow also an expert warrior. Saddled with cheesy dialogue, their inevitable romantic tension is almost entirely void of sparks.

The film doesn't crumble at that weak core, however. The pacing remains unusually good. The busy Pirates movies grew from well over two hours to close to three. Persia checks in at a more traditional 116 minutes with end credits. Sure, you could say that Persia is overcooked and with almost $2 million spent per minute, who could argue otherwise? But the film at least keeps moving, never digging its feet in for an overlong set piece. Action is delivered in spades, and the PG-13 carnage is more violent than it needs to be. But we're spared the big, meaningless army battles of clanging close-ups that weaken far better fare. Director Mike Newell (prepped for such a large spectacle by helming Harry Potter and the Goblet of Fire) makes sure to keep a narrow, human focus on high-energy bursts. If there were stronger characters and performances to sustain that attention, he might have had something here. The story's barely-coded indictment of more recent goings-on near modern-day Persia, i.e. Iraq (using a non-existent weapons threat to mine a natural resource) doesn't help matters.
Grossing just $90 million in North America (and that's with some siphoning of Toy Story 3's copious earnings), Prince of Persia was one of the all-time most expensive domestic flops at Disney or anywhere else. Foreign moviegoers, who in recent years have contributed considerably more to spectacle cinema than American audiences, cushioned the blow by spending nearly $250 million on the film to date. Those international grosses might even lift the movie to profitability once theater cuts and ample marketing costs are factored. Nevertheless, the numbers were far below the Pirates grosses that Disney and Bruckheimer were seeking and it seems certain we'll never see a sequel to this film.
The poor performance probably contributes to Prince of Persia's relatively prompt appearance on home video. Beating the holiday season rush (that includes most summer movies) by a good seven weeks, Prince of Persia hits stores on Tuesday, in a single-disc DVD, a single-disc Blu-ray, and the subject of this review, a 3-Disc Blu-ray + DVD + Digital Copy combo pack.
Blu-ray & DVD Details

2.40:1 (Anamorphic) Widescreen
Blu-ray: DTS-HD 5.1 (English), DTS 5.1 (French),
Dolby Digital 5.1 (French, Spanish), Dolby Surround (Descriptive Video Service)
DVD: Dolby Digital 5.1 (English, French, Spanish), Dolby Surround (Descriptive)
Subtitles: English for Hearing Impaired, French, Spanish
Closed Captioned; Extras Subtitled and Captioned
Release Date: September 14, 2010
Three single-sided discs (1 BD-50, 1 DVD-9, and 1 DVD-5 DVD-ROM)
Suggested Retail Price: $44.99
Double-wide blue keepcase in Embossed, Holographic Cardboard Slipcover
Also available in 1-Disc DVD ($29.99 SRP) and 1-Disc Blu-ray ($39.99 SRP)
VIDEO and AUDIO
Anyone expecting less than perfection from a Disney-Bruckheimer production will be disappointed, because the image on Prince of Persia's 2.40:1 Blu-ray is flawless. Detail on everything from fabric to sets remains consistent throughout. The warm color palette doesn't overstep its boundaries in becoming too hot as the color timing appears accurate and vivid. Fine film grain ensures the preservation of detail, and there are no print or digital defects to be found. This is yet another reference quality transfer from Disney.
Like the video, the DTS-HD 5.1 soundtrack offers demo material that one anticipates of Bruckheimer cinema. Dialogue is clean and natural, occasionally demonstrating directional qualities. The sound effects in this film are plenty, ranging from sand storms blowing to whips cracking. The listener is completely enveloped in this environment as effects come from every angle imaginable. The music is robust and rich enough to suit the grand nature of the picture. This is easily foreseen as a disc that will show off home theater systems.
Likewise, the DVD's picture and sound do not disappoint. Together, the elements ensure a completely satisfactory sensory experience.
BONUS FEATURES, MENUS and PACKAGING

As is the case at Disney these days, Prince of Persia's DVD stands as little more than an ad for the Blu-ray format. The studio has supplied just one bonus feature for the majority of its home video customers: the making-of featurette "An Unseen World" (15:50).

It at least provides a fine overview of everything that makes the movie so epic: costumes, architecture, ostriches, props, Morocco locations, parkour choreography, and so on. The DVD also dares to call Dylan & Cole Sprouse's Blu-ray infomercial and a spot on digital copies bonus features.

The combo pack's Blu-ray provides just two exclusive extras, but one of them is "CineExplore: The Sands of Time" (HD), a massive interactive branching feature sure to satisfy those craving more than the featurette gives them. During playback of the film, a dagger appears, giving the viewer a chance to rewind time and see how the scene they've just watched was created. It gets a little overwhelming as even some of these excursions have daggers within them, leading to behind-the-behind-the-scenes clips. Thankfully, accessing all this material is made a little easier by the fact that chapter button skips take you to the next rewind point. The pop-up menu button leads to a navigational system that tracks your progress and allows you to watch each clip without wading through the film itself. Totaling nearly 80 minutes, the clips are thusly grouped...
Rewind 1 includes a "Jerry Bruckheimer Introduction" (0:51). "Filming in Morocco" (2:16) looks at the on-location shoot and how the filmmakers made use of their surroundings. "Moroccan Marchers" (1:40) showcases the local extras trained to march as soldiers during key sequences.
Rewind 2 holds "The Next Action Hero" (2:12), a look at the casting of Jake Gyllenhaal and what others thought of working with him. For some of his intense training to get in peak shape, there's "Functional Fitness" (1:54). "Walking up Walls" (1:52) takes a glimpse at the wirework stunts Gyllenhaal performed himself with little aid from doubles.
In Rewind 3, "Designing Persia" (2:49) sheds some light on the film's production design from concept to reality. "Epic Dive Breakdown" (1:16) dissects Dastan's much-touted tower leap layer by layer.
Rewind 4 focuses on the lead actress and her character of Tamina in "Gemma Arterton: A New Kind of Princess" (2:06). "Making a Princess" (1:33) explains the process of changing Arterton to look more Middle Eastern.
Under Rewind 5, we have "Alamut from the Ground Up" (2:19), which shows the work that went into transforming Moroccan ruins into the glistening city of the finished film. The mixing of those locales with CG backdrops and enhancements is analyzed in "Layers of an Ancient City" (1:00).
Rewind 6's theme is parkour, stunt work that uses walls and common architecture as springboards for different movements. "Parkour: Defying Gravity" (1:48) gives a general view of the discipline this while "Parkour Legend David Belle" (2:00) lets the stunt coordinator explain how he uses it as a unique storytelling device.
Rewind 7 features just one clip: "The Look of Rewinding Time" (3:00). The design and final execution of the film's time travel are explored.
Rewind 8 holds the less technical "From Game to Film" (2:26), which details the production's origins and how the filmmakers approached the video game from a cinematic perspective. "The Dagger of Time" (1:59) gives the craftsmanship of the iconic prop its due. Similarly, "Moroccan Artisans" (1:54) examines the level of authentic detail that went into the other props, both weaponry and decorum.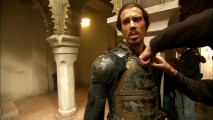 Rewind 9 gives us a more lighthearted and unconventional topic. "Behold the Mighty Ostrich!" (2:51) enlightens viewers on the purpose and challenges of such a race. Footage of real jockeys auditioning for rider parts is shown in "Ostrich Jockey Tryouts" (1:41). Jake Gyllenhaal gets his moment to gush over an animal co-star in "Moe the Ostrich" (1:22).
In Rewind 10, a go-to Disney/Bruckheimer crew member gives insight into her work while others reflect on their experiences with her in "Penny Rose: Master Costumer" (2:24). "Snake Dude" (1:27) is a random clip of a Moroccan crew member handling a snake and scorpion, though it's not clear whether or not he's their handler.
Rewind 11's "Avrat Bazaar Fight" (1:26) shows some of the preparation and filming of the scene in question. "Rock the Casbah" (1:05) centers on a stunt Gyllenhaal performs while up a large piece of architecture. "How to Collapse a Tent" (2:34) is exactly what it sounds like as crew members mantle and dismantle production tents with more difficulty than expected.
From Rewind 12, there's "The Hassansins" (2:21), which allows the major actors from that group to discuss their characters' signature traits. "The Deadly Arts" (3:17) features some of the outrageous weapons the intimidating group carries with them. "The Animal Lair" (1:23) shows the many animals located in the Hassansins' lair.
The cast and crew reflect back on Morocco's unforgiving summer weather in Rewind 13's "It Was Hot Hot Hot!" (2:37).

"Ostrich Love" (1:31) reveals a bit of risky improvisation done by Alfred Molina that ended up in the final film.

The sole clip under Rewind 14, "Filming in the Atlas Mountains" (2:02) offers a glimpse at the difficulties of shooting in rocky terrain not exactly friendly to a production team.

Rewind 15 focuses on an action sequence involving the Hassansins. "The Making of an Epic Battle" (3:09) gives a general look at the choreography and filming, while "The Whip Fight" (1:38) centers on a one-on-one duel with one of the more prominent members of the group.

Rewind 16 breaks down the filming of the Seso versus Hassansin Porcupine fight in "A Knife Thrower's Shoot-Out" (1:38). "Too Close for Comfort" (1:13) focuses on a knife-throwing effect that takes place near a rather sensitive area.

Rewind 17's "Filming at Pinewood Studios" (2:24) reveals how the crew made indoor sets blend with location environments. "Time-Lapse of the Pinewood Sets" (1:03) is what it sounds like, sped-up footage showing the elaborate stages' construction.

Rewind 18 holds the clip "Making Sand from Scratch" (1:25), covering the creation of digital sand for the grand finale.

Rewind 19 centers on the climax with "The Sands of Time" (1:08), a piece on designing the giant crystal that holds the famed sand. "Memories of Time" (1:05), meanwhile, looks at how character shots from earlier in the film are overlaid onto the crystal to represent memories.

Rewind 20, the final stop, ends things with "Jerry Bruckheimer's Photo Montage" (1:14).

Overall, these clips offer a satisfying look at the film's production. Obviously their unanimous brevity means only the surface gets scratched, but the shorts hit most of the right marks. The only real lament is that there's no "Play All" feature to make this one big documentary as selecting a new clip every couple of minutes (even via the convenient Navigational Menu) is a bit cumbersome. It's nice to see Disney offer a fairly substantial bonus feature like this on a film that didn't meet their expectations, especially when bigger hits from the studio have been given much less.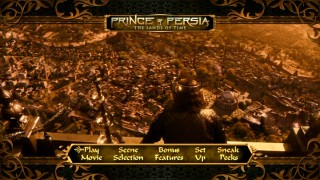 The Blu-ray's other exclusive extra (and this one is on the standalone BD as well) is a short deleted scene (1:26). Living up to its title, "The Banquet: Gasiv Presents Heads" features King Sharaman's son giving him a rather unconventional gift. Without an intro, it's hard to tell why this was cut. It's not graphic enough to threaten the PG-13 rating and not long enough to slow down the sequence in question, surviving content of which provides context. As such, it's nothing more or less than a mild curiosity.
The DVD loads with promos for Blu-ray, Tron Legacy, and Toy Story 3. Selecting the main menu's "Sneak Peeks" listing plays additional ads for Disney Movie Rewards, genuine Disney treasure, "Zeke & Luther", The Sorcerer's Apprentice, A Christmas Carol, Fantasia & Fantasia 2000: 2 Movie Collection, Beverly Hills Chihuahua 2 (poor French Stewart), and The Lion King: Diamond Edition. Though loading with the same ads, the Blu-ray's "Sneak Peeks" batch loses "Zeke & Luther" and adds a Disney Parks promo.
The subdued main menu provides a quietly scored montage primarily of location shots. The Blu-ray's loading icon shows several golden links disappearing and reappearing one by one against the Alamut city skyline, the same image that adorns the pop-up menu during film playback.
Packaged in a thick blue case and covered with an embossed, holographic cardboard sleeve, the combo pack includes a Disney Movie Rewards and digital copy code and instructions booklet and a sheet promoting -- what else? -- Blu-ray. (Because buying this combo doesn't mean you're sold on the format's benefits?)
CLOSING THOUGHTS
Prince of Persia offers adequate ancient adventure. While not the most inspired of films, it wasn't lousy enough to deserve the awful box office performance it put up. But it is understandably tough to summon interest for something that looks like (and for the most part is) noisy video game-derived spectacle. I can't help but be pleased by what the failure might do to the unconscionable franchise-only filmmaking philosophy now in place at Disney.
While the film is presented with dynamic picture and sound, its releases reflect a bigger problem gripping the home video industry which is that studios are putting Blu-ray upgrade incentivizing over customer satisfaction. There's no reason that the deleted scene and some or most of the CineExplore shorts couldn't have been included on the DVD without sacrificing the feature presentation. But even if the Blu-ray offers the insight that should accompany such a big-budget undertaking, the movie is merely worth a rental.
Buy Prince of Persia from Amazon.com: Blu-ray + DVD + Digital Copy / DVD / Blu-ray