Johnny Depp has been a household name for so long that it's tough to remember a time when he wasn't one of the biggest movie stars in the world. Was it really Pirates of the Caribbean's Captain Jack Sparrow that launched him to superstardom? By 1998, Depp was well-acquainted with plain old stardom, having segued from TV's "21 Jump Street" into noteworthy lead roles

in Tim Burton's well-performing Edward Scissorhands and low-grossing but Oscar-winning Ed Wood as well as highly-regarded movies like Benny and Joon, What's Eating Gilbert Grape, and, alongside Al Pacino, Donnie Brasco.

Depp followed up Donnie Brasco with another story set largely in the 1970s, Fear and Loathing in Las Vegas. Based on Hunter S. Thompson's 1971 roman à clef novel of the same name (rejected by Sports Illustrated and first published in Rolling Stone), this Terry Gilliam-directed film depicts a drug-fueled road trip in and around Las Vegas made by Thompson's alter ego Raoul Duke (Depp) and Duke's lawyer Dr. Gonzo (Benicio Del Toro). The two men are in town for Duke to cover a dusty motorcycle race he couldn't care less about. They later attend a convention of DAs on the dangers of narcotics. Though they get their press credentials and a comped room, Duke's calling as a traveling sports reporter is never on his mind quite like the combination of illegal drugs he and Gonzo sample from their full collection, which includes LSD, mescaline, ether, and, at one point, a human adrenal gland. Running up room service bills and damages, the two friends wander around the emotional spectrum, adding panic, paranoia, and fleeting paralysis to the titular sentiments.
It's possible to watch this film and see it as just a trippy waste of time concerned with nothing but glorifying and sensationalizing psychedelic drug use. If you know who Hunter S. Thompson is and appreciate his unique contributions to the world of journalism, though, you will definitely enjoy this film for the significant experience it represents and for Depp's impressive characterization.
The latter is a degree of performance we perhaps haven't seen again from Depp, whose inspired loopy turn in Pirates earned him his first Oscar nomination but also led him irreversibly into worlds of franchising and funny voices in works selling far more tickets and reaching a far wider audience than those he had been accustomed to. On the eve of a questionable fourth Pirates movie's release, it's interesting to wonder where Depp would be if Disney's theme park attraction adaptation didn't come to him or didn't catch on like wildfire. Not that it's entirely precluded him from doing other things, like stepping in (with two other stars) to finish the late Heath Ledger's last role in Gilliam's The Imaginarium of Doctor Parnassus, collaborating with the imaginative Burton on Sweeney Todd, or playing the lead in this coming fall's adaptation of Thompson's long unfinished second/final novel The Rum Diary.
Depp's Fear and Loathing co-star Benicio Del Toro is equally committed and even more fearless here. The actor gained forty pounds to play "300-pound Samoan" Dr. Gonzo, whose belly he regularly displays. Gonzo is hit harder by the drugs than his client, resulting in bathroom scenes, the least cringeworthy of which may be his deranged assisted suicide plan. Del Toro has said he found it difficult to find work after this movie, but the next role he took, as Tijuana police officer Javier Rodriguez in Steven Soderbergh's Traffic, would win him the Oscar for Best Supporting Actor.
Though largely a 2-man show, Fear and Loathing is full of then or subsequently famous actors in small roles. Among them are Christina Ricci playing a Barbra Streisand-painting religious teen, Tobey Maguire as a hippie hitchhiker with long blonde hair, Gary Busey as a highway cop, and Ellen Barkin as a diner waitress. Also spotted: Cameron Diaz, Mark Harmon, Lyle Lovett, Christopher Meloni (looking like Jon Hamm and currently sharing credit as such on IMDb), Michael Jeter, Harry Dean Stanton, Katherine Helmond, and Hunter S. Thompson himself. Legendary singer/actress Debbie Reynolds even supplies her vocals for an unseen concert Duke and Gonzo memorably crash.
Fear and Loathing is a great vehicle for Terry Gilliam (who took over from a fired Alex Cox) to apply his whimsy and visual imagination to. While in other films, Gilliam's grand vision has come at the expense of story, here the story is just the experience and it comes to life vividly in the director's flourishes, like obvious rear projection, odd camera angles, morphing faces, expanding carpet patterns, a scene depicting a cocktail lounge full of anthropomorphic lizards, and another a hotel room flood. Gilliam incorporates the glitz of Las Vegas and the kitsch of early '70s fashion and hotel decor into the protagonists' hazy stupor. The attentive production design adds much, as do the impressive visual effects. Today, the latter would inevitably be realized with CGI. Gilliam and his team rely more on optical and practical effects, gaining some realism in the process.

Gilliam's approach clearly elevates the story, which had previously been adapted along with other Thompson writings in the 1980 film Where the Buffalo Roam. Even with the incomparable Bill Murray and reliable Peter Boyle in the Thompson and Dr. Gonzo (really vanished Chicano activist Oscar Zeta Acosta) roles, that movie just doesn't at all pop like this one.

While it's easy for someone to take to this simply for its entertaining portrayal of a prolonged mind-bending drug trip, the film is substantive, just as Thompson would have to be to remain celebrated in literary and academic circles as more than just a cultural icon. The setting of 1971 is right at the heart of societal change: images of the Vietnam War and President Nixon seem to flow logically out of the ranting and raving of experimentation, which Duke's rare but sharp professional prose cuts right through. The film also boasts an excellent soundtrack of familiar, fitting period tunes from the likes of Three Dog Night, Jefferson Airplane, Booker T & the M.G.'s, Tom Jones, and The Rolling Stones.

After debuting at the Cannes Film Festival, Fear and Loathing received mixed reviews and, like most Terry Gilliam films, underperformed at the box office. With a production budget of $18.5 million and a domestic gross of $10.7 M, this hardly goes down as one of Gilliam's bigger flops. The film's reputation has grown over time and in February 2003, it joined The Criterion Collection with two discs and spine #175. Yesterday, Criterion's edition came to Blu-ray, fitting all of the DVD's many bonus features on one dual-layered BD.
Blu-ray Details

2.35:1 Widescreen
DTS-HD 5.1 & 2.0 Surround MA (English)
Subtitles: English
Not Closed Captioned; Extras Not Subtitled
Release Date: April 26, 2011
Single-sided, dual-layered disc (BD-50)
Suggested Retail Price: $39.95
Clear Keepcase
Still available on DVD ($39.95 SRP)
Also available from Universal: Blu-ray ($26.98 SRP), DVD ($14.98 SRP)
VIDEO and AUDIO

Though no doubt at its very best here, Fear and Loathing looks and sounds a little older than it is. The 2.35:1 transfer has a bit more grain than you'd suspect and the dialogue is also slightly tinny (at least it was in the 5.1 DTS-HD master audio I chose; the default 2.0 surround DTS-HD MA mix might be better). This may just be how Gilliam shot the film, vaguely evoking the period it depicts with some of the stylings of that era's film. Though it may lack the detail of new film Blu-rays, Criterion's disc nonetheless is a dazzling and utterly satisfying presentation.

BONUS FEATURES, MENUS and PACKAGING

Extras on this loaded disc begin with three audio commentaries recorded in 2002.

First up, writer/director Terry Gilliam speaks on his own. His track is full, revealing, and engaging, with lots of interesting

production anecdotes, fun facts, and insight into the film's logic, methods, implications, and intentions.

Next, producer Laila Nabulsi and actors Johnny Depp and Benicio Del Toro are recorded separately. Leading the track, Nabulsi covers efforts to get the film made, production and budgetary concerns, and minor grievances. Depp and Del Toro talk about their physical transformations, meeting Thompson, and people thinking they made the movie under the influence. Though it's disappointing they are unable to converse, the track is edited with coherency in mind.

In the third and final track, Nabulsi talks with her ex Hunter S. Thompson. Taking it somewhat seriously, Thompson is frank and profane, making whooping and wheezing outbursts from time to time. He addresses both the film and his real experiences, sharing views on everyone from God to Michael Jordan to Timothy Leary. Also contributing to this track: Thompson's assistant and future wife Anita Bejmuk and author and Rice University professor Douglas Brinkley, who poses some questions over the phone.
Visual extras are divided into two groups. Those on The Film begin with three deleted scenes presented in dark, beat-up workprint form. These depict encounters at the Mint 400 race (1:22), in a casino with a convention DA from Georgia (5:37), and at a desert bar (tended by Rance Howard) (3:32). The third scene is interesting, but none are especially missed in a film many already consider aimless. Gilliam offers optional commentary on their deletion, his regret, and a cameo you'd otherwise miss.
Storyboards are provided for seven scenes as basic remote-navigated galleries showing four Terry Gilliam drawings per screen. Altogether, there are around 80 pages to see, which could have been better presented.
In the same vein, Production Designs offers around 46 concept art illustrations, colorful drawings by James Clyne and pencil sketches by James Clyne which set the bizarre mood for the Bazooko Circus sequence. A stills gallery offers 95 color production images from set photographer Peter Mountain.
"Depp-Thompson Correspondence" (14:05) has the actor reading personal letters that he and Thompson sent to one another, beginning with the author's rambling 1996 invitation to a Louisville tribute appearance and proceeding with 1997-98 notes airing and addressing (sometimes quite colorfully) the author's concerns with the movie and its release. These exchanges are supremely fascinating.
"Hunter Goes to Hollywood" (10:38) follows the author as he visits the set, giving an odd present to Depp and interacting with Gilliam and Harry Dean Stanton, and getting prepped for his cameo.
Under "Not the Screenplay", we get the 17-minute "Audio Discussion of WGA Dispute", in which Terry Gilliam and co-screenwriter Tony Grisoni and, separately, producer Laila Nabulsi (whose writing credit was waived) talk about Alex Cox's departure over "creative differences" from the project and his and Tod Davies' subsequent successful bid for a writing credit despite the production remaining faithful to Thompson's text and not using their script.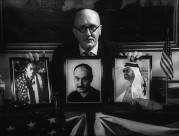 In the same section, we get A Dress Pattern, an old-fashioned 1-minute black & white short Gilliam made in 1998 ridiculing the screenplay dispute with his musical collaborator Ray Cooper patriotically describing the situation and crediting Grisoni and Gilliam. In optional commentary, Gilliam explains this would have opened the film had the Writers Guild arbitration been deemed inappropriate.
"A Study in Marketing" holds the film's original theatrical trailer (2:15) and seven 30-second TV spots taking different approaches to appeal to mainstream audiences (most involving Steppenwolf's "Magic Carpet Ride", not heard in the film). Gilliam, "the director of 12 Monkeys", supplies optional audio commentary over the trailer, sharing his thoughts on how to market the movie (in the style of an anti-drug short) and about opening against Godzilla.
The second category of supplements deal with The Source.
The first three items come in a section called "Oscar Zeta Acosta: Dr. Gonzo", obviously dealing with the real individual personified as Duke's lawyer in the book and film. With text, photographs, and documents, a biography written by Acosta's son Marco sheds light on Acosta's controversial Chicano activism and his unsolved disappearance.
Next, we get a rare public appearance (29:42) by Oscar Zeta Acosta, just months before his vanishing. Wearing a mesh shirt, Acosta reads from his book The Revolt of the Cockroach People about a follow-up autopsy of what has been deemed a suicide but is still believed to be a murder. It's not something you need to watch in full (the descriptions get quite graphic) to appreciate its inclusion here (but I did!). It's tough to imagine Del Toro's character in the film ever being this lucid and articulate.
The audio feature "Thompson on Acosta" (7:30) lets Hunter S. Thompson read his introduction to two 1989 reissues of Acosta's books. This nice tribute ties in perfectly to the film.
The Ralph Steadman Art Gallery holds 44 pieces of Steadman artwork, most used to illustrate Thompson's story in Rolling Stone and some created for the film. Caption screens give context to each image that isn't self-explanatory.
"Breakdown on Paradise Boulevard" (7:43) offers an audio excerpt from Margaritaville Records' 1996 spoken-word CD of Thompson's text, narrated by Harry Dean Stanton and featuring vocal performances by director Jim Jarmusch (Duke), Maury Chaykin (Gonzo), Glenne Headly (Taco Stand Waitress), and Laurie Metcalf (Lou the Taco Stand Cook). Making it especially notable is that this scene, in which Duke and Gonzo search for the American dream at a taco stand, was not filmed for the movie.
Last and probably most is "Fear and Loathing on the Road to Hollywood" (titled onscreen as "Fear and Loathing in Gonzovision") (50:20), a 1978 episode of the BBC's "Omnibus" documentary series. This scintillating installment reunites Hunter S. Thompson and Ralph Steadman for a trip through Las Vegas to Los Angeles (to meet with the studios for what would become Where the Buffalo Roam). With interviews, candid footage, and excerpts and illustrations from their joint works, the piece investigates both the author and the artist in arresting fashion.

This demonstrates just how well Depp captured Thompson in his performance. Also, Bill Murray and his brother Brian Doyle-Murray pop up to campaign for Nixon to run in 1980.

Though it's tough to imagine anything missing in these hours and hours of bonus features, Criterion's editions do lack a 10½-minute Spotlight on Location featurette and one deleted scene from Universal's own DVD and Blu-ray releases and, less significantly, the production notes and dated cast/crew bios exclusive to the DVD.

The main menu moves through a desert grid adapted from Ralph Steadman's novel illustrations (also employed on the cover) as Raoul Duke sound bites play once and then Wagner's Ride of the Valkyries loops afterwards. Extras are slow to load, as is the menu after they complete. At least the disc supports resuming of playback, also offering bookmarking and a timeline for speedy access.

Though assuming the dimensions of standard Blu-ray product, Criterion's packaging downplays the format and altogether avoids the color blue. The inside of the clear keepcase repeats the Steadman artwork along with the book's subtitle and a chapters list. It wouldn't be a Criterion without a nice booklet. This 32-page companion starts and ends with the usual (film and disc credits, transfer information). In between them, we get J. Hoberman's succinct and savory essay "A Pint of Raw Ether and Three Reels of Film", Thompson's revealing Fear and Loathing jacket copy explaining the journey, and his tongue-in-cheek instructions for reading Gonzo journalism under the proper conditions. This booklet is nicely illustrated with artistic renderings of film imagery as well as Steadman's oft-grotesque original illustrations.
CLOSING THOUGHTS

Fear and Loathing in Las Vegas certainly isn't everyone's cup of tea. I suspect many viewers will be turned off by the drug content that pervades the film and some will enjoy it just for that reason.

I find it pretty easy to appreciate the movie for its striking recreation of time and place and of the partly true lunacy Hunter S. Thompson lived through and wrote about. Though unflinching and sometimes plenty unpleasant, all the hallucinogenic imagery cannot hide the relatable fun of hotels and road trips nor the poignant portrait of the end of America's counterculture movement.

As usual, Criterion pulls out all the stops here, surrounding the movie with over eight hours of rich bonus material. Boasting commentaries from four important perspectives, satisfying art galleries, further insight into Thompson and Acosta, and a terrific booklet, this easily qualifies as the divisive film's definitive release. Of course, the same could be said when this was released eight years ago as a 2-disc DVD. The Blu-ray doesn't bring anything new to the table in terms of bonus features (though they are now all encoded in 1080p), but its layout pleases and the hi-def picture and sound surely must best the standard DVD's already acclaimed equivalents.

While I recommend a viewing of the film to all who aren't easily offended, those who already know they like it should definitely check out Criterion's top-notch set on their preferred format.

Buy Fear and Loathing in Las Vegas from Amazon.com:
Criterion Collection Blu-ray / Criterion Collection 2-Disc DVD / Universal Blu-ray / Universal DVD
The Book by Hunter S. Thompson / Soundtrack CD