Before his current motion capture kick, director Robert Zemeckis made movies in which actors were seen as they were. None of these movies gained as much attention and acclaim as Forrest Gump. While fans of The Shawshank Redemption and Pulp Fiction may still contest their loss of 1994's Best Picture Oscar, Forrest wasted no time earning itself classic film status.

The public immediately embraced it, spending a practically unheard of $330 million domestically and $677 million worldwide to see it on the big screen. Not only was that gross higher than any other film's that year (even counting its 2002 IMAX re-release, cartoon epic The Lion King still falls short), it ranked only behind Star Wars, E.T., and Jurassic Park in earnings at the time.

Paying moviegoers weren't alone in their admiration; critics loved Gump too and the film won six of the thirteen Academy Awards it was nominated for, including Adapted Screenplay, Leading Actor (Tom Hanks' second in a row), Director, and the aforementioned Picture. That kind of Oscar success can seem excessive in retrospect (as it does for certain decorated older musicals whose reputations have weakened), but fifteen years later, that's not the case here. Gump made both of the American Film Institute's prominent "100 Years... 100 Films" lists. On the Internet Movie Database's hip and modern-skewing top-rated films list, it currently ranks 38th, just above long-championed works Taxi Driver, Vertigo, and Lawrence of Arabia. Gump stands as one of the career highs of Hanks, Zemeckis, screenwriter Eric Roth, and anyone else involved.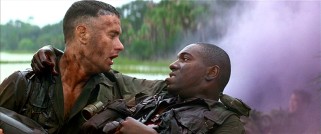 Based on Winston Groom's 1986 novel of the same name, Forrest Gump tells the story of a simple Alabama man who has had an extraordinary life. As he waits for a bus in 1981 wearing a white suit and sneakers, Forrest (Tom Hanks) tells his tale to any stranger sharing his bench. As a child (Michael Conner Humphreys), his thick stutter, low IQ, and restrictive leg braces make him an easy target for bullies. With the wisdom and support of his strong, single Mama (Sally Field) and the friendship of a girl named Jenny (Hanna Hall), Forrest grows up without any major issue. The leg braces come off and reveal one of his greatest gifts: running fast. It earns him a spot on the high school football team and a scholarship to the University of Alabama.

A brochure handed to him at graduation persuades Forrest (now played by Hanks) to enlist in the Army. Simply following the orders shouted at him, Forrest finds the experience a positive one, even when deployed to rainy Vietnam. He makes a new friend in fellow Alabamian soldier Bubba (Mykelti Williamson), who shares with him his dreams of becoming a shrimp boat captain.

Forrest's one harrowing war experience enables him to become heroic, as he saves the lives of all the wounded men he can. Among the rescued is his Lieutenant Dan Taylor (Gary Sinise). Dismayed to upset his family's legacy of combat casualties, the formerly laid-back Lt. Dan is transformed into a bitter double amputee who blames Forrest for his legless state.

While recovering from a war injury, Forrest discovers a new talent: ping-pong. It takes him around the globe and turns him into a semi-celebrity, also sparing him any further time on the battlefield. Awarded a congressional medal of honor, Forrest returns home to Alabama. As the 1960s end and the 1970s begin, Forrest reconnects with an alcoholic Lt. Dan and his childhood sweetheart Jenny (now Robin Wright Penn), who continues to struggle with abusive boyfriends, drugs, suicidal thoughts, and Forrest's unwavering admiration.

By this point, meeting the President has become an expected occurrence for Forrest, who we've seen (through the magic of visual effects) interact with Lyndon Johnson, John F. Kennedy, and Richard Nixon. Forrest's adulthood successes include realizing Bubba's shrimping dreams with help from Lt. Dan, and later inspiring the nation when a sudden whim turns into three years of cross-country running.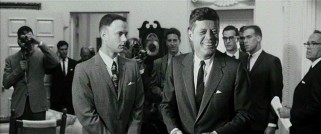 It is near impossible to not like Forrest Gump. The film rests upon the well-known fundamental of fiction that audiences like an underdog. The mentally-challenged hero is nothing if not that. An endearingly honest man who leads his life with God, Mama, and Jenny always in mind, Forrest holds our sympathy throughout, his basic decency setting a model we can all aspire to. Tom Hanks has pulled off more polished characterizations and lived up to taller acting challenges, but this is the part which probably best defines him, an all-American role deftly handled by one of the few huge all-American movie stars of our time.
Hanks benefits from being surrounded by an exquisite supporting cast. Despite spanning some thirty-five years and running well over two hours, the film's lean storytelling has room for just four main characters beyond the remarkable protagonist. Playing them, each of the four actors -- Field, Wright Penn, Sinise, and Williamson -- makes the most of their time here, supplying the depth and complexities that Forrest himself may lack.
The fascinating concept of a mid-20th Century lifeline shaped by that of America plays out splendidly. The movie speaks directly and lovingly to Baby Boomers, but even those born after the film's scope will find ample appeal in the relatively recent historical depictions. One of the more interesting motifs to Forrest's encounters with famous figures is how many of them meet a premature end, something Forrest repeatedly mentions in the most innocent of ways. There is a definite fascination with assassinations and attempted ones.
While poignant in places to sure to evoke tears in some viewers, Forrest Gump is also a comedy, and a funny one at that. Some of the sharpest laughs come in presentation, as Forrest's reflective voiceover compliments or humorously contrasts with the accompanying visual.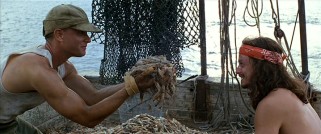 The film piles on the fondly-remembered pop and rock music of the period settings depicted. Cynics can argue that this was merely a tactic to compile a popular soundtrack, something that Forrest Gump's best-selling two-disc album can absolutely be called. But how are you going to tell the story of a man's immeasurable influence on the nation's popular culture without a steady stream of classic hit songs? Even when the film takes the feel of an Oldies collection infomercial strolling through a song list, the tunes are well-chosen and placed.

From the turmoil of the Vietnam War (Creedence Clearwater Revival's "Fortunate Son", Buffalo Springfield's "For What It's Worth") to the soft melancholy of the Hippie Movement (The Byrds' "Turn! Turn! Turn!", The Mamas & The Papas' "California Dreamin'") to the upbeat late-'70s run through the nation's heartlands (Jackson Browne's "Running On Empty", Fleetwood Mac's "Go Your Own Way"), the selected songs neatly convey epic sentiments and are remembered for their specific usage here.

One of Forrest Gump's six Oscar wins was for Visual Effects. This added to two earlier Robert Zemeckis films (Who Framed Roger Rabbit, Death Becomes Her) that had been among the few non-science fiction productions of their time to claim the statue. We can see the director's propensity for visual effects planting the seeds that sprouted as his current mo-cap passion. It's much easier to see meaning and appreciate his work here, however. Not all of the effects remain impressive today, fifteen years of progress rendering some a bit clunky. But they were revolutionary for their time, inspiring gasps and jaw drops from viewers who couldn't believe how a long-dead president could realistically be sharing the screen with 37-year-old Tom Hanks. While some eyelines are off and the head/mouth replacement shows seams, the blending is satisfactory and the look of dated news footage is flawlessly reproduced.

A best-selling title on video back in 1995, Forrest Gump took its time to come to DVD, finally debuting in late August of 2001 to a welcoming audience. That release, a 2-disc set given the awkwardly wordy moniker Special Collector's Edition, has undergone packaging changes and a 50% price reduction over the years. Recently, Paramount revisited the film in a 15th Anniversary Chocolate Box Giftset, which is also deemed a Special Box Set and an Ultimate Collector's Edition. Though this new set arrived alongside the film's Blu-ray debut (and itself is offered in a Blu-ray flavor), the DVDs inside are merely the same ones issued in 2001. I later realized the shelf life concerns it might pose, but I must confess I was surprised and disappointed to learn that there are no real chocolates to be enjoyed here, a fact the back of the convincing box does make clear.
DVD Gift Set Details

2.35:1 Anamorphic Widescreen
Dolby Digital 5.1 Surround (English), Dolby Surround (French)
Subtitles: English for the Hearing Impaired
Closed Captioned; Video Extras Subtitled in English, French
Gift Set Release Date: November 3, 2009
Two single-sided discs (1 DVD-9 & 1 DVD-5)
Suggested Retail Price: $29.98
Thick, Wide Cardboard Box Resembling a Box of Chocolates
Gift Set also available with Blu-ray Discs
Movie also available in 2-Disc Special Collector's Edition DVD
and 2-Disc Sapphire Series Blu-ray
VIDEO and AUDIO

Presented in its wide 2.35:1 theatrical aspect ratio, Forrest Gump looks fine by 2001 DVD standards. By today's advanced norms, one notices definite room for improvement. Though the element itself is clean, it's marked by some edge ringing and grain. Colors are a little softer than ideal and no doubt detail could be expanded. The Dolby Digital 5.1 soundtrack remains heavily in the front channels, even on sequences when you'd expect a wider environment.

It still satisfies with its crisp dialogue and fine exhibition of the dearth of pop songs and Alan Silvestri's memorable Oscar-nominated score. It's just odd to encounter localized sound attached to vast visuals.

BONUS FEATURES

Accompanying the film on Disc 1 are two audio commentaries. The first enlists director Robert Zemeckis, producer Steve Starkey, and production designer Rick Carter. Zemeckis is recorded separately from the other two, who hardly interact and might best be identified by the topics they speak about. A number of interesting facts are revealed, most by Zemeckis, who discusses composing for 2.35:1, his stances on improvisation and fictional tinkering with history, and his goals and inspirations for the film. Like most commentaries, this one runs out of steam, but not until Zemeckis has shared many inside stories and tidbits. This is not the definitive Forrest Gump track (which would have to include Hanks), but it's an informative listen.

The second commentary lets producer Wendy Finerman fly solo. She reflects on getting the movie made and analyzes the characters. But most of the time, the track qualifies as either redundant or silent. She is quiet for long stretches, her observations growing sparser as the film progresses. She really ought to have been squeezed into the other track.
Disc 2's top-billed extra is the 30-minute documentary "Through the Eyes of Forrest Gump." This offers a fine overview of production and is only hindered by the fact that it was made back in 1993-94. The staged cast and crew interviews explain things for potential audiences, giving this a bit of a promotional feel. It is an important inclusion and well worth a viewing, but it ought to be complemented by a retrospective (like any of the numerous extras newly created for the Blu-ray). Among the topics covered here are the story, casting, visual effects, and the film's settings.
The next five listings fall under the Production Featurettes heading.
Seven short screen tests are divided into three groups. Young Forrest and Jenny, Michael Conner Humphreys and Hanna R. Hall, perform scenes in three 1-minute clips. Tom Hanks acts with Robin Wright trying for grown-up Jenny in two 2-minute clips. Finally, 5-year-old Haley Joel Osment reads a book (1:06) to and discusses Disney Afternoon programming (1:37) with Hanks.
In "Building the World of Gump" (7:18), production designer Rick Carter discusses finding locations and dressing them to stand as Forrest's Alabama home, Vietnam, 1960s Washington D.C., and the Watergate Hotel.
"Seeing is Believing: The Visual Effects of Forrest Gump" shows us how eleven of the film's more ambitious illusions were achieved. Comments from visual effects supervisor Ken Ralston and raw B-roll footage deconstruct the sequences, the final versions of which are then seen (if applicable). Covered here are the Birth of a Nation composite (2:28), Forrest being chased by the car (2:00), Vietnam helicopters & explosions (7:35), deleted encounters with Martin Luther King Jr. (3:02) and George Bush Sr. (1:24), Forrest's meetings with George Wallace (2:22), Lyndon B. Johnson (2:23) and Richard Nixon (1:52), populating crowd scenes and enhancing natural environments (7:20), John Lennon's Dick Cavett Show appearance (2:13), and Lt. Dan's CG amputations (5:52). A less regimented overview might have been preferable, but these detailed technical breakdowns are quite interesting as is.
"Through the Ears of Forrest Gump" takes a similar approach to the film's sound design, with Randy Thom commenting on five specific effects/sequences that are heard here with amplified detail: "The Bike" (2:28), "Crowds" (1:44), "Vietnam" (7:57), "Rain" (2:00), and "Ping Pong" (1:22). The shorts and their speaker get pretty dry in a hurry, making this a section to simply sample.
In "The Magic of Makeup" (8:00), make-up artist Dan Striepeke discusses his Oscar-nominated work on the film, from subtle touches on Tom Hanks and aging up Sally Field to facial hair and Mykelti Williamson's dental plumper.
Two original theatrical trailers are offered. The long first one (3:56) straightforwardly shows off a slew of scenes, the shorter second one "Remember" (1:10) merely attaches Alan Silvestri's score to a montage of short silent shots.
Finally, a Photo Gallery serves up 29 color images, a mix of publicity stills and behind-the-scenes pics. Happily, they're sized to fill one's screen vertically, something too few DVD galleries think to do.
MENUS and PACKAGING

Bolstered by short looped score excerpts, most of the 16:9 menus features a different iconic still object pertaining to the film. Some of Disc 2's also display faded themed montages.

This 15th Anniversary Gift Set has dimensions similar to a box of chocolates, measuring as high as a standard DVD case but twice as wide and deep. A net weight listing and a Nutrition Facts table (of special features) truly sell the chocolate box design.

The top of the box uses the same iconic man on bench poster image that has featured on every release of the film. Tense-modified, Forrest's famous chocolate quote (which ranked #40 among AFI's Top 100 Quotes) starts on the top and finishes on the inside. A divider just like one found on a real box of chocolates covers the best we get here: 28 embossed scratch 'n sniff images of assorted chocolates on a fixed piece of cardboard. I guess the nostrils can pick up slightly different scents, but obviously that isn't the sense most tickled by gourmet candy.

Flip that over and we find another Forrest quote, this one pertaining to floating. As if by coincidence, a fake white feather, apparently intended to be enjoyed as a bookmark, is held in that very spot. Next, we get The Journey of Forrest Gump, a book whose covers are modeled after Forrest's suitcase. This wide, thin, staple-bound, full color 14-page glossy paperback features quotes, pictures, and trivia facts from the film plus a running timeline of Forrest's exciting life. There is not much to the book at all, but it looks nice.

The two DVDs are held in clear plastic trays also attached to the box. That means there is no easy way to display this with the rest of your collection and that you'll always have to dig a little to access the discs.
CLOSING THOUGHTS
Forrest Gump certainly qualifies as one of the great, significant films that any home video library ought to include. While cool in theory, this 15th Anniversary Gift Set doesn't really deliver enough to recommend purchasing over the movie's other releases. For about $15 more than just buying the two-disc DVD on its own, you get a little book, a fake feather, scratch and sniff chocolates, and an irregular box to find a place for. That's hardly a winning combination and anyone sold by the catchy retail shelf presence is destined for some disappointment even at the modest price.
Buy Forrest Gump from Amazon.com:
DVD Giftset / Blu-ray Giftset / Just the DVD / Just the Blu-ray / The Book by Winston Groom