Kiki is thirteen years old and a witch in training. Tradition holds it that 13-year-old witches in training must set out for a year away from home. So, Kiki does this, choosing to depart on a full moon night ahead of schedule. Accompanied only by her talking black cat Jiji and her mother's old broom,

Kiki takes flight and winds up landing in a quaint European city, where she hopes to become the resident witch.

Given a cool welcome from a peeved traffic cop and standoffish citizens, Kiki's fortunes improve when she sees a pregnant baker trying to track down a mother whose baby's pacifier was left behind in her shop. Kiki volunteers to help reunite baby and pacifier and in doing so, she finds her calling: airborne deliveries. The friendly, easily amused baker, Osono, agrees to hire the girl and let her and Jiji board in an upstairs guest room.

Previously lacking a forte, Kiki enjoys the challenges of independent living and takes pride in the deliveries she makes. She doesn't, however, enjoy the same success socially that she does professionally. Tombo, an outgoing boy with clear interest in her, is repeatedly brushed off due to responsibility, sickness, and Kiki's outsider feelings. To make matters worse, Kiki's magical powers seem to be vanishing as a result of her focusing on her bakery job. Her broom is rendered flightless and her wisecracking cat mute.

Incongruous in tone but not story, the film concludes with a brief action climax that finds Kiki called to heroism when strong winds wreak havoc on a giant dirigible holding Tombo.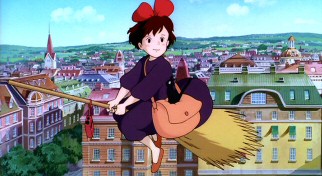 Based on a 1985 children's novel by Eiko Kadono, Kiki's Delivery Service became the third animated film directed by Hayao Miyazaki since he established Studio Ghibli with veteran colleague Isao Takahata. Like a number of Miyazaki's works, it involves a young female protagonist and magic. Back in 1989, when Kiki's was released in its native land of Japan, the director's feature filmography was too short to start noticing patterns.

Twenty-one years and five movies later, Miyazaki's body of work has become infinitely more studied and celebrated around the globe. Even so, this fantasy is not easily confused with prior and subsequent ones.

Kiki's Delivery Service may seem light and somewhat simple compared to Miyazaki's denser, more ambiguous tales. But, I find it to be as proficient and enchanting as any of the filmmaker's credits. It seems impossible not to enjoy this endearing human story that is so sturdily crafted. Immediately, we are able to identify and sympathize with Kiki, a guileless girl who just happens to be a novice witch in a society that doesn't seem to frown much upon witchcraft. While confessing my ignorance of the source text is necessary, the film strikes me as one that others would try telling with spectacular effects, complex spells, and run-of-the-mill opposition. Miyazaki's film realizes we don't need any of that, so that the magic merely becomes the interesting backdrop to a taut coming-of-age tale.

You don't really notice this unless you're looking for it, but Kiki's operates with its own unique sense of pacing. It is tempting to call it slow-moving or uneventful, which to a large degree it is when compared to other modern films, especially animated ones. The thinking today is that films need to keep moving. The only time chatter seems to stop in most contemporary mainstream cartoon features is when loud noises and large objects of peril reduce the witty dialogue to one-liners and drowned-out exclamations. Kiki's takes a drastically different approach, letting seconds tick away all the time on establishing shots and realistic pauses. Quietude abounds and rather than lulling us to sleep, it creates spellbinding moods and emphasizes the humanity of the lead and the few other people she encounters. Real life isn't talk-laugh-feel-move. Realism doesn't often factor into film, let alone anime fantasy at least partially aimed at children. And yet, detecting something that rings true to one's own being absolutely creates and heightens pathos.

Am I getting carried away here? Perhaps. But the silent moments that feature throughout Kiki's do not seem arbitrary or feel like filler. They evoke and that is really the quality that to me distinguishes the output of Miyazaki and Studio Ghibli from the kind of mass consumption animation we're so much more often exposed to. Don't think I'm knocking mainstream animation; it is rarely unentertaining and even baser productions tend to have their charms. Plus, arguably the pinnacle of filmmaking in recent decades, Pixar, certainly falls under the mainstream animation header too. Their films seem to fire on all the same cylinders that Miyazaki's do, but with more visual impact and even greater success.

Getting back to this review's subject, when an unembellished fantasy like Kiki's Delivery Service has no trouble whatsoever winning a place in your heart, it requires closer inspection and analysis. And yet a film this earnest and sweet doesn't really have layers to pull back. It simply stands up to criticism and pleases those only asking to be entertained as well.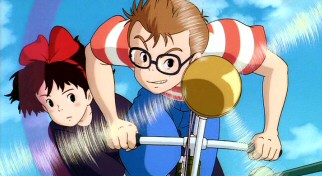 Kiki's Delivery Service became the first Studio Ghibli production given the Walt Disney treatment. Nine years after being embraced in Japan, the film reached American audiences in 1998 with an English dub performed by accomplished live and voice actors. Claiming the industrious title role is Kirsten Dunst, one of the most promising '90s child actors and one of the few who has gone on to meaningful work in adulthood. She has no trouble making Kiki sympathetic, seizing the limited opportunity of established mouth movements to naturally deliver even phrases that seem slightly alien. Providing laughs as sarcastic black cat Jiji is Dunst's Small Soldiers father Phil Hartman. Even when his dialogue gets filtered through subtitles (or rather "her", as a woman voices the part in the original), Jiji is an extremely appealing character, but super-talented comedian Hartman ensures the feline is every bit as funny in English. The English version is dedicated to the memory of Hartman, who sadly was murdered just five days after Disney's dub premiered at the Seattle International Film Festival.
The other enlisted American actors don't snag as much screentime or as flashy parts. They include Janeane Garofalo as free-spirited, forest-dwelling artist Ursula, Tress MacNeille as kindly Osono, Matthew Lawrence as nerdy-looking love interest Tombo, and Debbie Reynolds as Kiki's warmest and most memorable client.
As always, Disney provides the opportunity to hear the film with its native Japanese soundtrack, as well. The differences noticed when comparing the translation subtitles to the English captioning are extremely minor, typically no greater than modified phrasing, adding or dropping a word presumably to better fit the mouth movement. The few changes you can find some cultural meaning behind are barely worth mentioning: Kiki's father calls her a little princess instead of a little witch, Osono explains why the room she's not doing anything about the dust covering the room she's renting, a divine reference is eliminated and the discussion modified from Kiki and Ursula's philosophical discussion.
I've read, however, that the Japanese translation isn't the most accurate here; reportedly, Disney was using an earlier English translation (recorded for airlines) as the basis of their work.
In addition to the variations between the Japanese and English presentations of this DVD, the English dub of this 2010 release differs quite noticeably from what's been offered on past U.S. Kiki's versions. I cover those below in the Video and Audio section.
Having first come to Region 1 as part of Disney's debut Studio Ghibli DVD wave in April 2003, Kiki's now returns in the fifth batch of Disney-Ghibli DVD releases. This week's lot doles out new editions of three popular Miyazaki films alongside the American video premiere of his acclaimed latest movie, Ponyo. Though billed a Special Edition in trailers, press releases, a slipcover sticker, and the rear cover, this 2-disc set doesn't clearly display that moniker. (Neither did its original 2-disc set.)
| | |
| --- | --- |
| | |
| Screencap from Kiki's Delivery Service 2003 DVD | Screencap of same frame from this 2010 DVD |
A tiny number of pixels are gained, but that's the only improvement detected by screencap comparison.

VIDEO and AUDIO (and ENGLISH VERSION CHANGES)

As on its previous DVD release, Kiki's Delivery Service is presented in ever so slightly bordered 1.85:1 anamorphic widescreen. The film looks good, its transfer avoiding serious concerns most of the time. The colors are vibrant and consistent, the lines are sharp. There are some minor compression artifacts throughout, suggestive of edge enhancement. Fitting two cuts on one disc with branching and angles may be a culprit. Production methods might have something to do with this too; the woes are most apparent on grainy end credits scenes. (From what I know about DVD angles, the trouble may also stem from the end credits being one of the scenes where video varies based on language selection.)

I also noticed a couple of isolated instances of light flickering in backgrounds.

The Dolby Digital 5.1 mixes are good, although they are front-oriented and a fair amount of the soundtrack is quiet. Music and atmosphere do expand in points, but channel separation is relatively minimal. For this release, a dub and subtitles in French have been added.

Comparing this DVD to the original one, my eyes and ears did not detect much difference. On playback, I thought the new transfer looked a little smoother and had fewer artifacts. Screencaps reveal that the new edition gains a small number of pixels on all four sides of the frame (in sections that were previously black), but the pictures show very little change otherwise. One improvement: audio tracks can be toggled during playback of this new DVD, something disabled on the old one (once quite standardly for Disney).

Now, the English presentation on this 2010 DVD differs from the original 1998 one that was found on the 2003 DVD. The new DVD retains the movie's previously dropped original Japanese title logo screen. Here, it replaces the opening English cast voice credits screen. The most noticeable difference in the soundtracks is that the English title and closing credits songs have been edited back to the Japanese song selections performed by Yumi Arai. Before this, the English cut had provided "Soaring" and "I'm Gonna Fly" as performed by Sydney Forest, the end credits singer for the short-lived WB high school drama "Popular."

Another change involves something of a spoiler (skip to the next paragraph, if you wish), for it deals with a short but significant moment from the film's final minutes. Previously in the English dub, following the climax, Jiji asks Kiki if she can hear him talk (since we can once again, our answer is an implied yes). This was added for the English cut, restoring order as Miyazaki apparently never intended (but must have approved). The line is now gone, sadly implying that Kiki has grown out of being able to hear her cat talk.

Upon doing a synched-up comparison, I noticed that the edits go far beyond that one line of dialogue. The 2010 DVD drops a considerable amount of character dubbing. Most affected is Jiji, for whom Hartman had provided a number of witty ad-libs. Here, unless a character is explicitly shown to be speaking, they're silent. The silence goes even further in few scenes that had score apparently added for the English dub; these now appear without music. Other noticeable losses include Kiki and Jiji's in-flight and in-rain banter (particularly the latter, upon arriving in their new town), some of Tombo's lines, and a radio report. Furthermore, some minor changes occur in the credited titles of certain filmmakers.

Film revisionism is generally something I never like, especially when an original version is no longer offered. In this case, however, we're not talking about an original version but a dubbing. Still, the English version is definitely untrue to Disney's original dubbing, which has existed for 12 years. While the changes bring the English version closer to the original Japanese, which sounds fair enough, anyone wanting the original Japanese probably would have simply already chosen to watch that version. Something about removing a whole bunch of Phil Hartman's lines from one of his final movies, a project dedicated to him, also doesn't feel right. I'm not sure how worked up anyone will get over this surprisingly thorough re-editing. I would guess that those accustomed to the dub are more likely to mind the revisions than to appreciate them. And it seems to me that if Miyazaki had objections, he should have voiced them back in the '90s.

The English soundtrack is also revised in Disc 2's storyboard presentation of the film.
BONUS FEATURES, MENUS and PACKAGING

Disc 1's only bonus feature is an introduction by John Lasseter produced for the film's original 2003 DVD. The enthusiastic but trifling 50-second preview made more sense then, when Lasseter was not Disney animation's head honcho and American viewers had better reason not to know about Kiki's Delivery Service. By default, the clip precedes the film when you choose "Play Movie" from the menu.

Disc 2's first listing, "Original Japanese Storyboards", should be plenty familiar to anyone who's previously encountered a Disney/Ghibli DVD.

It simply presents the film in storyboard form. The whole film in rough, black and gold sketches. It's kind of cool to sample, but as usual, I imagine few will have enough interest to endure the whole film this way. Those that do can choose between Japanese and English audio and English subtitles, English captions, and French subtitles.

The remaining extras come under the new header "The World of Ghibli", which divides its contents into two sections.

Behind the Studio holds the bulk of the bonus material, beginning with four short new featurettes presented with Japanese audio and embedded English subtitles. These probably could have been combined into a single retrospective making-of, but they're fine as topical shorts.

"Creating Kiki's Delivery Service" (2:25) lets Miyazaki reflect on the movie, particularly its imagined historical setting and the real places that shaped it. "Kiki & Jiji" (3:25) has Miyazaki and producer Toshio Suzuki recall how Suzuki's daughter inspired the film's heroine. Fulfilling the title, a few words are spoken about the cat as well. In "Flying with Kiki & Beyond" (2:50), the director speaks about animating the broomstick flight scenes, his idea to liven up the end credits, and the film's strong reception. "The Producer's Perspective: Collaborating with Miyazaki" (1:48) lets Suzuki briefly explain the working relationship he has with the director.
"The Locations of Kiki" is a 29-minute excerpt from the 2006 Japanese TV documentary "The Scenery of Ghibli." Here, with Kiki's storyboard book in hand, entertainer Yui Natsukawa checks out some sites and neighborhoods in Stockholm and Visby, Sweden that influenced the film's settings. This is much cooler than your typical DVD extra. It's impressive to see such devotion and attention to detail on a 20-year-old animated film. It could use more visual comparisons but the amusing candid reactions of awestruck strangers help us overlook that.
"Scoring Miyazaki" (7:19) celebrates the work of Miyazaki's regular composer Joe Hisaishi. He discusses the music he wrote for My Neighbor Totoro, Kiki's, Castle in the Sky, and Ponyo. It's not the most interesting piece, but the subject does seem to warrant notice.
Carried over from the previous DVD release is a reel of six "Original Japanese Trailers" (10:25), which promote the movie's summer 1989 theatrical release with musical montage, Miyazaki's prior credits, extended scene glimpses, and, most oddly, some random mood paintings attributed to the character Ursula.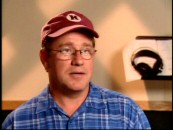 "Behind the Microphone" (5:00) is a routine but appreciated featurette on the English voice cast. Kirsten Dunst, Phil Hartman, and Janeane Garofalo sound off on the process and their characters, and we get some glimpses of them recording their lines.

The section's second page gives us a taste of the bonus features from the Studio Ghibli sets released concurrent to this one. "Creating Ponyo" (3:55) and "Creating My Neighbor Totoro" (2:55) are in the same mold as Kiki's "Creating" short. These informative interview pieces allow a retrospective Miyazaki to recall his inspirations and intentions on the films.

"Character Sketches" (2:40), the piece on Castle in the Sky, focuses slightly more on that film's young leads. These pieces are reproduced here to raise awareness of the other movies and their re-released DVDs, but some current owners might find the sampling enough to not bother double-dipping on the entire wave.

Enter the Lands offers a nifty but inconsequential experience. Via interactive map, you get to take a look at a number of Studio Ghibli film universes. Accessible here are the worlds of Ponyo, My Neighbor Totoro, and Castle in the Sky.

After a 90-second introductory overview, each film is treated to a series of three still screens around which you can move to select objects and characters. Most selections prompt a short video (typically running 40 seconds or so) describing the chosen person or item with English dub clips and precise narration. Others simply trigger a brief but appropriate animation (lights flashing, stars falling, etc.) Altogether, I counted 25 clickable objects in the three worlds.

This is a lot more fun in theory than execution, since it largely feels just like bland promotion for films you've probably already seen. Navigating the whole map takes a good 15 minutes of clicking, even with the disc moving you along to the next page when it recognizes you've taken in all the available sights. I suppose it's geared toward children, not Ghibli fans, but I can't see them gaining much enjoyment from this. Simple trailers probably would have been more effective at marketing these films.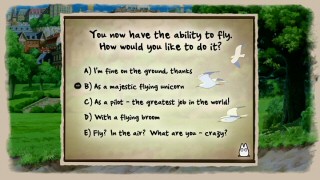 Presumably unique to this disc, the Kiki's Delivery Service section offers not this kind of click and preview deal but a better five-question multiple choice personality quiz to determine which character from the movie you're most like.

I apparently have a magical personality just like Kiki!

From the map's design, it seems safe to expect that future environments based on My Neighbors the Yamadas, Porco Rosso, Pom Poko, Howl's Moving Castle, Spirited Away, and Princess Mononoke will feature in upcoming waves of similar Ghibli re-releases. At least the adapted environments, presented in 16:9 and with surround sound, are cool to take in and the effort to unify the Ghibli canon is appealing.

Disc One opens with trailers for Beauty and the Beast: Diamond Edition, Toy Story 3, and new Studio Ghibli DVDs (including this one). These are joined on the disc's Sneak Peeks menu by ads for the Toy Story and Toy Story 2 Blu-rays, The Princess and the Frog, Ponyo, Tinker Bell and the Great Fairy Rescue, the Disney Friends for Change project, genuine DVDs, Disney Movie Rewards, and Disney Blu-ray.

The new DVD's menus match those found on Ponyo, with the scored main menu supplying stills and a tiny bit of video and secondary menus offering faded character stills and an assortment of score excerpts.

With this week's batch of new Miyazaki DVDs, Disney retires the old red & white top banner and replaces it with a new motif of blues and gold. The requisite cardboard slipcover embosses the studio names and titles. Inside the standard-sized keepcase, one finds a Disney Movie Rewards code, a Disney Blu-ray ad booklet, and the collectible lithograph promised on a case sticker. Measuring about 7" high and 4½" wide, the bordered card merely gives us a narrower version of the DVD's cover artwork (itself, old poster art) minus credits and title. I doubt it's something you'll want to buy a frame for on its own, but you could find a home for it outside the case. Recalling a time when Disney put effort into DVDs, the discs themselves actually boast full color artwork.
CLOSING THOUGHTS

As far as I'm concerned, Kiki's Delivery Service ranks among Hayao Miyazaki's best. While it may not possess much complexity or conflict, this sweet coming-of-age fantasy enraptures wholeheartedly. The film earns a recommendation and Disney's new two-disc DVD does too,

at least for those with currently Kiki-less collections.

This is a fairly loaded set. The additions are more impressive than the case indicates but less astounding than the menus make them seem. The five new featurettes driven by interviews with Miyazaki and his collaborators are short but valuable. The lengthy documentary on the film's inspirational Swedish locations is different and interesting. The holdover extras are appreciated and the bonuses sampled from concurrent sets are gravy. Even "Enter the Lands", which doesn't amount to much of interest, supplies some amusement in its personality quiz.

Overall, this DVD is stronger than the one issued in 2003 and diehard fans of Studio Ghibli or this particular film may consider rebuying Kiki. Those who are really attached to Disney's dub (especially Phil Hartman's humorous voice work and the Sydney Forest songs formerly featured in it) should be forewarned that it's been extensively revised, probably to their disappointment, to more closely resemble the original Japanese presentation.

More on the DVD / Buy from Amazon.com / Buy the 2003 DVD / Buy the book by Eiko Kadono