King Arthur seeks to go beyond the 15th century legend, and uncover the real personalities whose actions during the age of the Roman Empire inspired the English myth a thousand years later.

That the film is produced by Jerry Bruckheimer should alert you that it does not go for "realism", but more like a "hyperrealism." Generally, Bruckheimer films present worlds with stylized hues, quick cuts, and everyday sensibilities. You might think that style of filmmaking would collide with a Dark Ages world of swords and horses, but the two elements work surprisingly well for a substantial portion of the film.

In its opening screen, the film purports to have the true story of King Arthur and the Knights of the Round Table, which historians for years thought to be legend. In the middle of the 5th century, fifteen years of service in the Roman army are required of Arthur (Clive Owen) and all men of Sarmatia. In this retelling of the 'untold real story', the personalities and camaraderie among Arthur's army is not unlike Harry's world-saving oil drillers in Armageddon (only with less recognizable faces).

Having dutifully served for fifteen years, Arthur and his men expect to get their papers for freedom. But instead, the Bishop passes them down an assignment from the Pope. They are to go on a final mission to brave the wretched Saxon army of the north and rescue the Pope's favorite godchild who is destined for a prime spot as a future church leader. The plot feels and plays a bit like the story of Saving Private Ryan, but once they find the boy Alecto and his irritable father Marius, the film shifts tones to feel derivative of others.
Modern cinema's action sequences rarely find a way to be new and interesting, but those in the film's first half are a bit above the mundane. Of course they employ the quick-cutting Bruckheimer style where no shot lasts longer than a few seconds, but for instance, an inspired battle sequence takes place over an iced-over body of water, and you realize you haven't seen it before.
After 90 minutes, the plot is no longer driven by the Army's final mission, but by a thin trail which pursues battle between the Saxon and Roman armies. Arthur believes in free will and freedom; his values lead him to causes greater than either an allegiance to his mixed Briton/Roman heritage. At least he believes in something; while given a fair amount of screentime, Lancelot (Ioan Gruffudd) does not seem to stand for anything, a point which is made in the film. Though prominently featured on the cover, Keira Knightley does not make her first appearance until nearly an hour into the film. Her Guinevere is among those who were tyranically punished by Marius, and she is given slightly more than fleeting treatment. In this version, Merlin is no wizard but a strange old Woad with a blue face, whose beliefs Guinevere and ultimately Arthur's coincide with.
It's unfortunate that after developing an interesting story, King Arthur resorts to pure formula for its final third. Clunky dialogue starts to take over, and ultimately it devolves into a big spectacle battle, complete with inspirational speeches. To reduce any whole film's final act to that is dangerous, and here it loses its relevance and most of its appeal. Its score (by Hans Zimmer) and stylish slaughters could be out of any medieval or fantasy battle film. But this doesn't make it an epic, just a retread of other films aspiring to be epics.
The carnage in the final scenes create a mess, which is disappointingly what the film becomes. Rather than following through the interesting (if not debatable) "true story" of King Arthur, the climax shows a satisfaction in merely calling to mind other fast-paced, brutally-fought battles, and even brings in droning female vocals a la The Lord of the Rings.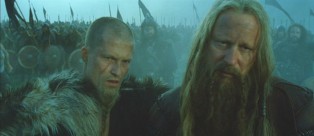 In spite of a formulaic finale, King Arthur doesn't consciously disengage. Like most other Jerry Bruckheimer productions, the film maintains a somewhat universally entertaining air and many of the shortcomings critics can point out about the producer's other works don't apply here (at least for the majority of the picture). The cast is not flowered with big name stars (though thanks to Pirates of the Caribbean and others, Knightley is quickly approaching this status) or even Bruckheimer regulars (there's nary a Will Patton in sight). But Clive Owen performs capably in the most defined role of the film (by far) and the everymen of Arthur's army deliver the intended effect. Stellan Skarsgård hams it up as a ruthless, gravelly-voiced Saxon leader.
Director Antoine Fuqua, whose unimaginative cop drama Training Day somehow managed to win Denzel Washington an Oscar, has no discernible style on display here. Whatever it was, it feels overpowered by the traditional, time-tested Bruckheimer milieu.
King Arthur's screenplay was written by David Franzioni, whose script for Gladiator somehow led to an undeserving Best Picture. I'm not sure to what extent Franzioni would have written "carnage and splattering goes here", but the fast-paced gore that marked his previous film unfortunately seems to have returned, as has an apparent fondness of Braveheart.
On DVD, the only way to get King Arthur in widescreen and with audio commentary, is on this "Extended Unrated Version." What this Director's Cut adds is not artistic vision, but approximately fifteen minutes of additional slicing, blood splattering, and beheading that would have robbed the film of its desired PG-13 rating in theaters. Adhering to convention (complete with the obligatory and pointless 'scene of sensuality' in the ratings line) did not yield the usually golden Bruckheimer touch. Though the appearance was of a summer blockbuster, it lacked the audience. Winding up with just over $50 million domestically (about one-third of its budget and marketing costs), the film's strong performance in international markets helped recoup losses in the US.
DVD Details

2.35:1 Anamorphic Widescreen
Dolby Digital 5.1 (English, French)
Subtitles: English, French, Spanish
Closed Captioned
Release Date: December 21, 2004
Single-sided, dual-layered disc (DVD-9)
Suggested Retail Price: $29.99
THX-Certified with Optimizer tests
Black Keepcase with Cardboard Slipcover
VIDEO and AUDIO
Presented in 2.35:1 anamorphic widescreen, King Arthur looks mostly as pleasing as any recent motion picture does on DVD. The picture does look surprisingly grainy at times; backgrounds can look particularly murky and not merely from the oft-present fog. Stylized hues, a Bruckheimer trademark, are present here; a dark blue tint is cast to everything. As such, the filtered image doesn't provide as much detail as you might hope for and colors feel a bit muted (as is the intended effect, I guess). Nonetheless, the video is sharp (but not excessively) and of course clean and free of print flaws. It's not perfect, but the video is definitely quite good, as is expected.
The Dolby Digital 5.1 track is serviceable, though not as aggressive as some new big budget action films. An atmosphere of bass underlines (but never overwhelms) the battle sequences and the subwoofer remains active. Hans Zimmer's score doesn't really stand out as anything new, but it is dutifully presented here. A fair amount of surround effects lend to the appropriately enveloping soundfield. Dialogue is crisp and clear, and the range of dynamics wasn't so great that one needed to constantly (or ever) adjust volume levels. Overall, it's not surprisingly, a stellar audio presentation.
Subtitles are player-generated to translate the few timelines and rare instances of non-English dialogue.
BONUS FEATURES
Director Antoine Fuqua provides a feature-length Audio Commentary. It's interesting to hear him explain his appeal and approach to this film, following a career of directing urban crime dramas, as well as his discussion about changes made for the theatrical cut. But those make up just a small portion, and in general, the commentary would have benefitted from additional voices. Fuqua carries the solo track better than some have, but there's still quite a bit of dead space. This commentary is not included on the fullscreen DVD which houses the theatrical cut.
"Knight Vision" enables you to watch the film with a subtitle trivia track. This dispenses facts on this film and its filmmakers, Dark Ages history, and other renditions of the King Arthur legend.
"Blood on the Land: The Making of a King" (17:05) is a pretty standard featurette on King Arthur's production. It covers location shooting in Ireland, the construction of sets (which were preferred to CGI), costume designs and army coordination, and even includes the obligatory historical consultant. A portion on the icy lake sequence reveals the breadth of visual effects used to get a desired look. The piece shuffles through the characters and cast, and producer Jerry Bruckheimer mentions how he first worked with director Fuqua on Coolio's "Gangsta's Paradise" music video. (I guess that qualifies him for this.) Interview clips and a wealth of footage from the set make this a pretty slick and enlightening piece.
The Roundtable Discussion (15:00) gathers together seven of the principle filmmakers: screenwriter David Franzoni, producer Jerry Bruckheimer, director Antoine Fuqua, and cast members Keira Knightley, Ioan Gruffudd, Clive Owen, Hugh Dancy. It's nice to get a group of this size and caliber together to reflect on the film, even if not surprisingly much of it is back-patting. The filmmakers discuss the unique approach to the material and the various challenges in making the film. Clips from the set and of the actors rehearsing are interesting, while the pan and scan footage of scenes from the film makes me glad to see the actual feature in widescreen.
There is an alternate ending called "Badon Hall." This sequence (4:10) is not a great deal different, except that it's lacking the more upbeat follow-up that appears in the actual ending of the film. It is presented in non-anamorphic widescreen, Dolby Surround 2.0, and can be viewed with 1 minute and 45 seconds of audio commentary from director Antoine Fuqua.
The Producer's Photo Gallery is offered in two forms as a "gallery" or as a silent slideshow. The former is a bit misleading, as it's simply the slideshow but you use the arrows to shuffle through the 20 stills, a mixture of black & white and color photos taken by Jerry Bruckheimer on the set.
Though it's of no use to me, the DVD also includes an XBOX demo of the King Arthur video game. For those who have Microsoft's video game system, popping the DVD into the system is supposed to let you play a limited preview version.
The pretty standard 16x9 menu screens feature selections from Hans Zimmer's score, and the Main Menu shuffles through images of the film played against a backdrop of mountains. Most of the submenus are not animated, except for transitions. The bonus features' titles and runtimes don't necessarily coincide with what's listed on the menus.
At the start of the disc, trailers play for The Life Aquatic with Steve Zissou and The Village. These are also accessible from the Sneak Peeks menu, but as usual, King Arthur's trailer is nowhere to be found.
CLOSING THOUGHTS
Before ultimately giving into the spectacle of formulaic epic battle, King Arthur provides a pretty interesting take on the real story which supposedly inspired the 15th century legend. The distinguishing quality of the film is as a Jerry Bruckheimer production, making for a wide appeal but not entirely satisfactory treatment. Still, the film stays strong and compelling more often than it doesn't, and it ranks among the producer's better films.
The unrated Director's Cut is the only way to go in picking it up on DVD, as it preserves the wide original aspect ratio, even if fifteen minutes of additional gore do not really serve the film or its disappointing final act well. Video and audio are expectedly strong, and the bonus features, though not all-encompassing, provide sufficient insight into the film and its making.